Travelers often ask us about things to do in Vancouver, British Columbia, and our experts always tailor the answer to the individual's unique interests. After all, that's what we do—create custom dream vacations. Set on the stunning west coast of Canada with the Pacific Ocean and mountains as your backdrop, there's no shortage of activities to enjoy, particularly in the summer.
From iconic experiences like Granville Island and Stanley Park to lesser-known attractions like night markets and historic walking tours, there are ample ways to spend your time in the city of Vancouver. On any itinerary (and we do recommend five of our best at the bottom of this article) rest assured you'll want to spend some extra time here. Here's how to do it based on what piques your interest the most: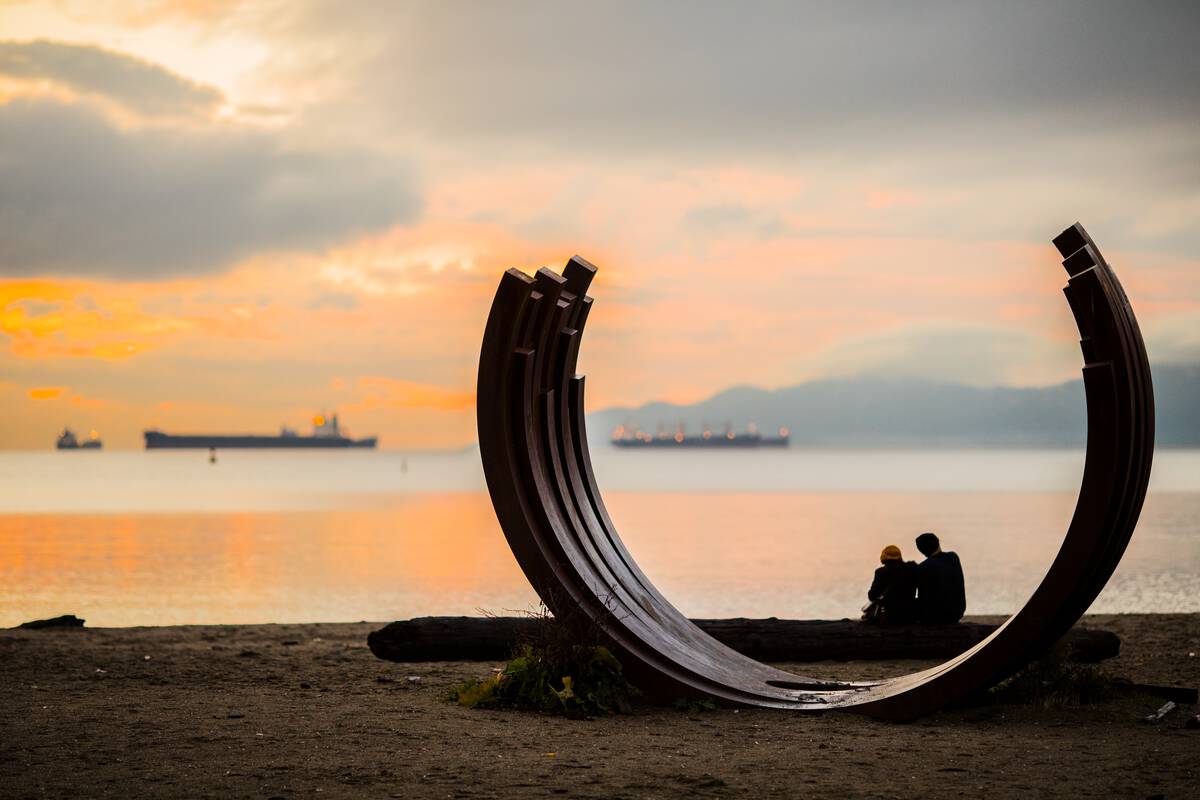 The arc at English Bay Beach. Image courtesy of Destination Vancouver and Nelson Mouellic
All About Vancouver Weather
If you ask a Vancouverite or do a simple internet search, you'll find that Vancouver weather has quite the reputation. Known for consistently breaking its own records, it does rain here a lot—but much, much less in the summer months. July and August are almost always warm and sunny, and if you get lucky, September can be just as good. Surrounded by coastal mountains and the Pacific Ocean, there's almost always a refreshing breeze and temperatures vary between 14 and 22 Celsius (that's 57 and 71 Fahrenheit).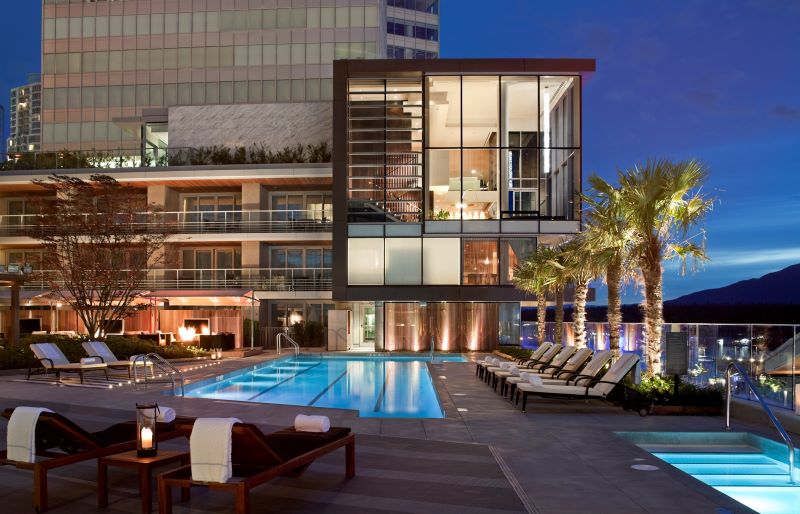 The Fairmont Pacific Rim Hotel in Vancouver. Image courtesy of Fairmont Pacific Rim
What are the Best Vancouver Hotels?
From sweeping harbor views to urban courtyards and minimalistic modern to detailed heritage rooms, Vancouver has an assortment of beautiful hotels for every travel style. Soak up elegant accommodations, modern amenities, exceptional service and gourmet cuisine at the three downtown Fairmont properties—Fairmont Hotel Vancouver, Fairmont Waterfront and Fairmont Pacific Rim—combine the grandeur of the Roaring Twenties with contemporary design at the Rosewood Hotel Georgia or blend contemporary design with intuitive service at the OPUS Vancouver in Yaletown. Other preferred partners of ours include the Shangri-La Vancouver, the Wedgewood Hotel & Spa, and Pan Pacific Vancouver.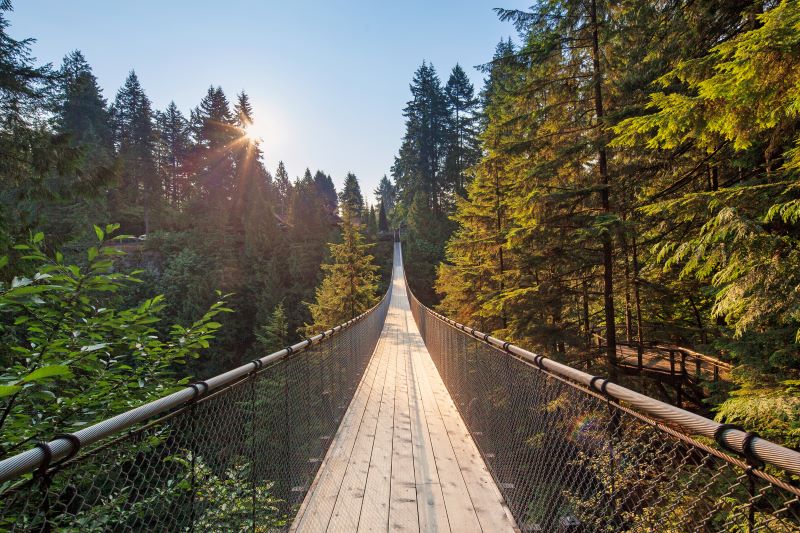 Capilano Suspension Bridge. Image courtesy of Capilano Suspension Bridge Park
What are the Best Things to Do in Vancouver?
1. Capilano Suspension Bridge Park
Spanning 30 acres and housing a world famous 450-foot long suspension bridge, Capilano Suspension Bridge Park is one of the most popular tourist attractions in Vancouver. Equally beloved by locals, the setting alone is stunning: picture towering evergreens, a lush forest floor, jutting cliffs and a rushing blue river. Walk across the bridge suspended 230 feet above the Capilano River, follow along a series of narrow cantilevered bridges and platforms with CliffWalk, get a squirrel's-eye view of 1300-year-old old growth Douglas-first with the Treetops Adventure and visit the Story Centre to learn about the origins and early adventurers who made it all possible.
2. Granville Island
Vancouver's premier artistic and cultural hub, Granville Island is set in an urban, waterfront location beneath the Granville Street Bridge and accessed by foot, car or Aquabus ferry. Steeped in a rich industrial and maritime heritage, it offers a famous Public Market home to more than 50 independent food purveyors, plus more than 300 businesses spanning toy stores and art galleries to craft shops and supplies. Ask us to book a Granville Island Market Tour with Vancouver Foodie Tours to skip the lines and indulge in 20+ signature Canadian tastings, or make a day of it on your own and stop in at one of the many fantastic restaurants.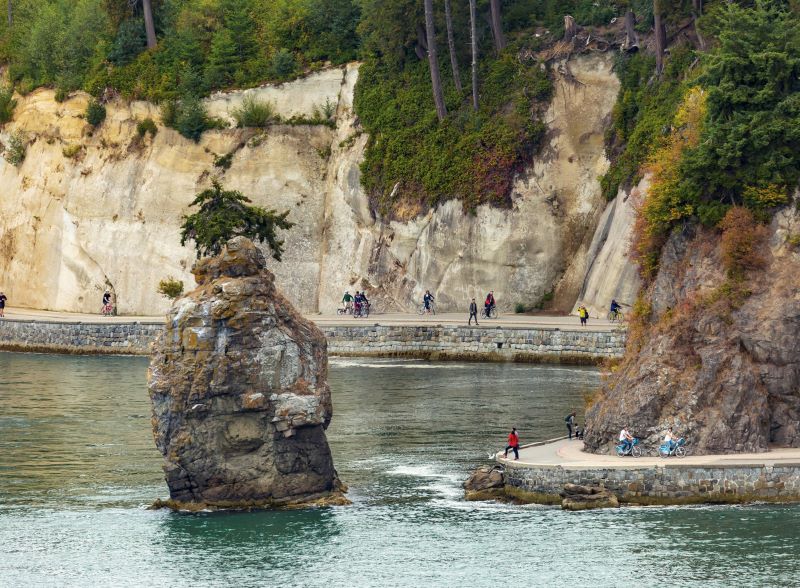 The seawall in Stanley Park. Image courtesy of Destination Vancouver
3. Stanley Park
One-fifth larger than New York's Central Park, Vancouver's Stanley Park offers a magnificent green oasis spanning 400 hectares in the downtown core of the city. Explore natural West Coast rainforest by foot, scooter or bike and enjoy scenic views of water, mountains, sky and trees along the famous seawall (more on that below). There are multiple beaches to swim at, a train you can ride, beautiful horse-drawn carriages you can book and restaurants like The Teahouse and Stanley Park Pavilion you can dine at. Stanley Park is also home to the Vancouver Aquarium, which houses over 65,000 animals and is a center for marine research, education, conservation and rehabilitation.
4. Walk the Seawall
As mentioned above in our description for Stanley Park, the Vancouver Seawall actually continues past this lush, green space around the waterfront edges of the city. The longest uninterrupted waterfront path in the world, it extends over 17 miles from the Vancouver Convention Centre to Spanish Banks Park, and is divided into two clearly marked sections: one for walkers and one for cyclists. The 5.5 mile portion that wraps around Stanley Park takes two to three hours to walk or one hour to cycle, and it's easy to rent a bicycle or book a tour to make sure you see the best parts! We highly recommend Cycle City Tours, which offers both standard bicycles and e-bikes.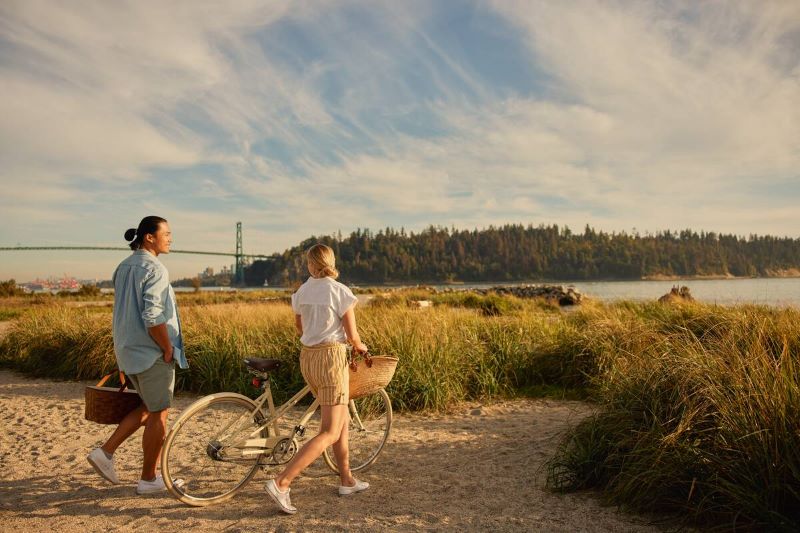 Ambleside Beach in West Vancouver. Image courtesy of Destination Vancouver and Kindred & Scout
5. Visit a Beach
Vancouver has nine public beaches easily accessible from the city: English Bay, Sunset, Second, Third, Kitsilano, Spanish Banks, Jericho, Locarno and Trout Lake Beach (the only one located on a freshwater surface). There is a total 11 miles of beautiful outdoor space to sunbathe, swim, play sports and picnic, and dog-owners can bring their pooch to dedicated areas at Spanish Banks and Sunset Beach. Outside of this main area, West Vancouver also houses the beautiful Ambleside Beach with views of the Lion's Gate Bridge, and the University of British Columbia campus houses the clothing-optional Wreck Beach, accessed by a trail including 490 steps down from the road.
6. Patio Hop
When summer finally comes around and the sun shines down on Vancouver, patios pop up all over the city. Settle in, order an ice-cold beer or cocktail, contemplate a snack and soak up the surrounding nature without ever leaving the city. Some of the best for city views include The Roof at Black & Blue, 1931 Gallery Bistro at the Vancouver Art Gallery and Reflections at Hotel Georgia, while great waterfront views can be found at LIFT, Ancora, Dockside and Tap & Barrel at the Convention Centre. If you're not sure where to eat, the Yaletown neighborhood is a great go-to. Two streets here, Mainland and Hamilton, offer an array of cuisines, most of which have patios.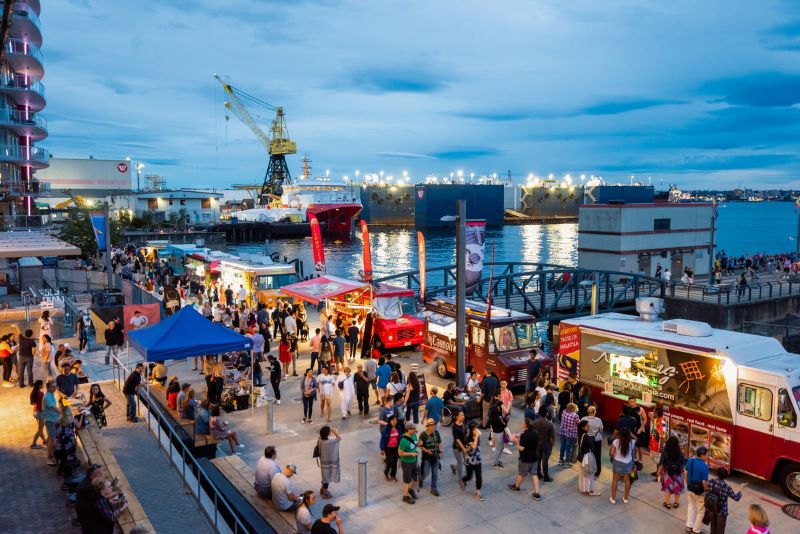 The Shipyards Friday Night Market in North Vancouver. Image courtesy of Destination Vancouver and Vision Event Photography Inc.
7. Summer Markets
Beyond a single meal, many delicious treats can be found at Vancouver's summer markets. The Richmond Night Market (albeit in Richmond, not technically the city of Vancouver), is the largest night market in North America and just 20 minutes by Canada Line. Running April 29 to October 10, 2022, it's open Fridays, Saturdays and Sundays and has 70 incredible food stalls and 100 retail stalls. Particularly if you enjoy Asian cuisine, we highly recommend it. Of course, Vancouver also hosts weekend Farmer's markets in various neighborhoods throughout the summer and the Shipyards in North Vancouver has its own market every Friday night until September.
8. Take a Boat Tour
Vancouver is a city surrounded by water, so it only makes sense to book a boat tour. Particularly in the summer months, there's nothing quite like the salty breeze of the Pacific Ocean sweeping across your face as you spot sea lions, harbor seals and other spectacular scenery while winding along the coast. For the best views and storytelling of the Vancouver Harbour area, we highly recommend booking Harbour Cruises' 1-hour tour aboard the only authentic paddlewheeler in the city, the MPV Constitution. If you'd rather depart from Granville Island than Coal Harbour, there's also Vancouver Water Adventures' City & Seals Tour or Sunset Cruise Tour. Ask our team to get the best fit for you.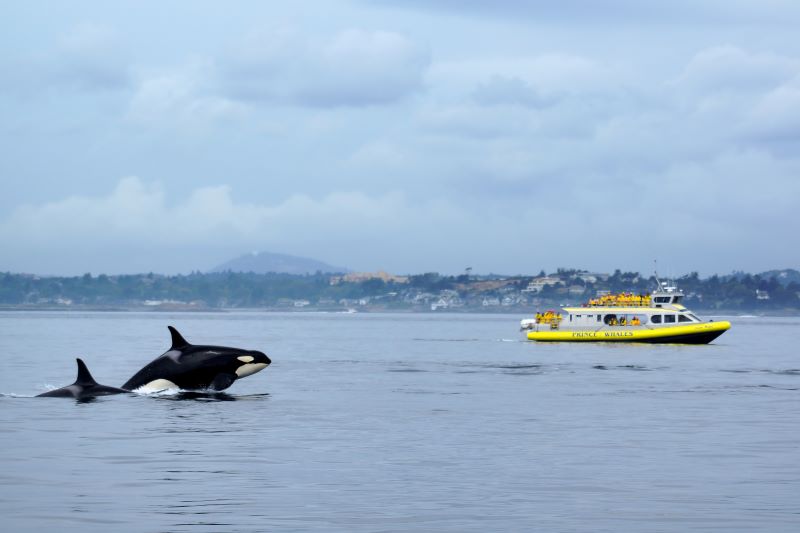 Whale watching with Prince of Whales. Image courtesy of Prince of Whales
9. Go Whale Watching
The Pacific Ocean is home to many marine mammals, and whales are just a sample of what awaits. Prince of Whales hosts whale watching adventures departing from Granville Island, and offers a great chance at spotting spectacular marine wildlife like Orcas (Killer Whales) and Humpbacks Whales. Discover the magic of the Salish Sea aboard a variety of safe and comfortable vessels, opting for a partial day tour or a sunset tour to capture incredible sightings in the beautiful golden hour of the day. Even better, Prince of Whales has a sightings success rate of over 95%, and each tour includes a free Hi-Res photo package taken by talented naturalists.
10. Ride a Gondola
There's nothing quite like getting into the mountains on a beautiful summer day, and Vancouver has three local mountains (Cypress, Grouse and Seymour) plus the alpine village of Whistler just two hours away. Immerse yourself in rich greenery and ride into the clouds aboard a gondola for views you won't believe. The Grouse Mountain Skyride offers breathtaking views of Vancouver as you journey up the mountainside, while the Sea to Sky Gondola, located in Squamish, boasts incredible views of everything British Columbia --including mountains, forests, oceans and rivers-- through floor to ceiling glass windows from 2,900 feet above sea level.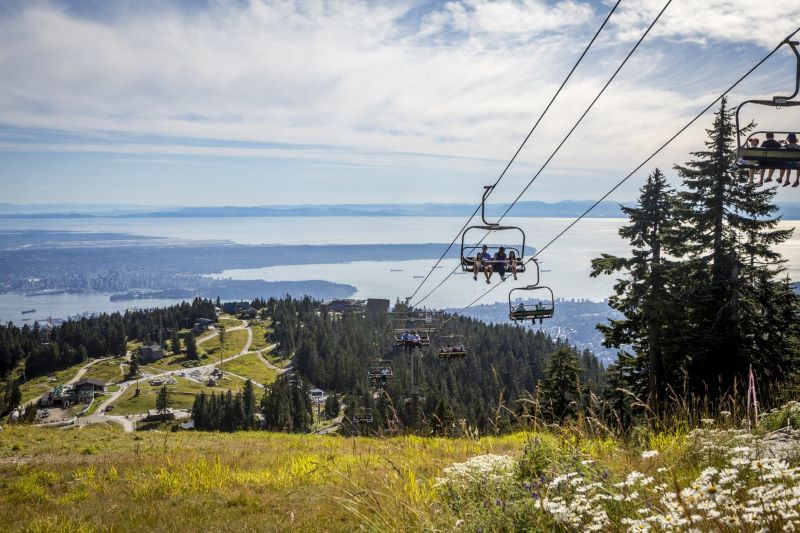 The Peak Chairlift at Grouse Mountain. Image courtesy of Destination Canada
11. Take a Hike
With so many mountains surrounding Vancouver, you'd better believe there's ample hiking. Those who like to strap on a pair of boots and hit the trails will fall in love with what's on offer, from Quarry Rock in Deep Cove and the Grouse Grind Trail on Grouse Mountain to Pacific Spirit Regional Park Trail at UBC and Garibaldi Lake Trail in its namesake provincial park. For the most spectacular views, we highly recommend St Marks Summit, Tunnel Bluffs, Joffre Lakes and The Chief. Just be sure to prepare accordingly with proper gear, ensure you're at a moderate fitness level and let somebody who isn't joining know where you're going before embarking.
12. Take a Foodie Tour
You may recall we mentioned a fantastic food tour on Granville Island earlier in this article, but Vancouver Foodie Tours has a few more surprises up their sleeve if you want to try something else. Take the Gastronomic Gastown Tour for three hours of delicious discoveries and enjoy iconic restaurants, quirky pubs and historic dining rooms as you go. The tour includes a progressive meal at 4 of Gastown's best restaurants complete with a craft beer, award-winning wine or cocktail pairing at each stop. If you salivate over Asian cuisines, the Authentic Asian Eats tour is also a fantastic option, serving dim sum, baked goods and bubble teas in nearby Richmond.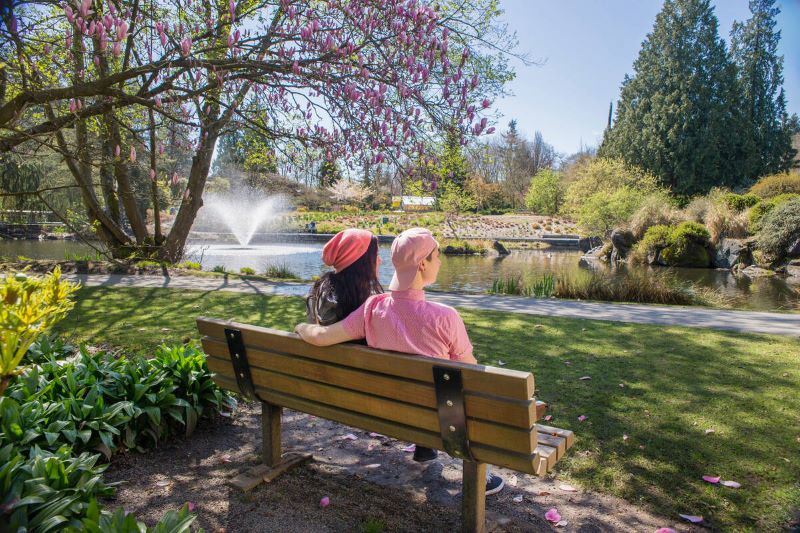 VanDusen Botanical Garden. Image courtesy of Destination Vancouver and Sombilon Studios
13. Visit a Park
Stanley Park isn't the only green space to enjoy in Canada's greenest city. While it is the largest, there are many other spaces to enjoy, from David Lam Park in Yaletown and Harbour Green Park in Coal Harbour to Lynn Creek in North Vancouver and Lighthouse Park in West Vancouver. Pack up a picnic, grab a blanket and maybe even an alcoholic beverage or two—the city of Vancouver is piloting a program allowing the responsible consumption of alcohol at 22 parks around the city from June 3 to October 16, 2022. These include Queen Elizabeth Park, David Lam Park, Kitsilano Beach Park, Locarno Beach Park, Vanier Park and Robson Park, to name a few. You can view the full list of approved parks here.
14. Visit a Museum or Art Gallery
Just in case Vancouver's rain makes an appearance or you need to escape the sun, there are a number of great indoor activities to enjoy throughout the city. The Vancouver Art Gallery sits in a beautiful neoclassical courthouse located in the thick of Robson Street and showcases more than 10,000 pieces, or there's the new Polygon Gallery in Lonsdale Quay, North Vancouver featuring some truly stunning photography. To learn about the history of the city, the province of British Columbia and its Indigenous Peoples, visit the Museum of Vancouver, Museum of Anthropology, the Maritime Museum or the Chinese Cultural Centre.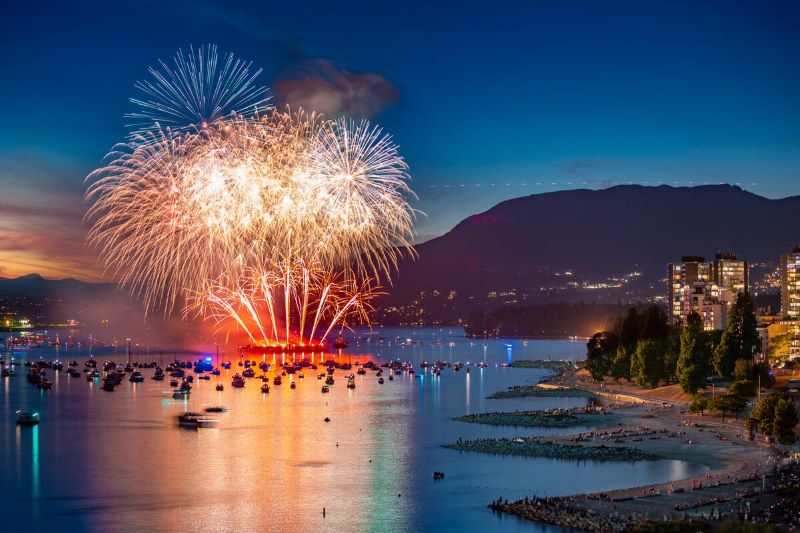 Festival of Lights in Vancouver. Image courtesy of Destination Vancouver and Vision Event Photography Inc.
15. Attend an Event or Festival
Another reason to visit Vancouver in the summer is for its fantastic festivals. Through the months of July, August and September you can attend events such as Canada Day (July 1), Celebration of Light (July 22, 26 and 29, 2023), Pride (July 31), and Pacific National Exhibition to celebrate the city and its people through various events, firework displays and parades. The International Jazz Festival runs from June 23 to July 2, Bard on the Beach Shakespeare Festival runs from June 8 to September 30 and the Deighton Cup takes place at the Hastings Racecourse on July 22, 2023. Of course, this is only a small sample of what's on offer, so be sure to visit Destination Vancouver's event calendar for more.
16. Drive the Sea to Sky highway
Whether you're actually going somewhere or just out for a drive, the Sea to Sky Highway is a fantastic experience for anyone visiting Vancouver. Regarded as one of the most scenic drives in the country, the cliff-side road connects Vancouver with Whistler and Pemberton while offering some of the most beautiful scenery in British Columbia. There are parks and lots of places to pull over and take pictures—we highly recommend stopping at Porteau Cove, Shannon Falls, the Sea to Sky Gondola and Squamish, the last being a small mountain town and outdoor enthusiasts dream. You can also stop at Brandywine Falls, a waterfall just south of Whistler that plummets 230 feet and offers ample hiking routes. If you're driving north, it's worth mentioning that the views will all be on your left.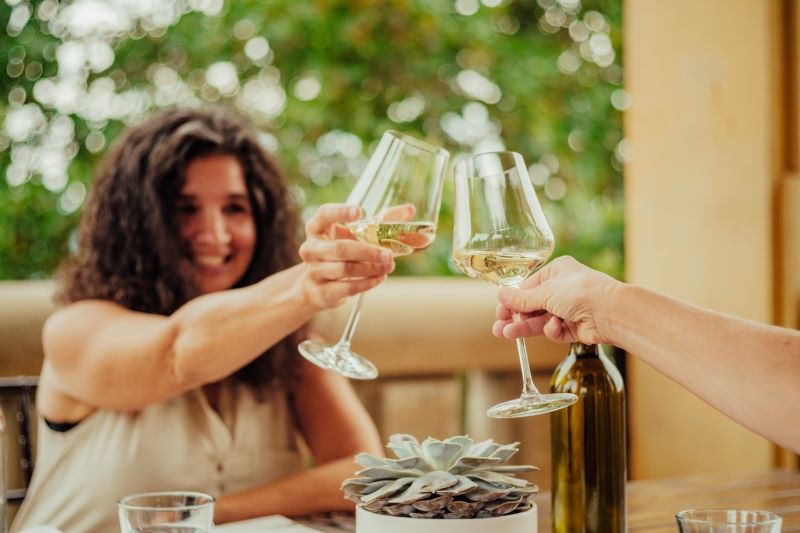 Wine tasting in British Columbia. Image courtesy of Destination Canada
17. Go Wine Tasting
Though the Okanagan wine region is a mere four hour's drive from Vancouver, you don't need to leave the city to sip some delicious samples. The Fraser Valley (encompassing Vancouver, Surrey, Richmond, New Westminster, Delta, Langley, Aldergrove and Abbotsford) is a wine region producing high quality, handcrafted wines, and its proximity to the city makes it ideal for day trips. Book a private tour or transfers to ensure you don't have to drive, then let yourself enjoy sparkling, fortified and ice wines from 29 licensed grape wineries spread across 155 acres. There are even food experiences like farm tours and bistro dining available at some venues.
18. Go Flightseeing
As a gorgeous city surrounded by oceans and mountains, there's something to be said for seeing Vancouver from the air. Whether it's th endless seawall that gets you giddy or the towering mountains along the shore, there are ample sights you can see aboard a seaplane with Harbour Air. Whether you have 20 minutes or two hours, book the Vancouver Classic Panorama tour to see the iconic sights of the city, or the Alpine Lakes & Glaciers tour to see snow-capped mountains and a remote alpine lake. The seaplanes can carry five to eight passengers, so either you can make some new friends on a shared flight or you can book an entire plane to yourself!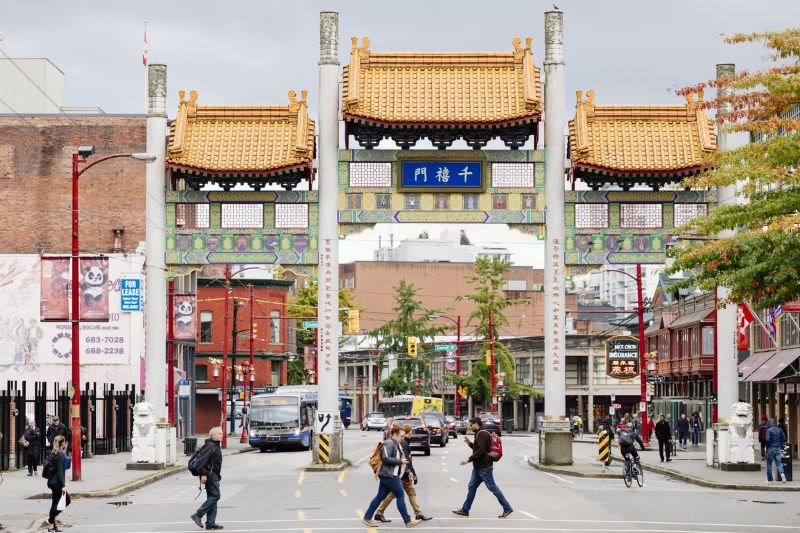 The Vancouver Chinatown Millennium Gate. Image courtesy of Destination Vancouver and Nelson Mouellic
19. Take a History Tour
Though only around 136 years old, Vancouver still has its fair share of history and fascinating stories. Learn all about the city's past on a walking tour, whether through Gastown, Chinatown or even Stanley Park. Forbidden Vancouver Walking Tours offers a particularly interesting take, revealing Vancouver's dirtiest Prohibition-era secrets through stories about its mobsters, rum-runners, corrupt politicians and rioters. Historical Chinatown Tours takes you through a National Historic Site to discover culture, history, architecture and gastronomy, while Toonie Tours offers free walking tours through Gastown, Waterfront and Downtown to discover local recommendations, street art and beer.
20. Watch an Outdoor Movie
Did you know? Every Thursday in July and August you can catch a flick on the big screen in Vancouver's great outdoors. An inflatable, four-storey tall screen will be set up in at the north plaza of the Vancouver Art Gallery, and will show family-friendly films from around 9pm (or sundown). As well, Fresh Air Cinema and Evo Car Share have announced that the Evo Summer Cinema Series at Stanley Park will take place every Tuesday in July and August starting on July 4. Though the titles haven't been released yet, the movies will take place at the Grand Lawn at Ceperley Meadows near Second Beach, and screenings will begin at dusk, so typically around 8pm.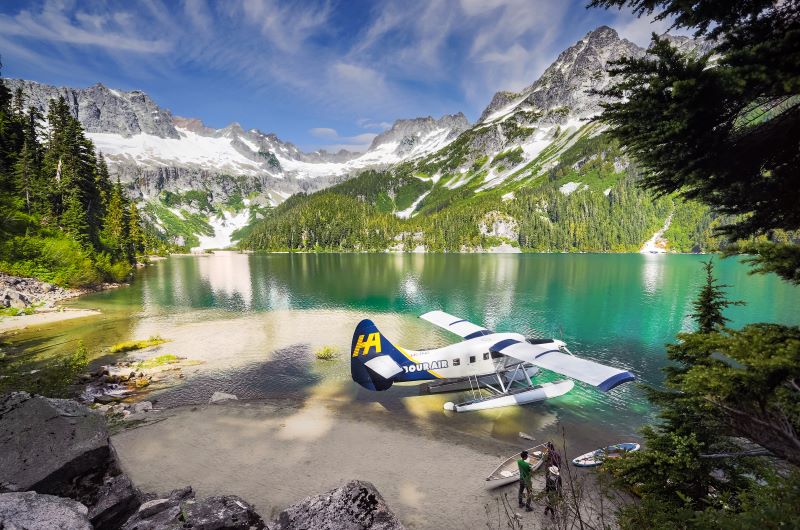 Harbour Air at an alpine lake. Image courtesy of Destination Canada and Harbour Air
21. Visit Whistler or Vancouver Island
Okay, while not in Vancouver itself it's easy to make a day or overnight trip to see Whistler or Victoria. Book a quick flight with HeliJet or Harbour Air, or travel aboard BC Ferries to the island. Watch for marine mammals like seals, otters and whales and arrive to bustling streets full of shops and restaurants. The pedestrian village of Whistler is fantastic for leisurely time away in the mountains, while Victoria offers a beautiful coastal escape complete with gardens and historic buildings. Dine on classic Canadian fare, visit a spa or hit the shops for some great souvenirs. You won't regret adding Whistler or Vancouver Island to your Vancouver itinerary. Speaking of, below are a few of our top suggestions!
What are the Best Vancouver Itineraries to Book?
We get it—if you're taking the time to visit Vancouver you'll likely want to see more of Western Canada, if not the country. Luckily, we have itineraries that start and end in Vancouver while allowing you to explore different regions. Then, all you have to do is add a few extra nights in the city so you can enjoy everything we listed above. Browse the below to get an idea of the different vacations we offer: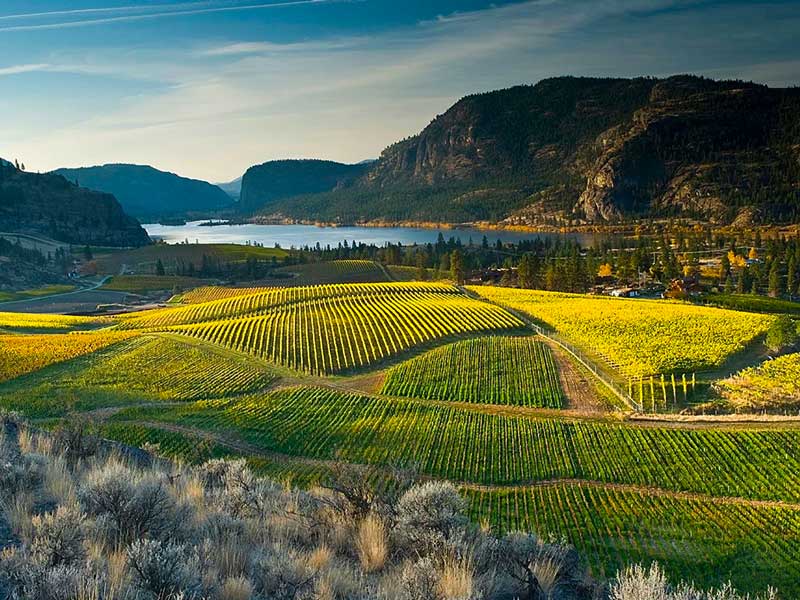 Soak up stunning mountain landscapes, warm turquoise lakes, sweeping valleys and countless vineyards on this popular 10-day Western Canada road trip. Begin your journey in Vancouver before reaching Whistler—nestled between world-renowned Whistler and Blackcomb Mountains—then travel into the Canadian Rocky Mountains to explore the turquoise lakes, rugged peaks and glittering glaciers of its national parks. Return back to Vancouver through sun-kissed hills and valleys, expansive lakes, sweet orchards and world-class wineries.
This 10-day tour Includes:
9 nights hotel accommodation
Peak to Peak gondola ride
Choice of 1 of 3 excursions in Jasper
Ice Explorer Ride onto Athabasca Glacier + Glacier Skywalk
Choice of 1 of 4 excursions in Banff
Okanagan the Westside Story Wine Tour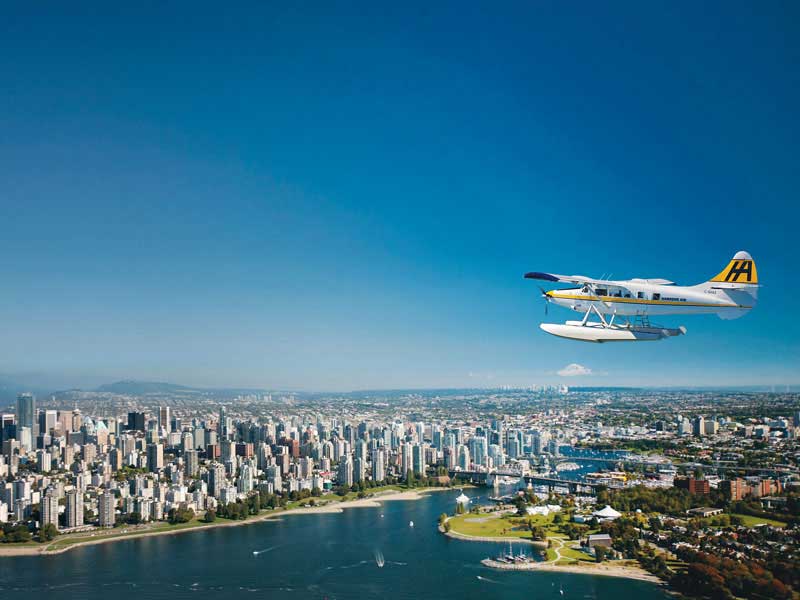 Experience Western Canada & Vancouver on this popular Canadian Rockies train vacation. Start in Vancouver with your choice between a day excursion to Victoria or Whistler, then board VIA Rail's renowned Canadian train and travel overnight in a sleeper cabin to Jasper. Here you'll enjoy an Ice Explorer ride onto the Athabasca Glacier, then travel to Lake Louise by coach before continuing to Banff. Choose between wildlife watching, viewing grizzly bears or taking part in a cowboy cookout, then wrap up the trip in Calgary.
This 8-day tour includes:
Sleeping berth on board VIA Rail for 1 night
6 nights hotel accommodation
Choice of 1 of 2 excursions in Vancouver
Transfer between rail depot and hotel in Jasper
Full day tour between Jasper and Lake Louise with picnic lunch
Ice Explorer Ride onto Athabasca Glacier + Glacier Skywalk
Scheduled coach transfer between Lake Louise and Banff
Choice of 1 of 3 excursions in Banff
Scheduled coach transfer between Banff hotel and Calgary
Meals as per itinerary
National park fees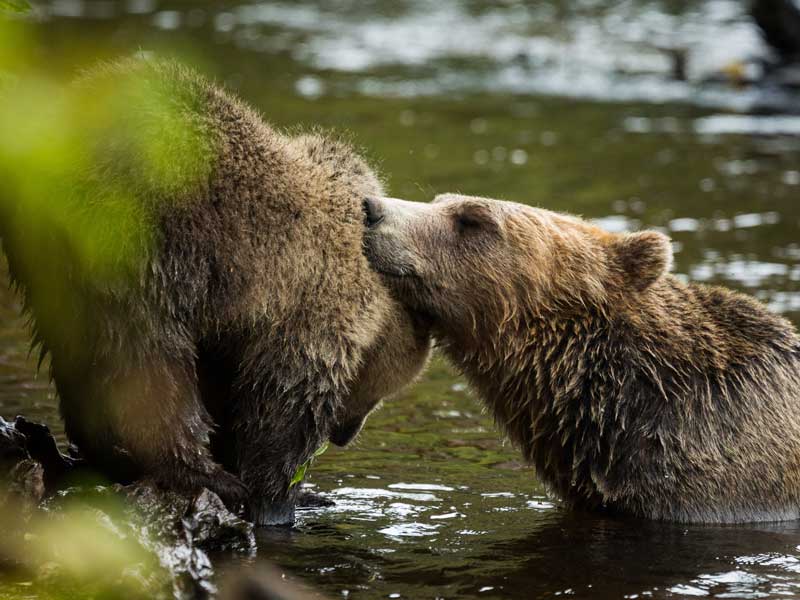 Perfect for nature and wildlife lovers alike, go in search of grizzly and black bears, orca, humpback and gray whales on this week-long Vancouver Island road trip. Departing from and arriving back to Vancouver, stay at Knight Inlet Lodge—a unique bear-viewing wilderness resort floating in the tranquil waters of Glendale Cove—and embark on a whale watching cruise in Victoria to see these majestic creatures in action. From lush rainforests to rocky coasts and large mammals to marine life, it's all here in British Columbia.
This 7-day tour includes:
6 nights hotel accommodation
Return BC Ferries toll for vehicle and passengers with reservation
Floatplane return transfers to Knight Inlet Lodge
Assortment of activities, equipment and meals at Knight Inlet Lodge
Choice of 1 of 2 excursions in Tofino
Choice of 1 of 2 excursions in Victoria
Meals as per itinerary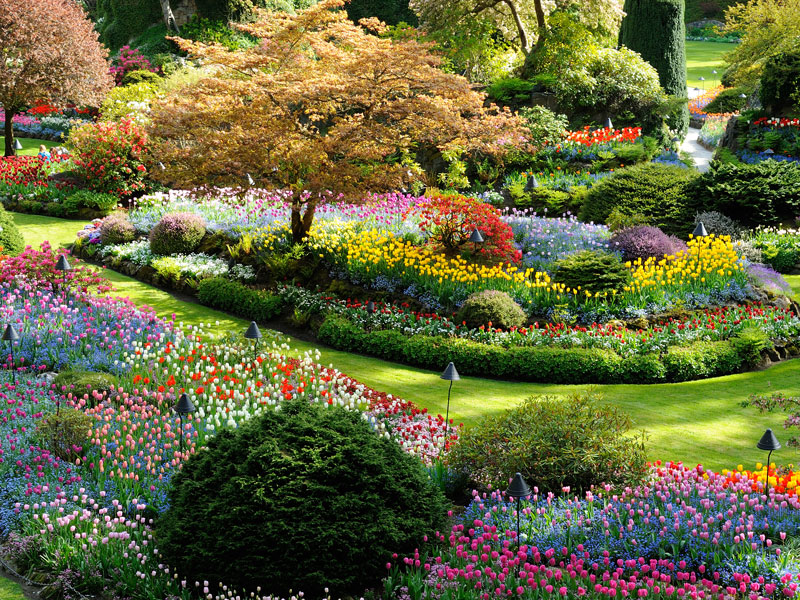 With the journey to Victoria equally as enthralling as the city itself, this 3-day Vancouver Pre and Post Cruise Package offers scenic ocean and air travel plus whale watching and the Butchart Gardens. Cruise across the Georgia Strait with BC Ferries, watch whales breach the surface of the Pacific and return to Vancouver by floatplane with Harbour Air.
This 3-day tour includes:
2 nights hotel accommodation
5 hour guided tour to Victoria
Admission to the Butchart Gardens
3 hour Orca Spirit Whale Watch
Scenic floatplane flight from Victoria to Vancouver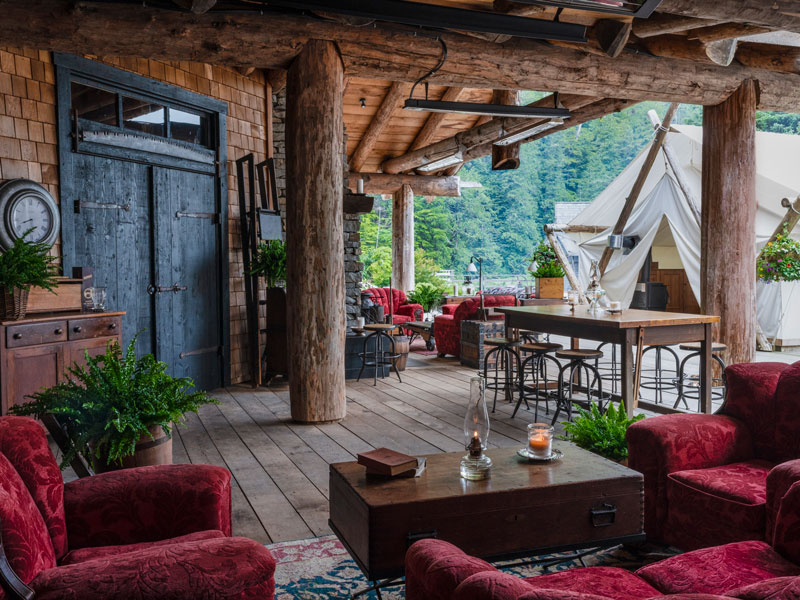 Experience 'luxury gone wild' at Clayoquot Wilderness Lodge, an eco safari-style resort near Tofino on Vancouver Island. Accessible by seaplane, helicopter or boat from Vancouver and situated in a UNESCO Biosphere Reserve. Clayoquot is symbolic of a real departure from the everyday. Set among magnificent conifer forests, the lodge offers guests an unforgettable experience of the landscape and its wildlife. Adventure-filled days are bolstered by local produce-driven, sustainable dining, fine wines and the chance to unwind in generously appointed campaign-style guest tents.
This 4-day tour includes:
Return floatplane transfers from Vancouver to Clayoquot Wilderness Lodge
Waterfront Ensuite Luxury Tent accommodations
Evening turndown service and room amenities
All gourmet meals and snacks
All beverages (house bar, wine and beer)
Assortment of guided and unguided activities
Saunas, hot tubs and cold plunge, fitness room
Gratuities
Massage
Feeling inspired? Chat with one of our Travel Designers to create a custom trip that's just for you, or visit our Let's Do Canada page for more trip ideas to take this summer. Prefer to simply stay in touch? Subscribe to our newsletter for up-to-date deals, trip ideas and more!