The best bucketlist trips in Canada are set in spectacular scenery and include transformative moments that spark lifelong memories. Whether it's dancing under the northern lights, bonding with grizzly bears in temperate rainforest or road tripping along the rugged coast of the Atlantic, here are the top 20 bucketlist trips in Canada, based on our 20 years experience.
Opening image courtesy of Clayoquot Wilderness Resort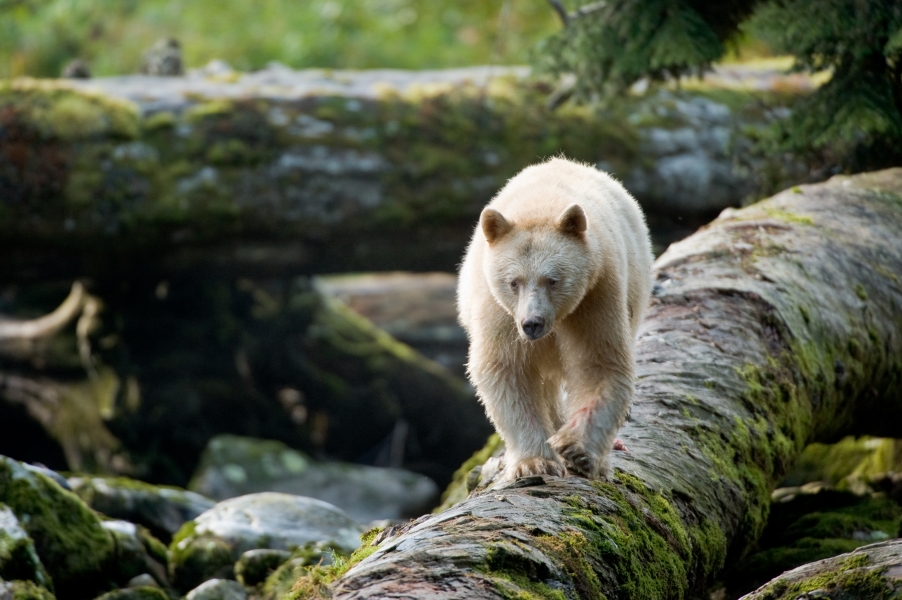 Image courtesy of Spirit Bear Lodge / Cael Cook
1. Search for the Mystical Spirit Bear in the Great Bear Rainforest
Trip Type: Wildlife Viewing | Length: 8 Days / 7 Nights | Package Details: Spirit Bears of the Great Bear Rainforest
Wander within the largest coastal temperate rainforest in the world, located on the Pacific coast of British Columbia, in search of the mystical spirit bear. Staying in the small village of Klemtu at the waterfront Spirit Bear Lodge, you'll learn about the local Kitasoo/Xai'xais Indigenous people and the coastal ecology of the region. Offering even more than the quest for these blonde, beautiful bears, you can go searching for grizzlies and whales, try sea kayaking and participate in an ancient cultural tour to Dis'ju Big House and heritage site. Be sure to plan your trip during spirit bear season and book ahead as this time is highly coveted.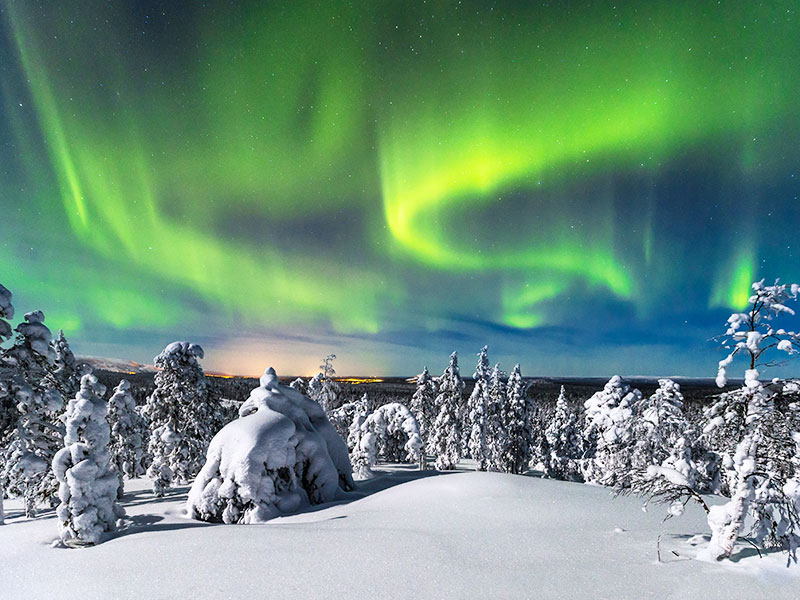 Image courtesy of Travel Yukon
2. Witness the Aurora Borealis in the Yukon
Trip Type: Northern Lights | Length: 3 Days / 2 Nights | Package Details: Northern Lights in the Yukon
See the spectacular Northern Lights on a magical 3-day trip with flights from Vancouver to Whitehorse included. Upon arrival you'll opt in for unique winter adventures like snowmobiling, ice fishing or snowshoeing and be fitted for the appropriate winter gear that will keep you warm and comfortable throughout the trip. As the stars take over the sky each evening you'll gather inside a cozy heated cabin or wall tent. Sip warm drinks, enjoy snacks and chat with other travelers while the Aurora strikes up its dance.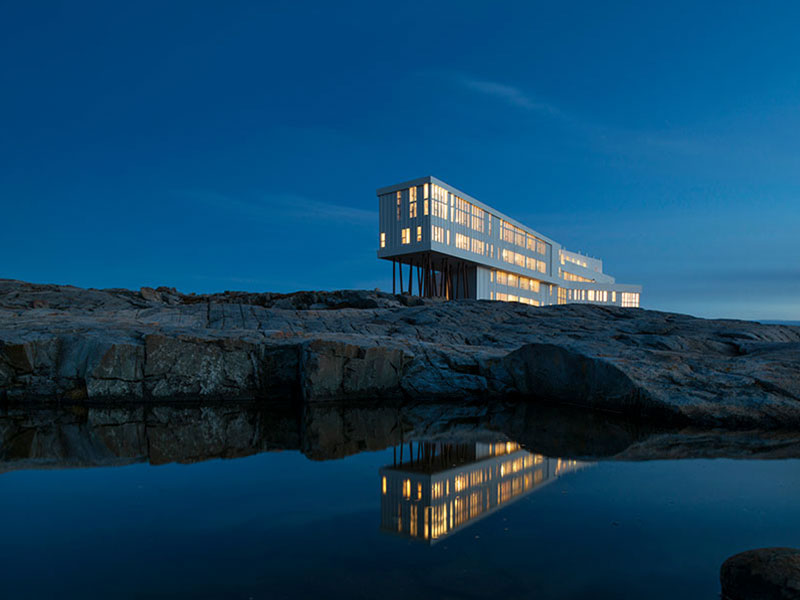 Image courtesy of Fogo Island Inn
3. Helicopter to a Luxury Inn at the Edge of the Earth
Trip Type: Luxury Lodge | Length: 5 Days / 4 Nights | Package Details: Fogo Island Inn | Luxury Inn at the Edge of the Earth
Discover an eclectic mix of luxury and local authenticity with a stay at Fogo Island Inn. Located on the east coast of Canada, experience the culture, people and pastimes of Newfoundland & Labrador, from star gazing and craft making to boat building and bread baking. The Inn itself is a pinnacle of luxury in the area, combining warm Fogo Island hospitality, traditions and craftmanship with contemporary architecture and amenities. Enjoy local cuisine, a spa and art gallery plus private transfers from Gander by heli.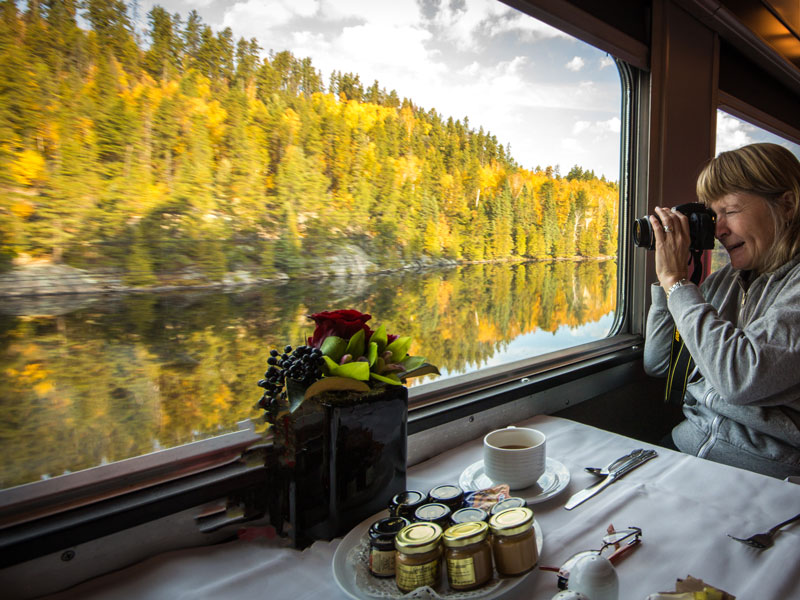 Image courtesy of VIA Rail
4. Travel Across Canada by Train
Trip Type: Train Tour | Length: 22 Days / 21 Nights | Package Details: Grande Canadian Rail Journey
It's the big bucketlist trip and our most popular request – traveling across Canada by train. On this epic journey you'll ride aboard both Rocky Mountaineer and VIA Rail, encountering Kamloops, Banff, Lake Louise, Jasper, Toronto and the Atlantic Coast. Enjoy sightseeing tours and overnight accommodation on VIA Rail with delicious gourmet meals served in the dining car. Upon arrival to the East Coast you'll enjoy sightseeing at Niagara Falls and Quebec before continuing on to the charming Atlantic provinces.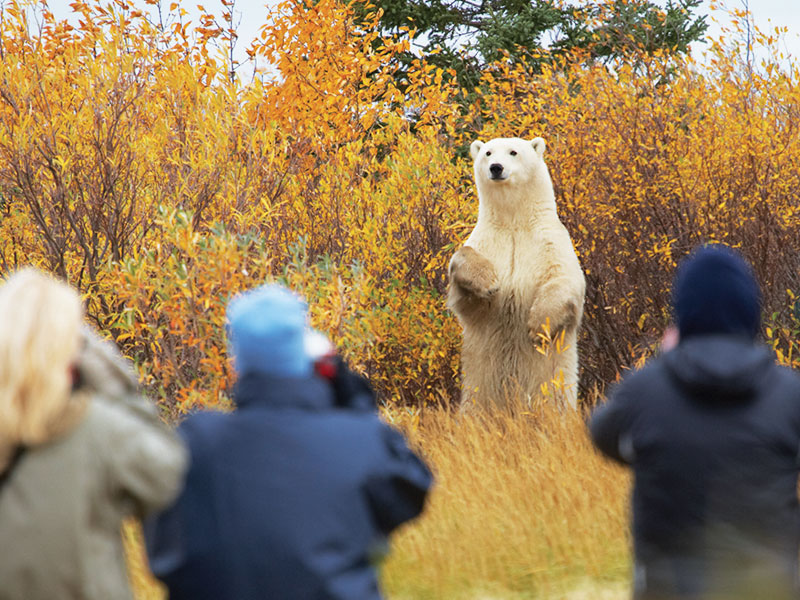 Image courtesy of Churchill Wild / Nanuk Polar Bear Lodge / Jerry Grajewski
5. Go Polar Bear Viewing in the Polar Bear Capital of the World
Trip Type: Wildlife Viewing | Length: 7 Days / 6 Nights | Package Details: Hudson Bay Odyssey Polar Bear Viewing
Churchill, Manitoba, is best known for its spectacular polar bear viewing and this journey takes you to its heart. Staying at the remote Nanuk Polar Bear Lodge one of National Geographic's Unique Lodges of the World and stepping out on foot to find Polar Bears, you'll spend time with a knowledgeable guide and learn all about these magnificent creatures and their home. After each day of excitement, reconvene at the lodge for appetizers, cocktails, a gourmet dinner and a chance at viewing the aurora.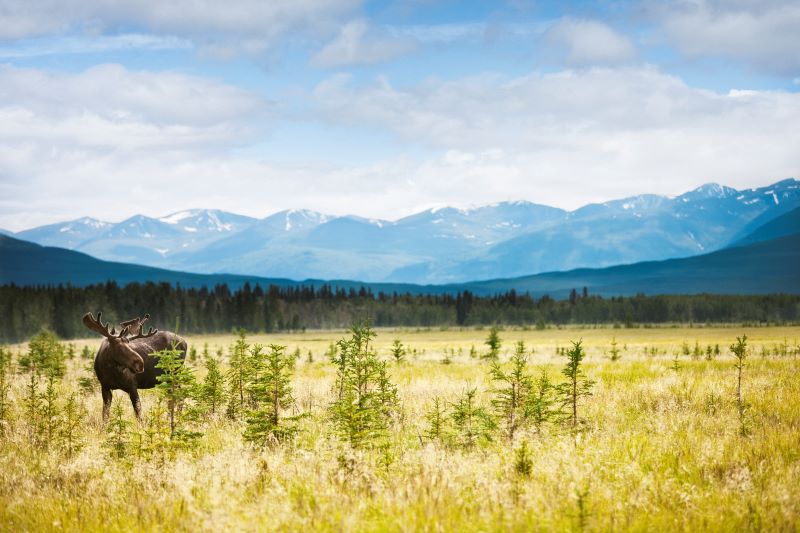 Image courtesy of Travel Yukon
6. Chase the Midnight Sun in the Yukon and Alaska
Trip Type: Self Drive | Length: 20 Days / 19 Nights | Package Details: Grand Prospector Alaska and the Yukon Circle
Explore the magic and mystery of Alaska and Canada's Yukon Territory as you chase the midnight sun along the historic Gold Rush Trail Mileposts. Drive through Whitehorse, Skagway, Valdez, Anchorage and Talkeetna, then visit Denali National Park for an eventful backcountry adventure. Observe grizzly bears, moose and wolves in the park or take a cruise in Prince William Sound to see glaciers, whales and sea lions. Find yourself in Fairbanks, take a ferry to Dawson City and end the road trip back in Whitehorse.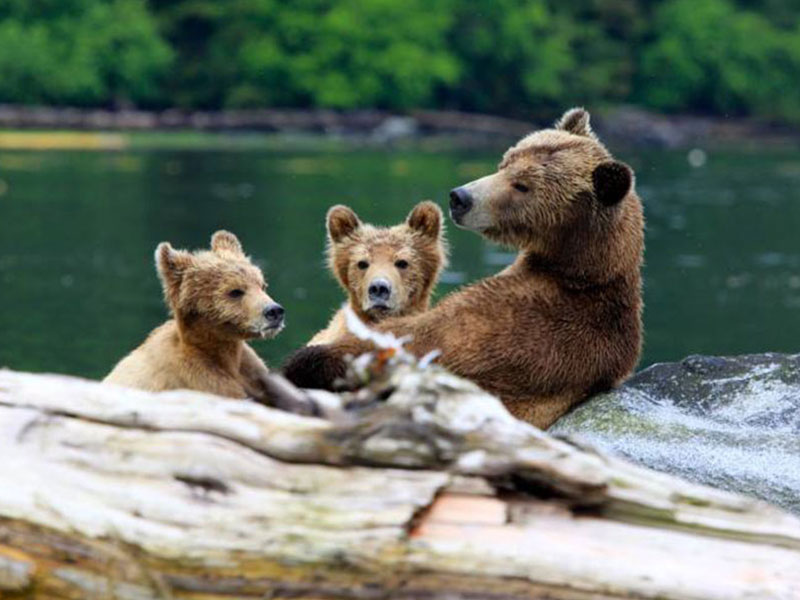 Image courtesy of Farewell Harbour Lodge
7. See Grizzlies and Whales in the Great Bear Rainforest and Broughton Archipelago
Trip Type: Wildlife Viewing | Length: 4 Days, 3 Nights | Package Details: Farewell Harbour Lodge
Experience the beauty of BC's Broughton Archipelago and Great Bear Rainforest while staying at a remote family-run wilderness lodge. Situated within a 10-acre old growth forest, Farewell Harbour Lodge offers whale watching in Johnstone Straight plus grizzly bear viewing by foot or boat at several estuaries. Take your choice of activities by day and relax at a cozy lodge with delicious meals and stunning views by night. Each room offers ocean views from your bed, with part of the lodge floating on the water itself.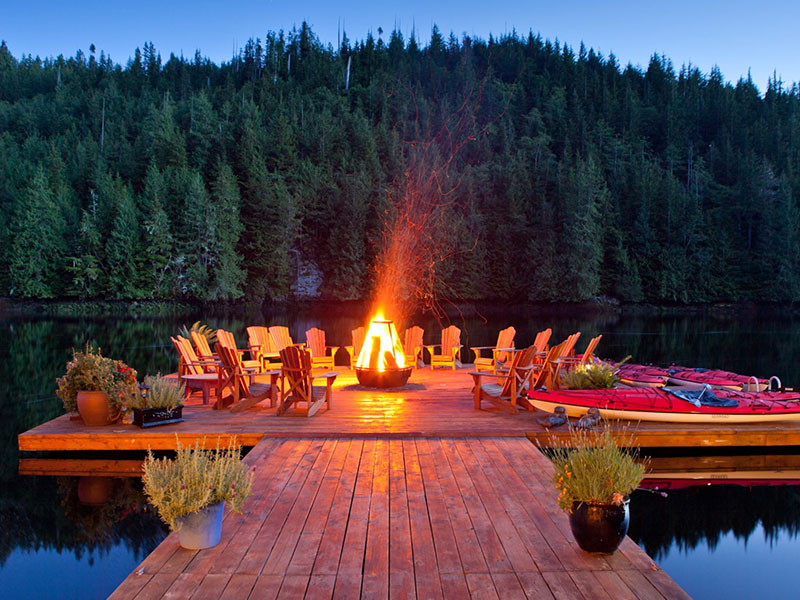 Image courtesy of Nimmo Bay Wilderness Resort
8. Stay at a Floating Wilderness Lodge in British Columbia
Trip Type: Luxury Lodge | Length: 4 Days, 3 Nights | Package Details: Nimmo Bay Resort
Every good bucketlist has brag-worthy photo ops, and Nimmo Bay Wilderness Resort steals the show. On a convenient circle trip from Vancouver by helicopter or floatplane, you can stay in the heart of the Great Bear Rainforest whilst enjoying a beautiful resort with spectacular amenities. Your intertidal chalet features views over the bay, where by day you can enjoy kayaking or paddle boarding at your leisure. The lodge also offers hiking, whale watching, grizzly bear viewing, marine life tours and so much more.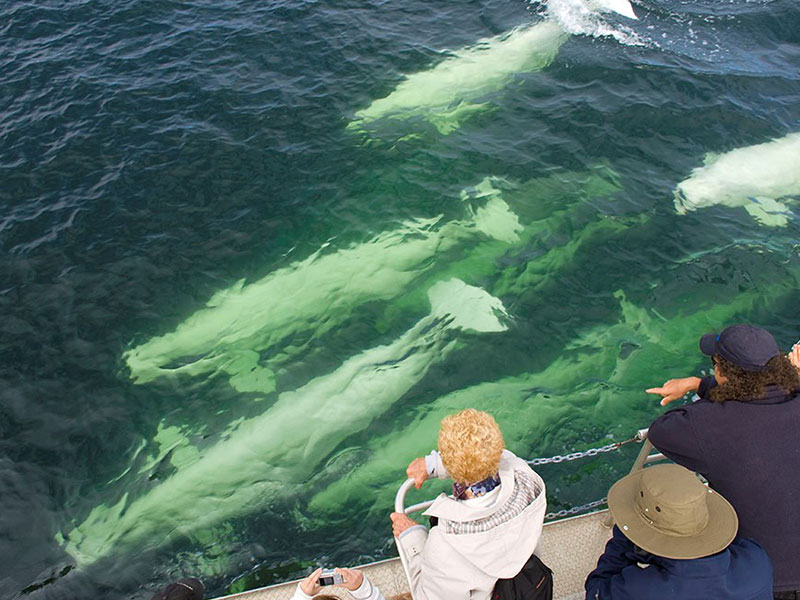 Image courtesy of Frontiers North
9. Witness the Beluga Whale Migration and Polar Bears in Manitoba
Trip Type: Wildlife Viewing | Length: 6 Days, 5 Nights | Package Details: Beluga Whales, Bears and Blooms
For the intrepid traveler's bucketlist we have a truly iconic trip that shows off unique Canadian wildlife, culture and history. Travel in July or August to Churchill, Manitoba, and see thousands of belugas migrate to the shallow waters of the Churchill River. Listen to their whalesong and find yourself overwhelmed by their beauty, then enjoy summer wildflowers and a chance to see polar bears from the comfort and safety of a Tundra Buggy. As an added bonus on the trip, you'll meet an adorable dog sled team!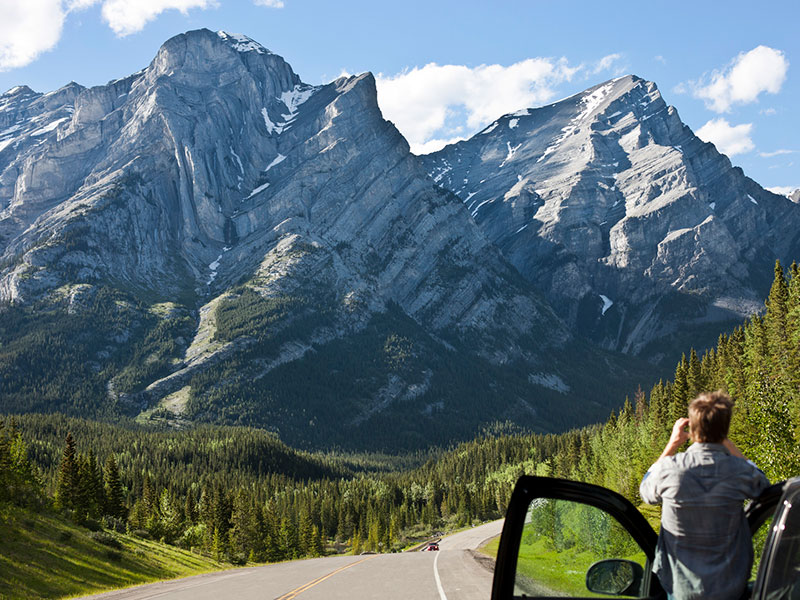 Image courtesy of Travel Alberta
10. Drive the Iconic Icefields Parkway on a Classic Rockies Road Trip
Trip Type: Self Drive | Length: 7 Days / 6 Nights | Package Details: Spirit of the West
Every bucketlist needs a classic Canadian Rockies road trip. Breathe in the spirit of Western Canada through its rugged canyons, weeping waterfalls, unique wildlife and National Parks. Travel between Vancouver and Calgary, passing through Sun Peaks, Jasper, Lake Louise and Banff as you soak up breathtaking views of the Joffre Glacier, Pyramid Falls and Mount Robson. Drive along one of the most scenic highways in the world, the Icefields Parkway, and take time to unwind in the pools at Banff Upper Hot Springs.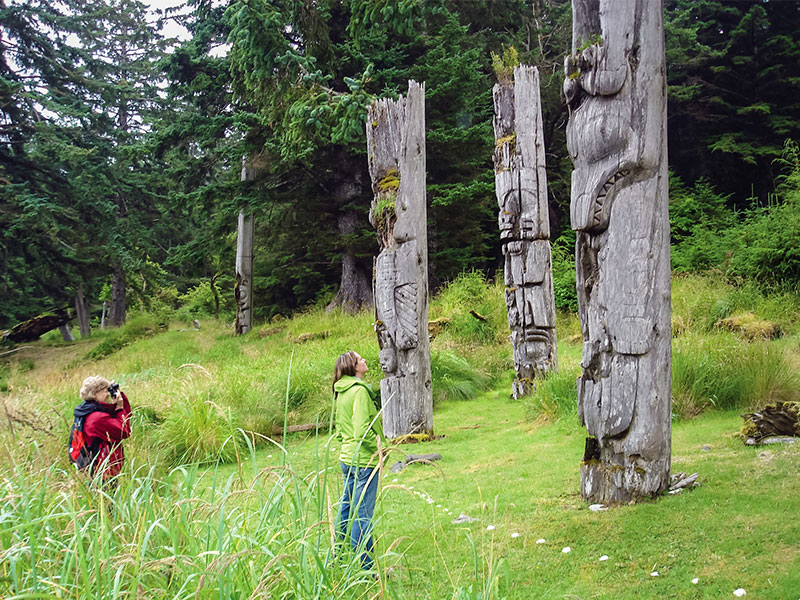 Image courtesy of Ocean House
11. Explore Ancient Cultures with Local Legends in Haida Gwaii
Trip Type: Luxury Lodge | Length: 5 Days / 4 Nights | Package Details: Island Explorer Experience at Ocean House
If ancient culture and untouched nature are what call to you, consider this trip to Haida Gwaii. The Ocean House is an eco-cultural lodge tucked within the mystical beauty of old-growth forests, sacred waters and rare geological shorelines. Embark on guided excursions to ancient village sites and discover the living culture of the welcoming Haida. This uninhabited region is home to the highest population of black bears on the planet, along with eagles, orcas, humpbacks, sea lions and other marine wildlife.
Author's note: Since the time of publishing, it has come to our attention that Ocean House will be closed for the 2020 season. Should this property be unavailable, it will be replaced by Haida House at Tllaal.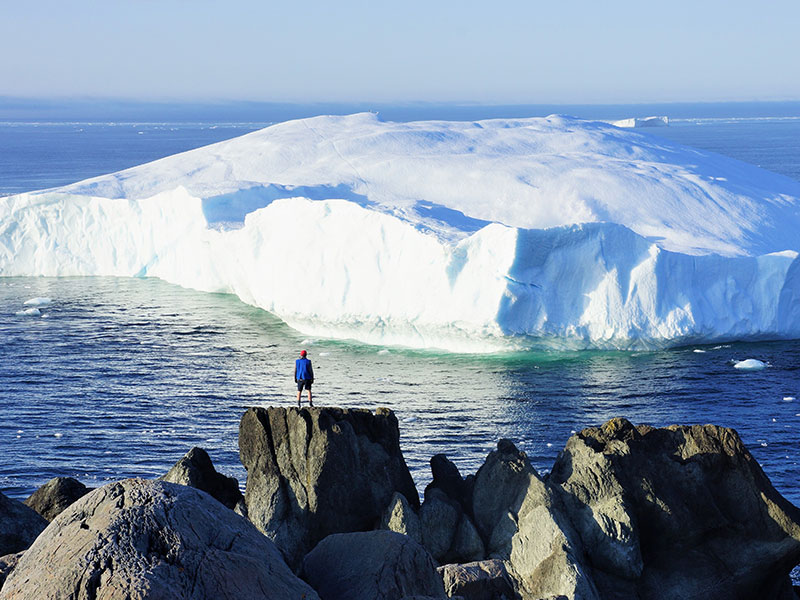 Image courtesy of Destination Canada / Linkum Tours
12. Spot Icebergs, Puffins and Whales in Newfoundland
Trip Type: Self Drive | Length: 6 Days / 5 Nights | Package Details: Iceberg Alley Newfoundland
Newfoundland & Labrador, Canada's easternmost province, is a truly special destination best explored on the open road with an open heart. Drive the Avalon Peninsula, Twillingate and Trinity Bay, stopping to see whales, the Atlantic puffin and thousands of sea birds. Enjoy National Historic Sites, welcoming locals, and charming architecture like white and pastel colored clapboard houses. Each spring offers the chance to witness 10,000-year-old icebergs and see humpback whales in one visit.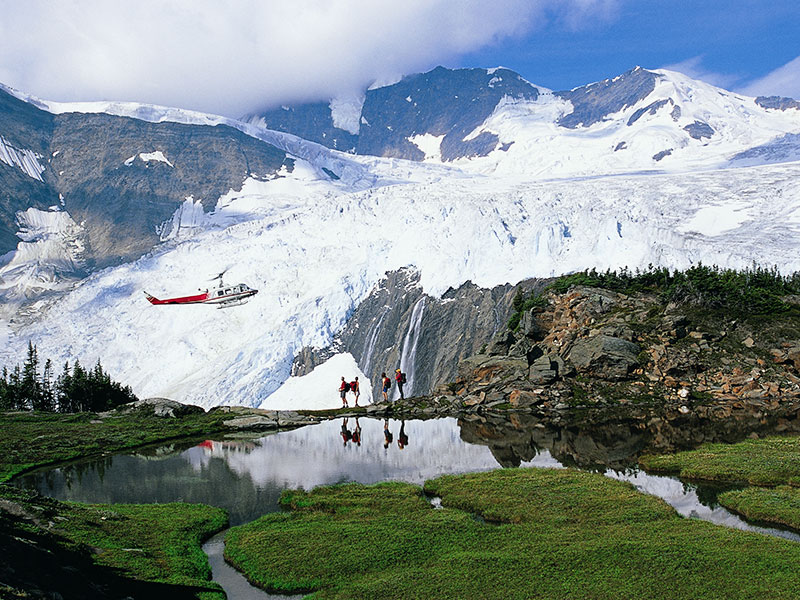 Image courtesy of Canadian Mountain Holidays
13. Heli-hike in the Canadian Rockies and Bugaboo Mountains
Trip Type: Soft Adventure | Length: 7 Days / 6 Nights | Package Details: Heli-Hiking in the Canadian Rockies
Whether you're nine, 90 or somewhere in between, CMH offers heli-access adventures that are suitable for all bucketlists. Fly by helicopter into the Columbia Mountain sub-ranges to trek amongst ancient glaciers, jutting pinnacles, placid lakes and snow-capped peaks. With the Rocky Mountains providing a picturesque backdrop to your stay, the remote Bugaboo Lodge will serve as your home with après-hiking appetizers, drinks, delicious meals and a hot tub. The guided hikes can be as carefree or as challenging as you like, with options to try the Skyladder Via Ferrata and the Bugaboo Spires Glacier Trek.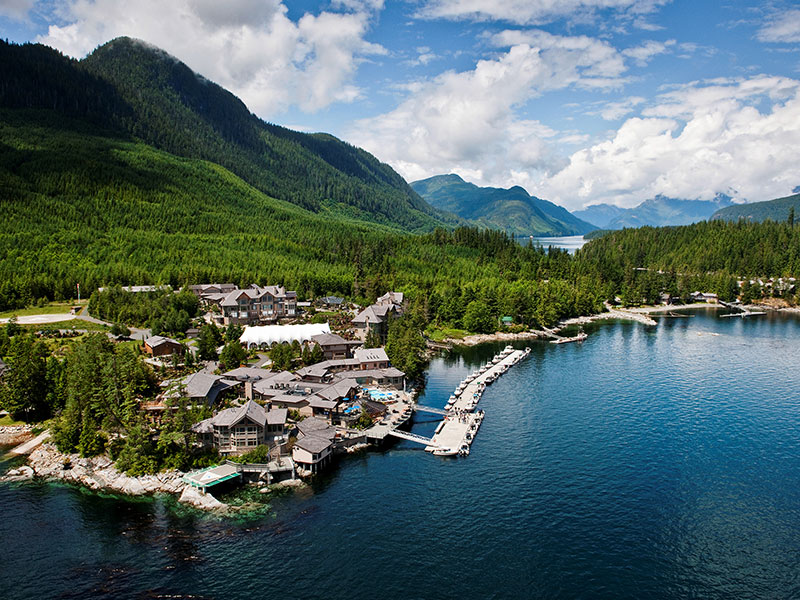 Image courtesy of Sonora Resort
14. Floatplane between BC's Best Luxury wilderness Resorts
Trip Type: Luxury Lodge | Length: 8 Days / 7 Nights | Package Details: Luxury Lodges of the West Coast
An over-the-top bucketlist trip for those looking to splurge, combine two of British Columbia's best luxury wilderness resorts – Sonora Resort and Clayoquot Wilderness Lodge – on one remarkable trip. While one touts west coast inspired waterfront rooms and suites the other offers deluxe safari-style tents, and both are set in remote nature with renowned Relais & Chateaux status. Floatplane between the resorts, indulge in culinary exploration, spend time at the spas or try a range of activities. Horseback riding, fishing, wildlife viewing, rock climbing, hiking, kayaking and heli-touring are just the beginning.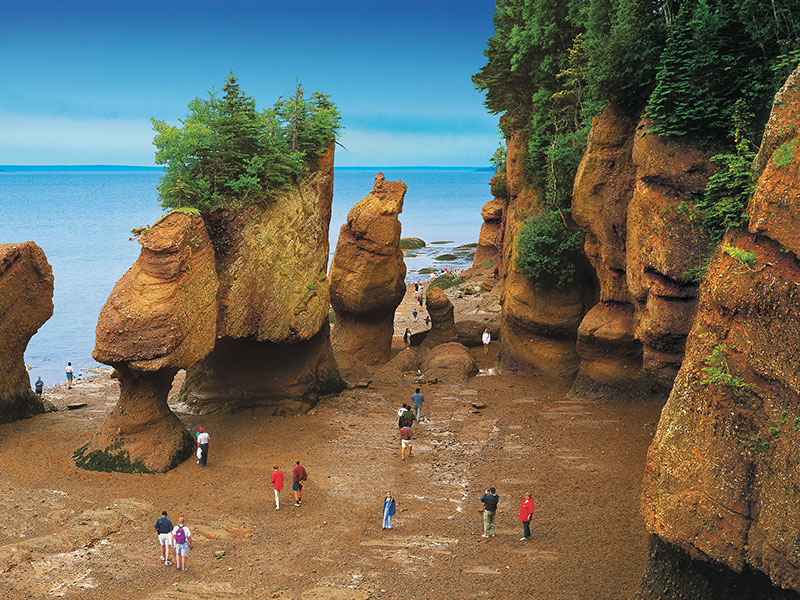 Image courtesy of New Brunswick Tourism
15. Experience the World's Highest Tides in Canada's Maritimes
Trip Type: Self Drive | Length: 18 Days / 17 Nights | Package Details: Grand Maritimes
Explore the Maritime provinces of Nova Scotia, New Brunswick and Prince Edward Island on a road trip through stunning coastal scenery and vibrant Celtic culture. A circle drive from Halifax, you'll pass by historic buildings, uncover history at Lunenburg and walk the ocean floor at Hopewell Rocks, home to the earth's highest (and lowest) tides. Wander Peggy's Cove and snap a photo at the lighthouse, then continue to Charlottetown and the famous Cabot Trail. This is one of the most spectacular drives in Canada!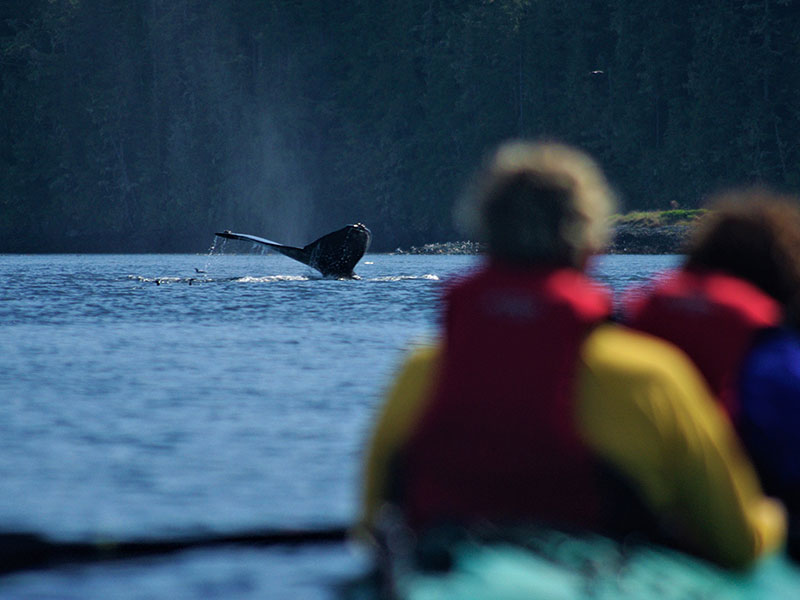 Image courtesy of Kingfisher Wilderness Adventures
16. Kayak with Whales off the Coast of Vancouver Island
Trip Type: Soft Adventure | Length: 4 Days / 3 Nights | Package Details: Kingfisher Wilderness Adventure Kayak with Whales
There is no better place in the world to kayak with humpback and orca whales than Johnstone Strait and Blackfish Sound off the coast of Vancouver Island. On this bucketlist trip to Kingfisher's Base Camp you'll be right in the heart of it, surrounded by islands and small islets teeming with sea birds, bald eagles and seals. Spend days kayaking, watching whales and relaxing in the comfort of your tent. Your guides will plan each day based on weather conditions, wildlife viewing and your personal interests.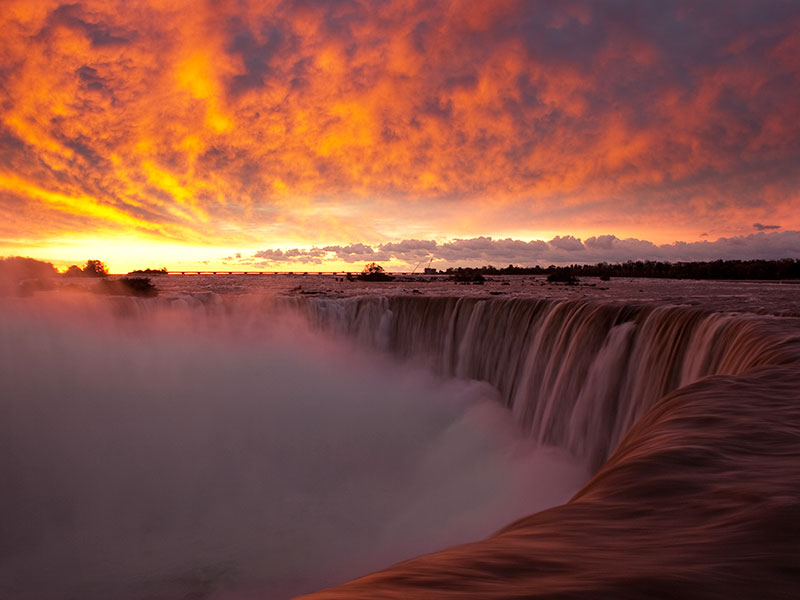 Image courtesy of Niagara Falls Canada
17. Witness Niagara Falls on a Rail Journey in Eastern Canada
Trip Type: Train Tour | Length: 9 Days / 8 Nights | Package Details: Eastern Canada By Rail
Niagara Falls is a classic on every Canadian bucketlist, and what better way to arrive than by rail? On this train tour through Eastern Canada you'll take VIA Rail from Toronto, discovering the unique history, architecture and French-Canadian culture of Ottawa, Montreal and Quebec City. Sightsee the powerful Niagara Falls and the nation's Parliament Buildings, the Notre Dame Basilica and Vieux Quebec. Indulge in local wines, dig into dishes like poutine and let the charm of Eastern Canada transform you.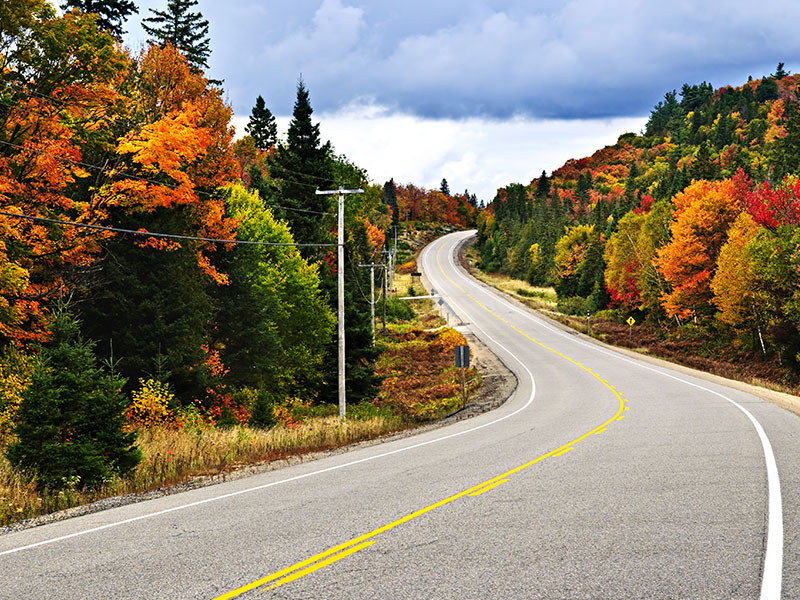 Image courtesy of Shutterstock
18. See Spectacular Fall Colors on a Road Trip in Eastern Canada
Trip Type: Self Drive | Length: 15 Days / 14 Nights | Package Details: Best of the East
For those who prefer to have their hands on the wheel, explore Eastern Canada by car. Let the gorgeous reds, yellows and oranges of fall foliage fade into your rearview as you drive from Toronto to Niagara Falls, the Muskoka Region and Mont Tremblant. Go hiking, observe wildlife or try canoeing, then follow the flow of cars into Quebec City, Montreal and Kingston. With each turn of the wheel a new sight will be revealed, from Parliament Hill and the National Arts Centre to the Notre Dam Basilica and Vieux Quebec.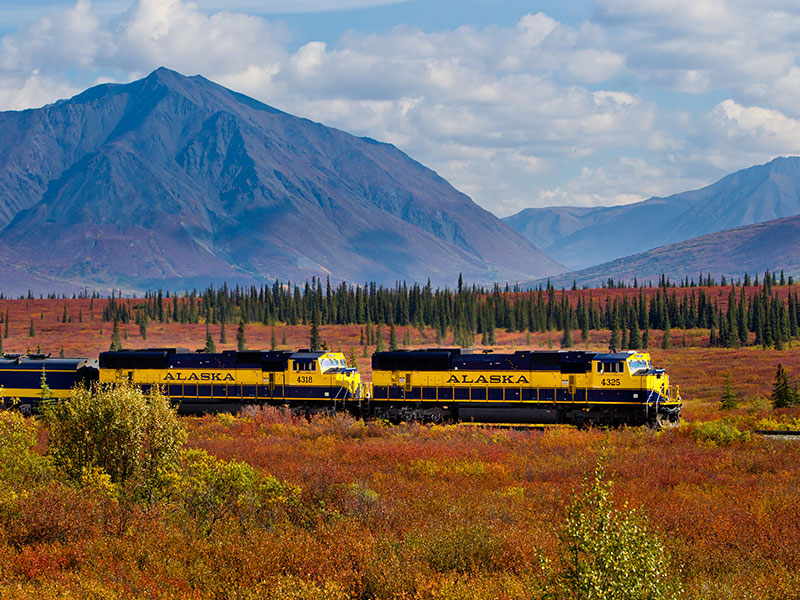 Image courtesy of Alaska Railroad
19. Train through Canada and Alaska on One Epic Rail Journey
Trip Type: Train Tour | Length: 14 Days / 13 Nights | Package Details: Canadian Rockies & Alaska Ultimate Rail Adventure
What makes this trip so bucketlist worthy? You'll see two naturally breathtaking destinations up-close and unobstructed in one ultimate rail vacation. Departing from Vancouver, ride aboard VIA Rail into the Canadian Rockies, exploring the wonders of Jasper, Lake Louise and Banff. Continuing to Calgary you'll board a plane for Fairbanks, then take Alaska Railroad to Denali National Park. Enjoy the sights and wildlife on a Denali Backcountry Adventure, then ride to Anchorage and cruise on Prince William Sound.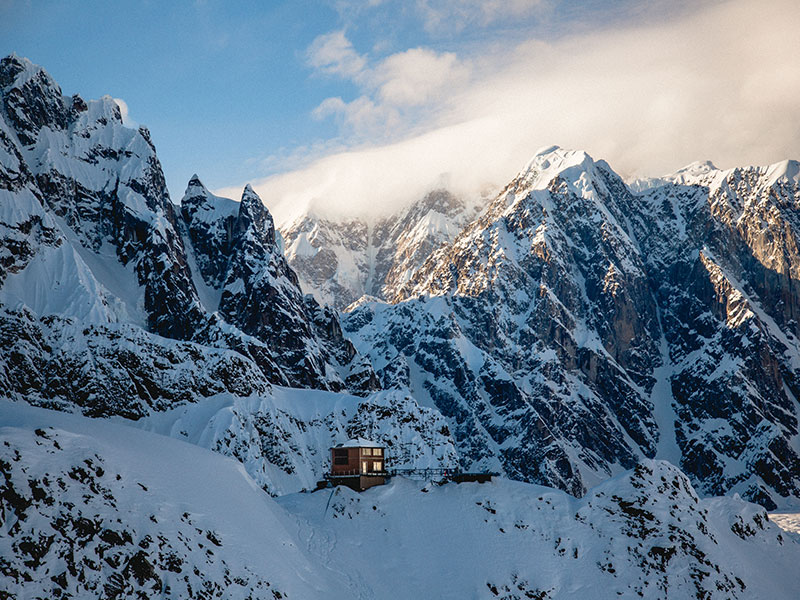 Image courtesy of Sheldon Chalet / Totement
20. Sleep in a Luxury Chalet atop a Glacier in Alaska
Trip Type: Luxury Lodge | Length: 4 Days / 3 Nights | Package Details: Sheldon Chalet Luxury Adventure
Okay, so Alaska isn't Canada, but what better way to compliment your trip than with a short excursion to the state? Incredibly engineered on a nunatak just 10 miles from Denali's summit, Sheldon Chalet is a remote, exclusive and luxurious getaway that showcases the beauty of Alaska at its best. Arrive to the chalet by helicopter, indulge in fine foods and wines, relax in the sauna or try a range of activities. Glacier trekking, rappelling, rock climbing, sledding and gourmet picnicking are just the beginning.