When we think about planning a trip to Calgary, Alberta, we oftentimes think of summer – there's Calgary Stampede, ample green spaces and plenty of patios spread out beneath the warm Alberta sun. But before we get too off theme, let us redirect your mind. Winter in Calgary is a truly magical experience, and a best kept secret of those in the know.
With more hours of sunshine than any other major city in Canada, wonderful events and plenty of snowy activities, Calgary is a fantastic destination to experience in the wintertime. Whether your visit to Calgary is a beginning or end point of an itinerary or it's your main travel destination, there's a right way to spend your first 72 hours in the city. Make the most of your time with the best experiences, hotels, neighborhoods and restaurants – as Canada travel experts, you know we've got you covered!
Psst... to start planning your trip, get in touch with our Travel Designers by emailing sales@canadabydesign.ca or calling 1 (800) 217 0973.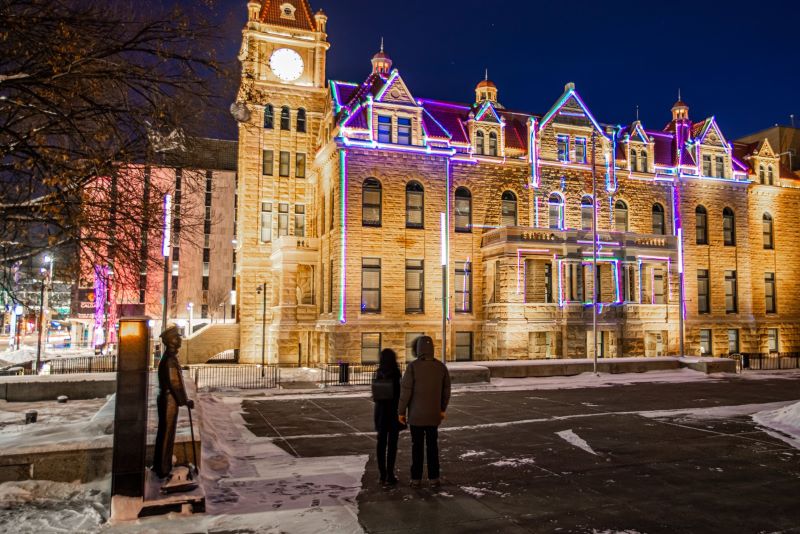 Calgary City Hall During Chinook Blast, Image Courtesy of Neil Zeller
What to Experience
Winter in Calgary has plenty to offer, and most days you can enjoy it all under blue skies and dazzling sunshine. With proximity to the Rocky Mountains, downhill winter sports are aplenty, though you don't need to leave the city to stack your days with snow-filled fun.
Just a 20-minute drive from the downtown core, WinSport, home of the 1988 Winter Olympics, offers lift tickets and winter hill passes for downhill skiing and snowboarding. Before you go, we highly recommend booking your equipment rentals in advance, so you can pick it up on the main floor in the Frank King Day Lodge when you arrive. Families who don't ski but still want to get in the fun can also enjoy the Tube Park at WinSport, which is the largest of its kind in Western Canada!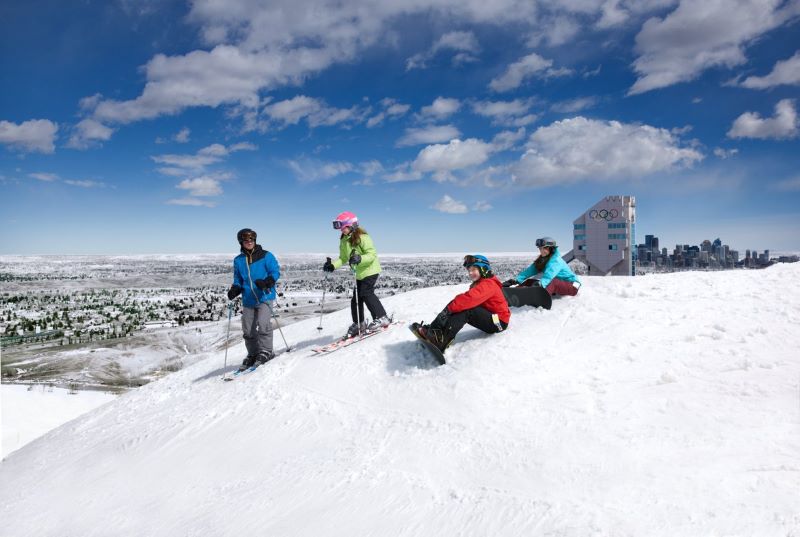 Winsport Calgary, Image Courtesy of Dan Bannister
The University of Calgary Outdoor Centre also offers ski and snowboard rentals, alongside other equipment from skates and snowshoes to specially-made fat bikes and cross-country skis. Use these along the most extensive urban pathway and bikeway system in North America, or in any of Calgary's downtown parks! We highly recommend the East Village Nordic Loop, South Glenmore Park and Bowness Park.
Another way to slide around in the snow is by the age-old tradition of dog sled. Though you'll typically need to exit the city and head into the Rockies to partake, tour lengths range anywhere from half an hour to half a day, so you can easily get back to Calgary. Of course, if you wish to stay in the city you can always plan to meet the beautiful wolfdogs (domestic dogs that have characteristics like a wolf) at the Yamnuska Wolfdog Sanctuary! This is a wonderful non-profit dedicated to educating the public on responsible wolfdog ownership.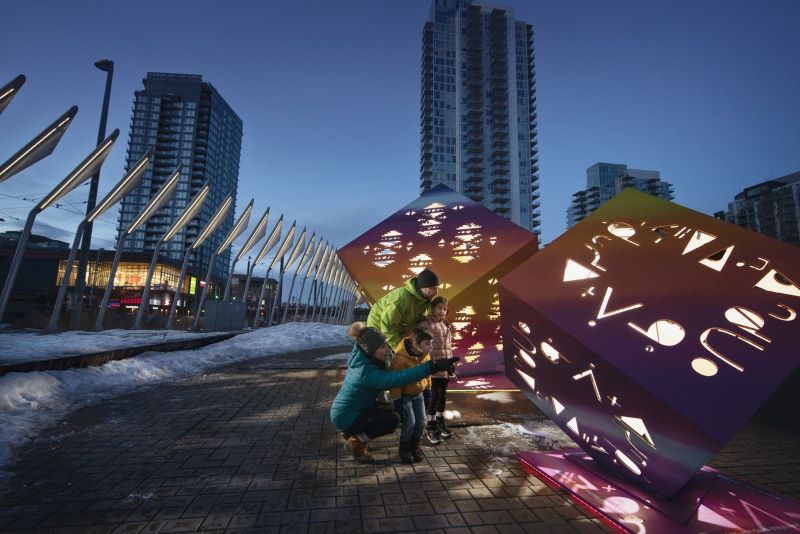 An East Village Art Installation During Chinook Blast, Image Courtesy Roth and Ramberg Photography
Let's not forget that festivals continue to pop up around Calgary throughout the winter months! From the new Chinook Blast featuring High Performance Rodeo, a folk music festival and a glowing display of lights and ice carvings to Hot Chocolate Fest featuring all kinds of creative cocoas throughout the city, there's always something fun occurring for you and yours to enjoy. For planning convenience, we've included a list of festival dates a little further down in this article, so check them out and add them to your calendar!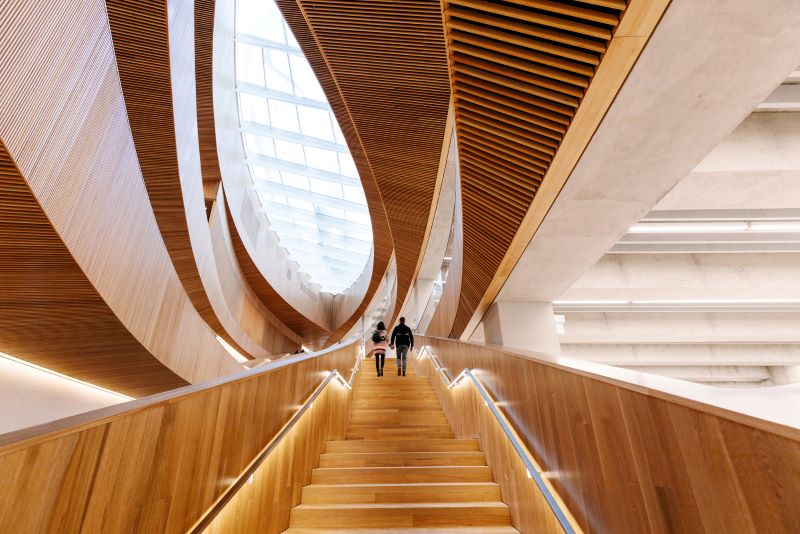 The Calgary New Central Library Interior, Image Courtesy of Tourism Calgary
If the shivers set in, there's no place better than the Kananaskis Nordic Spa, just 1 hour west of Calgary and close to Canmore. Here you'll find all kinds of outdoor pools, saunas and steam rooms that will help you relax and unwind through the age-old process of hydrotherapy. Or, take your time exploring some indoor attractions right in Calgary's city center. Visit Studio Bell, the National Music Centre of Canada for hands-on instrument areas, costume displays and concerts, or visit the impressive Calgary Public Library for a fix of incredible architecture and design.
Of course, downtown Calgary also houses all kinds of cool shops, restaurants, outdoor skating rinks and neighborhoods! To get you started, we've created a brief neighborhood guide so you can plan where you want to stay and where you want to wander.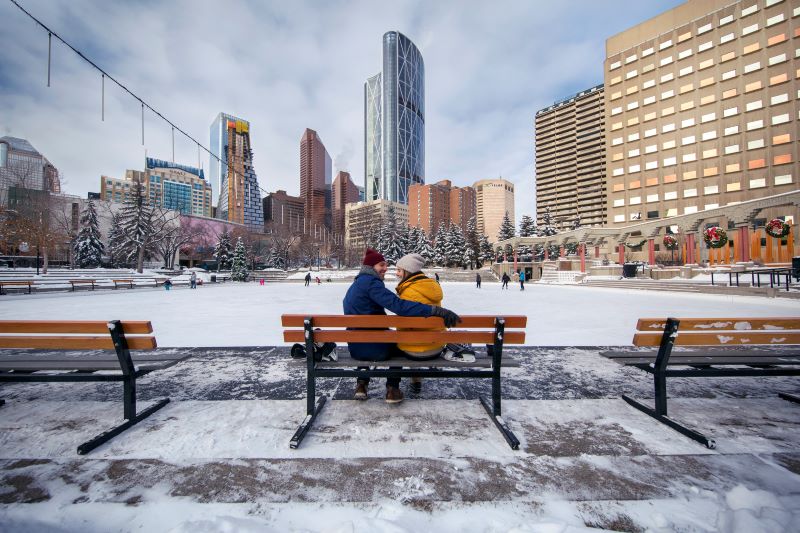 An Ice Skating Rink Downtown Calgary, Image Courtesy of Tourism Calgary
The Lay of the Land
The core of Calgary is made up of several neighborhoods: the Financial District (CBD), Eau Claire, Chinatown, East Village, Beltline and the West End. For easy exploring, the CTrain light rail system runs east to west through the middle of downtown, and the cost for this section is free! Hop aboard, then set off to explore all that Calgary has to offer. It's a great way to get around while staying a little warmer in the winter!
North of the CBD and south of the Bow River, Eau Claire offers a mix of riverside condo's, shopping, restaurants, hotels, plazas and sprawling urban parkland. In the summer months, Prince's Island Park plays host to festivals like the Calgary Folk Music Festival, Carifest and Shakespeare in the Park, however in winter it transforms into a sparking wonderland complete with a large ice rink for skating. Also within the neighborhood is the colorful Eau Claire Market, where visitors can stroll, shop and savor their way through a number of enticing things.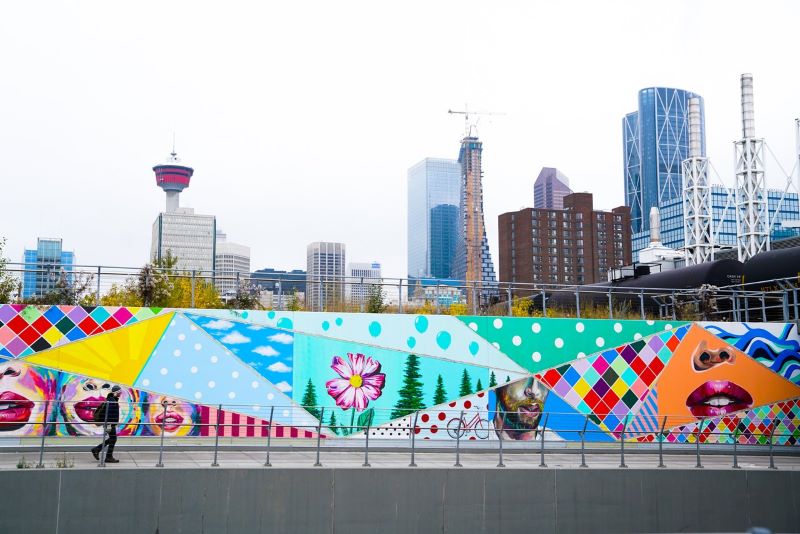 Calgary's East Village, Image Courtesy of Jessica Gray
Calgary's Chinatown is located along Centre Street immediately west of the East Village. With its traditional architecture and decor, the Chinese Cultural Centre is more than worth a photo stop, designed to look like the Temple of Heaven in Beijing itself. For several blocks, visitors can stroll past wonderful ethnic restaurants. markets and shops, which extends through the city along International Avenue.
The East Village of Calgary has become a happening area for hip eateries, indie music venues, galleries and converted warehouses. What was once considered an industrial area is now cool and unique, with new architecturally-impressive landmarks like the New Central Library and Studio Bell. For some fresh winter air, take a stroll along the RiverWalk path along the Bow River, or visit the revitalized St. Patrick's Island for wooded trails, wetlands and a fishing cove (though keep in mind this will be frozen in winter).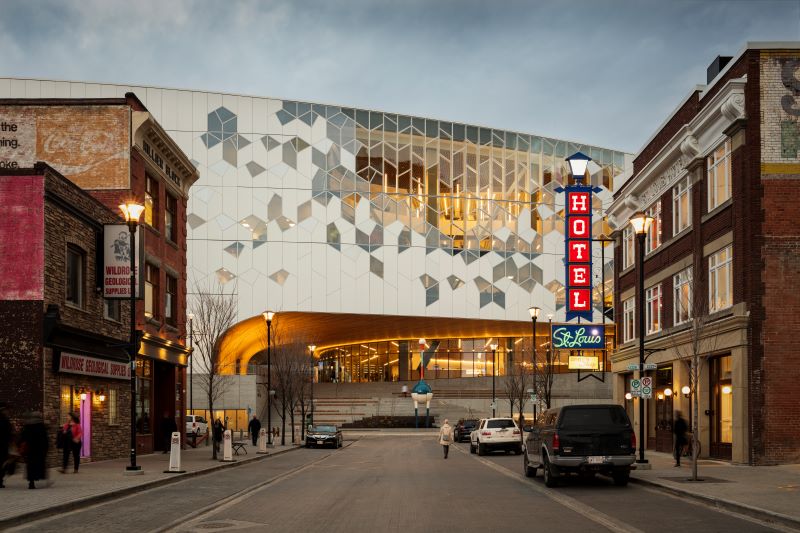 Calgary's New Central Library in the East Village, Image Courtesy of Michael Grimm
Beltline – often considered the 'hipster' community of Calgary – is located south of the CBD and known for its cool boutiques selling fashion, retro furniture, vinyl and quirky gifts. Plenty of restaurants tempt hungry diners with trendy tacos, locavore eateries and Korean restaurants, while craft beer pubs, live music venues and clubs round out the nightlife. The famous Stampede Park (which hosts Calgary Stampede) is also in this area, holding many concerts and events all throughout the year.
Last but not least, Calgary's West End has quietly evolved over the years. Located between 8th and 14th Streets S.W. and between the railroad tracks and the Bow River, it houses the University of Calgary's downtown campus, plus the historic Mewata Armouries, Shaw Millennium Park and Kerby Centre. These days, it's become a lovely neighborhood for young professionals to live in a vibrant urban village.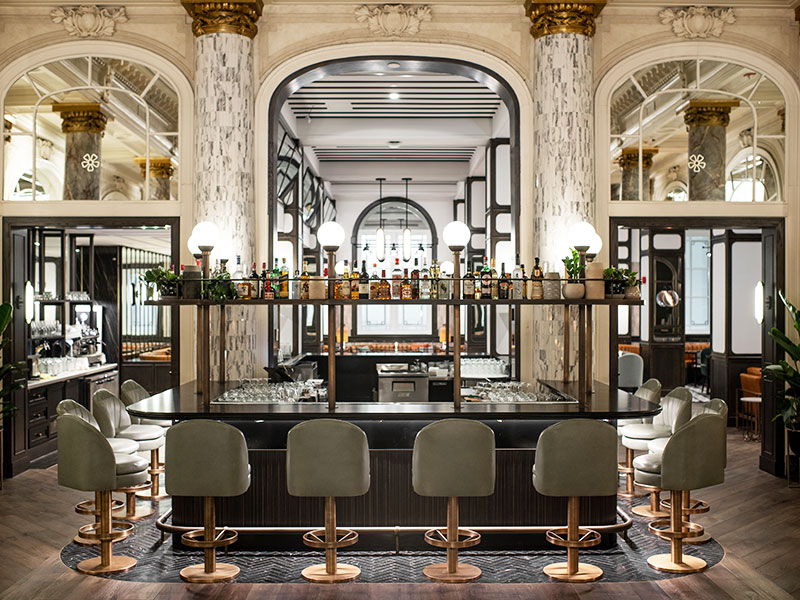 The Bar at Calgary's Fairmont Palliser Hotel, Image Courtesy of Fairmont Palliser
Where to Stay in Calgary
Depending on which neighborhood piques your interest the most, we partner with a number of fantastic hotels so you can stay where you want in Calgary. A top recommendation is the Fairmont Palliser, which offers luxurious accommodation in the CBD just a minutes' walk from the Calgary Tower. Here you'll find elegantly appointed guest rooms and suites, plus a spa and some fantastic dining options like the Hawthorn Dining Room & Bar.
If you love the central location but the Fairmont is booked up or above budget, consider Le Germain Hotel Calgary (located quite literally across the street) or Hotel Arts, a few blocks south. While the former offers boldly designed rooms in a state-of-the-art structure, the latter boasts trendy and creatively designed spaces in a hotel with a pool, patio and bike program.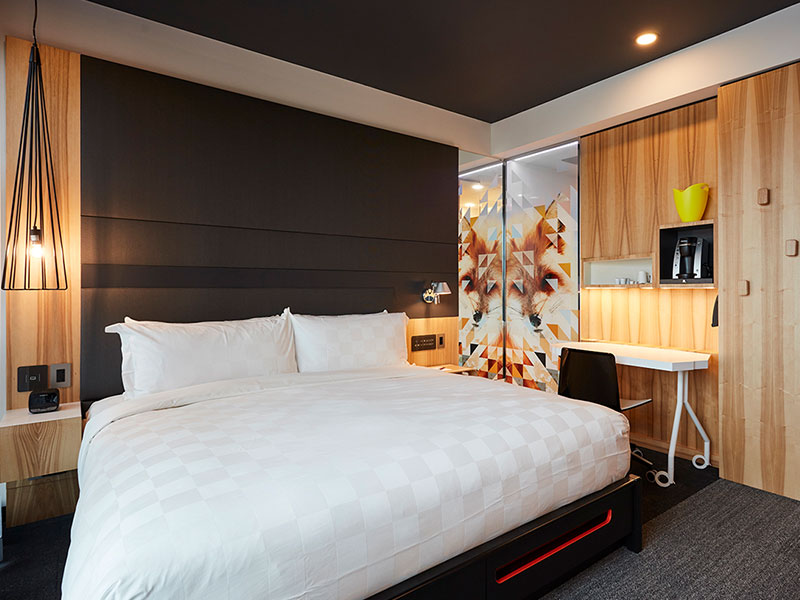 A Room at the Alt Hotel in Calgary's East Village, Image Courtesy of ALT Hotel
Should you prefer to stay in the happening East Village, we highly recommend the Alt Hotel Calgary. Set pricisely in the heart of the neighborhood with the Bow River just steps away, it's the perfect base for exploring the area's coolest amenities and attractions.
Lastly, the Sandman Signature Calgary Downtown Hotel is close to the Eau Claire neighborhood, and The Westin Calgary is perfectly placed between Eau Claire and Chinatown. Get in touch with a Travel Designer to see which hotel best suits your style and budget.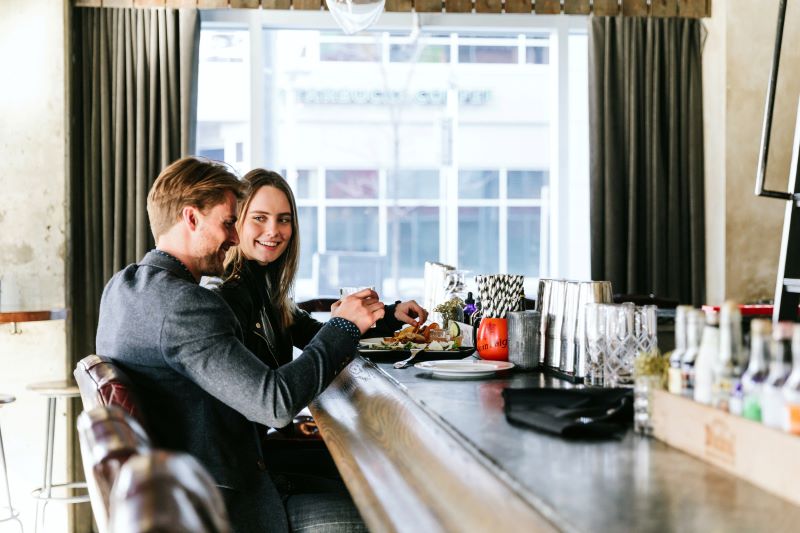 A Couple at a Bar in Calgary, Image Courtesy of Chris Amat
Where to Eat in Calgary
Calgary is a hub for incredible restaurants, always evolving with innovative chefs and creative dishes on display. Look no further than our aforementioned Alt Hotel in the East Village for a fantastic breakfast of fried chicken and quirky foods served with a selection of craft beverages and cocktails. Called 'CHIX Eggshop' for a reason, we highly suggest ordering a plate of the classic chicken and waffles or a two-handed breakfast burger.
For lunch, visit Eau Claire's Prince's Island Park for a stop at River Cafe. The only restaurant tucked amid the greenery (or in winter, shall we say sparkling white wonderland), the restaurant is dedicated to regional food that's exquisitely plated and unbelievably delicious. Another option is Deane House, located at the confluence of the Bow and Elbow Rivers. Here you'll find a fully restored historic building with a relaxed modern feel and high-level Canadiana cuisine.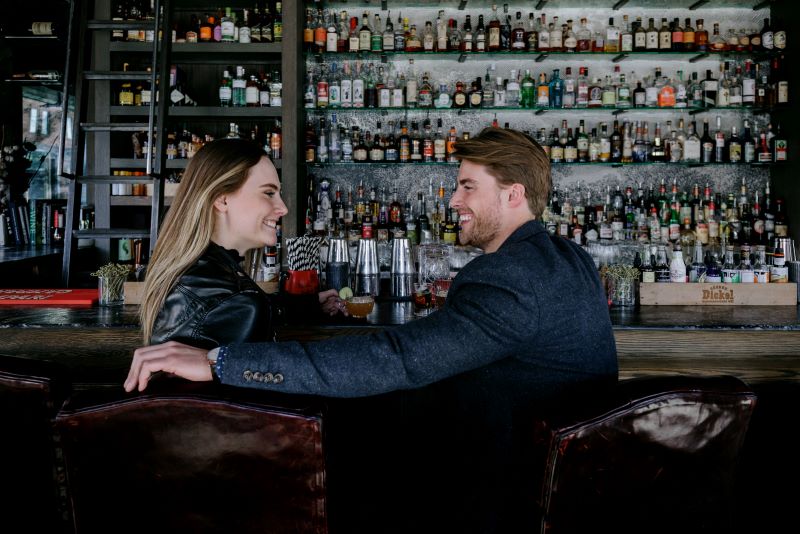 A Couple Dining in Calgary, Image Courtesy of Tourism Calgary
Of course for dinner, one could argue that there's no place better than Sky 360. Located at the top of the Calgary Tower it's a fantastic way to tick off some sightseeing over a meal, particularly when that meal is one of regional favorites like bison, Canadian beef, local cheese and other Calgary-specific ingredients.
If you love the sound of sampling some fine Alberta beef, Modern Steak tops the list due to its dedication to serving local ranch specific cuts. Try the Modern Benchmark Black Angus, sourced from the offspring of a bull that is owned by the restaurant itself. Or, visit Caesar's Steakhouse for a taste of Calgary's history served in a classic steak house with loaded baked potatoes and a couple rounds of martinis.
Not into beef? Don't worry, Calgary always has plenty to try! Other favorites include the National (a locally-owned Calgary succcess story), Pigeonhole (a small plate wine and snack bar), Teatro (fine dining Italian) and UNA Pizza + Wine (a pioneer in Calgary's thin-crust pizza craze).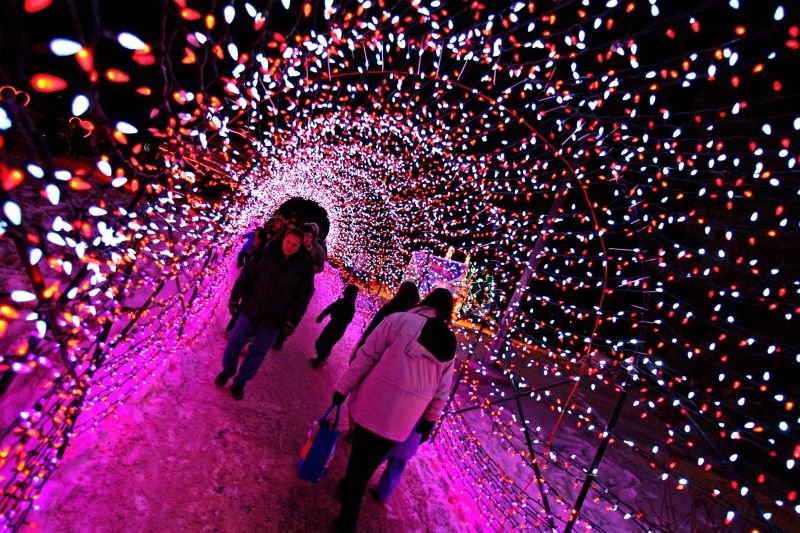 Zoolights in Calgary, Image Courtesy of Sergei Belski
Dates to Mark on Your Calendar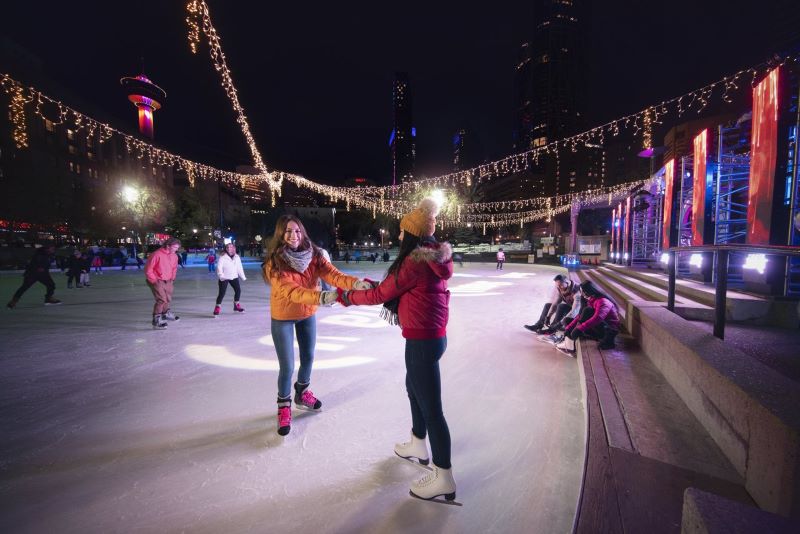 Ice Skating at Olympic Plaza During Chinook Fest in Calgary, Image Courtesy of Roth and Ramberg Photography
Our Top Recommended Itineraries
To make sure you have a chance to explore all that Calgary has to offer, ask our Travel Designers to add an extra night or two in the city. The below winter packages all include Calgary as either a start or end destination, but as you now know there's so much to do here you'll want to stay for longer! Have questions or want to customize your trip? Contact our team at sales@canadabydesign.com or 1 (800) 217 0973.
Winter Delights in the Majestic Canadian Rockies (7 days)
Luxury Winter Snow Train to the Rockies (7 days)
Christmas in the Canadian Rockies Winter Train Vacation (7 days)
Winter Escapade | Canadian Rockies Winter Train (8 days)
Edmonton to the Rockies (10 days)