We (Maddie & Sam) just returned from a grizzly bear viewing adventure at Knight Inlet Lodge with full hearts and full memory cards! Though we're always a little sad when an adventure is over, we're excited to share some of our favorite memories and tips from the four epic days of wildlife excursions, sea kayaking, and bear viewing experiences.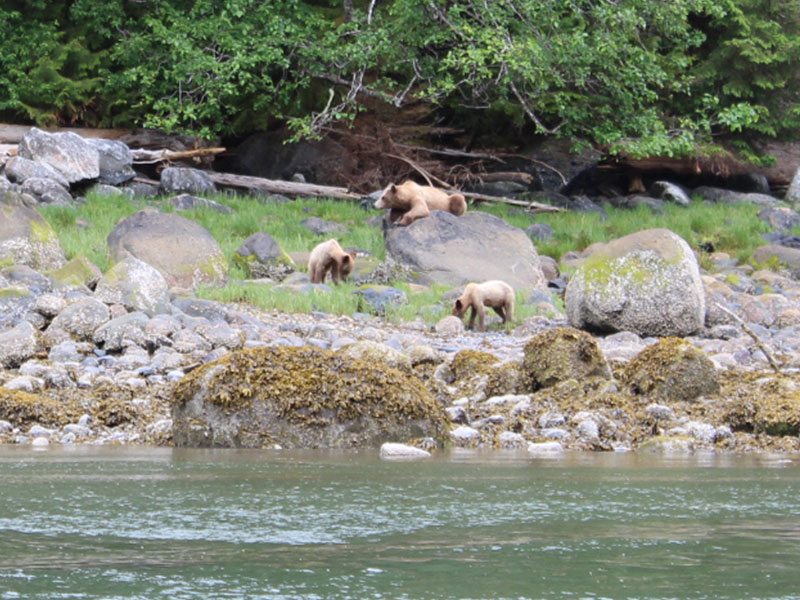 A few of the many bears we witnessed lounging and foraging near the river
WHERE IS KNIGHT INLET LODGE?
Knight Inlet is an area of the Pacific Northwest located 50 air miles north of Campbell River (a coastal city found on Vancouver Island, British Columbia). The floating lodge and wilderness resort is tucked into Glendale Cove, which is one of the largest concentrations of grizzly bears in British Columbia!
So yes, this is an ideal location for bear viewing, but it's not just the location that makes Knight Inlet Lodge a premier bear viewing resort - we soon realized, that it's also their knowledgeable (and highly certified) guides, incredible hospitality, and environmental stewardship. We were so impressed with the staff's commitment to preserving the natural surroundings and protecting the bears.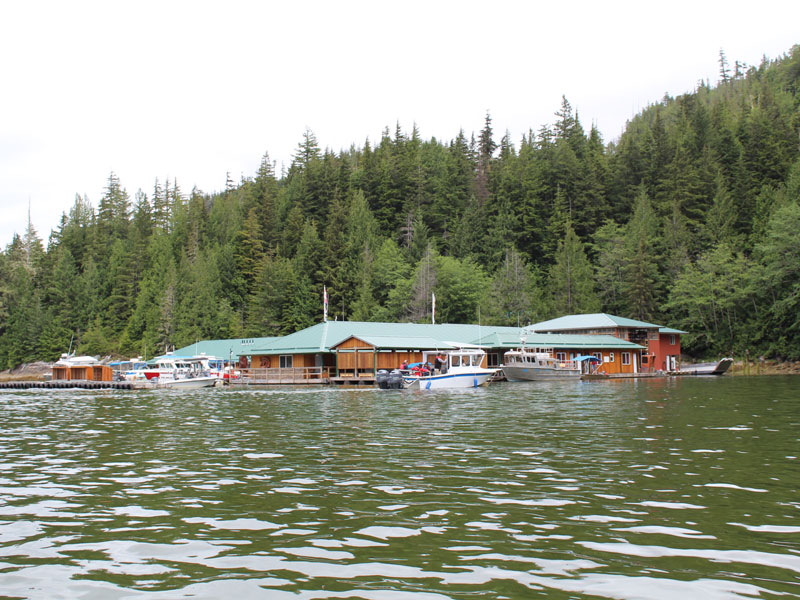 Arriving at the floating lodge
HOW DO I GET THERE?
Visitors will fly into Campbell River, overnight here, and then transfer by float plane to the lodge the next day. Every Knight Inlet experience we offer includes return flights from Campbell River, the accommodation while there, and the transfers to and from the airport - making the process seamless and comfortable. The overnight in Campbell River is also a nice way to break up the travel time and get the most out of your stay at the lodge.
What's Campbell River like? Expect a small-town feel and oceanside community with calm, beautiful rocky beaches to explore. It was the perfect setting to shake the city off of us and prepare for an unforgettable few days at the lodge.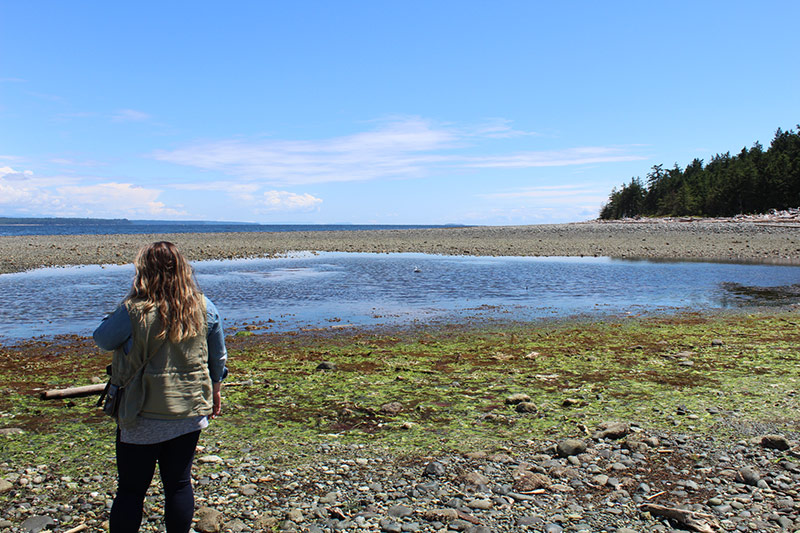 Maddie exploring the beach at Campbell River
WHEN IS THE BEST TIME TO VISIT?
It's recommended to visit at the end of August to mid-October for peak season and prime bear viewing (this season sells out so you'll need to book well in advance). We visited in June, which is considered their low summer season, but still offers plenty of wildlife activities and yes, even bear sightings.
We caught this little guy with his mouth full during one of the guided wildlife excursions and Sam was quick with her photography skills to capture the moment!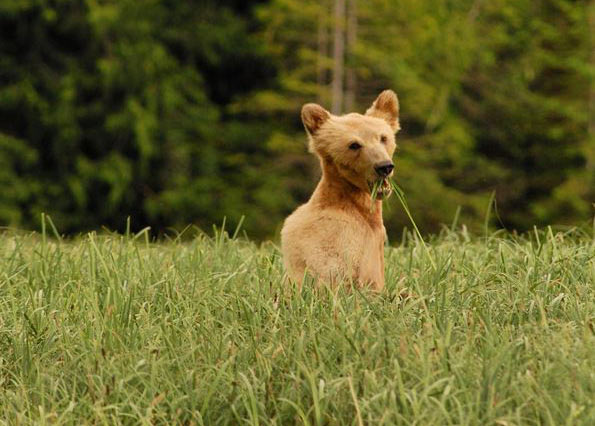 No need to chew with your mouth closed when you're a bear!
WHAT IS THERE TO DO?
From guided bear viewing excursions and nightly presentations to sea kayaking and rainforest walks - you will not run out of unique ways to learn and interact with this beautiful region.
Guided sea kayak tours offer the opportunity to quietly witness bears as they search for food in the protected waters near the lodge, while the evening presentations compliment the daily adventures perfectly. We listened to a presentation on bear communication which really enriched our bear viewing experience the next day.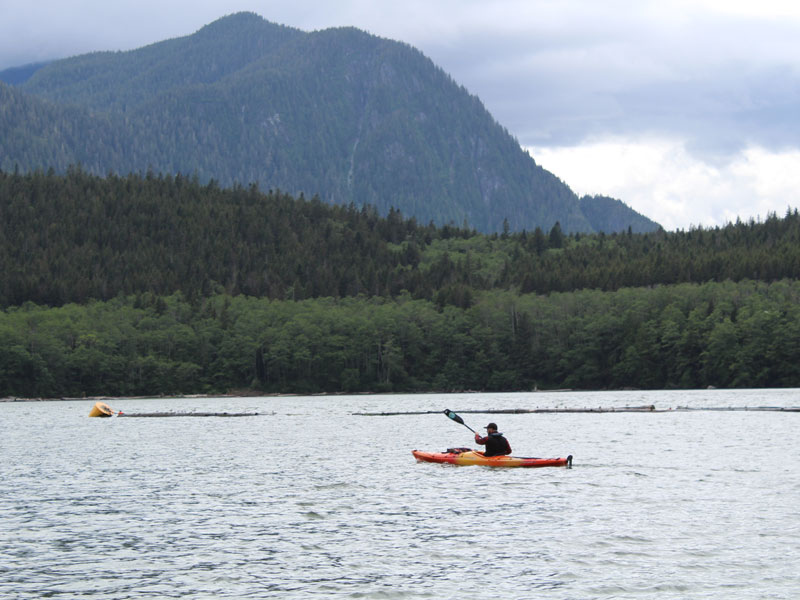 Their kayaking guides will show you the ropes! No experience necessary.
WHAT WILDLIFE WILL I SEE?
It's not uncommon to see bald eagles, whales, and bears all in one afternoon! If you're keen on whales - you'll want to opt for the 5 night package which offers a boat tour through the Johnstone Strait , known for having 16 different pods of killer whales and rated one of the world's best spots for whale watching!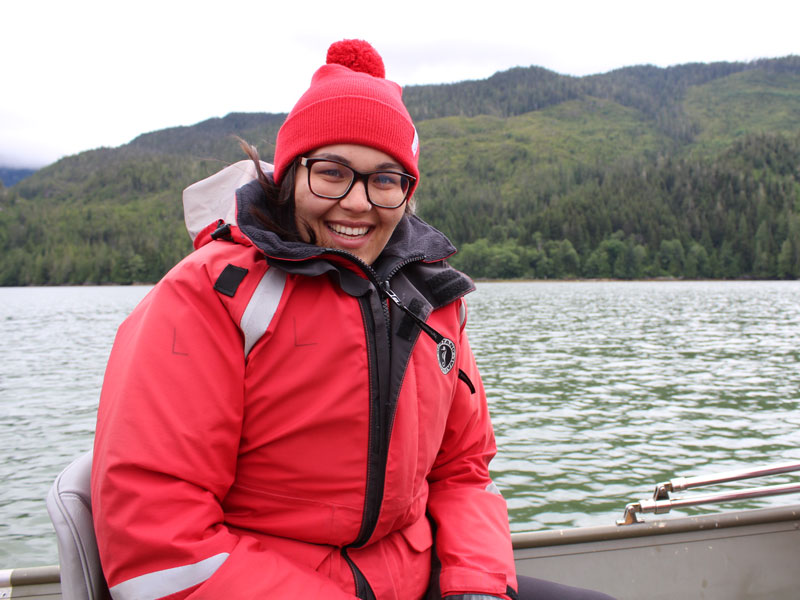 Sam (and expert diver) is all smiles when she's on the water!
WHAT'S THE REQUIRED LEVEL OF ACTIVITY?
One of the guests visiting with us was a gentleman who was 78 years young and had recently undergone two hip replacements, and he did all the activities without any difficulty!
It's recommended by the lodge that visitors have a low to moderate level of physical ability for the activities and be able to walk approximately 100 - 200 meters on uneven and potentially slippery shoreline.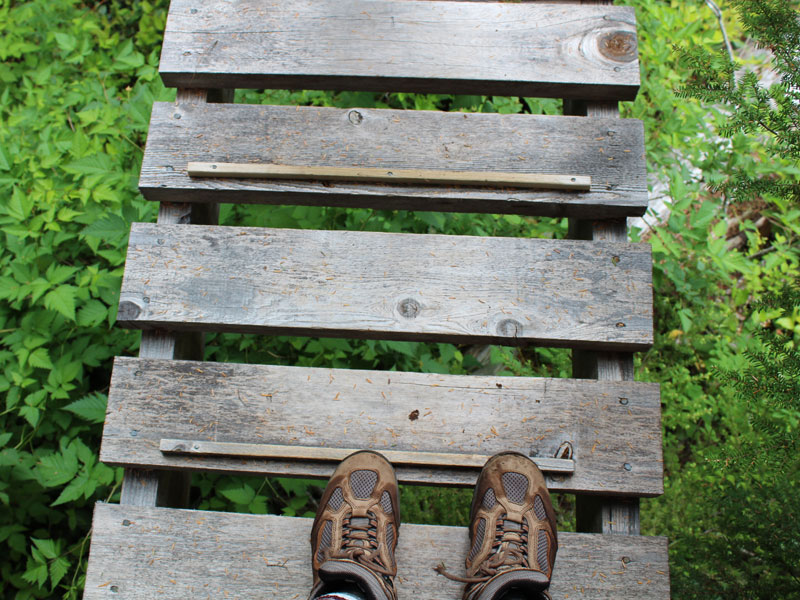 Boardwalk rainforest walk
WHAT WERE OUR FAVORITE MOMENTS?
We both really loved getting to know the staff and other guests at the lodge through sharing daily adventures and meals together. On one particularly sunny evening, a few of us decided to join in a group-plunge off the dock - proving to be refreshing for us and entertaining for the others!
The lodge has this amazing way of connecting visitors through unique moments like this.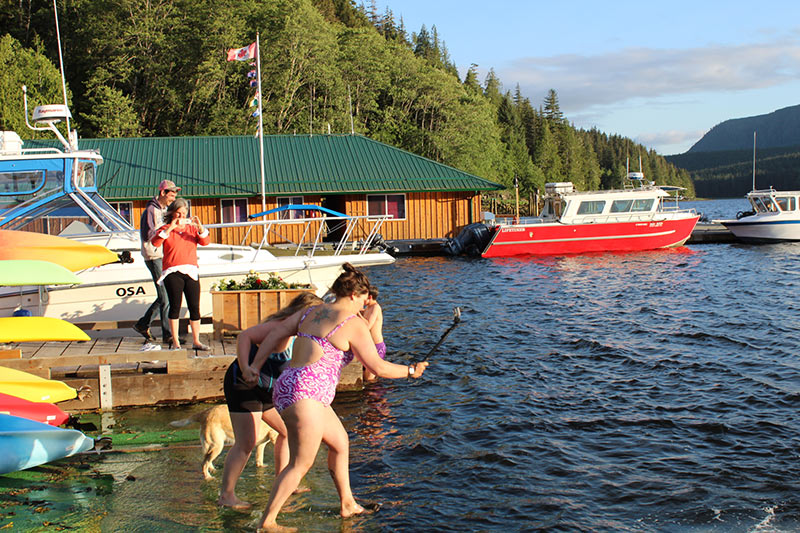 One, two, three...JUMP!
MORE FAVORITE MOMENTS...
Another highlight for us was the 3 hour 'Above the Clouds' excursion through the Kwalate River valley to the lookout platform. The guides are true experts and as we walked, they offered insight on everything about the region, not just the bears. From the platform, we saw an eagles nest filled with little eaglets, as well as bears just across the inlet from the lodge.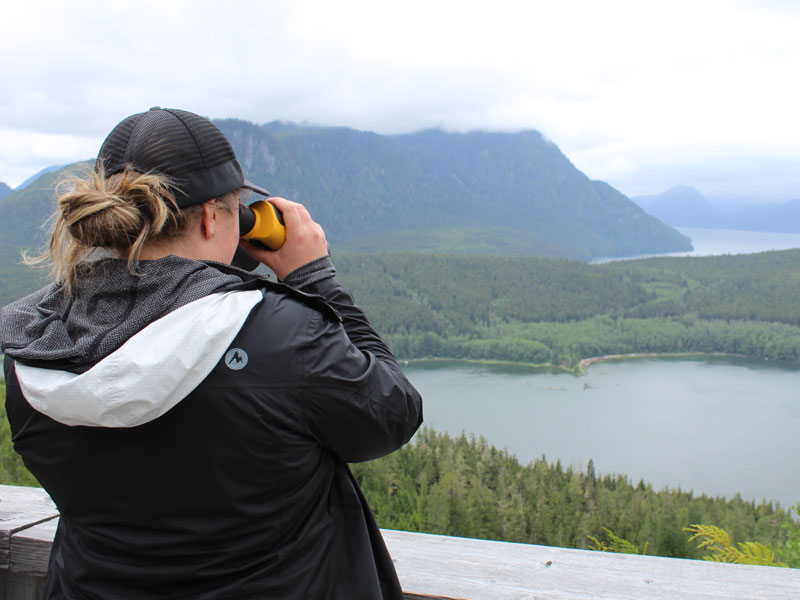 Maddie at one of the 3 viewing platforms around the lodge
OKAY, ONE MORE FAVORITE!
During a guided rainforest hike we were led along a boardwalk surrounded by mossy covered old growth trees and waterfalls while we learned about the rainforest and plant life surrounding us. To our delight, the guides had hiked in a camp-stove and tea for us to enjoy beside the river. It was such a thoughtful inclusion and soothing reward for our hike.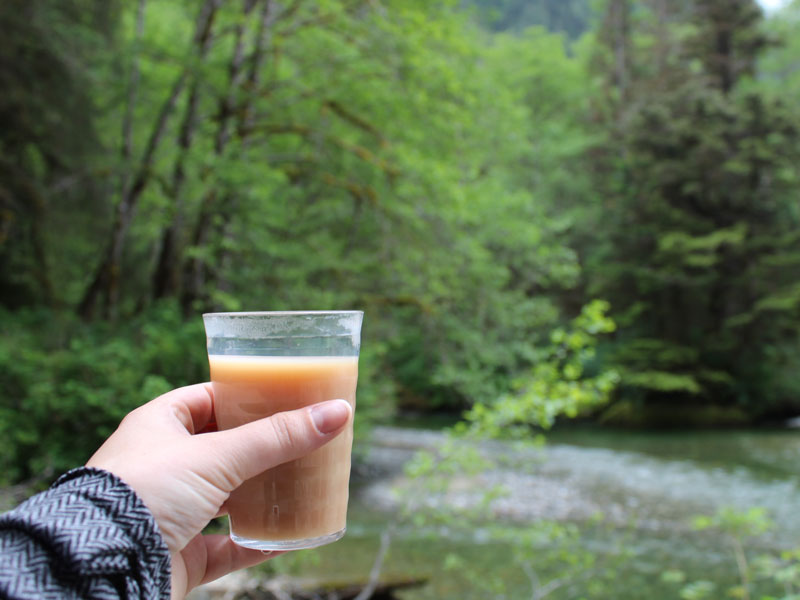 Cheers to adventure!
HOW TO FIND YOUR OWN GRIZZLY BEAR ADVENTURE?
We really did fall in love with this special place (we almost couldn't pry Maddie away!), and we're already looking forward to our next visit. Want to learn more? View our suggested itineraries and learn more about the experience here.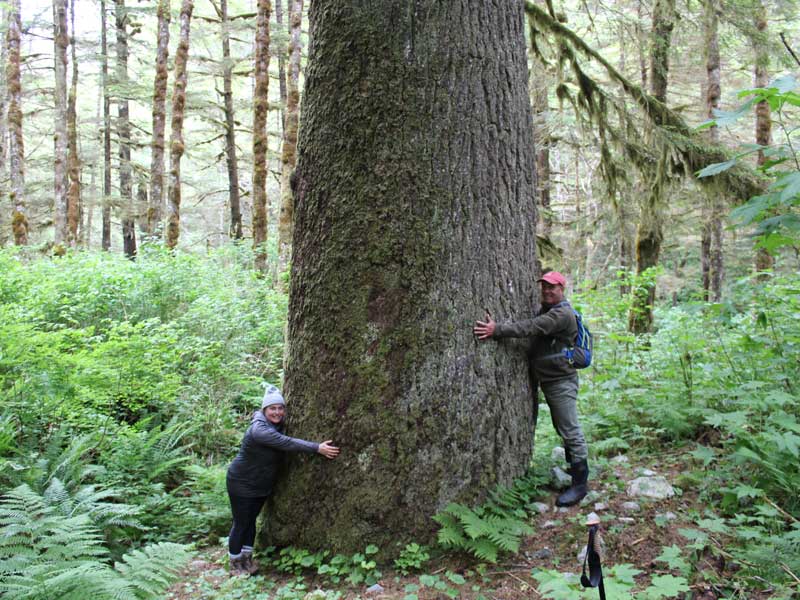 Maddie showing her appreciation for nature: tree hugger for life!
QUICK TIPS FOR TRIP PLANNING
Pack plenty of layers! It gets warm, but is also windy and chilly when on the boats.
Starting in April black & brown bears wake from hibernation and head to Glendale Cove to feed.
Early May and into June is a great time to see cubs foraging with their mothers.
Low Season (bear viewing still available, but less abundant): Summer June 25 - July 30
Summer is the best time for whale sightings.
Families with children ages 8 and up are welcomed!
During peak season it's possible to see 10 - 15 bears on the river at a time!
For peak bear viewing season and spawning salmon visit August 25 - mid-October early booking is highly recommended.
Contact us to reserve your spot for next season!
Want more travel tips and inspiration like this? Join our newsletter list here!