As Canada travel specialists with over 22 years of experience designing dream vacations in the country, we know a thing or two on how to plan a trip to Eastern Canada. A region bursting with French influence, eclectic culture, metropolitan cities, natural beauty, gastronomic delights and historic landmarks, both Ontario and Quebec have something unique to offer every style.
Step just outside of the cities and you may be surprised at what you find. While yes, Ottawa, Toronto, Quebec City and Montreal can be a trip entirely of their own, nature enthusiasts would be remiss to skip on areas like Niagara on the Lake, Algonquin Provincial Park, Île d'Orléans or Baie-Saint-Paul. Before we continue with more details on what Eastern Canada has to offer, we'll address a frequently-asked geographical question. Already inspired? Get in touch with our Travel Designers to start planning your perfect trip.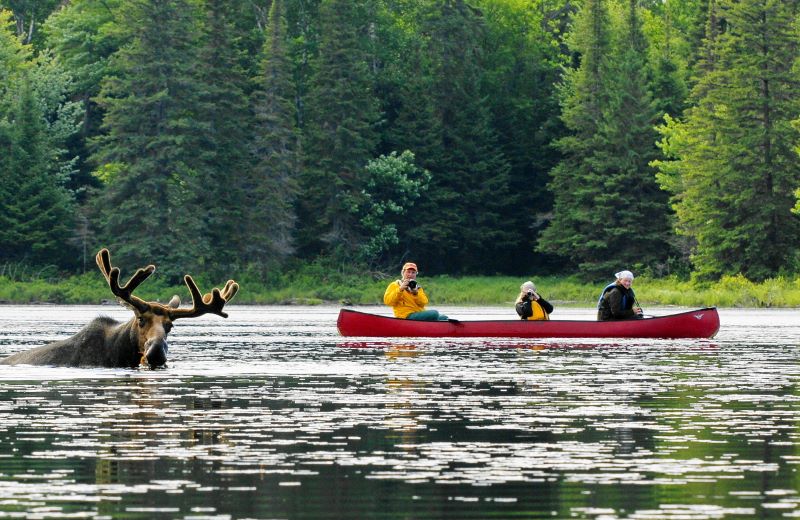 A moose swimming by a canoe in Eastern Canada.
Which Provinces Make Up Eastern Canada?
While Canada is home to 10 provinces and three territories, Ontario and Quebec make up Eastern Canada. Though New Brunswick, Newfoundland and Labrador, Nova Scotia and Prince Edward Island are further east, they're often referred to as Atlantic Canada, an entirely different region. Manitoba, Saskatchewan, Nunavut, Northwest Territories and the Yukon encompass Central and Northern Canada, while Alberta and British Columbia make up Western Canada. When planning a trip to Canada, it's often handy to keep these different regions in mind as the country is much larger than you think! Watch for cues between the sections below to help you understand the distances.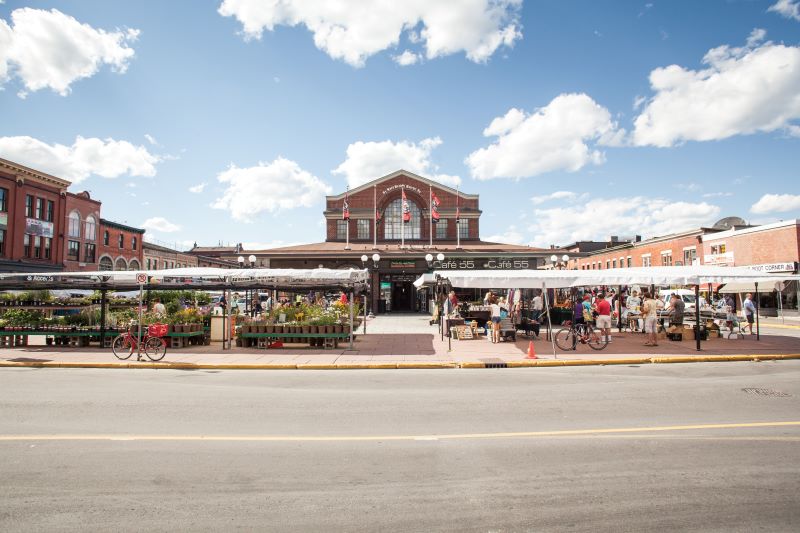 A market in Ottawa, Ontario. Image courtesy of Ottawa Tourism
Where to Go in Eastern Canada
Ah, beautiful Ontario! Home to the Nation's capital city of Ottawa, it's here that you'll find some of Canada's best attractions, celebrations and flavors. A city influenced by First Nations, French, English, Scottish and Irish cultures, it's home to walkable urban spaces, pristine outdoor settings and some pretty incredible sights: Parliament Hill, Rideau Canal, Notre-Dame Cathedral and the Canadian Museum of Nature, to name a few. In fact, seven of Canada's nine national museums are all in Ottawa, offering fascinating displays showcasing Canadian culture, history, science and technology, agriculture, aviation and even war.
If history and museums aren't quite up your alley, take a walk or a bike ride around Ottawa's city center or go paddling on the historic Rideau Canal, a UNESCO World Heritage Site. While you wander, grab a slice of Hawaiian pizza—the controversial pie was invented in Ontario, after all—or try a Beaver Tail, a Canadian fried dough pastry with either sweet or savory toppings. Nearly equal distance from Ottawa and Montreal is Mont Tremblant, a gorgeous year-round resort town that's less than two hours by car. Here you can enjoy forested hiking trails and lakes for canoeing, plus golf courses and a pedestrian shopping village. In winter, it's popular for skiing and other snow-based activities.
How long does it take to get from Ottawa to Toronto? About five hours by car or one hour by plane.
The Toronto city skyline. Image courtesy of Destination Toronto
Of course, another top spot amongst travelers in Ontario is the metropolitan city of Toronto. The largest city in Canada and the capital of Ontario, it's a dynamic metropolis with a core of soaring skyscrapers and an impressive roster of attractions like Fort York National Historic Site, the Hockey Hall of Fame, CN Tower and Royal Ontario Museum. Like Ottawa, it has a waterfront (though this time on Lake Ontario as opposed to the Ottawa River), so time can easily be spent amongst the buzz of the city or in its more relaxing surrounds. Try Sunnyside or the Eastern Boardwalk, Balmy Beach Park and the Waterfront Bike Trail.
Should you prefer to spend your time in Toronto visiting its eclectic shops and restaurants, visits to the Chinatown and Kensington Market neighborhoods may be in order. Energetic Chinatown hosts a variety of Chinese, Vietnamese, Thai and Japanese restaurants plus open-air markets and, at times, celebrations and festivals. Kensington Market, on the other hand, is a walkable bohemian neighborhood popular with artists who frequent the indie shops, vintage boutiques and art spaces. If vineyards and stunning scenery are calling, you'll also find Niagara-on-the-Lake just a two hour drive from Toronto. Home to great wines, food and the world-famous Niagara Falls, it's certainly worthy of a visit!
How long does it take to get from Toronto to Quebec City? About eight hours by car or one and a half hours by plane.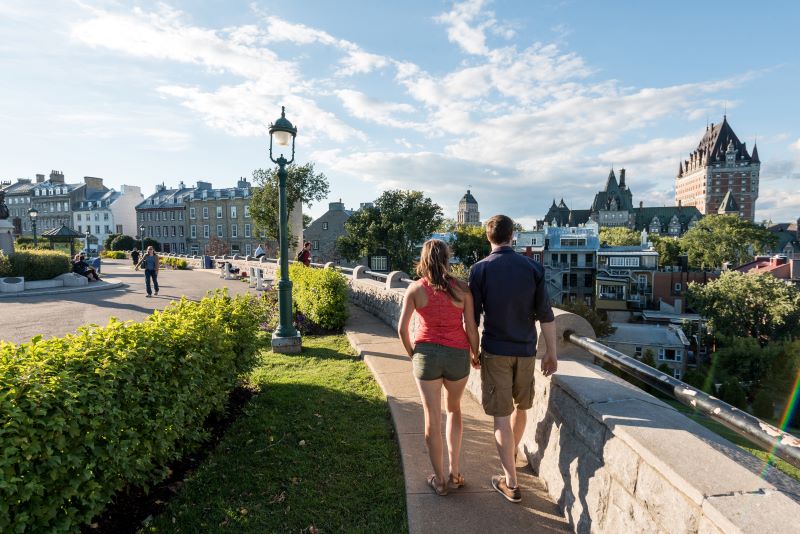 A couple walking in Quebec City. Image courtesy of Bonjour Quebec
Located on the Saint Lawrence River in Canada's primarily French-speaking province, Quebec City is one of the oldest in Canada and has retained much of its old-world character and charm. Vieux-Quebec (which translates to Old Quebec) is the only remaining walled city in the US and Canada, and has been recognized as a UNESCO World Heritage Site since 1985. Complete with historic landmarks and museums, stone churches and cobblestone streets, a walking tour can reveal many of its most noteworthy sites, or you can wander on your own through areas like Parliament Hill, Petit Champlain and Old Port. Don't forget to grab some poutine as you explore--it's a famous Canadian dish originating in Quebec that consists of french fries topped with cheese curds and gravy.
While there is certainly plenty to see inside the walls of Vieux-Quebec, outside city limits also has its fair share of offerings. Visit Saguenay St Lawrence Marine Park for some of the best whale watching in the province, or hit a hiking trail in Parc National de la Jacques-Cartier for beautiful pine-covered wilderness. Île d'Orléans is undoubtedly one of the most popular day trip destinations from the city, bursting with with treats for foodies like chocolate, fresh fruit, local maple syrup, wines and beers. Another option at Baie-Saint-Paul showcases creative galleries and world-class food while La Malbaie in the Chalevoix region is considered the cradle of resort vacationing in Canada.
How long does it take to get from Quebec City to Montreal? About two and a half hours by car or three to four hours by train.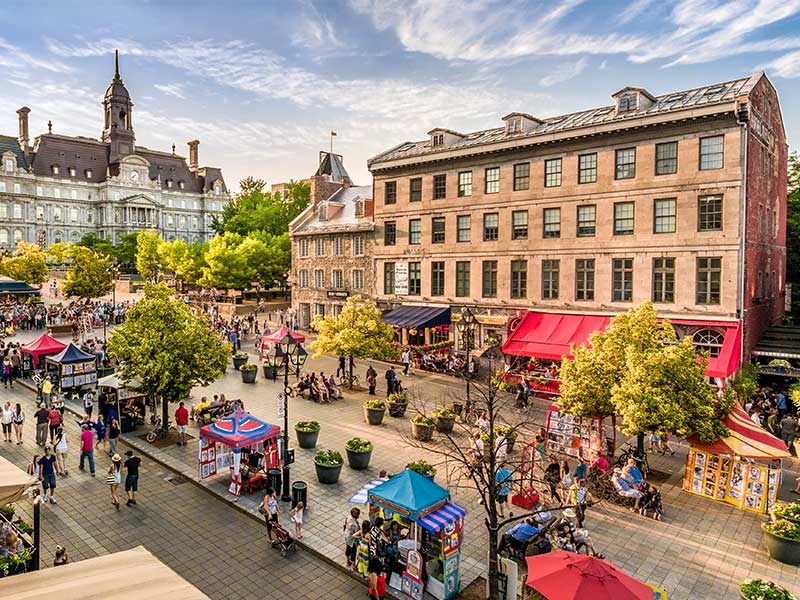 Montreal, Quebec. Image courtesy of Tourism Montreal and Stéphan Poulin
The largest city in Quebec, Montreal is set on an island in the Saint Lawrence River with Mont Royal (the three-peak mountain by which the city gets its name) at its heart. It's landmarks include the Notre-Dame Basilica and the Pointe-à-Callière museum, and like Quebec City, it has a region known as Vieux-Montreal (Old Montreal) which has architectural styles and cobblestone streets dating back to the 16th century. Full of lively plazas, charming shops and restaurants serving up signature dishes like poutine and Montreal smoked meat sandwiches, its North America's number one host city for international events and festivals, including its annual Montreal International Jazz Festival which holds the 2004 Guiness World Record as the world's largest jazz fest. Check out the city's calendar of events to stay atop of dates and tickets!
On the outskirts of Montreal are a number of regions perfect for a day or multi-day trip. At less than two hours by car from the city, Mont Tremblant is one of the most popular ski destinations in North America—but don't let that fool you. Even through the summer months, visitors can enjoy cycling and mountain biking, hiking, birding (there are more than 200 different kinds of birds!) golfing and perusing the village's bars, cafes, shops and restaurants. Of course, also just a few hours away from downtown Montreal are The Eastern Townships; a seriously postcard-worthy destination. Regarded as the cradle of vitiulture in Quebec, take the Wine Route (Route des Vins) through a series of beautiful vineyards and sample varieties as you go.
How long does it take to get from Montreal to Toronto? About one and a half hours by plane or five hours by car.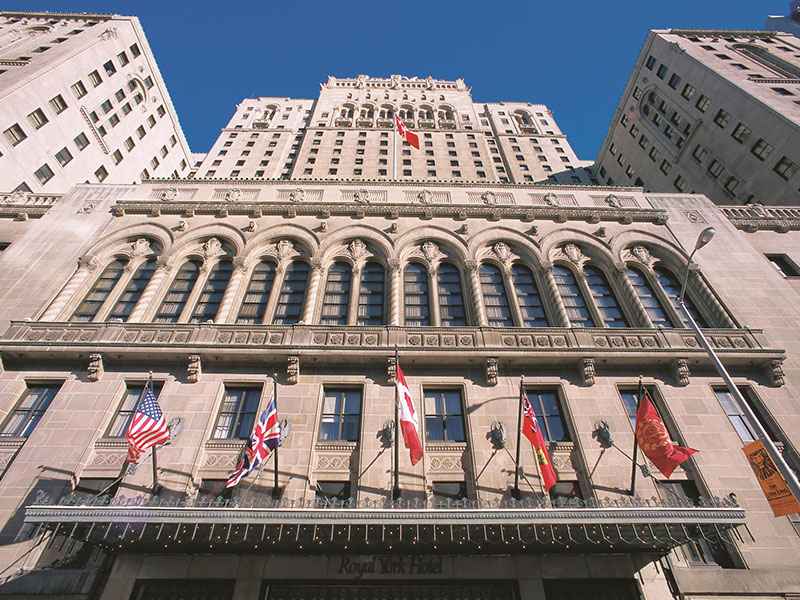 Looking up at the Fairmont Royal York hotel in Toronto. Image Courtesy of Fairmont Royal York
Where to Stay in Eastern Canada
Ottawa: Fairmont Château Laurier
As one of Canada's most recognized landmarks, Fairmont Château Laurier has been hosting guests in Ottawa's vibrant downtown core for more than a century. With ByWard Market on one side and the Rideau Canal locks on the other, guests can enjoy spectacular views of Parliament Hill while discovering local flavors at Wilfrid's restaurant, delight in an afternoon tea or savor a classic cocktail in Zoe's lounge bar.
Toronto: Fairmont Royal York
Just steps from the city's best attractions, the Fairmont Royal York is an essential Toronto experience. Here, the CN Tower, Scotiabank Arena, Eaton Centre and Meridian Hall performing arts venue are on your doorstep, while inside, a wealth of re-designed Fairmont Gold rooms, bars and restaurants await. Discover a new era of dining with the return of the Library Bar or delve into modern Canadian cuisine with a traditional French touch at REIGN Restaurant + Bar + Bakery.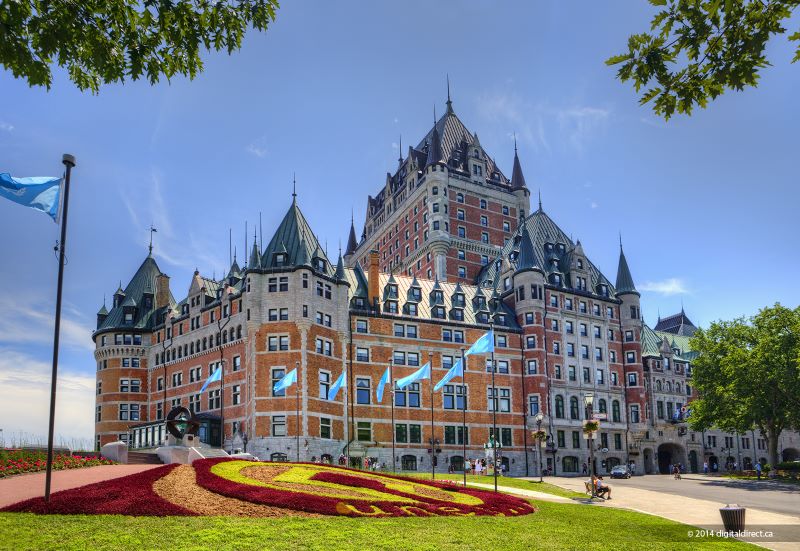 The Fairmont Le Chateau Frontenac hotel in Quebec City. Image courtesy of Fairmont Le Chateau Frontenac
Quebec City: Fairmont Le Château Frontenac
Boasting breathtaking views of the St. Lawrence River and the architecture of the Old fortified City, Fairmont Le Chateau Frontenac offers a memorable and inspiring stay in beautiful Quebec City, Quebec. Home to 610 guest rooms and suites, the castle-like structure is as grand as its presence, offering ample venues for dining, drinking, meeting or simply relaxing. Be sure to capture a photo for memories, as it's said to be the most photographed hotel in the world!
Montreal: Fairmont The Queen Elizabeth
Ideally located in downtown Montreal, Fairmont The Queen Elizabeth offers proximity to galleries, theaters, sporting and shopping venues and the storied streets of Old Montreal. All 950 guest rooms have recently underwent renovation, while the famous John Lennon and Yoko Ono Suite—where the pair stayed for a week on their honeymoon in 1969—is a legendary space to book. While there, visit Rosélys restaurant or attend the in-house circus performance, Celeste by Cirque Éloize.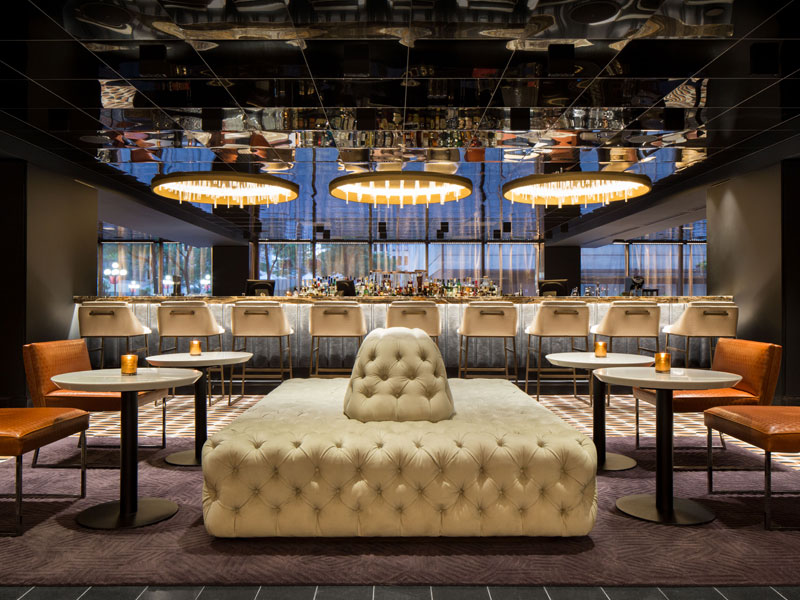 Nacarat Bar at the Fairmont Queen Elizabeth in Montreal. Image couretsy of Fairmont Queen Elizabeth
Mont Tremblant: Fairmont Tremblant
Spectacular by nature, Tremblant's landmark ski-in ski-out hotel provides the best setting for a perfect alpine getaway any time during the year. Perfectly located at the foot of the majestic Tremblant peaks, Fairmont Tremblant resort is the best destination for a balanced combination of relaxation and adventure, creating memories for couples, families and singles to cherish for a lifetime.
La Malbaie: Fairmont Le Manoir Richelieu
Located only one hour and thirty minutes from Quebec City, nestled between mountains, forest and the scenic village of La Malbaie, Fairmont Le Manoir Richelieu offers 405 rooms and four restaurants for the ideal retreat. Check in at the spa to enjoy a moment of pure indulgence, book a tee time at the golf club for a challenge amongst stunning views of the Charlevoix region or sate your appetite with a seasonally-inspired menu at one of the restaurants.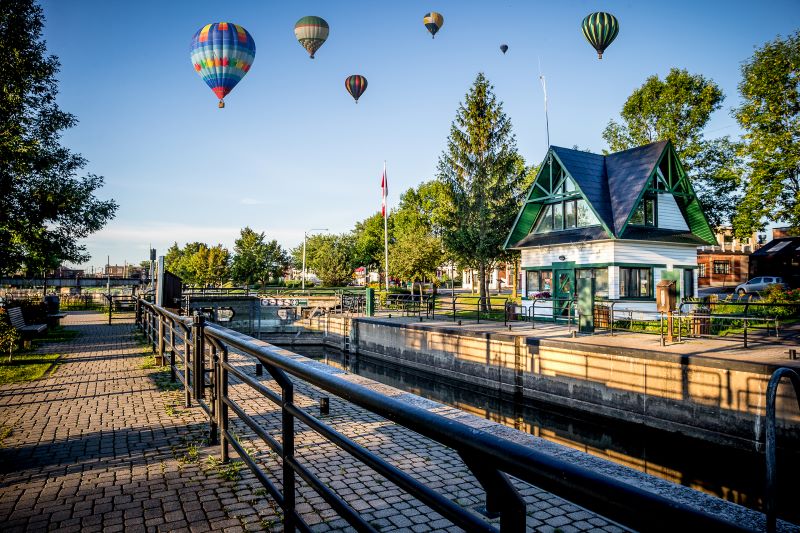 Chambly Canal National Historic Site in Quebec. Image courtesy of Parks Canada
The Top Trips in Eastern Canada
If you've made it this far into the article, you've certainly done your research. And while it's exciting learning more about Eastern Canada, we're still here to help plan out the logistics. Continue reading to browse six of our top vacation packages in Eastern Canada, then get in touch with our Travel Designers to make one your own!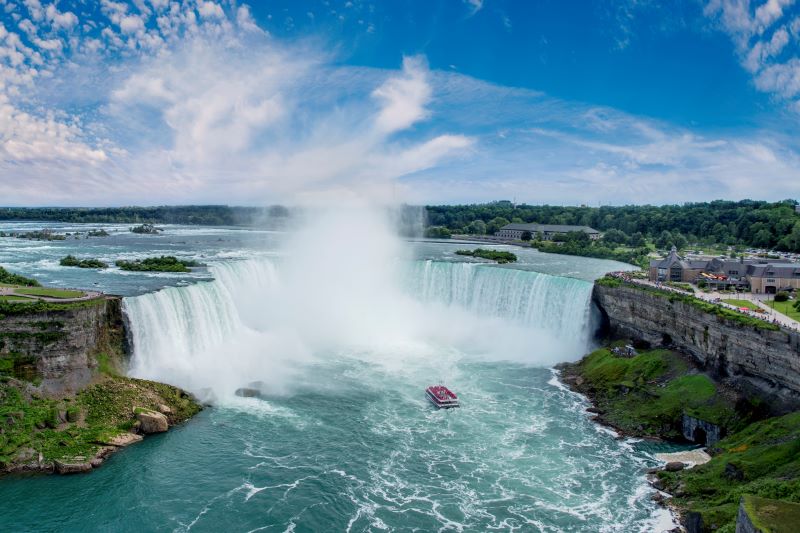 Horseshoe Falls at Niagara Falls in Ontario. Image courtesy of Destination Ontario
10 Days | View full itinerary
Experience the highlights of Ontario and Quebec on this 10-day Eastern Canada road trip. From the thundering waterfalls of Niagara to the tranquil lakes of Algonquin Provincial Park and the cosmopolitan city of Toronto to Canada's capital city of Ottawa, this well-paced itinerary offers a wealth of contrasts, all uniquely Canadian. On this road trip from Toronto to Montreal, you'll enjoy countless highlights showcasing Canada's diverse culture, history, scenery and wildlife plus your choice of tours in Quebec City and Montreal.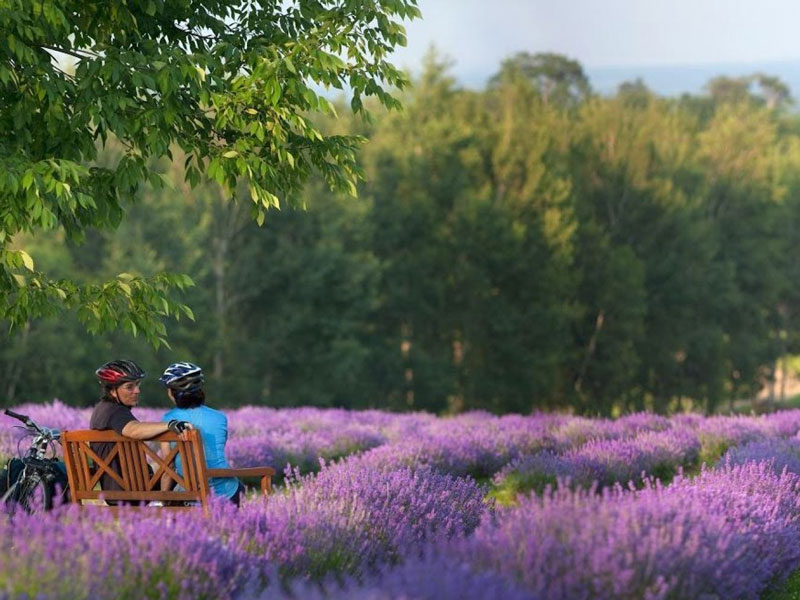 The Eastern Townships of Quebec. Image courtesy of Tourism Eastern Townships
7 Days | View full itinerary
This 7-day Eastern Canada Quebec road trip combines Montreal and the eastern townships of Quebec with two of its most spectacular outdoor destinations. In Quebec City, discover urban highlights as your explore chic streets, historic sites and architectural wonders, then take a helicopter tour before moving on to St. Alexis des Monts and Auberge du Lac-à-l'Eau-Claire. On your return journey to Montreal you'll explore some of the most picturesque countryside that French Canada has to offer, complete with pretty lakes and walking trails.
A guest room at Manoir Hovey hotel in Quebec. Image courtesy of Manoir Hovey
6 Days | View full itinerary
Combine the backroads of Quebec with some of the prettiest countryside that French Canada has to offer on this memorable 6-day Quebec road trip. Traveling from the cosmopolitan city of Montréal to the pastoral Eastern Townships, you'll have a chance to enjoy the little towns of Lower Saint Lawrence and Charlevoix where you can indulge your senses and immerse yourself in classic Francophone culture. At the end of an exciting day exploring, relax at luxury boutique hotels like Manoir Hovey and Le Germain Hotel Charlevoix.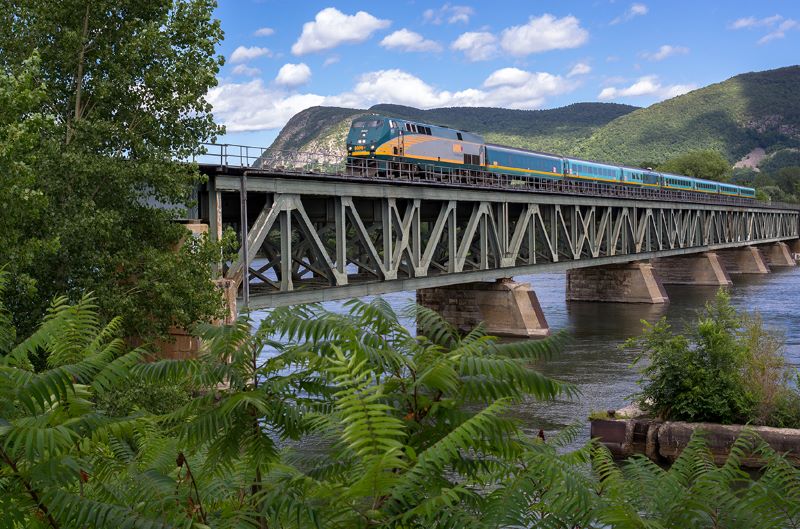 VIA Rail in Eastern Canada. Image courtesy of VIA Rail and Claude Robidoux
7 Days | View full itinerary
See the major attractions on this Eastern Canada train tour and experience the different lifestyles of Ontario and Quebec. This 7-day train trip departs from Toronto and includes time on VIA Rail, in vibrant Montreal and the national's capital city of Ottawa. Before wrapping up the tour in the historic heart of French Canada, Quebec City, you'll have a choice of tours like Montreal sightseeing, wandering a food market, embarking on a fabulous country tour and a rendezvous with history Quebec City tour.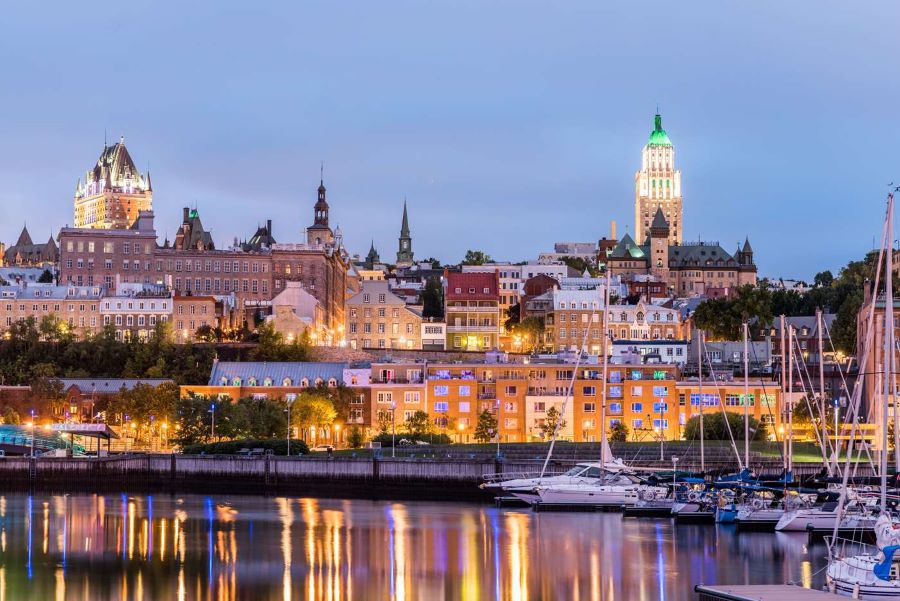 Quebec City at dusk. Image courtesy of Jeff Frenette Photography
5 Days | View full itinerary
Soak up the diverse culture of Montreal & Quebec Cities by train traveling through the best of Eastern Canada. Board VIA Rail in Business Class, sit back and relax in a viewing car as Canada's stunning scenery rolls past your window. As you arrive to Montreal and Quebec City, you'll have your choice of sightseeing and walking tours, allowing an opportunity to discover this province's unique geography, diversity, history, food and culture that together have forged its identity.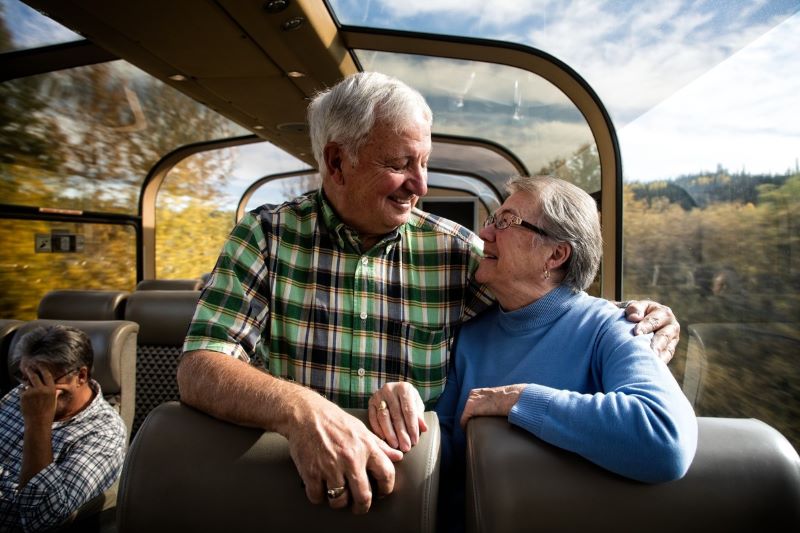 A couple aboard VIA Rail. Image courtesy of VIA Rail and Simon Sees
17 Days | View full itinerary
Take a trans-Canada train trip from Vancouver to Halifax with visits to the Rockies, Niagara Falls and Toronto! Traveling through Western Canada with Rocky Mountaineer you'll experience beautiful Jasper, Lake Louise and Banff, then switch to VIA Rail for the journey across Canada to Toronto, Montreal and Halifax. In Banff, Montreal and Halifax you'll have a chance to make the train trip your own, with Freedom of Choice tours like Grizzly bear viewing, city walking tours and sightseeing storied lighthouses.
Feeling inspired? Chat with one of our Travel Designers to create a custom trip that's just for you, or visit our Time to Travel page for more trip ideas to take in summer. Prefer to simply stay in touch? Subscribe to our newsletter for up-to-date deals, trip ideas and more!