We've all been there – browsing the endless reaches of the internet for tips on how to plan the perfect summer trip to Alberta. Home to cosmopolitan cities like Calgary and Edmonton, the Greatest Outdoor Show on Earth, the Canadian Rocky Mountains and jaw-dropping natural beauty, it's the perfect destination to visit, and we know just how to do it.
Whether you're planning a solo trip, family getaway, romantic vacation or week with friends, our Alberta itineraries contain only the very best experiences, all tried and tested by our experts. Even better? We can plan the ideal itinerary to your own budget and interests... read on for three easy steps on how to plan the perfect summer trip to Alberta.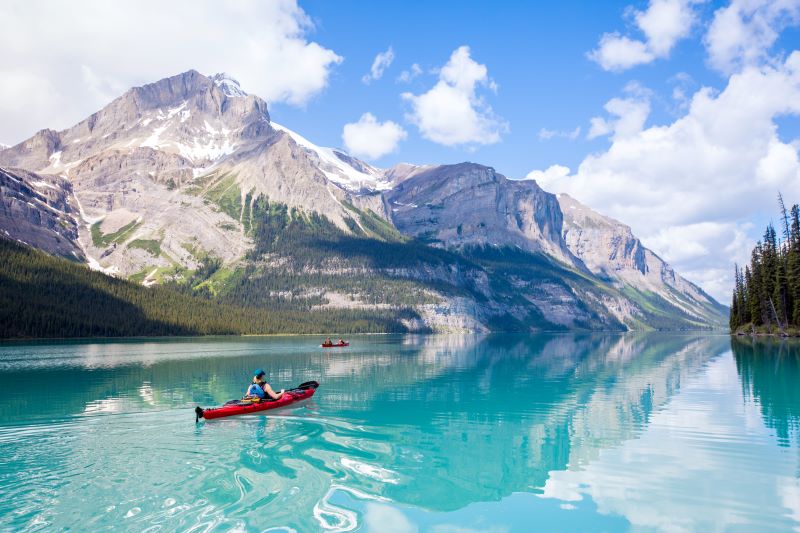 Image courtesy of Travel Alberta
Step 1: Research the Destination
A major part of planning any vacation is getting to know the destination. But that's why you're here, right? Our team is not only based right here in Canada, but regularly travels all over the country to find the best sights, tours and recommendations. As part of our passion to help travelers book their dream trips, allow us to share a little insight on everything Alberta:
Situated between the provinces of British Columbia and Saskatchewan and just north of the US state of Montana, Alberta is a land-locked province most famous for the Rocky Mountains. Small alpine towns like Jasper, Banff and Lake Louise see millions of visitors each year, however within the sprawling spaces of Jasper and Banff National Parks, you'll hardly ever notice a crowd. Picture mountains, lakes, prairies, desert badlands and lush coniferous forests as your playground. In summer, there are more activities than you'll likely have time to try, ranging from hiking, fishing, canoeing and golfing to horseback riding, cycling and whitewater rafting.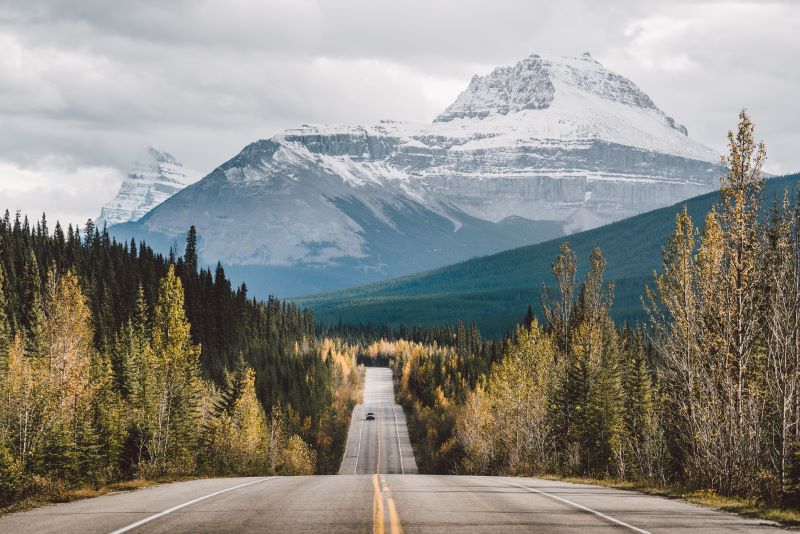 Image courtesy of Travel Alberta
Jasper
The alpine town of Jasper is the commercial center of Jasper National Park, and likely the first place you'll encounter if you're arriving to Alberta from BC. Amid the snow-capped Canadian Rockies, the park has glacier-fed lakes, forests and rivers – all of which you can soak up from the top of the Jasper SkyTram at Whistlers Mountain.
In town, a small community of 5200 people live amongst views of the Colin Range, Icefields Parkway, Mount Edith Cavell and Pyramid Mountain. The unique mountain culture permeates the town, and you'll notice its rich architectural style matches that of the mountain environment.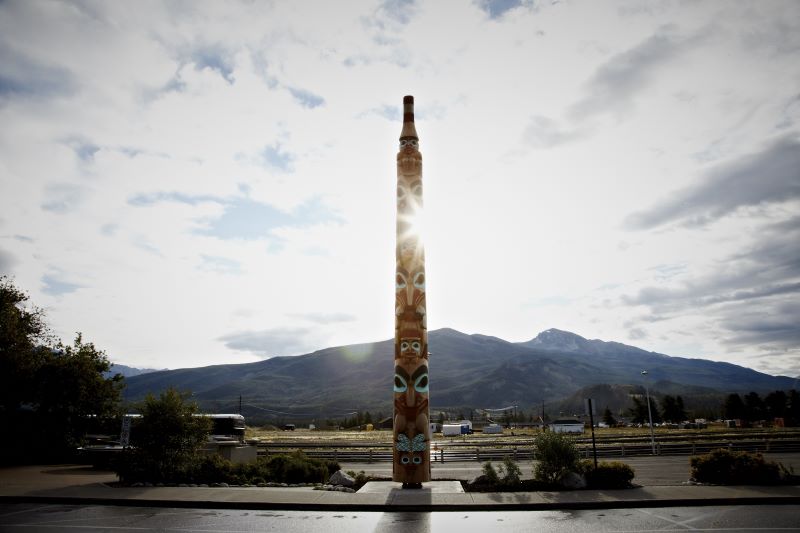 Image courtesy of Tourism Jasper
While the number of shops and restaurants may be fewer than what you're used to, there's still plenty of places to enjoy great atmosphere and flavor. We highly recommend booking Jasper Food Tours to get the inside scoop – led by a local, they'll take you to four different restaurants for delicious food and beverage pairings while sharing unique stories.
One of the most sought out places just outside of town would have to be the beautiful Maligne Canyon. A slot canyon in Jasper National Park measuring over 50 meters deep and 1.2km long, it houses waterfalls, fossils, potholes, underground stream outlets, lush plant life and many birds. Carved out by lime-secreting plankton some 365-million years ago, there are ample walking trails for a self-guided hike or you can book a tour.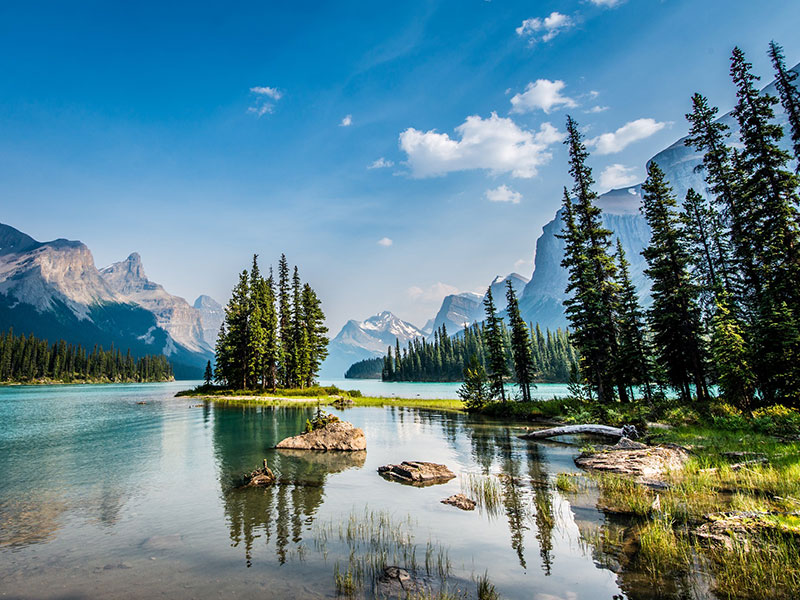 Image courtesy of Travel Alberta
While on the topic of Maligne Canyon, there is also a beautiful lake of the same name: Maligne Lake. The largest natural lake in the Canadian Rockies, it's here that you'll find the famously photographed Spirit Island, though you'll need to take a cruise to get there as there is no road or trail access. Luckily, we often include this cruise tour as part of our packages, alongside other choices like a Jasper river float or a nature walk to spot wildlife.
Connecting Jasper with Lake Louise is the iconic Icefields Parkway. Considered one of the top 10 scenic drives in the world, it's a 230 km stretch through awe-inspiring scenery like that of Sunwapta Falls and Athabasca Falls. Both located at the Jasper end of the parkway, Sunwapta is a torrent of plunging water falling from broad u-shaped hanging valleys, while Athabasca Falls at 23-metres high is one of the most powerful falls found in the mountain national parks. Be sure to stop at the Columbia Icefield Skywalk for a cliff-edge walkway above the Sunwapta Valley.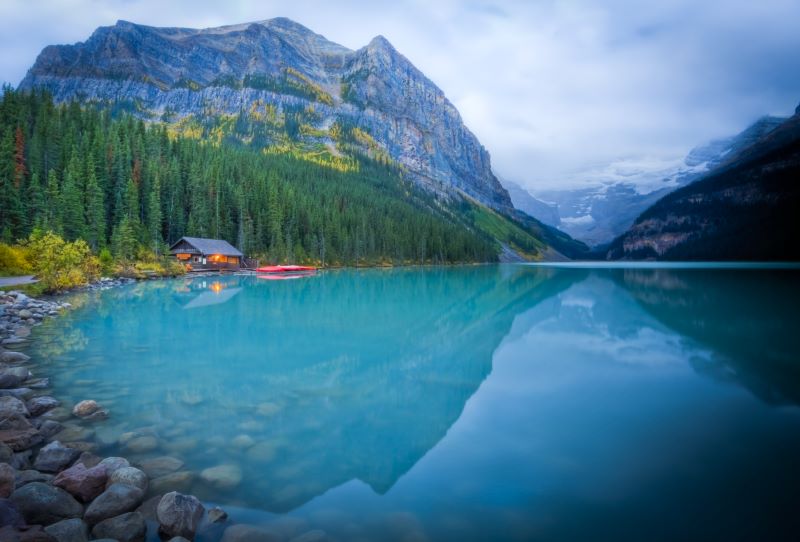 Image courtesy of Travel Alberta
Lake Louise
A hamlet in Banff National Park and the Canadian Rockies, Lake Louise is renowned for a reason. Famous for its turquoise, glacier-fed lake ringed by high peaks that reflect gorgeously on its surface, this is the one spot that you may find crowded – but trust us, it's totally worth it. Our best recommendation to have some lake time to yourself is by booking the Fairmont Chateau Lake Louise. The only hotel situated directly on the lake, you'll have eyes on it after the crowds head home or before they even arrive.
One of the most popular ways to enjoy the lake through summer is by renting a canoe for a paddle. The icy temperatures typically keep swimmers at bay, so this is the best way to get out on the water. Should you prefer solid land, there are ample hiking and walking trails around the lake, some of which continue up the nearby mountains for spectacular views of the surrounds.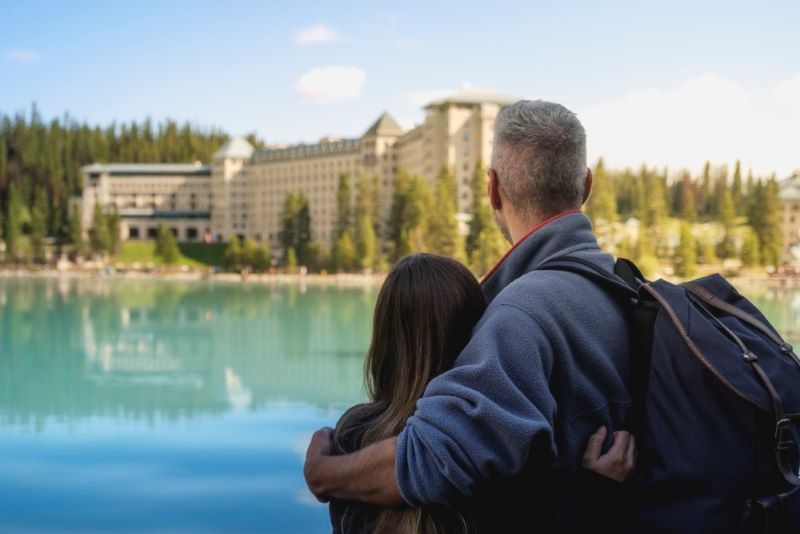 Image courtesy of Fairmont Chateau Lake Louise
Just behind the Fairmont Chateau Lake Louise is the Lake Louise Ski Resort. While the name of course implies winter activities, there is plenty to do in summer, too. Embrace the stunning scenery, grand glaciers, blooming wildflowers and crystal-clear springs on a hike, or roam the outdoors with a pair of binoculars for the chance to spot wildlife in their natural habitat. In fact, it's on the Lake Louise summer gondola that you have the best chance to spot grizzly bears in the wild!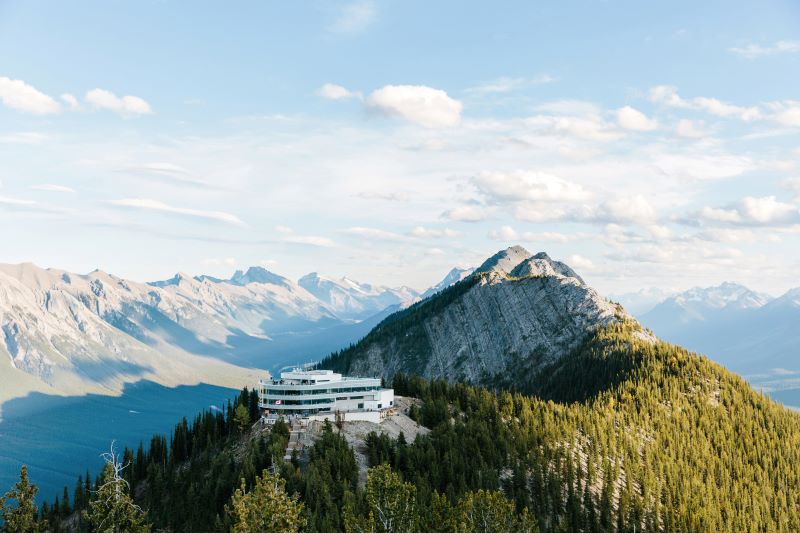 Image courtesy of Pursuit
Banff
The town of Banff also offers ways to view the Banff and Lake Louise region. Take a trip up the Banff Gondola to see outstanding panoramic views of the Canadian Rockies at 7,468 feet. While the gondola ride itself is only 8 minutes, there is plenty to do at the top – dine in one of the restaurants, hike a trail or simply soak up the sights from the observation deck. Again, we typically include this activity as part of our Alberta itineraries.
Like Jasper and Lake Louise, Banff is also home to an array of outdoor activities. Rent a canoe and paddle on the Bow River or Vermillion Lakes, cycle the Legacy Trail or along the Spray River, or cast a line at Lake Minnewanka for a little fishing. There are a number of beautifully-designed and challenging golf courses for all levels. One of these is part of the Fairmont Banff Springs Hotel, otherwise known as 'Canada's Castle in the Rockies,' which is renowned for its panoramic beauty.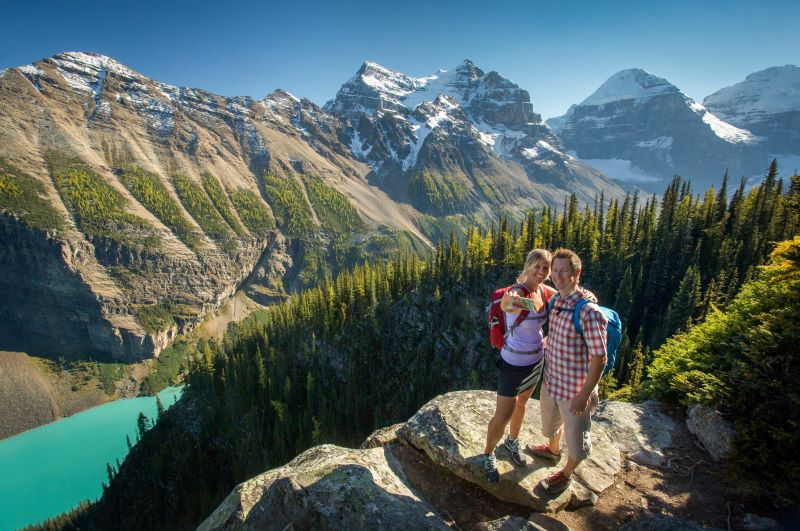 Image courtesy of Travel Alberta and Paul Zizka
To get off your feet and see it all from above, we highly recommend booking a tour with Rockies Heli. Take a 6 Glacier Tour, the Epic Summit Tour or the Complete Colombia Tour to see gorgeous scenery like ancient glaciers, deep crevasses, cascading waterfalls and more. Whether you choose to land for a hike or stay airborne for the full tour, this is a spectacular way to see Banff National Park from a totally unique perspective.
Lastly, at the end of the day we suggest visiting Banff Upper Hot Springs. While temporarily closed for construction until late March 2022, it's set to reopen just in time for summer so you can include it in your trip. Here, the water is heated geothermally, bubbling up to the surface from 1.8 miles into the earth's crust. As it slowly seeps through sedimentary rock layers it gets hotter and absorbs rich minerals; the benefits of which will soak into your skin as you relax.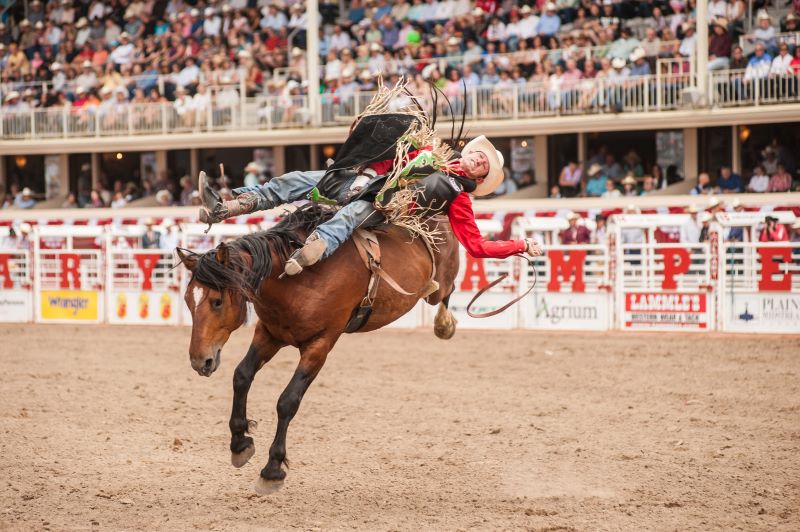 Image courtesy of Tourism Calgary and Calgary Stampede
Calgary
Just a 90-minute drive away from Banff and the Rocky Mountains, Calgary is a far more cosmopolitan destination than its nearby alpine towns. Offering more hours of sunshine than any other Canadian city, it's most famous for Calgary Stampede – 'The Greatest Outdoor Show on Earth' – which occurs annually each July. This 10-day event attracts over a million visitors per year and features one of the world's largest rodeos, a parade, midway, stage shows, concerts, chuckwagon races and more. Book your trip around July 8-17 for an event you won't ever forget!
Even if you visit Calgary outside of Stampede, you won't be disappointed. The city's western heritage, culture and spirit lives on throughout the year and can be experienced in multiple ways, be it sampling prime Alberta beef at one of the many restaurants or learning Indigenous history at Head-Smashed-In Buffalo Jump. A UNESCO World Heritage Site just south of Calgary, it offers a detailed look at the prehistoric life in the area, buffalo hunt ceremonies and the ecology of the region.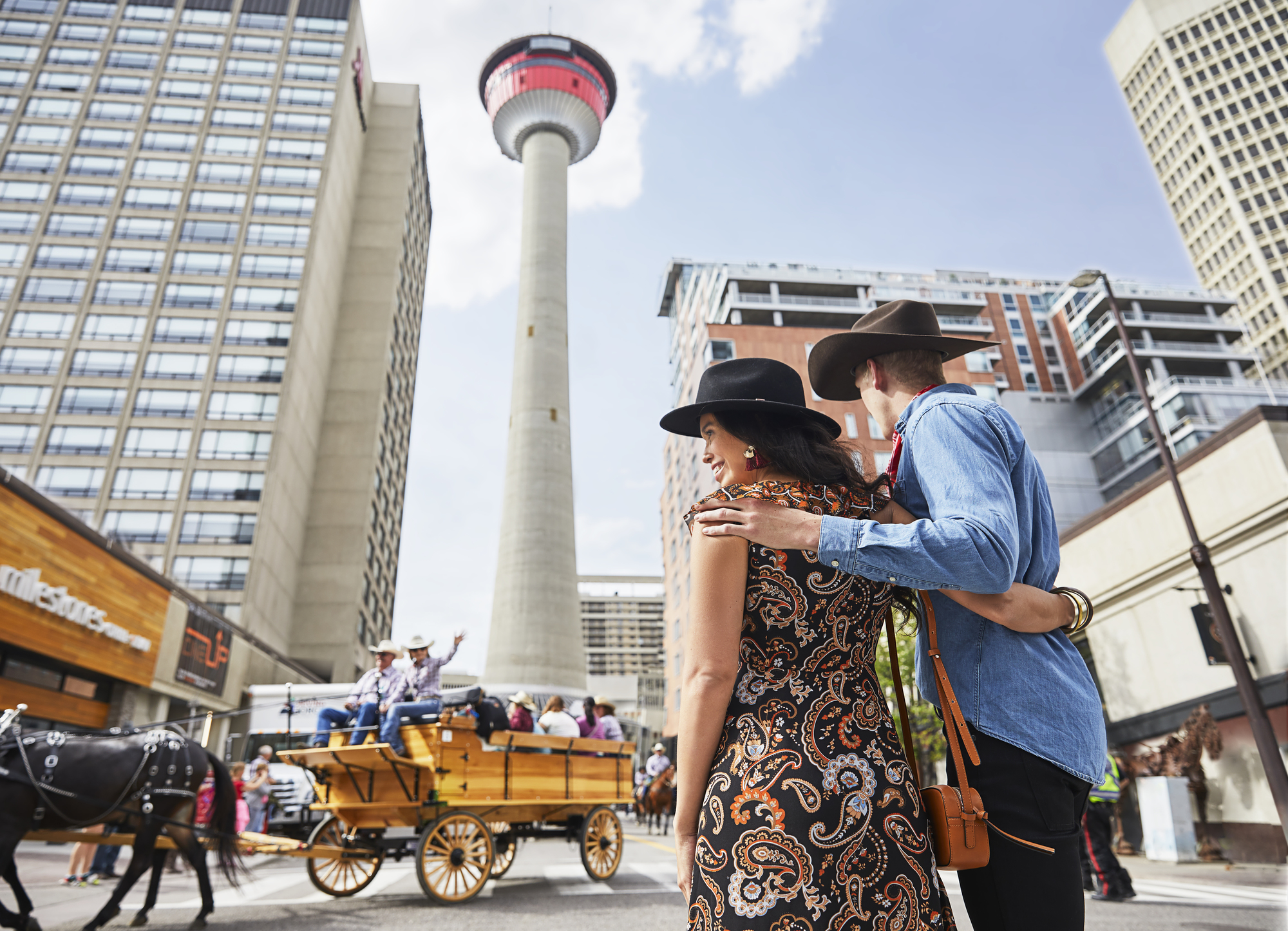 Image courtesy of Tourism Calgary
And while we may have briefly mentioned Alberta beef, don't think that was our only mention of the food scene. Calgary is bursting with cool craft breweries and award-winning restaurants including some of Canada's Best, Pigeonhole and Model Milk. The rapidly-growing number of restaurants are constantly evolving to introduce new flavors, and you won't struggle to find fare from Southeast Asia, South America, Africa and beyond.
With all that food to fuel you, be sure to get out to Calgary's outdoors. Boasting plenty of parks and green spaces alongside impressive architecture and landmarks like the Calgary Tower and Studio Bell, we highly recommend walking throughout the city's neighborhoods to get a feel for what it's all about. Our favorite? The East Village, known for its hip eateries, indie music venues, galleries and clothing stores. If nature is more your thing, be sure to hit the RiverWalk path along the Bow River for beautiful sights and fresh air.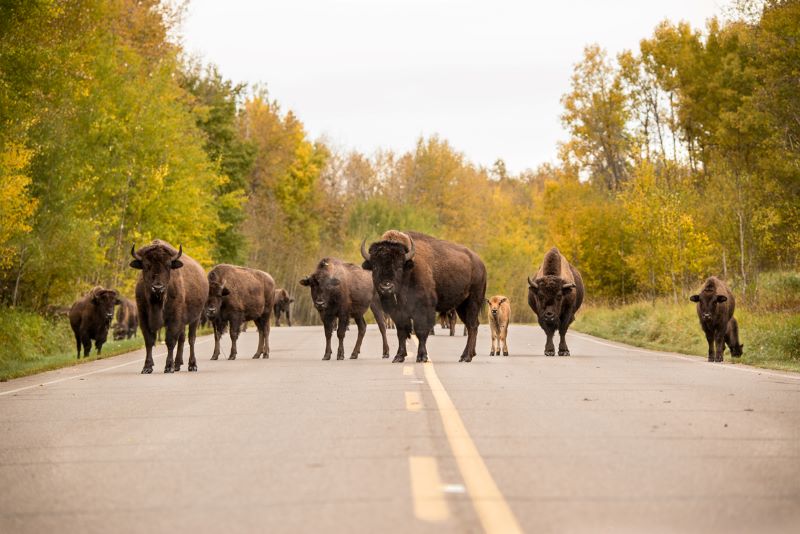 Image Courtesy of Travel Alberta and Tourism Edmonton
Edmonton
You may already know Edmonton thanks to West Edmonton Mall, but that's not all there is to it. Summer in Edmonton is legendary, with 18 hours of sunlight per day, great festivals, outdoor activities and markets galore. Edmonton International Jazz Festival occurs annually from late June to early July, followed by Taste of Edmonton which offers dishes from over 50 locally owned restaurants and food trucks. Discover the world's largest outdoor celebration of multiculturalism at Edmonton Heritage Festival July 30 - August 1, plus North America's biggest and oldest Fringe Festival from August 11 - 21.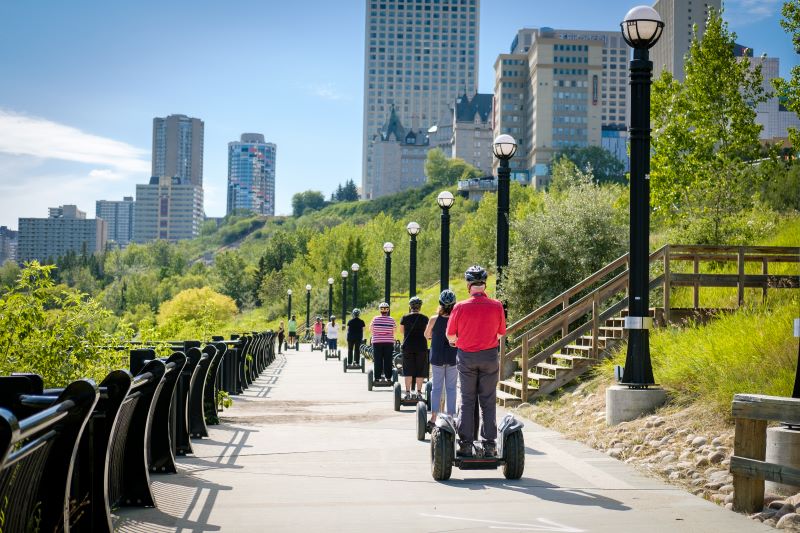 Image courtesy of Tourism Edmonton
When it comes to the outdoors, a great way to get a feel for the city is on a Segway tour. Along with a guide, you'll learn all about Edmonton's natural history and wonders while riding along the River Valley – North America's largest stretch of connected urban parkland. Other activities you can do in the great outdoors include canoeing, hiking, cycling, wildlife viewing, birding, fishing and browsing the open-air markets.
Of course when in Edmonton, you'd be remiss not to visit Elk Island National Park. A nature enthusiast's paradise, it's not only a refuge for bison, elk, moose, deer and more than 250 bird species, but a registered dark sky preserve ideal for stargazing or catching a glimpse of the northern lights. Through the summer months, keep an eye out for opportunities to join programming at the park and learn stories from the Indigenous people.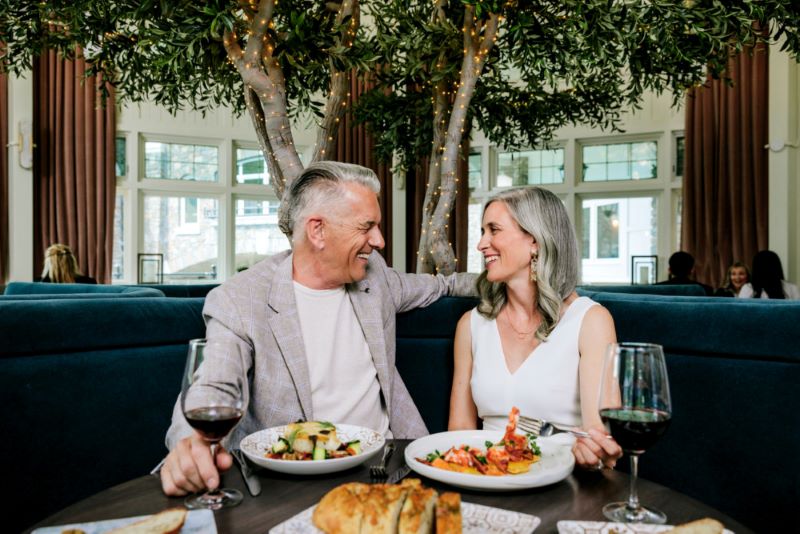 Image courtesy of Fairmont Banff Springs Hotel
Step 2: Consider your Budget
While you may want to see and do it all in Alberta, it's important to consider your budget. Our itineraries always have moderate to deluxe grade options available, so you can find the one that suits your price point without worrying you'll miss out. For example, our deluxe grade option typically includes accommodation at the iconic Fairmont properties like the Fairmont Jasper Park Lodge, Fairmont Chateau Lake Louise and Canada's 'Castle in the Rockies,' the Fairmont Banff Springs Hotel. While we highly recommend the experience, we understand that everyone's ideal price points and priorities are different. This is why we offer other, moderate-grade hotels that have been carefully vetted by us, so you don't have to be concerned about quality.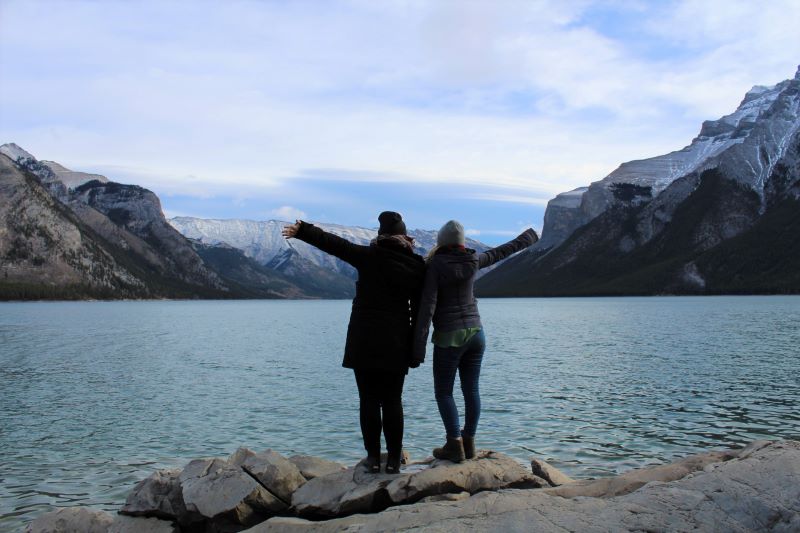 Image credit Canada By Design
Step 3: Contact a Pro
Now that you've reached the last step of the process, you're also at the easy part – planning your trip! While yes, this typically entails a lot of technical details, our Travel Designers are seasoned pros who are available to do the work for you. Simply get in touch by email at sales@canadabydesign.com or by phone at 1 800 217 0973 (you can also schedule a call on our website) with details on the number of travelers, ideal dates, budget and what you'd like to see and do, and one of our Travel Designers will happily create a custom quote based on your interests. Still not sure where to start? We've outlined a few of our most popular summer Alberta vacations below.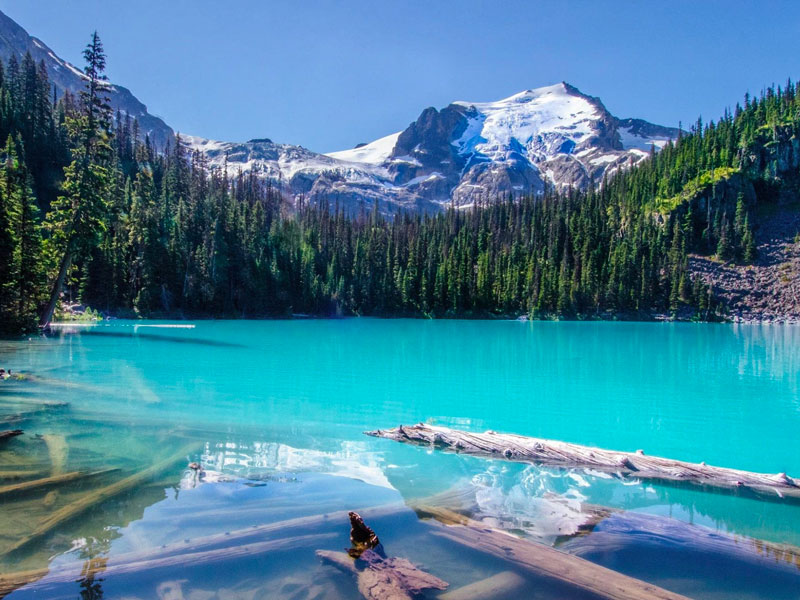 Image courtesy of Travel Alberta
Canadian Rockies & Vancouver Island Road Trip
From $2,008 USD per person | View Full Itinerary Here
Explore the very best of Alberta and British Columbia on this 12-day Western Canada road trip between Calgary & Vancouver. Discover spectacular mountains, emerald lakes and charming mountain towns, then travel to Vancouver Island's rugged west coast for sensational scenery and wildlife excursions. This 12-day itinerary has been carefully created to take you through the most scenic highways in the regions, and allows you to choose your own tours in Victoria, Tofino, Jasper and Banff for a personalized experience.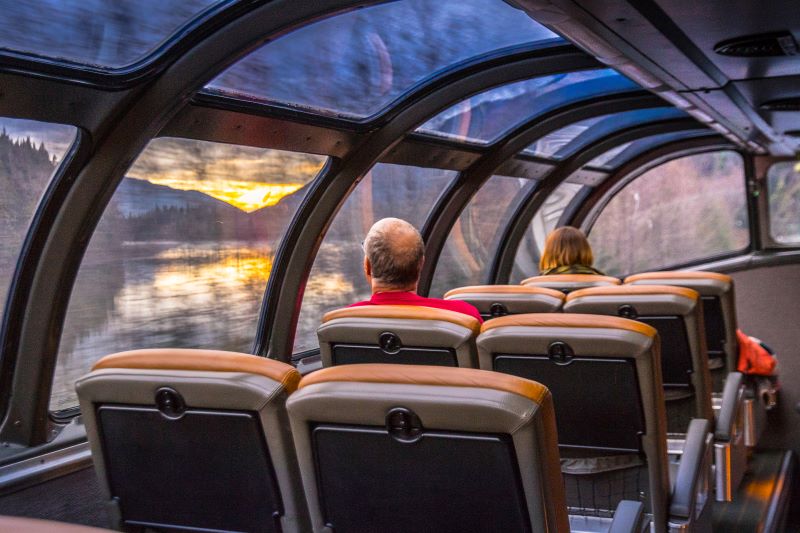 Image courtesy of VIA Rail and Alexandre Socci
Vancouver & the Canadian Rockies Train Vacation
From $2,798 USD per person | View Full Itinerary Here
Experience Western Canada & Vancouver on this popular 8-day Canadian Rockies train vacation. Start with your choice between a day excursion to Victoria or Whistler, then board VIA Rail's renowned Canadian train and travel overnight in a sleeper cabin to Jasper. Here you'll enjoy an Ice Explorer ride onto the Athabasca Glacier, then travel to Lake Louise by coach before continuing to Banff. Choose between wildlife watching, viewing grizzly bears or taking part in a cowboy cookout, then wrap up the trip in Calgary.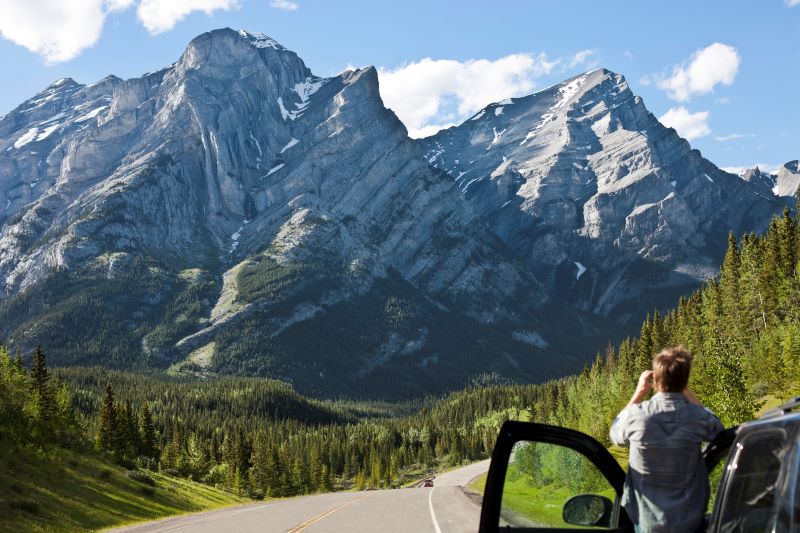 Image courtesy of Travel Alberta
Road Trip through the Canadian Rockies
From $818 USD per person | View Full Itinerary Here
Experience the best of the Canadian Rockies on this week-long road trip to Alberta's iconic alpine towns. Discover the stunning scenery of Jasper and Banff National Parks, plus enjoy your choice of one-of-a-kind activities in Banff and Jasper. Observe wildlife in their natural habitat (think black bears, elk, and coyotes to name a few!), cruise Maligne Lake, take the Banff Gondola up Sulphur Mountain, embark on a river float or ride on horseback along the Bow River. We've made it easy for you to design your dream trip your way, so you can simply sit back & relax.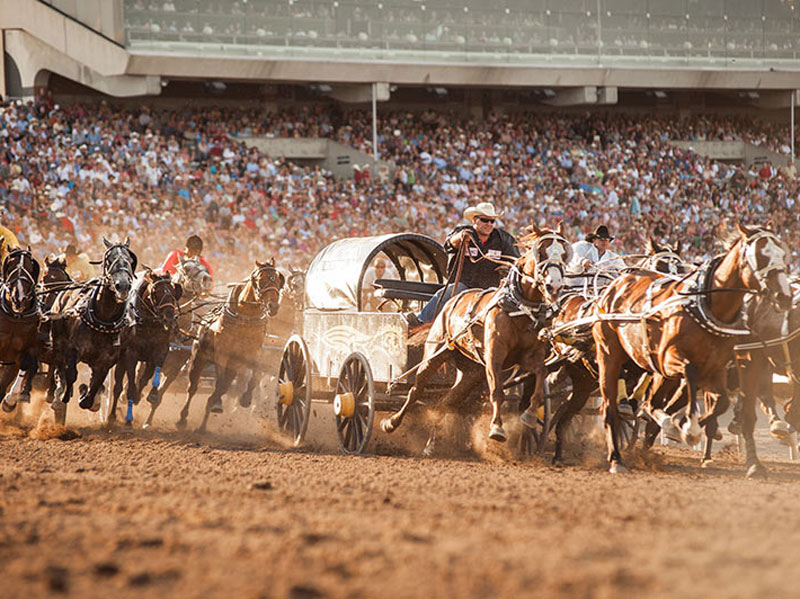 Image courtesy of Tourism Calgary and Calgary Stampede
Calgary Stampede and the Canadian Rockies Train Tour
From $3,817 USD per person | View Full Itinerary Here
Combine the iconic rodeo, concerts and midway of Calgary Stampede with a Canadian Rockies train tour for the ultimate summer vacation in Canada. Witness 'The Greatest Outdoor Show on Earth,' stay in the alpine towns of Banff, Lake Louise & Jasper and travel by train in a sleeper berth onboard VIA Rail between Vancouver & Jasper. This 10-day Canadian Rockies train itinerary departs from either Calgary or Vancouver.
Feeling inspired? Chat with one of our travel designers to create a custom trip that's just for you, or visit our Time to Travel page for trip ideas to take this summer. Prefer to simply stay in touch? Subscribe to our newsletter for up-to-date deals, trip ideas and more!