Recently, we published The Travel Expert's Guide to Banff and Lake Louise, and we thought to ourselves, it only makes sense to do the same for Jasper, Alberta. A small alpine town situated within the largest national park in the Canadian Rockies, it's important to understand what separates it from the rest (and why you absolutely have to visit).
Throughout this blog post, we'll be shedding light on Jasper and answering all your frequently-asked questions. Thanks to our team's 21+ years of experience planning dream trips in Canada, you know you're getting only the very best insight and advice, from locals themselves.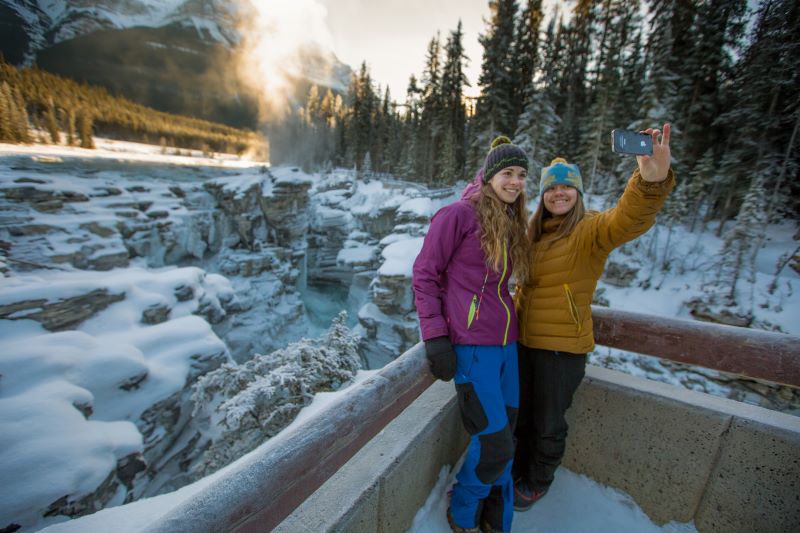 Jasper National Park. Image Courtesy of Tourism Jasper
Where is Jasper National Park?
Situated in the province of Alberta, Canada, 192 miles west of Edmonton and 256 miles northwest of Calgary, Jasper National Park is the largest in the Canadian Rockies spanning a total 11,000 square kilometres (nearly 4,250 square miles). Home to part of the Icefields Parkway, the Athabasca River, Miette Hot Springs, Maligne Lake, the Jasper Skytram and Marmot Basin ski resort, there are many reasons to visit Jasper National Park year round.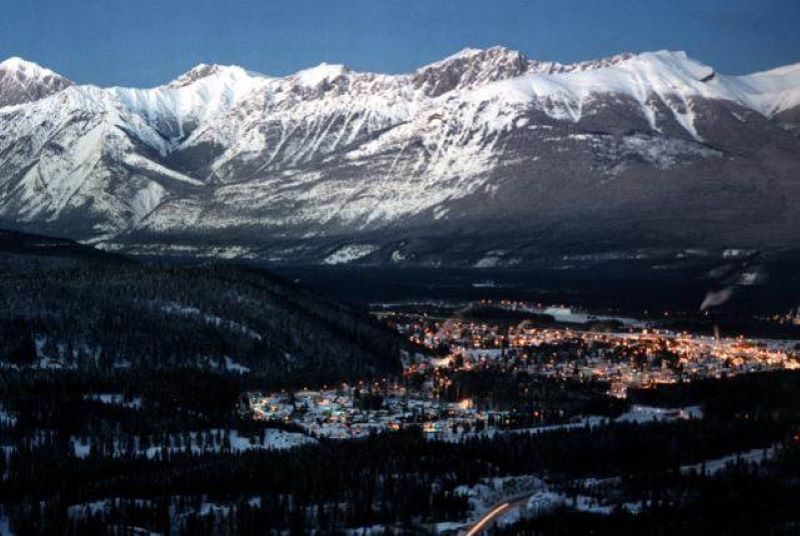 Jasper Lights at Night. Image Courtesy of Tourism Jasper
Where is Jasper?
The alpine town of Jasper is in the western portion of Alberta within Jasper National Park. A quaint community of just 5,200 people, it's placed on a plateau in the Athabasca Valley and holds commanding views of the Colin Range to the east and the snow-capped Mount Edith Cavell in the center of the skyline. It's few main streets are lined with little bistros and boutiques, while the scattered hotels house visitors who come to explore the national park.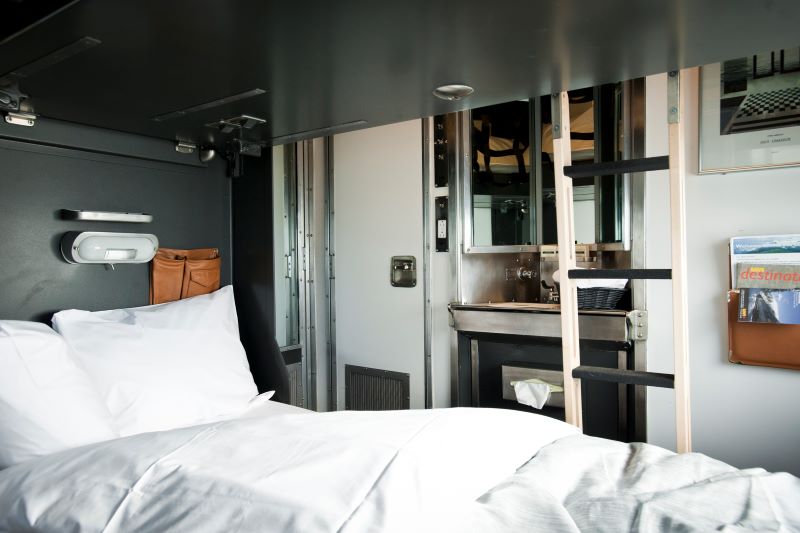 A Private Sleeper Berth on VIA Rail. Image Courtesy of VIA Rail
How to Get to Jasper, Alberta
There are a number of ways that visitors can arrive to Jasper, Alberta. VIA Rail is one of our top recommendations, traveling overnight from Vancouver to Jasper with cozy accommodations onboard. Just imagine: sitting in the panoramic dome car with a glass of wine or hot cocoa in hand, then slipping into the sheets of a cozy bed and watching the world go by. Let's not forget that VIA Rail also serves fantastic chef-prepared meals in the dining car!
If not traveling by train, another way to get to Jasper is by car. While we don't recommend driving in the winter months unless you're familiar and comfortable with winter road conditions, road trips are an incredibly popular trip type in the summer. If you want to travel by car without driving yourself, we suggest flying to Calgary and booking transfers. We have a range of partners offering private SUV's, vans and even shuttle busses connecting Calgary with Lake Louise, Banff and Jasper.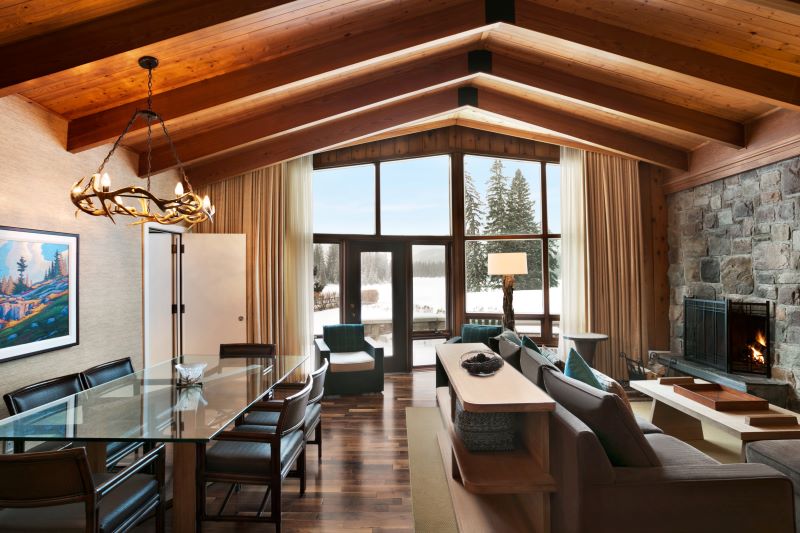 The Fairmont Jasper Park Lodge. Image Courtesy of Fairmont Jasper
Where to Stay in Jasper National Park
We work with a number of phenomenal properties within Jasper National Park, so there's something to suit every budget. Our top recommendation is the Fairmont Jasper Park Lodge, which sits just outside the town on the shores of emerald green Lac Beauvert. Here you'll find picturesque paths connecting a village of heritage log cabins, while the main lodge is home to multiple restaurants, a spa, health club and heated pool. Make the most of your location by renting skates, cross-country skis, snowshoes or fat tire bikes right at the Winter Activity Centre.
If you prefer to be situated right in town or are seeking something budget-friendly, The Crimson Hotel is another fantastic choice for a stay in Jasper. Here, trailheads, shops and restaurants are all located at your doorstep, while the modern decor, hot tub and indoor pool warmly welcome you back from a day outdoors. Choose between a variety of rooms and suites and enjoy a delicious array of cuisine from breakfast to dinner at Crimson's Authentic restaurant. Helmed by Executive Chef Jamie Hussey, you'll find regionally-focused share plates and the signature Clearly Jasper cocktail.
Skiers at the Fairmont Jasper Park Lodge. Image Courtesy of Fairmont Jasper
What to do in Jasper
The possibilities of things to do in Jasper are practically endless! While it's popular for hiking, canoeing, golfing, kayaking, mountain biking, swimming, camping, fishing, mountain climbing, picnicking and birding in the summer, in winter it offers ice climbing, snowshoeing, cross country skiing, ice skating, stargazing, ski touring and wildlife watching. Under a blanket of snow and ice, Jasper's mountains, meadows and rivers still house 53 species of mammals, and while you won't see bears while they're hibernating you can see moose, elk, deer, bighorn sheep, mountain goats, wolves and coyotes to name a few. Lucky hikers may even spot some woodland caribou!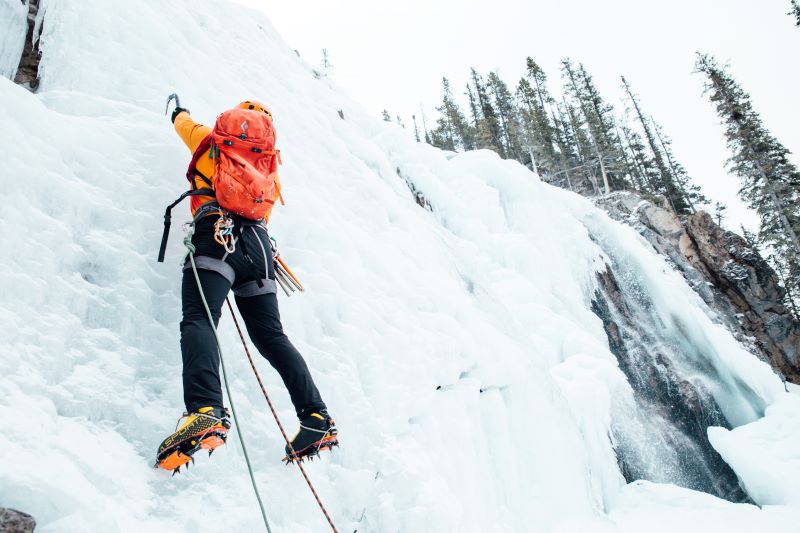 Ice Climbing at Maligne Canyon. Image Courtesy of Tourism Jasper
An easy 15-minute drive away from Jasper is the ever-popular Maligne Canyon. There are a number of tour companies we can set you up with for a guided excursion in the canyon, choosing either to walk along the frozen floor or try ice climbing up a frozen waterfall! On a recent trip to Jasper, Travel Designer Sam and Marketing Manager Steph (that's me!) tried our own hand at ice climbing. While challenging, it's an incredibly fun and rewarding sport that you don't need prior experience to attempt.
Another option just a 15-minute drive from the town is the longest and highest guided aerial tramway in Canada, the Jasper Skytram. While closed for the winter months, it opens again in early spring and you can still enjoy snowshoeing from the upper part of the mountain. The seven-minute flight in itself is filled with spectacular views, while at the top of the high alpine Upper Station you can see six mountain ranges, glacially fed lakes, rivers and the town of Jasper.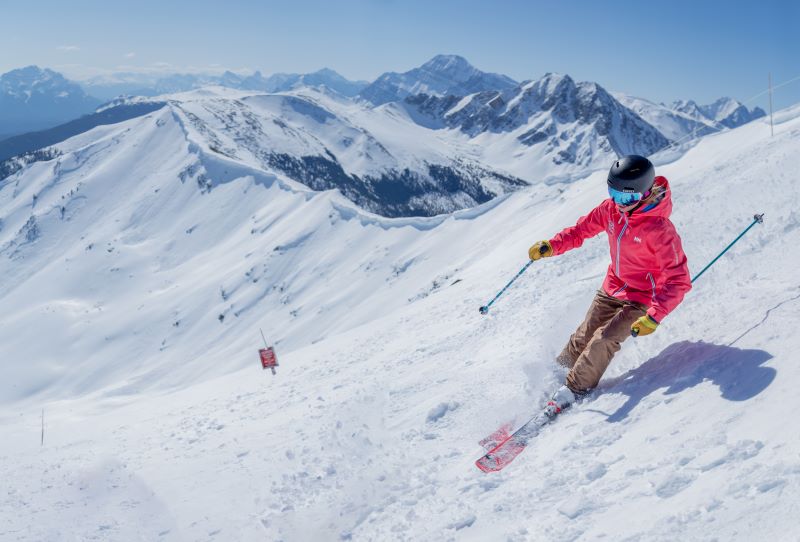 Skiing at Marmot Basin. Image Courtesy of Tourism Jasper
At a slightly further 30-minute drive from Jasper, skiers can enjoy the slopes at Marmot Basin. Set at the highest base elevation of any major Canadian ski area, it offers 1,720 acres (960 hectares) of skiable terrain across a whopping five mountain faces. The longest run, should you choose to ride it, is 5.6km (3.5 miles)! Rentals are available at the mountain, as are a range of dining options like Caribou Chalet, Paradise Chalet and Eagle Alpine Lodge.
An hour's drive from Jasper takes you to one of Alberta's best-kept secrets: the naturally-warmed pools of Miette Hot Springs. While it's important to note that the hot springs are closed for the 2021 season due to a lifeguard shortage, it will reopen in future with the hottest hot springs in the Canadian Rockies flowing from the mountain at 54°C (129°F). Don't worry – the water is cooled to a comfortable 40°C (104°F) before it enters the hot springs pool.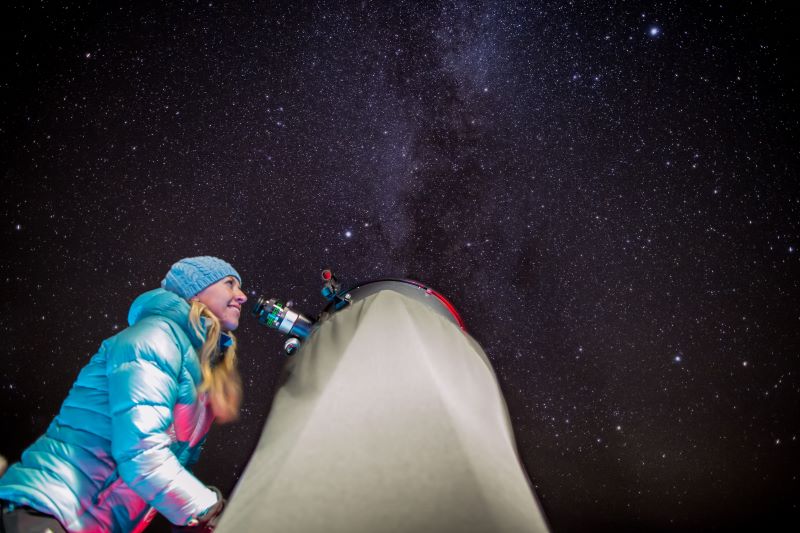 Jasper Dark Sky Preserve. Image Courtesy of Tourism Jasper
By the time the night sky settles in over Jasper, you're in for a surprise. In 2011, Jasper was designated as a Dark Sky Preserve by the Royal Astronomical Society in Canada, meaning that you have the ideal conditions for gazing at planets and stars. And as the second largest Dark Sky Preserve in the world, you know you're in for a treat! Visit Medicine Lake, Pyramid Lake, Maligne Canyon or Lac Beauvert outside the Fairmont in your own time, or visit Jasper during the Dark Sky Festival (October 14-23, 2022) for special events.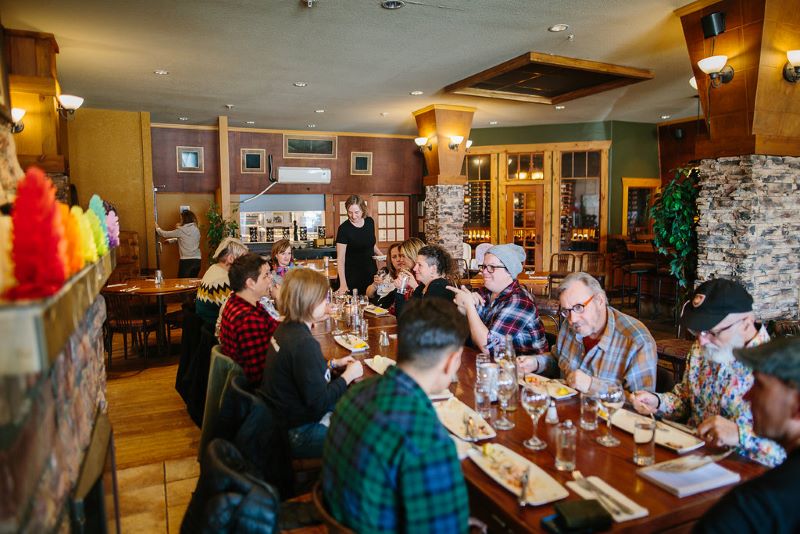 A Group at Jasper Food Tours. Image Courtesy of Jasper Food Tours
Where to Eat in Jasper
The best way to get a good taste of all that Jasper has to offer is on a food tour with Jasper Food Tours. The downtown foodie tour departs daily at 2:30pm for a 2.5km guided walking tour that shares interesting stories about Jasper and takes you to four local restaurants. At each one, you'll enjoy a carefully handpicked dish paired with an alcoholic beverage, with all cost and tips (aside from your guide) covered. If you're vegetarian, gluten free, dairy free or allergic to any food or drink, most of these restrictions can be accommodated.
If you'd rather wander on your own, Jasper has plenty to try. Enjoy a smokehouse-flavored menu at Maligne Canyon Wilderness Kitchen, globally-inspired dishes at Evil Dave's Grill, a first-class culinary experience at The Pines Restaurant or craft beer and Alberta cuisine at Jasper Brewing Company. For those wanting something easy, Jasper Pizza Place is a favorite for casual dining.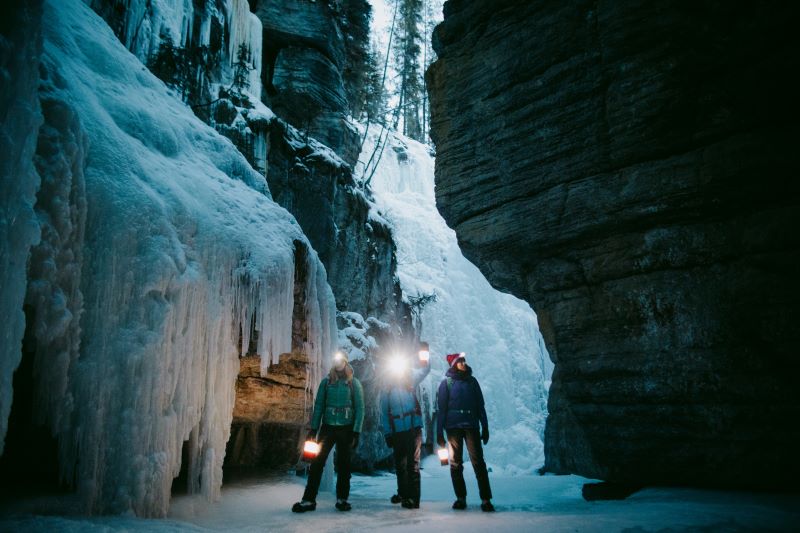 Ice Walk in Maligne Canyon. Image Courtesy of Tourism Jasper
What is the weather like in Jasper?
In Jasper, summer days are temperate and long while winters are cold and snowy. Temperatures vary, but January is usually the coldest month barely rising higher than -8°C (17°F). Of course, things can change rather quickly with warmer Chinook winds and that famous Alberta sunshine, so it's good to be prepared for a variety of conditions and wear plenty of layers on days out.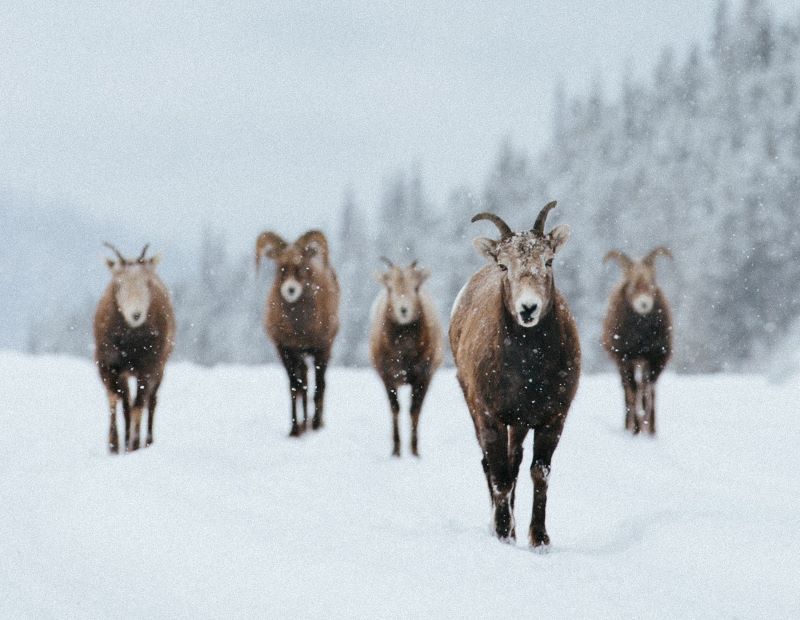 Jasper National Park wildlife. Image Courtesy of Tourism Jasper
Our Top Jasper Itineraries
Whether you want to visit Jasper on its own or as part of a longer Canadian Rockies itinerary, we've put together a simple list to make browsing easier to manage. All the below itineraries are available through the winter months, and include at least one night in Jasper for you to properly enjoy. Have questions or want to customize your own trip? Contact our Travel Designers at sales@canadabydesign.com or 1 (800) 217 0973.
Jasper Ski Package (8 days with 5 day ski pass)
Luxury Winter Snow Train to the Canadian Rockies (7 days)
Christmas in the Canadian Rockies (7 days)
Winter Delights in the Majestic Canadian Rockies (7 days)
Canadian Rockies Ski Safari (8 days)
Winter Escapades | Canadian Rockies Winter Train (8 days)
Canadian Rockies Winter Rail Wonderland (9 days)
Edmonton to the Rockies (10 days)