The Yukon road trip has long been a bucket list adventure for many, and not for any one single reason. With thousands of miles of roads, long summer days, friendly locals and scenic vistas, Canada's Yukon is where immense wilderness, unique wildlife and colorful history come together.
Historically home to Inuits, traders and gold prospectors, the landscape certainly is rugged. However, our Canada specialists have access to the best AVIS rental cars for your comfort and convenience, and have personally conquered this remote region in order to help you plan your perfect trip. Keep in mind that due to the current shortage of rental cars, the earlier in advance you plan your Yukon road trip, the better.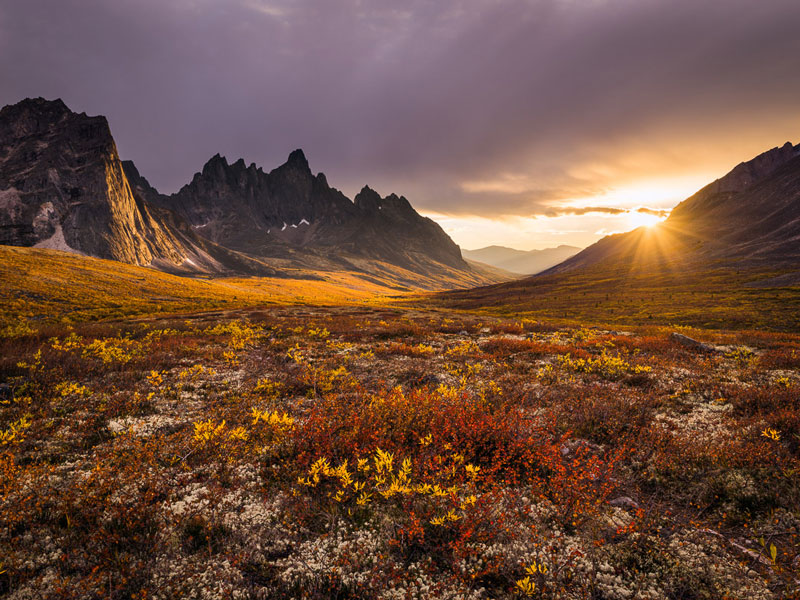 Image courtesy of Tourism Yukon
The Incredible Scenery
Imagine a place where stunning blue lakes are backed by coastal mountains and rivers and streams lead to small villages and mining towns. An unspoiled destination where breathtaking scenery waits around every corner, and the midnight sun shines upon one of the last pristine wilderness areas left on earth. This, dear readers, is the Yukon.
Home to three national parks—Kluane National Park and Reserve, Ivvavik National Park and Vuntut National Park—in 183,163 square miles of land and a population of less than 34,000 people, the Yukon certainly has plenty of space. Kluane National Park and preserve is a UNESCO World Heritage Site and the largest internationally protected area on the planet, home to both the largest non-polar icefields on earth and 17 of Canada's 20 tallest mountains. Ancient glaciers, fields of wildflowers, flowing rivers and sprawling valleys stretch in every direction, and we often recommend booking a flightseeing tour as one of the best ways to take it all in.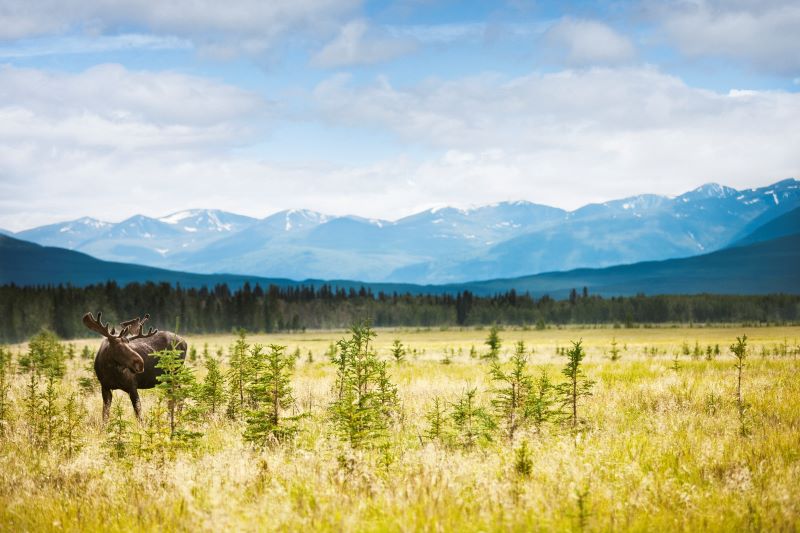 Image courtesy of Tourism Yukon
The Diverse Wildlife
Dall sheep, mountain goats, caribou, wolves, grizzlies and black bears are just a few of the creatures that live in Canada's Yukon. A region alive with fully functioning, healthy ecosystems, it supports animals of all types and sizes, from the largest Moose you may have ever seen to the smaller marmots and pileated woodpeckers.
An amazing place to get an up close look at the Yukon's wildlife is at the Yukon Wildlife Preserve. A registered charity and not-for-profit society located just outside of Whitehorse, it's the only wildlife rehabilitation facility in the Yukon and houses over 180 animals in over 350 acres of natural habitat. See woodland caribou, wood bison, thinhorn sheep, red fox, muskox, mule deer, mountain goat, moose, elk, arctic fox and even lynx -- each visit helps in the conservation of these creatures and is a true highlight to your itinerary.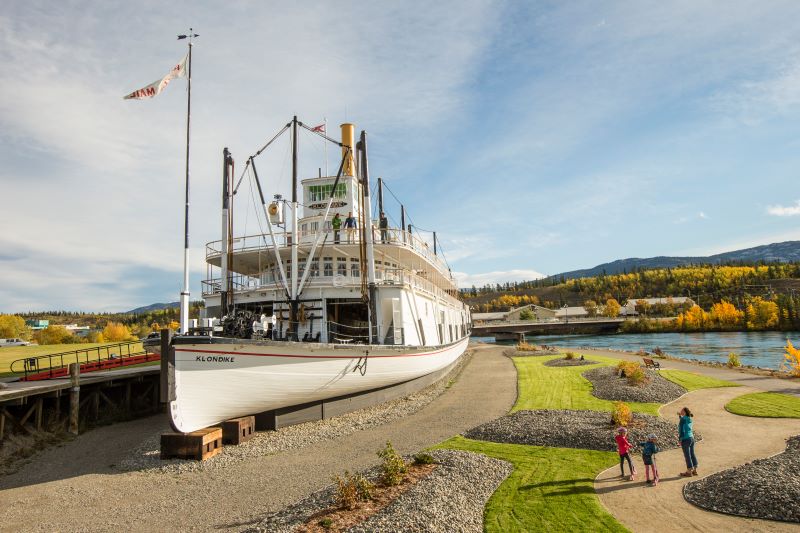 Image courtesy of Tourism Yukon
The History & Culture
While the Yukon and even Canada are not as old as some other places on earth, it certainly has its history. Perhaps most famous for the Klondike Gold Rush, it was in 1896 that three prospectors struck gold in Bonanza Creek near Dawson City. The discovery attracted thousands of fortune seekers to the area, growing it to North America's most populous settlement east of Winnipeg until it all ended in 1899. By this point, prospectors had claimed more than 95 million dollars.
Post gold rush, it wasn't until the 1942 construction of the Alaska Highway that the Yukon started drawing people back. Connecting the Yukon with neighboring Alaska and British Columbia, roads became the most common way to travel, landing the S.S. Klondike (the largest of the 250 riverboats once essential to survival) in Whitehorse to become a National Historic Site and living history museum. To this day, the S.S. Klondike and various mining sites live on as fascinating tourist destinations.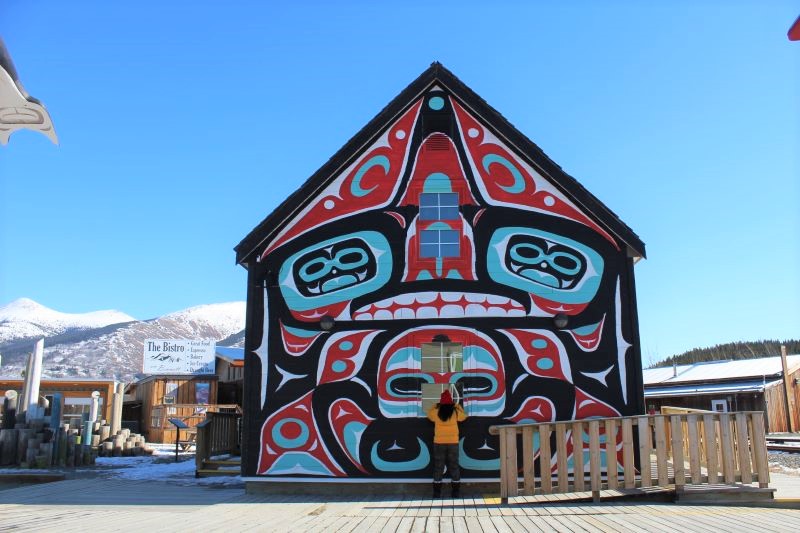 Image by the Canada By Design team
When it comes to the people, the Yukon is surprisingly multicultural for such a sparsely populated area. Influential First Nations groups account for about 25 percent of the total population, with a total of 14 Yukon First Nations and 8 language groups. A few of these include the Carcross/Tagish First Nation, Champagne and Aishihik First Nations and Kluane First Nation. These people have lived on the land for many generations and have since been joined by settlers from a number of other countries. There is also a strong French-speaking community.
Many of the locals are artists who display their work at the Yukon Arts Centre year round, while in the winter months, the 1,000-mile long Yukon Quest dog sledding race is one of the territory's most famous sporting events. Beginning in Fairbanks, Alaska and ending in Whitehorse, Yukon, it takes place each year on the first Saturday of February and follows historical Gold Rush and mail delivery dog sled routes from the turn of the 20th Century.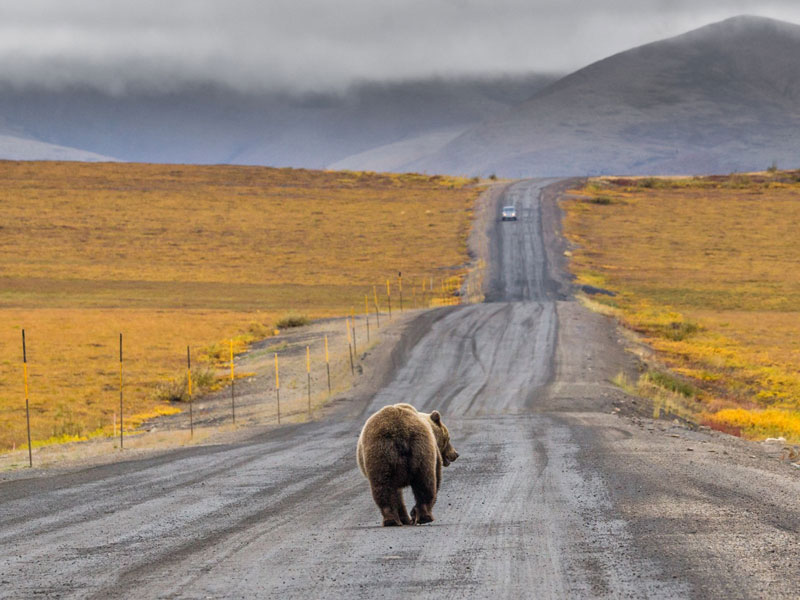 Image courtesy of Tourism Yukon
The Unexpected Encounters
Have you ever driven down an incredibly scenic section of road and wide-open wilderness, only to have to stop so that a bear can cross the street? Or perhaps stepped out to admire the stars at night, only to be treated to the intricate dance of the Northern Lights. In the Yukon, these unexpected encounters are common, and you never know what a single day or night will hold. That said, make note that the Yukon's Aurora sightings are most frequent between late August to early April.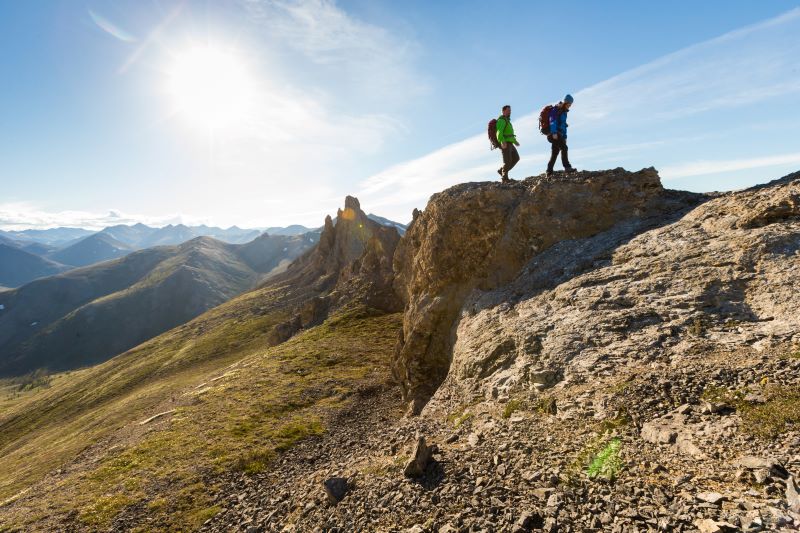 Image courtesy of Tourism Yukon
The Adventure Opportunities
With the midnight sun shining down on the Yukon for 24 hours a day between June and September, the days are quite literally endless and therefore so is you chance for adventure. Stroll the boardwalks of Dawson City or step onto the magnificent icefields of Kluane National Park and Reserve. Kick up your heels at a music festival or fall into the ancient rhythm of a cultural celebration. Hit the trails to hike and bike, the lakes and rivers to paddle, fish and swim and the endless venues to enjoy local beer and food in. Prefer the outdoors? Hit a patio or have a picnic on a mountaintop. Then, sit in awe as you watch wildlife roam across tundra bathed in a golden glow.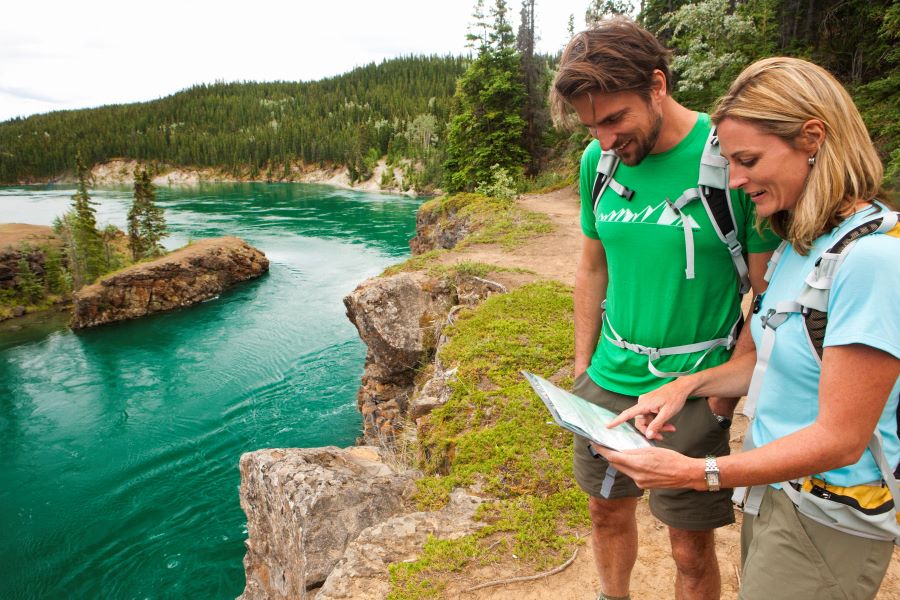 Image courtesy of Tourism Yukon
Ready to Plan? Here's How to Do It.
The best way to head out on a Yukon road trip is with a flexible, planned itinerary from our team and a rental car from AVIS. Boasting a fleet of options from coast to coast and compact cars to SUV's, it's easy to select the right vehicle for the Yukon's terrain so you can drive in comfort and confidence. Even better? The great service and AVIS safety pledge ensures you have access to properly cleaned and sanitized cars plus necessary equipment like hands-free navigation, Sirius XM and roadside assistance.
Discover all the highlights the Yukon has to offer on this 10-day Yukon road trip itinerary out of Whitehorse. Visit a town where the population of residents is fewer than that of the grizzlies in its national park, and feel as though you've landed in another century where steamers, casinos and Can-Can floor shows are all current. From the "Land of the Midnight Sun" to wildlife preserves and National Parks to the historic sights of Dawson City, get ready to fall in love with Canada's north.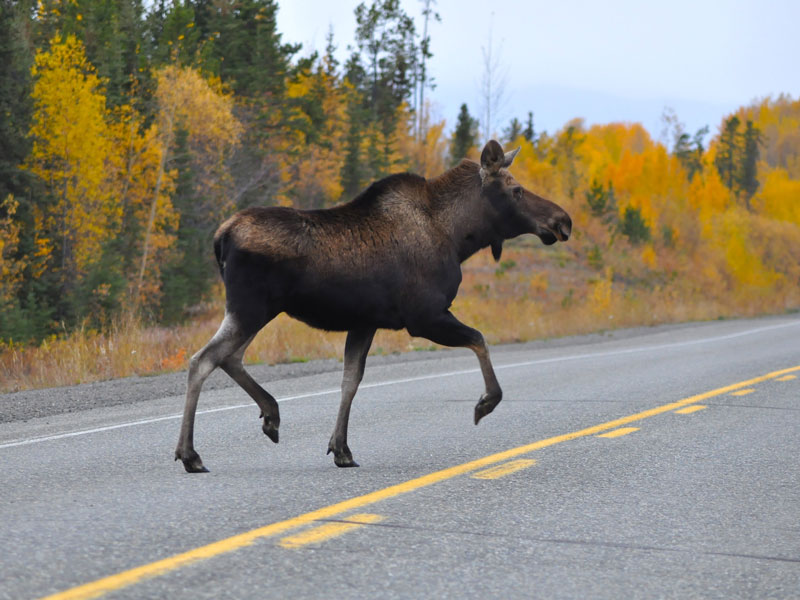 Image courtesy of Tourism Yukon
The Dempster Highway road trip is one of the most spectacular self drives on earth, and yet, many people have never heard of it. It's the only road in Canada that takes you across the Arctic Circle, entering the land of the midnight sun where the sky stays bright for 24 hours a day. Explore subarctic wilderness at Tombstone National Park, witness wildlife at the Yukon Wildlife Preserve, see the world's largest non-polar icefields and discover the "Dog Mushing Capital of Alaska." In Inuvik, we recommend a flight to see the Arctic Ocean from above.
Curious about the Yukon but don't want to drive? This unique train trip takes you aboard two spectacular trains: VIA Rail to the Canadian Rockies and the White Pass Yukon Railroad. Combined to create an amazing 10 day rail vacation from Vancouver, you'll experience Jasper, Lake Louise and Banff plus the northern cities of Whitehorse and Skagway on "The Scenic Railway of the World."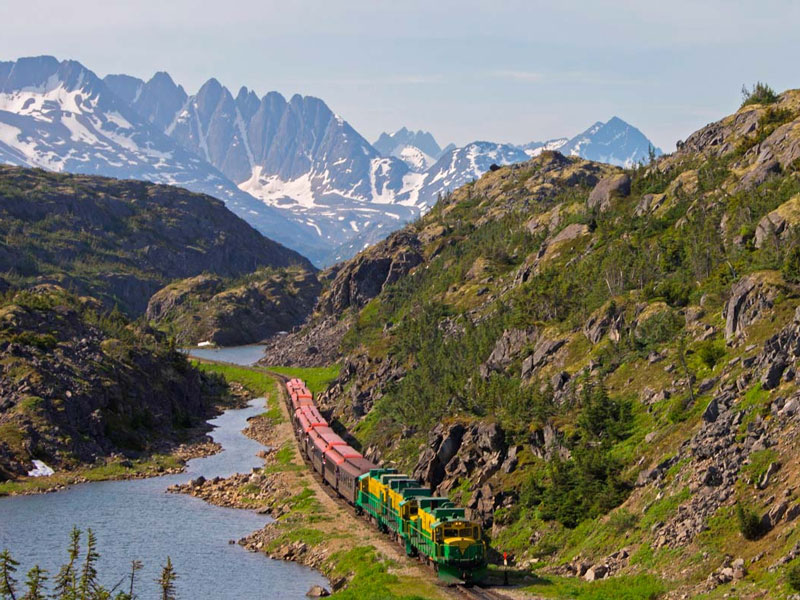 Image courtesy of Tourism Yukon
Feeling inspired? Chat with one of our Travel Designers to create a custom trip that's just for you, or visit our Time to Travel page for trip ideas to take this summer. Prefer to simply stay in touch? Subscribe to our newsletter for up-to-date deals, trip ideas and more!