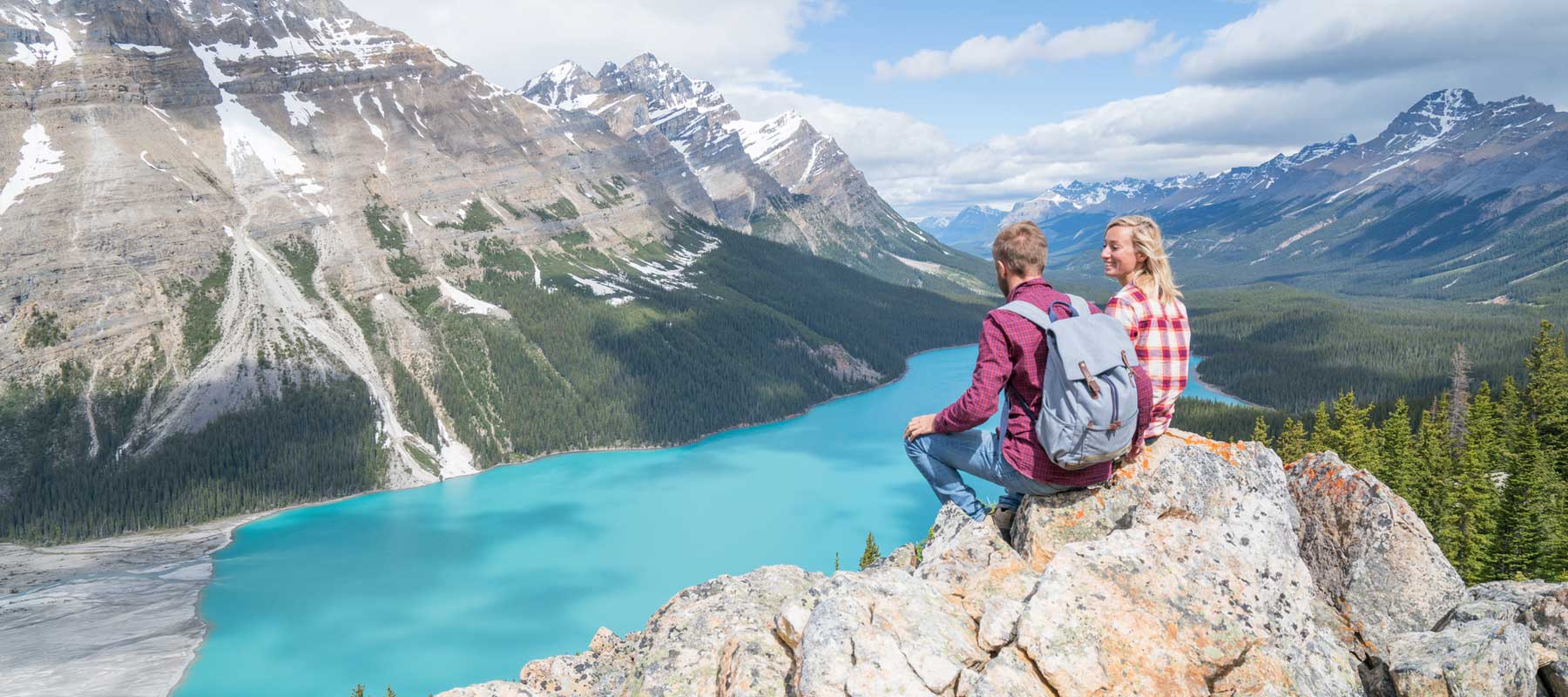 Dreaming of an Alberta Vacation? Where jagged crags rise against an expansive sky, beautiful bears lumber along the road and placid, turquoise lakes reflect towering pines.
The landscape here practically defines rugged, especially in the two sprawling national parks on Alberta's western edge.
In the east, you'll find windswept prairies where modern-day cowboys still embody the Old West.
Alberta INTRODUCTION
Banff and Jasper National Parks boast some of the Rockies' most pristine scenery, which you can explore on a guided heli-hike above the timberline or by snowshoeing through a sparkling landscape. For a more restful tour, drive past the mirror-like lakes and soaring peaks of the Icefields Parkway or take a guided tour to see Canadian wildlife in its natural habitat. In eastern Alberta, hunt for dinosaur bones and fossils in the dusty stones of the Canadian Badlands or visit the chuck wagon races, rodeo and midway of Calgary Stampede. This is 'the greatest outdoor show on earth' for a reason.
Showing results for Alberta Vacations

"I highly recommend this company, They will tailor a trip to meet individual needs."
Mel New Zealand
"From start to finish it was an ideal trip for us to enjoy Canada scenery, atmosphere and hospitality. "
Manuel United States
"Overall it was a great way to see the country for the most part. "
Lorraine Squamish, Canada
"It was such a relief to know that we could trust Canada by Design before and during our trip."
Vered Mei-Tal Lutherville, United States
" We would highly recommend Jennifer and Canada by Design for all of your travel needs. We count ourselves very lucky that we found this 5-star team of travel experts!"
Julie Cass Brisbane, Australia
"I would definitely recommend this to anyone - but especially to young parents with families. "
Annabelle Delaware, United States
"Thanks again, we would certainly recommend you to our friends in Florida!"
Thomas Florida, United States
"Thanks again for a well planned and hassle free vacation. We will look forward to future vacations with Discover Holidays. "
Ross Ontario, Canada
"Destinations, itinerary and accommodation was all well thought out and we had a very memorable time. I'd happily use Canada by Design again."
Christopher Zurich, Switzerland
"We cannot thank everyone enough for their professionalism and organisational skills."
Hazel Scotland