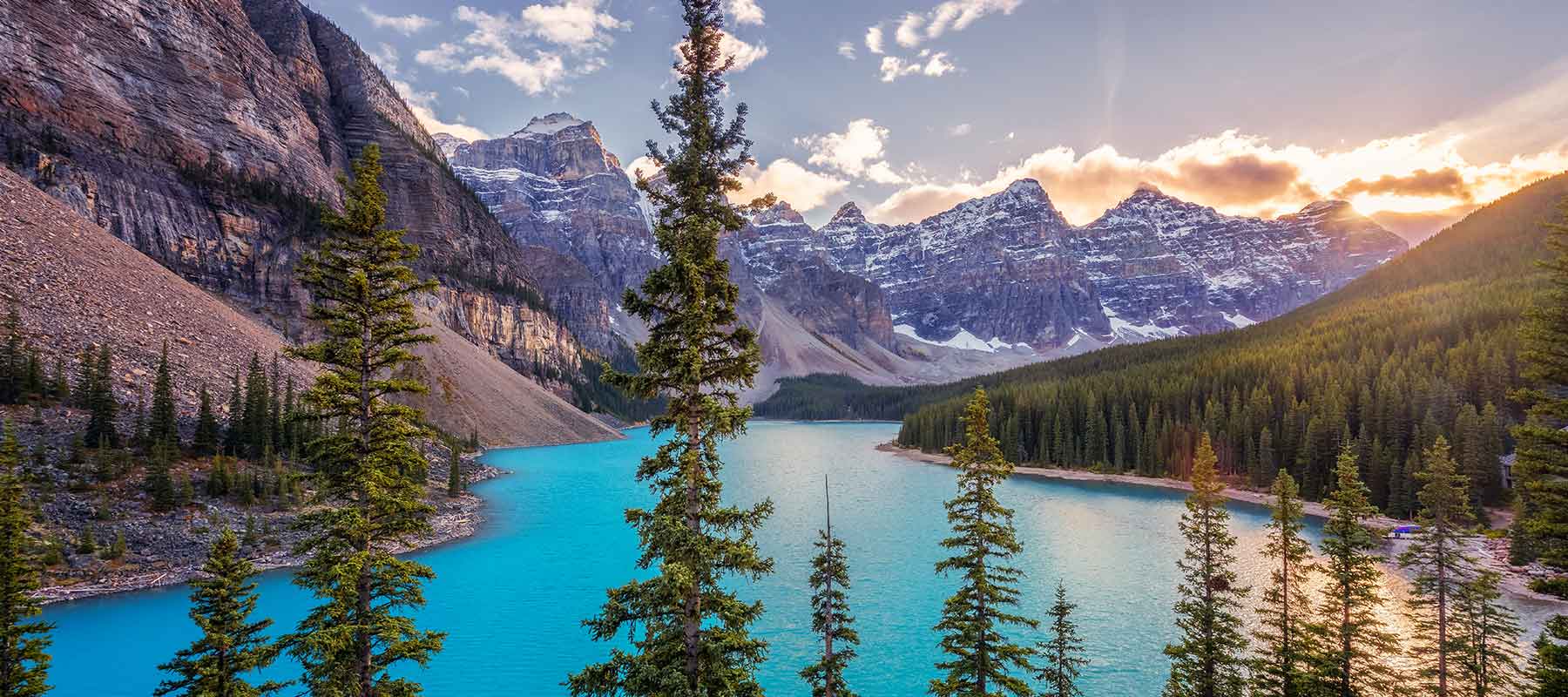 Planning a Banff vacation? This thriving resort town is cradled among the mountains of Banff National Park and is a perfect base to explore the Canadian Rockies.
A place of stunning scenery, wildlife and tranquil nature, it's home to creatures like grizzly bears, cougar and lynx alongside three shared ski hills with Lake Louise: Mount Norquay, The Lake Louise Ski Resort and Sunshine Village.
Banff INTRODUCTION
The most spectacular way to reach Banff National Park is to take a Banff train tour from Vancouver to Jasper.
Continuing by car along the Icefields Parkway to town, you'll find that this UNESCO World Heritage Site has been a magnet for outdoor enthusiasts, art lovers and history buffs alike. In summer, Banff offers a colorful palette of glacier-blue rivers and lakes, stunning wildflowers, grassy slopes, icy glaciers and jutting peaks that pierce a bluebird sky. In winter, it turns into a complete wonderland of sparkling ice and snow. End a day of leisurely exploring at one of Banff's spas or hot springs.

Guided Sightseeing & Tours/Scenic DrivesBanff National Park boasts some of the most scenic roads in the world, and the Icefields Parkway is no exception. Rent a car and journey through expansive mountain wilderness, ancient glaciers, sweeping valleys and mountain lakes stopping at Crowfoot Glacier, Bow Lake and Peyto Lake. Or, you can continue north from Lake Louise towards the Columbia Icefield, home to the Athabasca Glacier and Glacier Skywalk. There are tour operators that offer fully guided day tours for those wanting to avoid renting a vehicle, and in summer you can enjoy a Lake Minnewanka boat cruise, trail hikes and biking, kayaking and canoeing. For aerial views, go for the Banff Gondola or a helicopter flight over the Rockies.

Wildlife EncountersEstablished in 1885, Banff National Park is Canada's oldest national park and a UNESCO World Heritage Site. A safe haven for wildlife, sightings are a common and frequent occurrence. Wildlife corridors were created along the Icefields Parkway and major highways to minimize animal fatalities, and many tour operators can take you to places you would likely otherwise miss. Wildlife sightings vary year-round from elk, moose and mountain goats to bears, eagles and a variety of birds.

Outdoor ActivitiesSummer's blue skies and long days bring you a plethora of outdoor activities. Try hiking or mountain biking, or embark on a cruise across the fjord-style Lake Minnewanka. Other adventures include white water rafting, golfing, horseback riding and, of course, helicopter flightseeing. Even in winter there is plenty to do, from embarking on ice walks through frozen canyons to ice climbing and snowshoeing. You don't have to ski or snowboard to enjoy the outdoors of this mountain town!

GolfingIn Banff National Park, the game gets even better with world-class holes and amazing views. Here, mountains create optical illusions for golfers, making these courses uniquely challenging yet accommodating for many levels of ability. Courses are open from May through October (depending on conditions) and golfers can choose to simply play a round or sign on for an exciting golf package (these vary but generally include 9 or 18 holes, a golf cart and a delicious meal).

Spa & WellnessFor more than 100 years, health-conscious visitors from around the world have indulged in the soothing hot springs of Banff National Park. The tradition continues with many opportunities to rejuvenate and recharge: full-service luxury spas (Willow Stream Spa at The Fairmont Banff Springs is a must!), therapeutic massage, yoga, pilates and more.
Showing results for Banff Vacation Packages

1 of 10
"Thanks Canada by Design for putting together and planning such a trouble free, smooth running package."
Lutfu Istanbul
2 of 10
"I don't know how I will ever thank you all at Canada by Design for making our trip of a lifetime!"
Ann Australia
3 of 10
"We did the "Rail & Drive Across Canada" with you & it was wonderful. A Bucket List dream come true!"
Rita Illinois, United States
4 of 10
"It was like a Christmas tree fairyland. It was snowing pretty good. So coming from Texas in the summer it was really special, almost magical. "
Anita Texas, United States
5 of 10
"Thanks again, we would certainly recommend you to our friends in Florida!"
Thomas Florida, United States
6 of 10
" We would highly recommend Jennifer and Canada by Design for all of your travel needs. We count ourselves very lucky that we found this 5-star team of travel experts!"
Julie Cass Brisbane, Australia
7 of 10
"I highly recommend this company, They will tailor a trip to meet individual needs."
Mel New Zealand
8 of 10
"We found our experience with Canada by Design to be most wonderful for our Trans-Canada Rail Trip."
Marjorie Stock California, United States
9 of 10
"From day one we felt comfortable that everything was going to be special."
Mark Australia
10 of 10
"We had a wonderful trip and everything was arranged very well!"
Jacqueline Netherlands