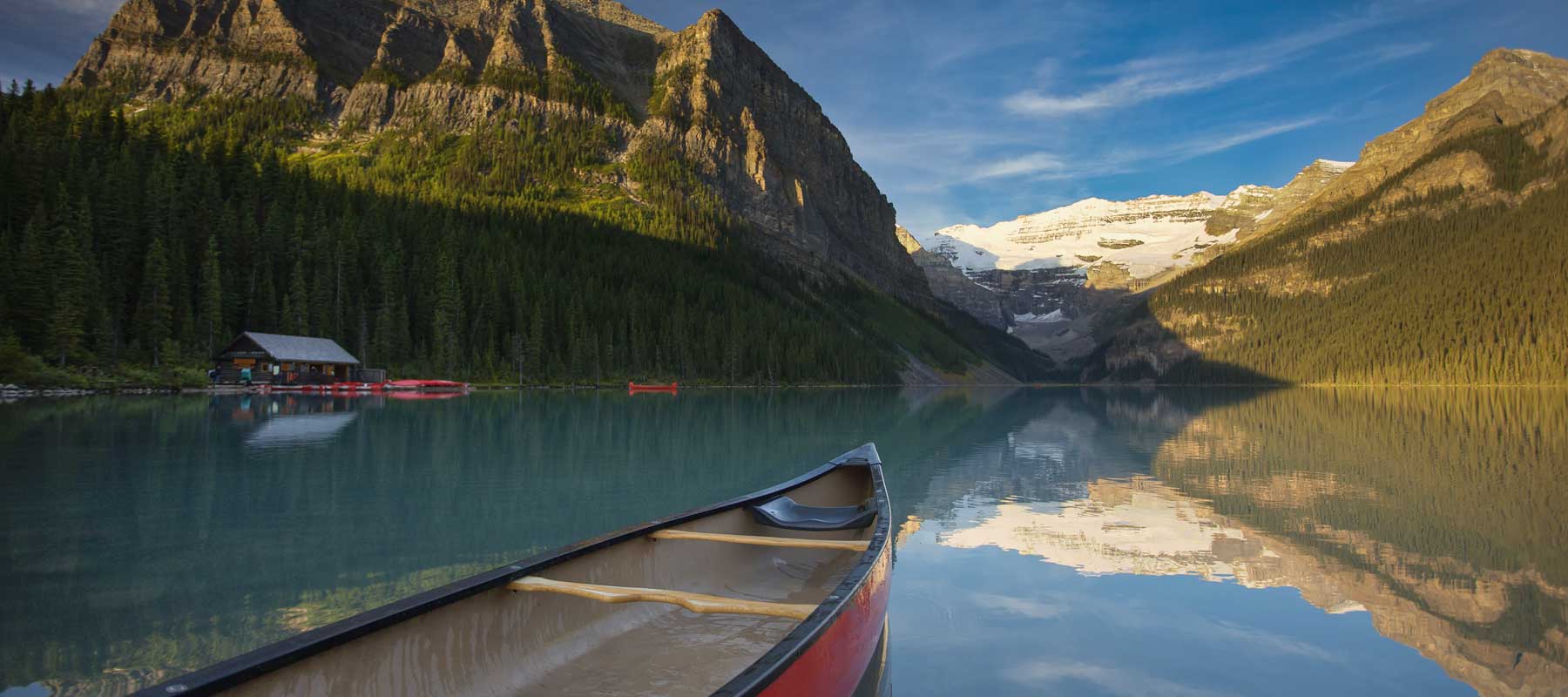 Craving a Lake Louise vacation? Often described as the crown jewel of the Canadian Rocky Mountains, the striking turquoise waters of Lake Louise, Alberta, are perhaps the most photographed in all of Canada.
Follow one of the lakeside trails to enjoy views from another angle, or spend a night at the Fairmont Chateau Lake Louise to enjoy uninterrupted vistas once the day trippers have left.
Lake Louise INTRODUCTION
Lake Louise is a small settlement located in Alberta, Canada, most notably regarded for its jewel-toned waters reflecting crystal clear images of the snow-capped Rocky Mountains. Home to one of three major ski resorts located in Banff National Park, Lake Louise Ski Resort, the region is a popular getaway year-round and houses an incredible ice sculpture competition each winter. Its beautiful emerald color is a result of the rock flour carried into the lake by melt-water from the glaciers that overlook it. The lake itself was named after Princess Louise Caroline Alberta, the fourth daughter of Queen Victoria.
Showing results for Lake Louise Vacation Packages

"The staff at Canada by Design could not have been more helpful and friendly."
Clive New South Wales, Australia
"We just came back from our winter adventure 5 days/4 nights in Whitehorse, Yukon, Canada. We had such a nice time and everything was great."
Ina Dominican Republic
"I highly recommend this company, They will tailor a trip to meet individual needs."
Mel New Zealand
"It was a dream come true, I am so happy! "
Joanne Massachusetts, United States
"It was a very memorable trip and I highly recommend to all."
Cherie Arizona, United States
"Every part of our trip was well thought out and there were no hitches."
Di New Zealand
"One of our best vacations. Perfectly planned and all went off without a hitch. "
Joel Yellin Rochester , United States
"It was like a Christmas tree fairyland. It was snowing pretty good. So coming from Texas in the summer it was really special, almost magical. "
Anita Texas, United States
"They not only tailored my itinerary to include activities I liked, but also made my car and hotel reservations, making it no-fuss for me. "
Annette California, United States
"My clients and myself most definitely benefited from working with Canada By Design! "
Amanda Central Travel