Regarded as the Great White North for good reason, winter vacations in Canada are, in a word, magical. Here, fresh snow is referred to as champagne powder, ice is carved into castles and the night sky comes alive with vibrant ribbons of color. As Canada Travel Experts we're well-versed in everything the season has to offer, and here we'll outline the best winter vacations for making memories together.
Ask a local and they'll tell you why winter in Canada is pretty great. Crowds from the summer months have calmed and the landscapes have transformed into a winter paradise that's perfect for trying unique activities together. With the pines dressed in a soft blanket of fresh snow and the mountains looking magnificent against a backdrop of blue sky, Canada's winter playground invites everyone to put away the screens and connect in a magical adventure together.
As we've already shared 11 winter wonderland trip ideas and a 72 hour guide to winter in Vancouver, it's clear that our love for the season is strong. This time, we're sharing our top recommendations based on our best sellers, so when you're wondering what the best winter vacations in Canada are you can turn to the six on this list.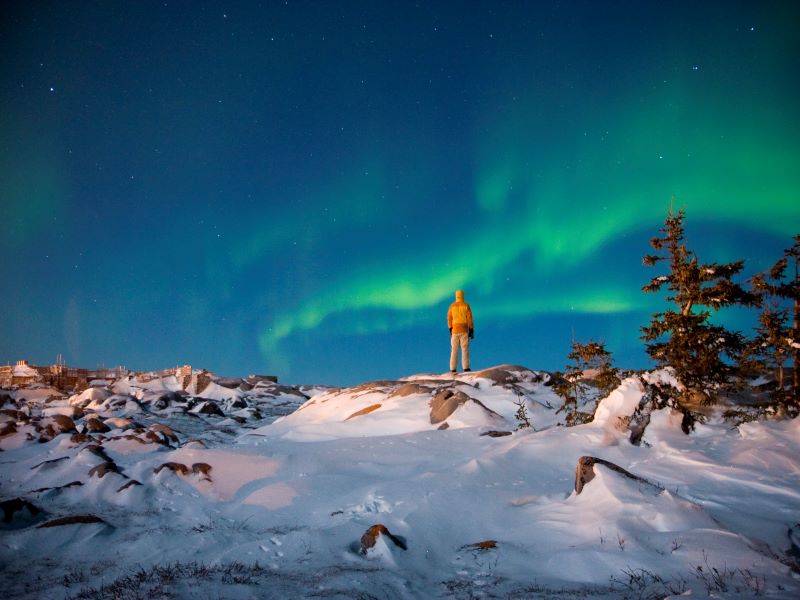 A traveler watching the Northern Lights in Churchill. Image Credit: Travel Manitoba
Witness the Northern Lights in Churchill, MB
The Go-To: Polar Bear & Aurora Adventure
Churchill, Manitoba was recently placed on Lonely Planet's Top 10 for Travel list, and it isn't hard to see why. Located directly beneath the Auroral Oval with northern lights activity occurring over 300 nights a year, this is one of the best places on earth to witness Mother Nature's light show and to experience the incredible culture and warmth of a small Canadian town.
The first day of the Polar Bear & Aurora Adventure package is spent in Winnipeg, Manitoba, known for its friendly, welcoming spirit and rich, varied history. Departing for Churchill on day two, embark on a cultural and heritage tour which takes you to Churchill and the surrounding area where you will be exploring various historic sites. Spend the next few days viewing wild polar bears, touring by helicopter and even watching beluga whales in Hudsons Bay, then ultimately return to Winnipeg with a tundra tour and flight.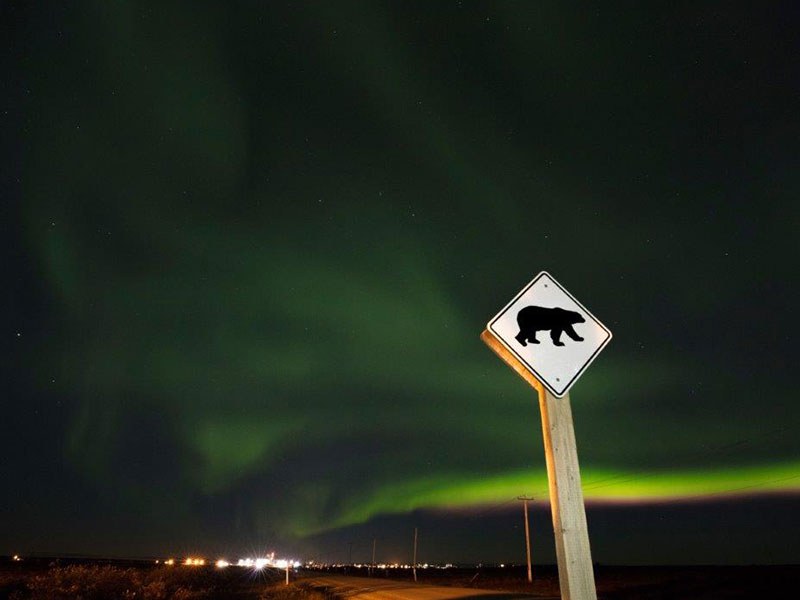 A Polar Bear Sign under the Northern Lights in Churchill. Image Credit: Travel Manitoba
Throughout the trip, try additional activities like a remote culinary experience, snowshoeing with a local resident, dog sledding and more , each day you'll learn something new about the people and lifestyle of this small town, and each evening ends with watching the aurora stretch and dance across the sky.
Travel Expert Tip: The more nights you spend in Churchill, the more likely you are to see the lights. I also recommend enjoying a meal at the town's Lazy Bear Cafe, where you can sample authentic Canadian fare like elk, Arctic char and bison complimented by local berries and mushrooms.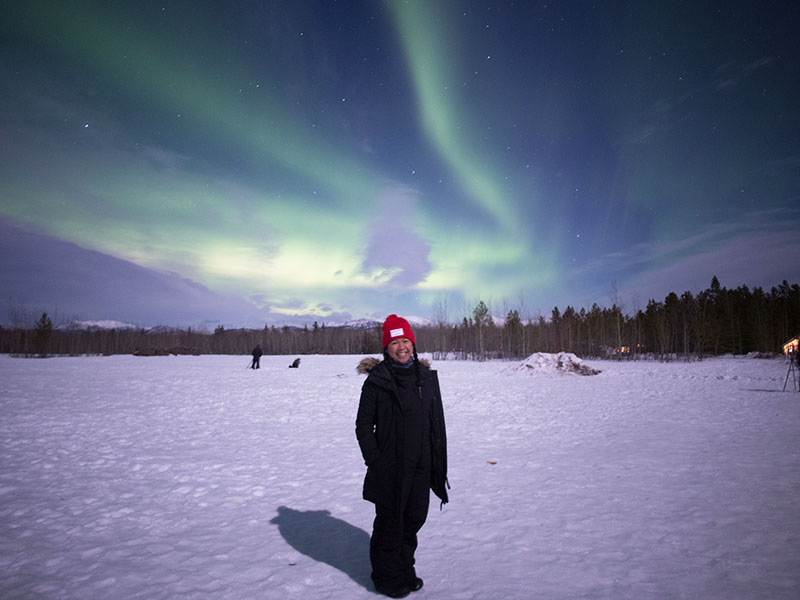 Canada by Design team member Jennifer under the Northern Lights in the Yukon
Witness the Northern Lights in the Yukon
The Go-To: Northern Lights Resort & Spa | Winter at its Best
You don't need to travel across the country to watch the intricate dance of the Aurora. In fact, you don't even need a full week. With our Northern Lights Resort & Spa package, you can spend just four days in Canada's north, cuddled up in a cozy log cabin or glass chalet and watching in wonder as purples, pinks and greens paint the sky.
Departing from Vancouver, be swept off to Whitehorse (we include airfare) where you will be greeted at the airport and transferred to Northern Lights Resort & Spa for check-in. Take your time to familiarize yourself with the lodge by using the resort facilities such as the outdoor hot tub, spa or lounge area. If you're feeling adventurous, you can also grab some snowshoes and enjoy a self-guided hike.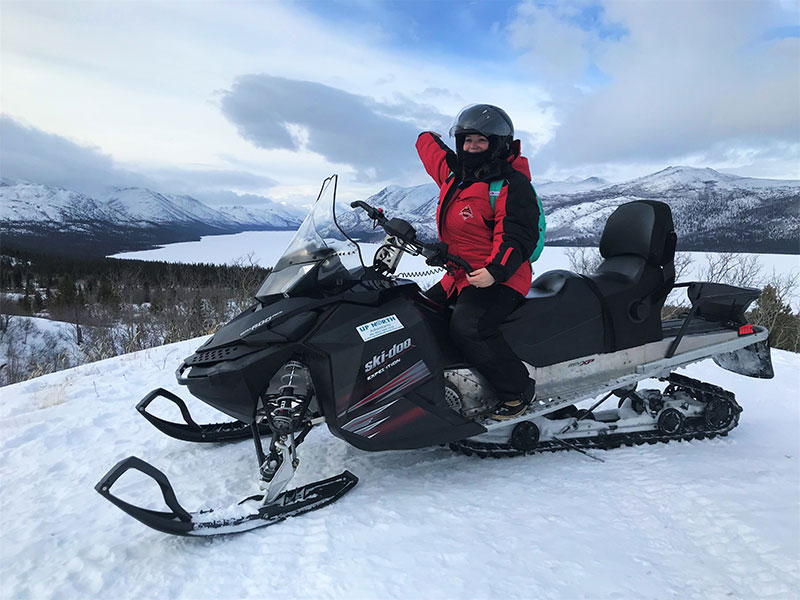 Canada by Design team member Teagan snowmobiling in the Yukon
This trip includes flights between Vancouver and Whitehorse, plus 3 nights accommodation in either a log cabin or glass chalet (you pick!), meals while at the resort and extra activities like dogsledding, snowmobiling and watching wildlife at the Yukon Wildlife Preserve. Evenings are always spent watching the intricate dance of the aurora, and a dedicated guide will be on hand to aid in photography assistance.
Travel Expert Tip: This tour departs from Vancouver, so add a pre or post night in the city to see what it's all about. As a life-long local, I recommend walking the twinkling treetop canyon at Capilano Suspension Bridge, visiting the Christmas Market in Coal Harbour or popping into an artisan eatery on the cobblestone streets of historic Gastown.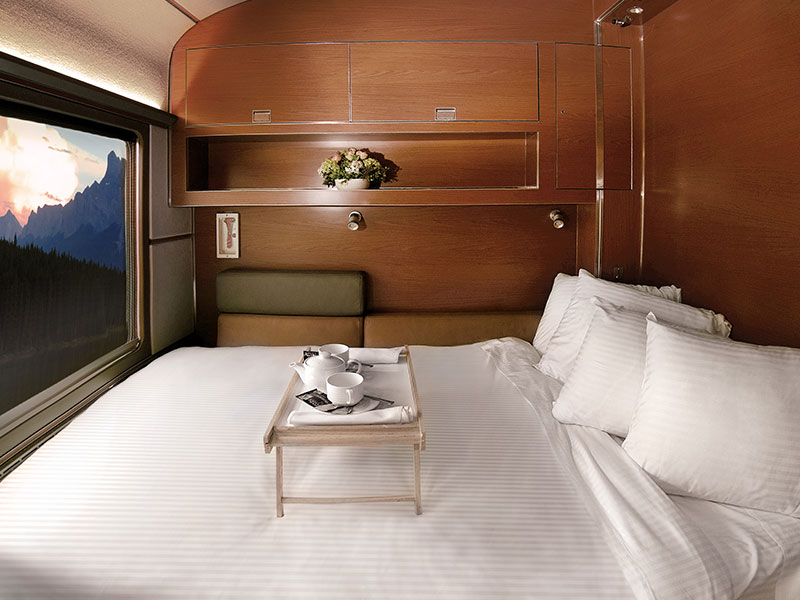 A Prestige Class cabin with the bed made on board VIA Rail. Image Credit: VIA Rail
Take a Luxury Train Ride to the Rockies
The Go-To: Luxury Winter Snow Train to the Rockies
We created a crowd favorite with our Snow Train to the Rockies, and VIA Rail just made it better by offering Prestige Class on the train. Enjoy a fantastic rail journey in first-class comfort, with your own private cabin with sectional couch that turns into a double bed. Perks include priority boarding, delicious drinks, gourmet meals and reserved seating in the viewing cars. If you don't feel like royalty by the time you arrive to Jasper, just wait till you see what's in store.
Staying at the finest Fairmont properties like the Jasper Park Lodge, Chateau Lake Louise and Banff Springs Hotel, the Luxury Winter Snow Train to the Rockies package includes all our best offerings. Embark on day tours like a helicopter snowshoe, private ice canyon walk and magical sleigh ride (all included!), then return to more superb meals, fine wines and views like you wouldn't believe.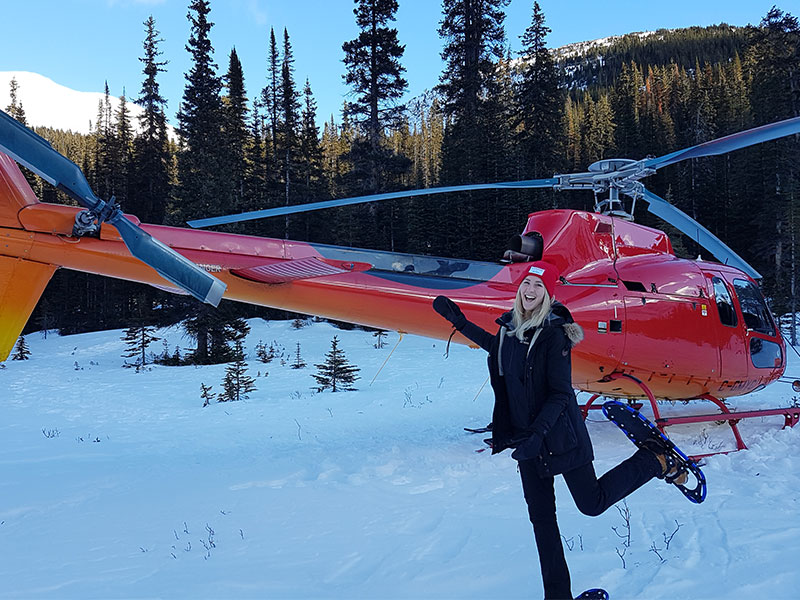 Canada by Design team member Stephanie (hey, that's me!) heli snowshoeing in the Rocky Mountains
For a better idea of what you can expect, watch our short video on YouTube: The Snow Train to the Rockies. One of our Travel Designers, Samantha, and I traveled aboard the snow train this past December and brought along a camera crew to capture it from start to finish. You'll notice a pre-night in Vancouver is already included in this package, and we've set you up for some amazing memories in our home city!
Travel Expert Tip: Book your snow train closer to the holidays for impressive festive decor at the Fairmonts. If you're loving the idea of lots of snow, February and March are the months for you, and if you're more adventurous in your travels ask us about ice climbing in Maligne Canyon instead of the ice walk!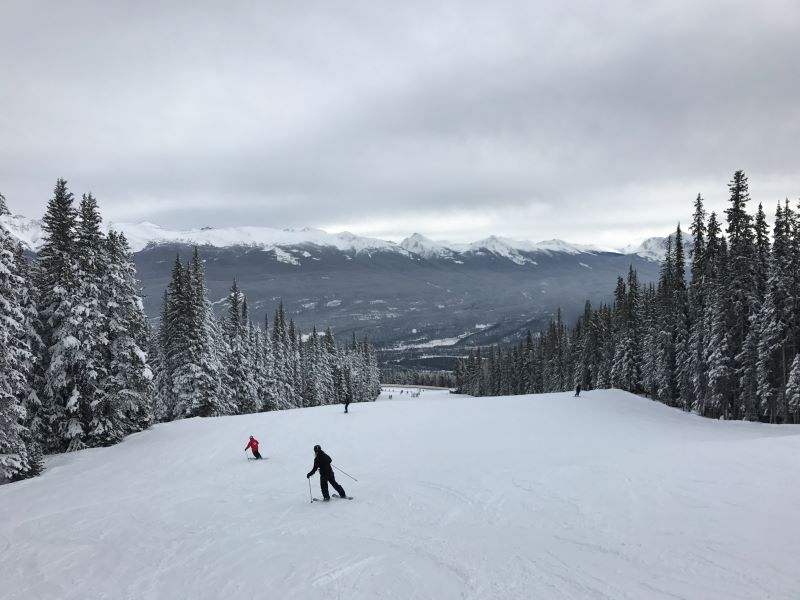 Canada by Design team member Lindsay skiing in Jasper
Ski the Rocky Mountains
The Go-To: Canadian Rockies Ski Safari
We'd be remiss to write an article on winter vacations in Canada and not include the Canadian Rockies Ski Safari package. Combining some of the country's absolute best mountains, you'll shred the slopes of world-class ski resorts in Banff and Jasper National Parks, plus enjoy other winter activities like ice climbing, heli snowshoeing, ice skating and sleigh rides.
An 8-day trip from Calgary to Edmonton, your first few stops on the list are Banff and Jasper. With these small alpine towns occupying the majority of the trip, you'll receive a Ski Big 3 lift pass valid for Mt. Norquay, Sunshine Village and Lake Louise Ski Resort. Spend 4 nights at your hotel in Banff and 3 nights at your hotel in Jasper, then it's onwards to your final destination, Edmonton.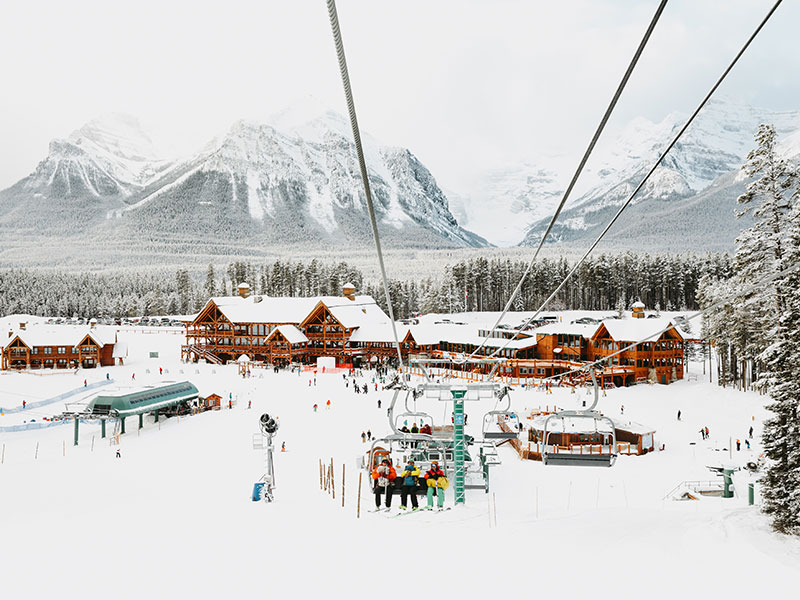 Skiiers enjoying a day on the slopes in the Rockies. Image Credit: Travel Alberta
Home to sunny winter days, the Oilers NHL team and the Indigenous Metis Nation, Edmonton is a virbant urban center in the heart of Canada's beautiful wilderness. The largest northernmost metropolis and also the capital city of Alberta,there's plenty to experience here even in the winter months. Head out to the River Valley for an outdoor playground that begs to be explored, spend a day at the enormous West Edmonton Mall or take a helicopter tour to see it all from above.
Travel Expert Tip: Save yourself the trouble of lugging around extra equipment and instead rent your gear while you're here! We make things really easy for families by including ski school, lift passes, rentals and non-ski activities. On this trip there's something for everyone!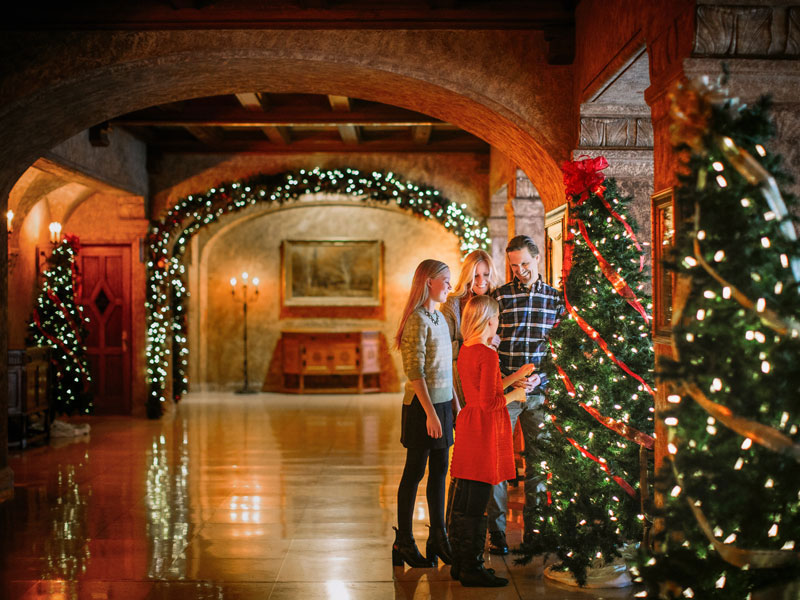 A family celebrating Christmas at the Fairmont Banff Springs Hotel. Image Credit: Fairmont
Celebrate Christmas in a Winter Wonderland
The Go-To's: Christmas in Whistler, Banff, Lake Louise and Jasper
Enjoy snowy family adventures by day and festive dining experiences in a fully decorated Fairmont hotel by evening. Banff, Lake Louise, Jasper and Whistler are the top Christmas destinations in Canada each year, and for now there's still some availability at the properties.
With the Christmas in Whistler package, feast on a fondue dinner atop Blackcomb Mountain, embark on a scenic helicopter flight and dog sled through beautiful old growth forest. Combined with some time in Vancouver as the start and end point, you'll also receive the bonus experiences of the Vancouver Christmas Market and Granville Island.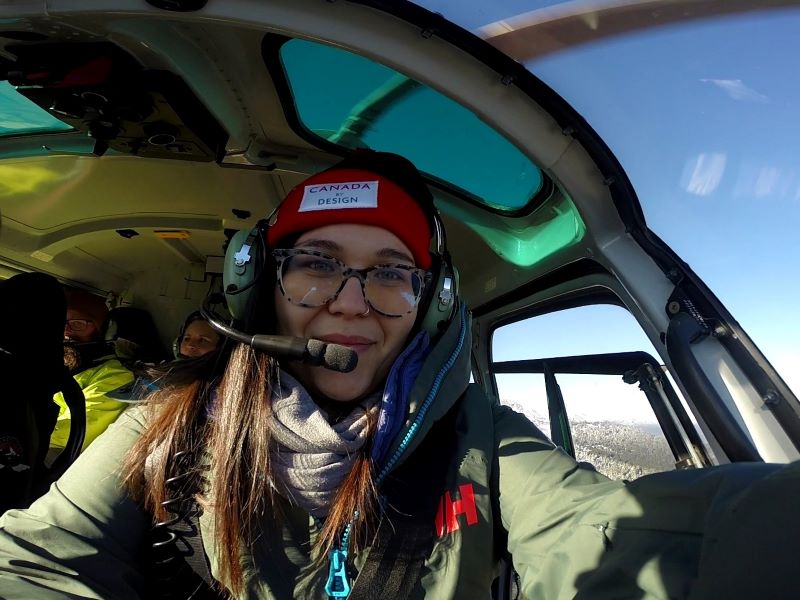 Canada by Design team member Samantha on a heli tour in Whistler
The Christmas in Jasper package departs from Edmonton, which once again means you can include the Ice Castles in your trip! Then, take a scheduled coach to the Fairmont Jasper Park Lodge for an ice walk in Maligne Canyon, dog sledding tour and Christmas feast in the Fairmont's festively-decorated Beauvert Dining Room.
Last but certainly not least, the Christmas in Banff and Christmas in Lake Louise packages each depart from Calgary. Make unforgettable memories together with an ice walk through Johnston Canyon, horse-drawn sleigh ride and a tour of either Banff and its wildlife or the frozen Lake Louise. Of course, both packages also include a Christmas feast, complete with festive decor, live entertainment and a buffet spread of culinary delights.
Travel Designer Tip: One of my favorite activities in the Canadian Rockies is the Top of the World Snowshoe Tour in Banff. Ask our Travel Designers to add this to your trip and personalize your itinerary.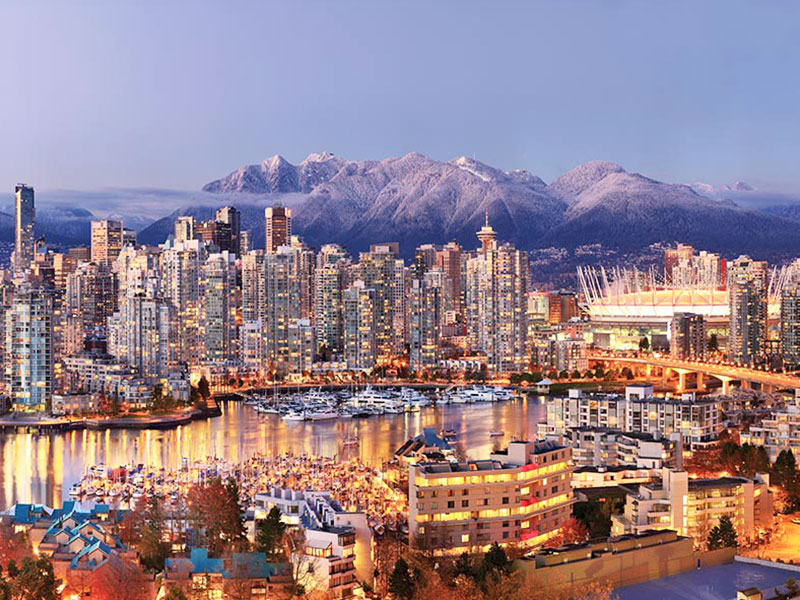 A wintery view of downtown Vancouver. Image Credit: Tourism Vancouver
Add Vancouver to Your Vacation
The Go-To: Discover Winter in Vancouver
The perfect addition to your family's Whistler ski trip, train tour or northern lights adventure, Vancouver offers festive events, year-round outdoor adventure, shopping, spa and culinary delights to round out your winter vacation. If you haven't been just picture this: a walkable city surrounded by snow-capped mountains and ocean that in the winter enjoys a comfortable temperate climate.
The Discover Winter in Vancouver package is four days and three nights, and splits time between the beautiful outdoors and the bustling city center. Gaze at views of the surrounding coastal mountains and take time to stroll the seawall. Tour Stanley Park, Capilano Suspension Bridge Park and the Granville Island Public Market, then spend time wandering and learning the history of Chinatown and Gastown.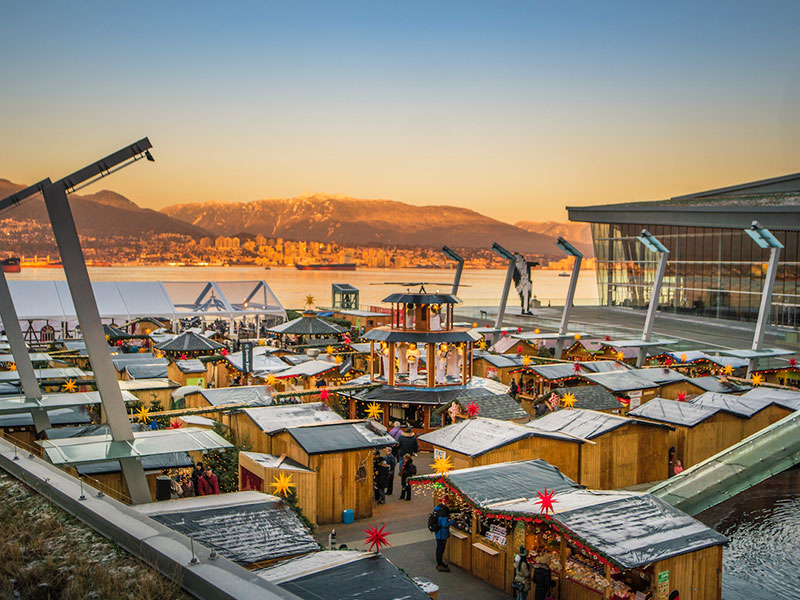 The Vancouver Christmas Market in downtown Vancouver. Image Credit: Tourism Vancouver / Vancouver Christmas Market
As with any city visit, the culinary scene is of huge importance. In Vancouver, Asian fare and seafood are often the specialty, and this package includes a dinner at either Black and Blue or Coast Restaurant. Where the former is a steakhouse inspired by the classics of Chicago, the latter serves some of BC's best seafood in a true west-coast setting.
Travel Expert Tip: Even in winter there are plenty of festive events on the Calendar. December sees the Vancouver Christmas Market at Jack Poole Plaza in Coal Harbour, and January 17 - February 2 entertains foodies with Dine Out Vancouver. With this, you can enjoy multi-course dinners at an array of restaurants for select prices; from fine dining to family friendly and everything in-between.
Feeling inspired? Get in touch with one of our travel designers to customize your own magical winter experience. Prefer to simply stay in touch? Subscribe to our newsletter for up-to-date deals, trip ideas and more!