Home to sunny winter days, the Oilers NHL team and the Indigenous Metis Nation, Edmonton is a virbant urban center in the heart of Canada's beautiful wilderness. The largest northernmost metropolis and also the capital city of Alberta, there's a lot more here than first meets the eye, as we're about to reveal.
Situated on the North Saskatchewan River and overlooking the largest urban park in Canada, the North Saskatchewan River Valley, you'd better believe there's ample room here to enjoy Canada's great outdoors. And while yes, winter is the coldest season, this is also the best time of year to experience unique activities and witness the magical Aurora Borealis! Read on for our team's top tips in Edmonton.
Psst... to start planning your trip, get in touch with our Travel Designers by emailing sales@canadabydesign.ca or calling 1 (800) 217 0973.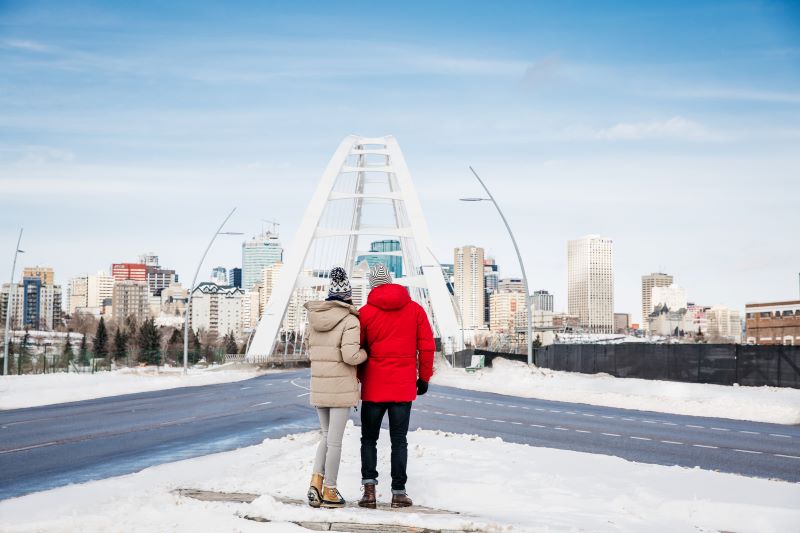 The Walterdale Bridge in Edmonton. Image courtesy of Tourism Edmonton
What to Experience
First things first -- be sure to bundle up! Winter in Edmonton averages temperatures from -7°C to -15°C (that's 19°F to 5°F) and snow typically falls from November to March. A thick winter parka, hat, mittens and warm winter boots should do the trick!
Once you're outfitted appropriately, head out to the River Valley for an outdoor playground that begs to be explored. Grab a fat bike (a bicycle with extra-wide tires specially made for snow) and enjoy over 400 combined kilometers of paved and single-track trails, or book a helicopter tour to soak it all in from above! You may also be surprised to learn that segway tours operate all throughout the year, offering yet another way to explore the expanse of urban parkland.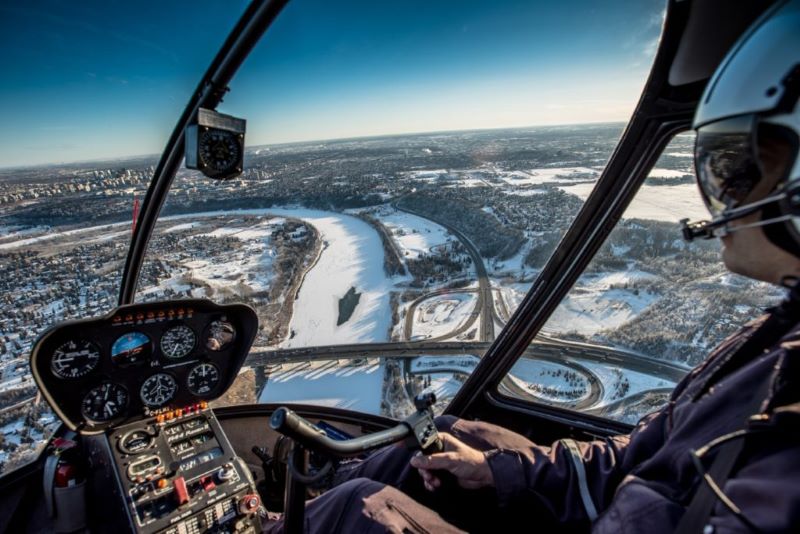 A helicopter tour over Edmonton. Image courtesy of Edmonton Regional Helicopters and Tourism Edmonton
Lake many other destinations in Alberta, Edmonton is also popular for snowshoeing. Picture yourself crossing a frozen, snowy lake as the knock-knock-knock of a woodpecker echoes from the forest beyond. If it's daytime, you might get lucky and spot a bison plowing through the snow, or at night, there's prospect of spotting the northern lights. A top spot for the latter, you ask? Try the Beaver Hills Dark Sky Preserve, just east of the city of Edmonton.
Downhill ski and snowboard enthusiasts will also love the ease of which they can hit the slopes in Edmonton. Snow Valley Ski Club is a 30-minute drive from the city center, and the Edmonton Ski Club is located right downtown! Here you can enjoy 25 acres of machine-made pristine groomed snow, and even test your skills on a mogul run or terrain park. Another option is the Rabbit Hill Snow Resort, which is the largest ski and snowboard resort in the Greater Edmonton Area, all just an hour's drive away.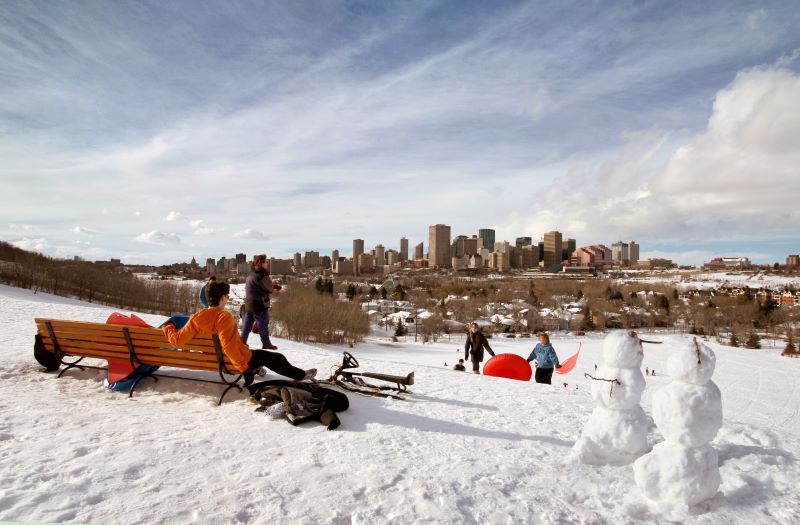 A family tubing on a snow hill just outside downtown. Image courtesy of Tourism Edmonton
If skiing or snowboarding feels a little too advanced, snow tubing is an approachable winter activity. Fun for all ages, Sunridge offers a dedicated tubing lift (so you don't have to walk back up the hill), three groomed chutes and special tubes for you to ride on.
Typically reserved for an entirely different season, fishing is also on offer in Edmonton. Ice fishing, that is. Wake up bright and early, gear up, grab a fishing license and head out to one of the many frozen ponds or lakes to bait your line and wait. Hermitage Pond is a great spot right next to the North Saskatchewan River, but make sure to always check the ice report and weather conditions before heading out, for safety. If the ice is less than 4 inches deep, you shouldn't be walking out.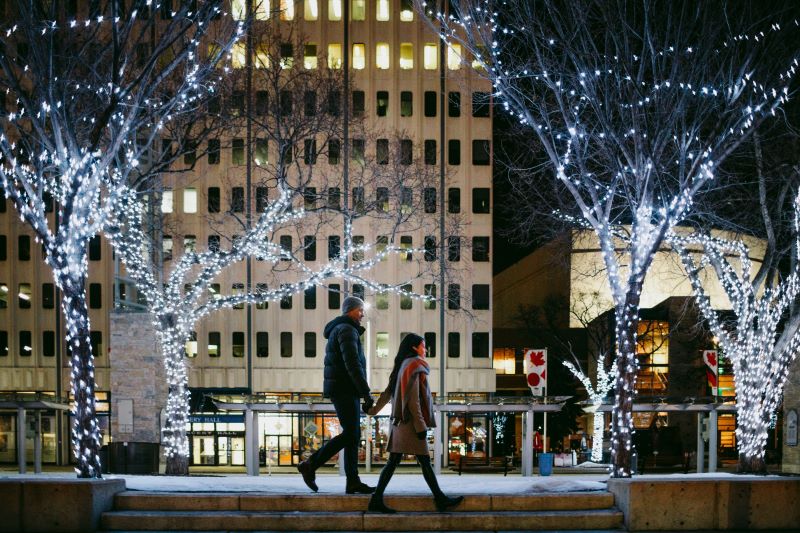 A couple shopping in Edmonton. Image courtesy of Tourism Edmonton
Last but not least, winter wouldn't be complete without some activities back in the cozy indoors. An entire day (or more) can be spent at West Edmonton Mall, the largest shopping mall in North America. Here you'll find over 800 stores and services including nine attractions, two hotels and over 100 dining venues. Race go-karts, go bowling, play a round of adventure golf or hit the water park. There's even an underground aquarium that houses more than 100 species of marine mammals, reptiles, amphibians and more!
If you're like our team of Canada travel specialists and enjoy the simplicity of wandering, meeting locals and browsing buildings for hidden gems, Edmonton is home to a number of fantastic neighborhoods perfect for just that. Read on to get a lay of the land, so you can arrive with the knowledge of a local.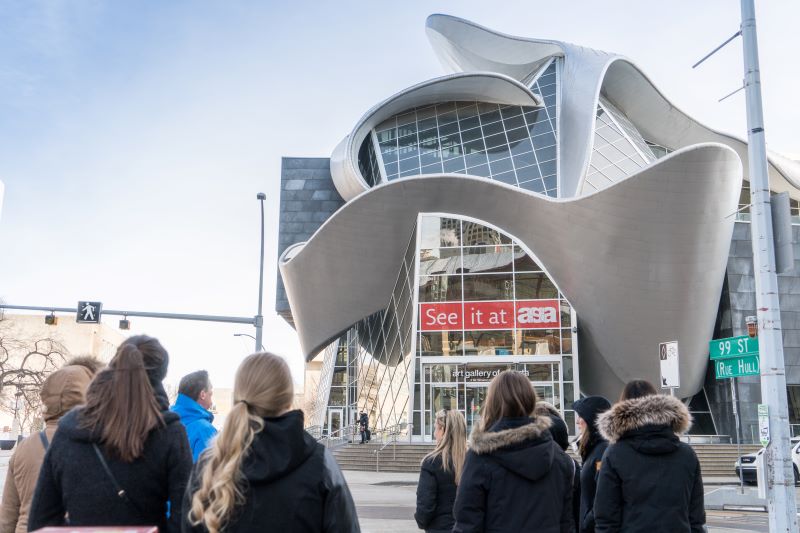 The Art Gallery of Alberta in downtown Edmonton. Image courtesy of Tourism Edmonton
The Lay of the Land
Let's start with the central business district (CBD) of Edmonton, Alberta. Bounded by 109 Street to the west, 105 Avenue to the north, 97 Street to the east and 97 Avenue to the south, it marks the geographical center of the city and contains Churchill Square, the Art Gallery of Alberta and more. Subdivided into five smaller neighborhoods, Downtown comprises the Commercial-Cultural Core, Government Centre, McKay Avenue, Warehouse District and Rice Howard Way.
To the west of downtown lies Oliver, one of the oldest residential neighbourhoods in the city of Edmonton and the largest by population. Jasper Avenue cuts through this neck of the woods with chain restaurants like the LOCAL Public Eatery, Cactus Club Cafe and Earls flanking the sidewalks, while art galleries, St. Joseph's Basilica and fitness studios round out the rest.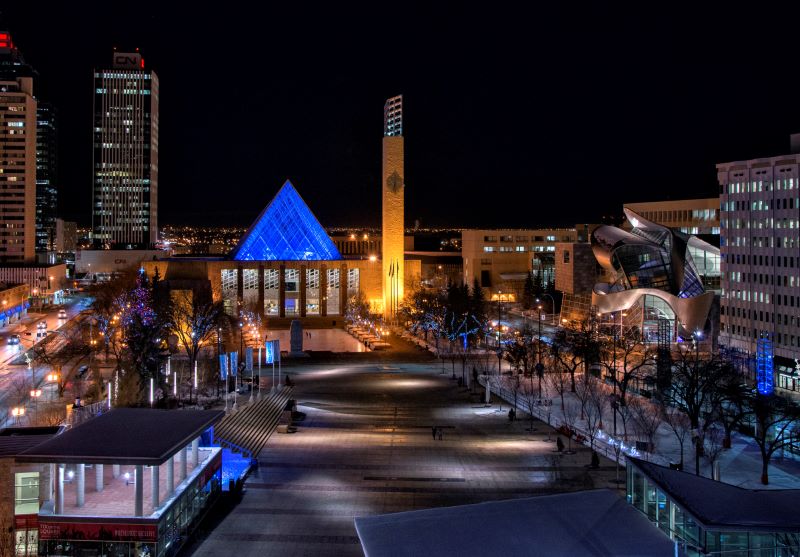 Churchill Square in Edmonton. Image courtesy of Tourism Edmonton
North of the core is the Central McDougall neighborhood, another largely residential area whose long history has seen it slowly characterized by apartments, commercial buildings and the Royal Alexandra hospitals. It's also worth a mention that Rogers Place, home of the Edmonton Oilers, lies between downtown and the Central McDougall neighborhood. Keep an eye on the events calendar for some of the biggest concerts, shows and live events that come to Edmonton.
Immediately east of the downtown core you'll find Boyle Street, a neighborhood flanked by Dawson Park and the North Saskatchewan River. One of the oldest areas of the city, it nods to the past with vintage buildings and turn of the century architecture, particularly at the flatiron building of the Gibson Block. If you find your way heading east through downtown, you'll have an opportunity to visit the Royal Alberta Museum of the Art Gallery of Alberta before arriving to Boyle Street.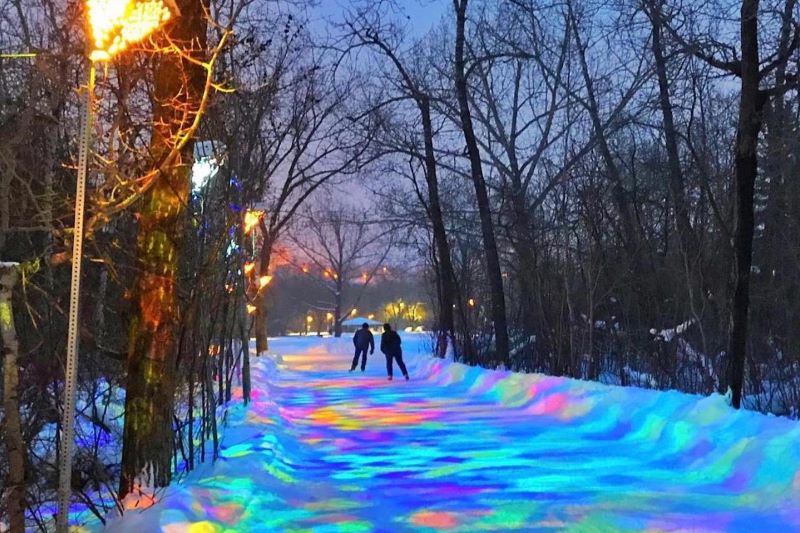 The Victoria Park Iceway lit up in winter. Image courtesy of Victoria Park Iceway
South of the downtown core (but still on the north side of the South Saskatchewan River) is Rossdale, a popular residential neighborhood with easy access to the University of Alberta, the river valley and other amenities. Just a short distance to the west of the neighborhood lies the Royal Glenora Club, an 18-hole golf course and the skating oval in Victoria Park. Better yet, the Victoria Park Iceway is a three-loop skating trail wrapping through the sparkling winter forest, and it's lit up through the winter months!
Strategically located just across the river from downtown and Rossdale you'll find the romantic neighborhood of Strathcona. Here you'll find some of the best live music and theater performances in the city, as well as the headquarters for the Edmonton International Fringe Festival which occurs annually in August. You'll also find some fantastic parks, like Mill Creek Ravine Park, Strathcona Park and Queen Elizabeth Park.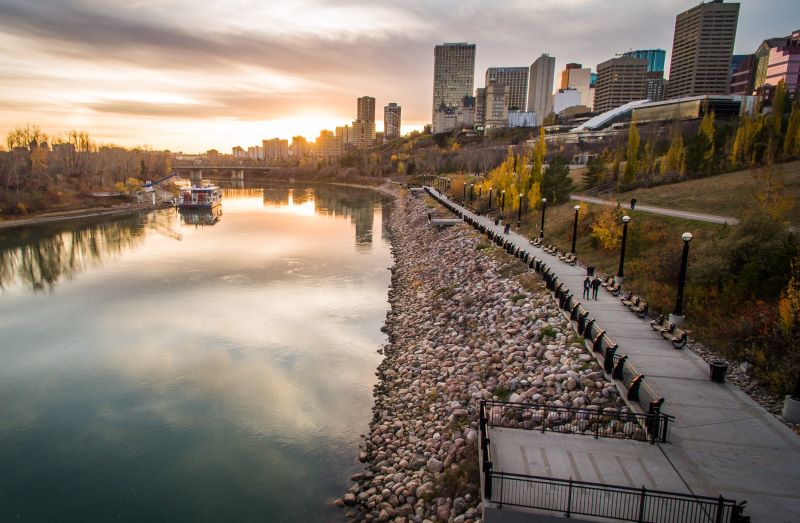 The riverbank downtown Edmonton. Image courtesy of Tourism Edmonton
Where to Stay in Edmonton
If you've read our other blogs like 72 Hours of Winter in Calgary or Winter in Alberta: The Ultimate Trip-Planning Guide, you'll know we're a fan of Canada's Fairmont properties. Edmonton's very own Fairmont Hotel Macdonald is located in the downtown core, positioned between the Boyle Street and Rossdale neighborhoods. Here you'll find classically-designed guest rooms and specialty suites tastefully adorned with only the finest amenities.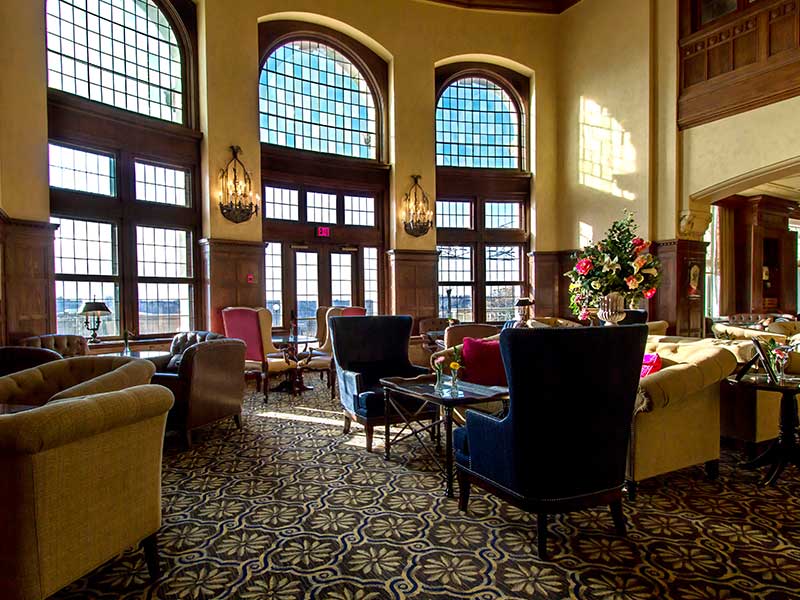 The Fairmont Hotel Macdonald in Edmonton. Image Courtesy of Fairmont Hotel Macdonald
Just west of the Fairmont is another fantastic option, the Coast Edmonton Plaza Hotel. Ideal for budgets that are a bit more constrained, it offers a refreshingly local experience in the heart of downtown with gorgeously redesigned rooms and suites. It's also just a six-minute walk to Rogers Place (perfect for hockey night!) and the hotel offers a free shuttle service for other areas downtown.
Between the Fairmont and the Coast Edmonton Plaza Hotel but just a bit further north, you'll find the Sandman Signature Edmonton Downtown Hotel. Here you'll find a great home-away-from-home experience, complete with premium comfort, high-quality service and amenities. Also in the hotel is Chop Steakhouse & Bar, serving up the finest Alberta Beef and a selection of fresh Canadian seafood.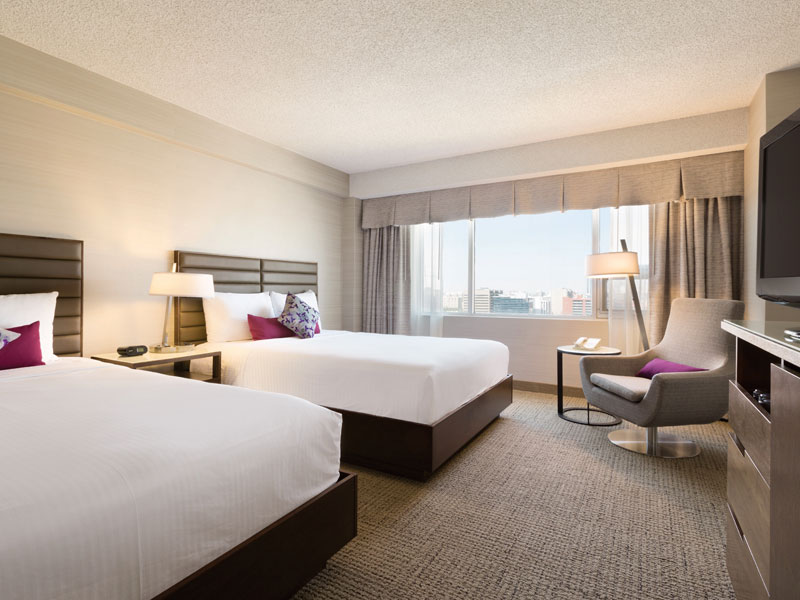 The Coast Edmonton Plaza Hotel. Image Courtesy of Coast Hotels
Of course for some, a trip to Edmonton is all about West Edmonton Mall! For this, we can offer stays at Fantasyland Hotel, an incredibly unique hotel with themed rooms located inside the mall itself. Choose between a Luxury Canadian Cabin-themed room, a Luxury Space-themed room, a Luxury Igloo-themed room and so much more. For a great standard hotel that's close to the mall but not quite within it, we also highly recommend the Sandman Hotel Edmonton West.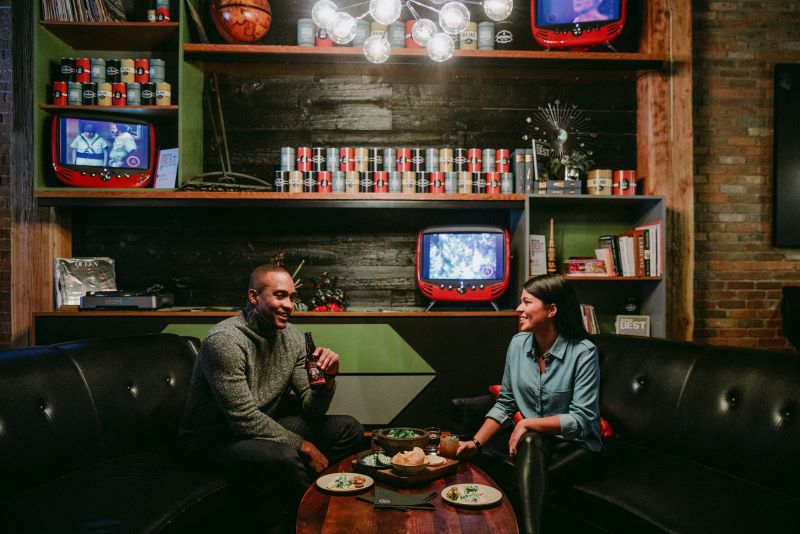 Two people dining at a restuarant in Edmonton. Image courtesy of Tourism Edmonton
Where to Eat in Edmonton
From the heart of downtown to West Edmonton Mall, Edmonton has a restaurant for every craving. Whether you want a craft beer taproom, hyper-local bistro, authentic Alberta steakhouse or something sustainable and plant-based, our experts can help you discover some of the best culinary experiences that the city has to offer. Read on for our recommendations, then book a table and treat your taste buds!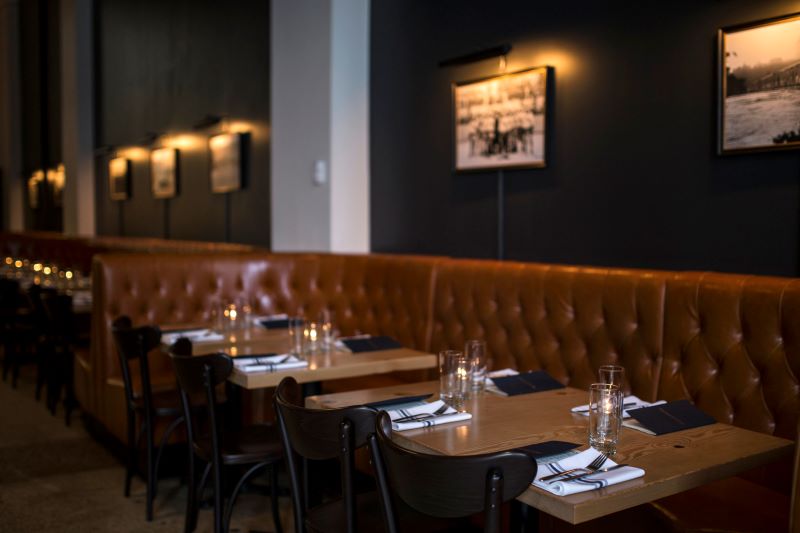 Tables at Woodwork in Edmonton. Image courtesy of Woodwork
When it comes to fine dining, Edmonton has you covered. Head to Woodwork for cocktails, steak tartare, caramelized brussel sprouts and juicy chicken, or Sorrentino's for ravioli with butter sage sauce, guanciale and caprano cheese or linguine with prawns, salmon, mussels and clams. Naturally, we couldn't leave out a few options for fine dining steakhouses, so you'll want to visit Ruth's Chris on Jasper Avenue for classic cuts or Fumaca Brazilian Steakhouse for an all-you-can-eat concept.
Even if you don't eat meat, Edmonton has plenty to offer. Try Arcadia Bar for a selection of Alberta craft beer served alongside vegetarian and vegan pizzas, or KB&co for a plant-based menu free of meat, dairy, egg and soy products. We've been told that the Chipotle Taco Salad is a local favorite at the latter, bursting with all the ingredients one would expect of a taco salad, but topped with spiced walnut meat, sweet chipotle cashew cream and seasoned bean chips.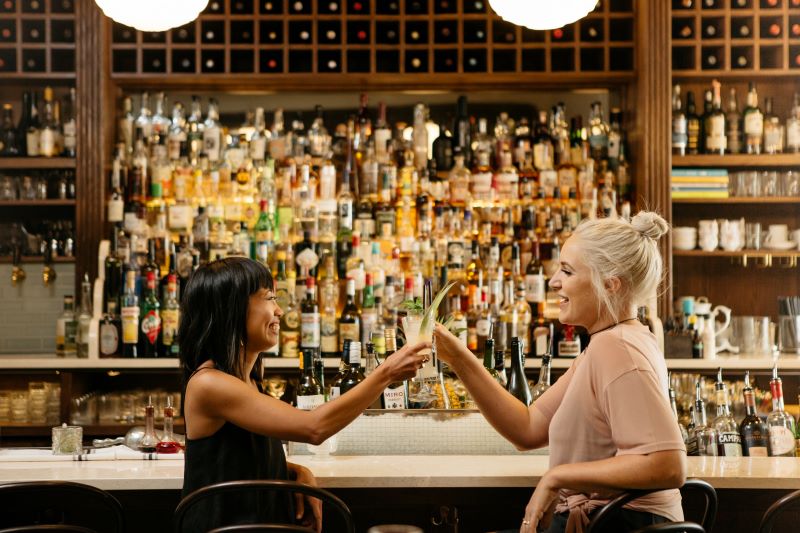 Two women enjoying drinks at a bar in Edmonton. Image courtesy of Tourism Edmonton
At the end of the day, hit one of Edmonton's cool cocktail bars for a night on the town. Bar Clementine on Jasper Avenue has been named one of the top ten bars in Canada, serving elevated cocktails, wine and small bites in stylish roaring 20's decor. For those who like something a little different, Baijiu is a cooler-than-cool bar in the heart of Edmonton's arena district. Here you'll find Cantonese cocktails, Asian-inspired eats and a hidden speakeasy named 'Little HK' (but you didn't hear it from us).
Last but not least, no trip is complete without the brunch that follows a night out. PIP is an intimate, award-winning brunch spot in the Old Strathcona neighborhood, while Cafe Mosaics is a vegetarian and vegan friendly breakfast place that's fooled even the pickiest meat eaters. Of course, you simply cannot leave Edmonton without a quick trip to Sugarbowl. Here you can order a massive (and equally delicious) cinnamon bun that will have you dreaming of it long after its gone.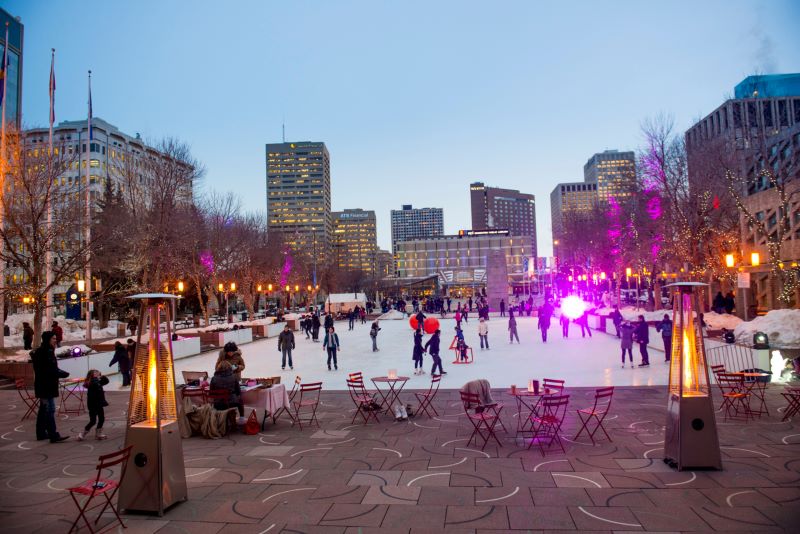 Ice skating in Edmonton. Image courtesy of Tourism Edmonton
Dates to Mark on Your Calendar
Edmonton may be chilly, but festivals like Silver Skate, Flying Canoe Volant, Ice on Whyte and Deep Freeze keep things hot all through the winter months. Mark these dates on your calendar to keep in mind while you're planning.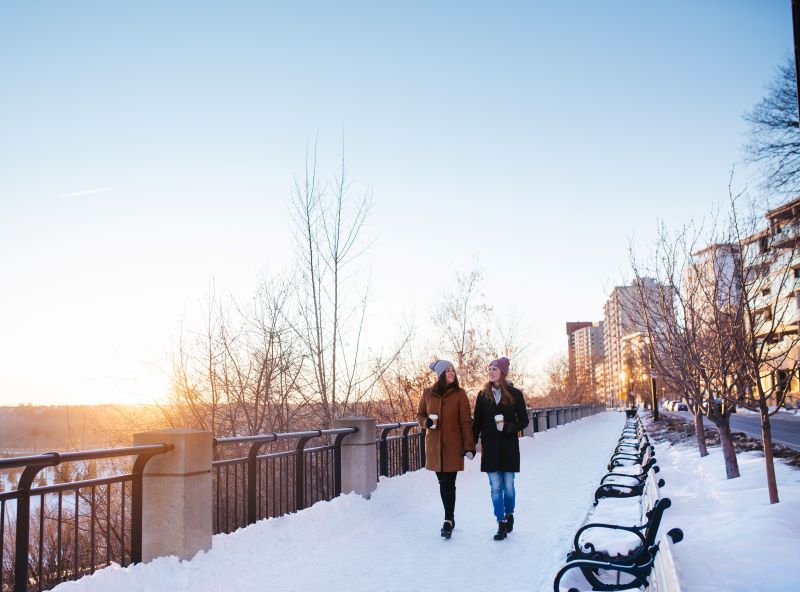 Two women walking through a snowy Edmonton. Image courtesy of Tourism Edmonton
Our Top Edmonton Itinerary
To get you started, we've created an Alberta and the Rocky Mountains itinerary that begins and ends in Edmonton. Click the link below to view the itinerary in more detail, or contact our Travel Designers at sales@canadabydesign.com or 1 (800) 217 0973 to book. Don't forget, you'll want to add an extra couple of nights in Edmonton to enjoy all that it has to offer!
Edmonton to the Rockies (10 days)