One of the main perks of working in travel is that you often get to try it for yourself, and for over 21 years our Travel Designers have been visiting and planning dream trips in Banff and Lake Louise. If it's your first time, we understand the process can be a little daunting, but that's why we're here.
To answer all your preliminary questions, we've created a Travel Expert's Guide to Banff and Lake Louise. To dig into more details and to start planning your trip, simply get in touch with our knowledgeable Travel Designers at sales@canadabydesign.com or 1 (800) 217 0973.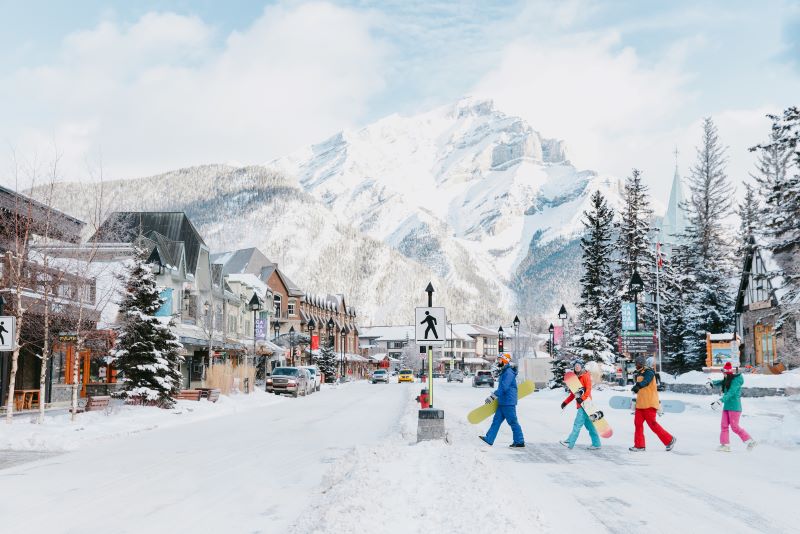 Image courtesy of Travel Alberta
Where is Banff?
The town of Banff is located within Banff National Park in the province of Alberta, Canada. Part of the Canadian Rocky Mountains, it is located on Alberta's western border with British Columbia about 80 miles west of Calgary and 500 miles east from Vancouver. Originally a small, 26 square kilometre hot springs reserve, Banff National Park now covers a whopping 6,641 square kilometres of pure, beautiful nature filled with intriguing wildlife and outdoor adventure.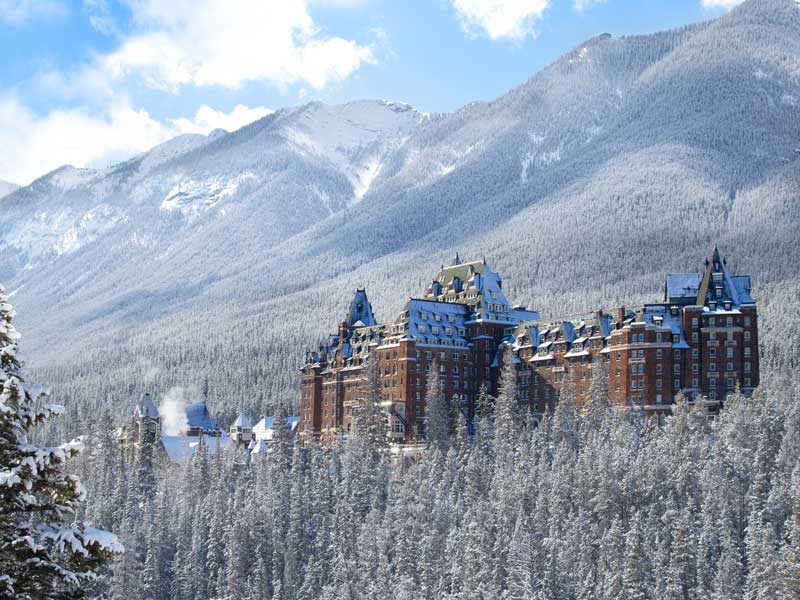 Image courtesy of Fairmont Banff Springs Hotel
Where to Stay in Banff
If you're looking for a truly magical and almost fairy-tale like experience in Banff, look no further than the Fairmont Banff Springs Hotel. Nicknamed Canada's 'Castle in the Rockies' due to its grand presence, peaks and turrets, its broad hallways lead to sparkling ballrooms, gourmet restaurants and stunning guest rooms you'll need to see to believe. If the Fairmont is outside of your budget, fear not, for we have many properties we equally recommend. Try Banff Caribou Lodge, Brewster's Mountain Lodge, the Moose Hotel or Fox Hotel & Suites, which has a cool Cave and Basin-themed indoor hot pool that's open to the elements through an opening in the roof.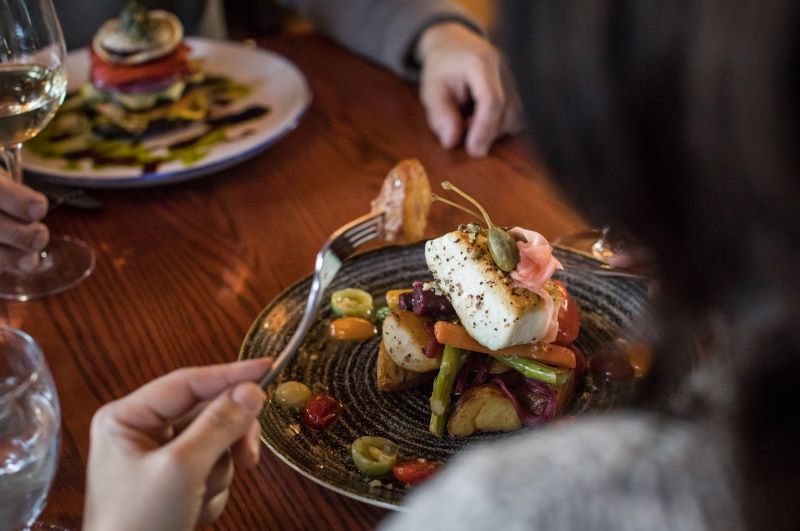 Image courtesy of Banff & Lake Louise Tourism / Hendrickson
Where to Eat in Banff
On my most recent trip to Banff I was lucky to try a number of incredible restaurants. In fact, our Travel Designers frequent the area and are always finding new tasty dishes to enjoy in excitable, atmospheric dining rooms. For a view that positively can't be beat, make a reservation at the Banff Gondola's Sky Bistro (reopening November 19) to enjoy panoramic views of the mountains alongside delicious Canadian cuisine. My personal favorite is Park Distillery Restaurant & Bar back in town, where campfire-inspired cooking is mixed with award-winning spirits distilled in-house. Other recommendations include The Bison Restaurant and Lounge, Maple Leaf Grill & Lounge and JK Bakery & Cafe – but be sure to ask your Travel Designer for their favorites while planning the details of your trip!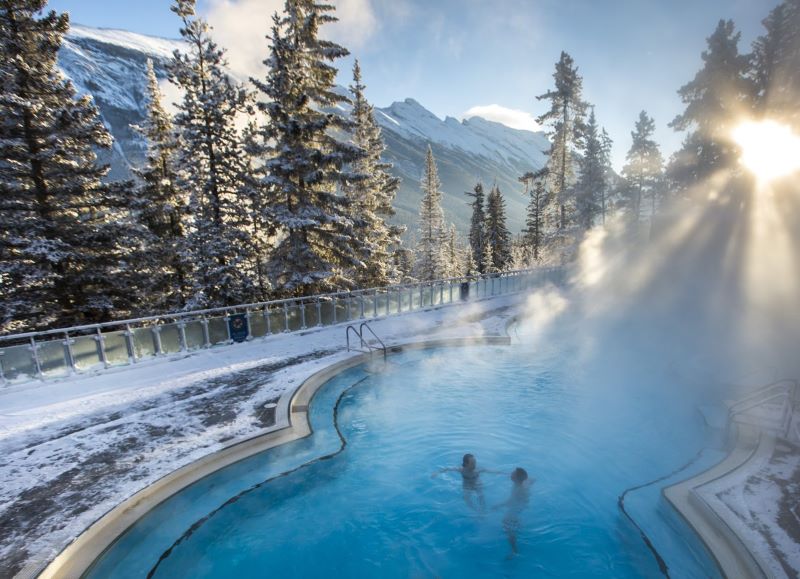 Image courtesy of Travel Alberta
What to Do in Banff
Apart from its scenic views, the activities you can do in Banff are really the reason why you come here. In winter, carve fresh powder at one (or all!) of the three area ski slopes, take your family toboganning, book a wildlife tour, try cross-country skiing or go dog-sledding for something truly authentic. The Banff Gondola offers incredible views of six mountain ranges, the Bow Valley and the town from atop Sulphur Mountain, and to warm up from the chilly winds take a dip at Banff Upper Hot Springs. First discovered in 1883 by three rail workers, the natural hot springs have since been converted into a full commercial operation where you can sit in the pools, watch the snow fall and relax while reaping the benefits of healing properties.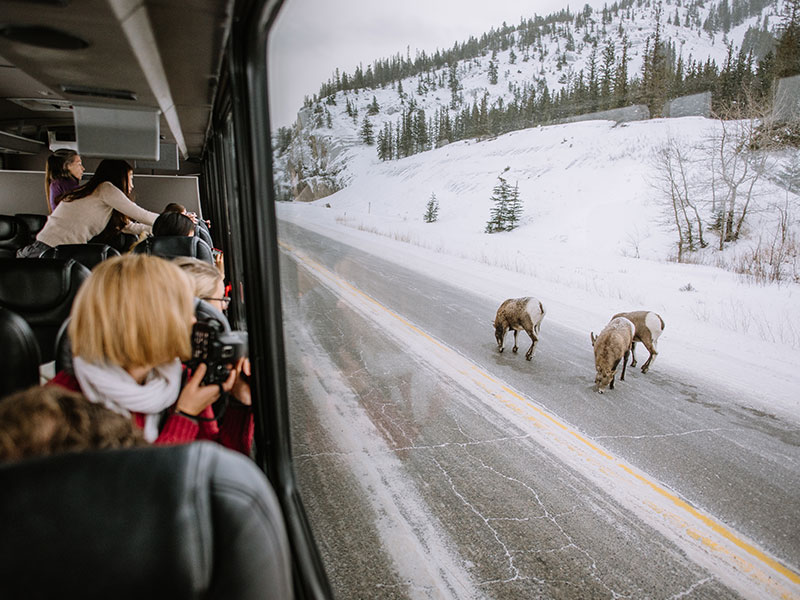 Image courtesy of Sundog Tours
How to Get to Banff
With so much to enjoy, the devil is always in the details so you'll need to know how to get there first. Luckily, our Travel Designers can arrange whichever mode of transportation you're most comfortable with, though we strongly recommend against driving yourself in winter. Our favorite way to get to Banff is either by booking a private car or SUV transfer, which typically leaves from either Jasper or Lake Louise depending on your direction of travel. For basic understanding, we often recommend taking VIA Rail's Canadian train between Vancouver and Jasper, then traveling by private car or motorcoach with Sundog Tours or Brewster between Jasper, Banff, Lake Louise and Calgary.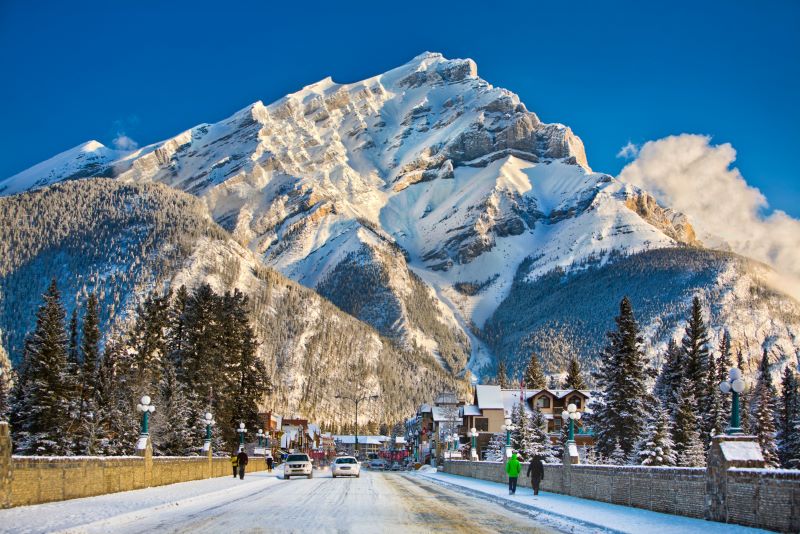 Image courtesy of Banff & Lake Louise Tourism
When to Visit Banff
To truly enjoy all of the magic that winter has to offer, the best time to visit Banff falls between January and March. This is when the peaks and ski hills receive large amounts of snow, while the town itself receives a moderate amount. In March, the temperatures begin to lift ever so slightly, meaning it won't be quite as cold as it is in January but you'll still have the snow to enjoy. Of course, keep in mind any particular event or festival dates that you want to experience! At Lake Louise, the annual Ice Magic International Ice Carving Competition takes place from January 19-30, 2022.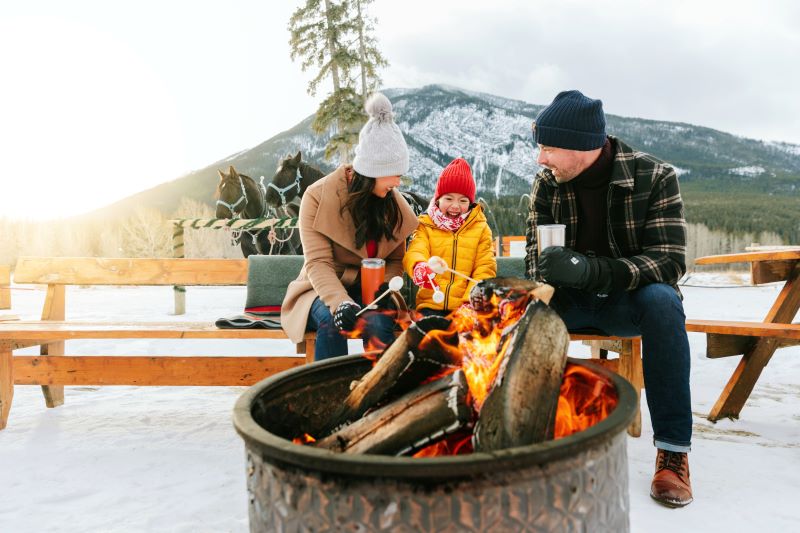 Image courtesy of Travel Alberta
How Many Days to Spend in Banff
Considering a trip to Banff is often combined with Jasper and Lake Louise, we often advise travelers to book at least a couple of nights (a few days) in Banff. There's just so much to do here – from wildlife tours and snowshoeing to the Icewalk at Johnston Canyon – and you won't want to feel rushed or that you're passing by the fun. On our Luxury Winter Snow Train itinerary, you'll have two nights in Jasper and Banff, plus a night in Lake Louise and another onboard VIA Rail's train from Vancouver to Jasper. Even on our Trans Canada Winter Adventure from Toronto to Vancouver, we make sure to include a couple of nights in Banff. Of course, you can always add more! Simply mention it to your Travel Designer.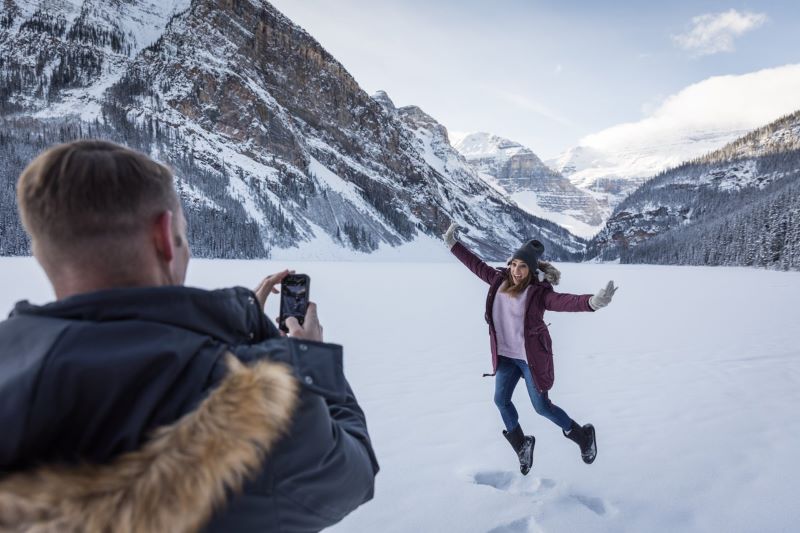 Image courtesy of Banff & Lake Louise Tourism
Where is Lake Louise in Canada?
A lot of people ask whether Lake Louise is inside of Banff National Park, and the answer is yes. Located a scenic 45 minutes west of the town of Banff or less than two hours from Calgary, Lake Louise itself is a small area best known for its gorgeous glacial lake surrounded by snowy peaks. While the thought of it typically conjures images of postcard-worthy turquoise waters, in winter it freezes over completely and plays host to an ice-carving competition, horse-drawn sleigh rides and skating like a true winter wonderland should.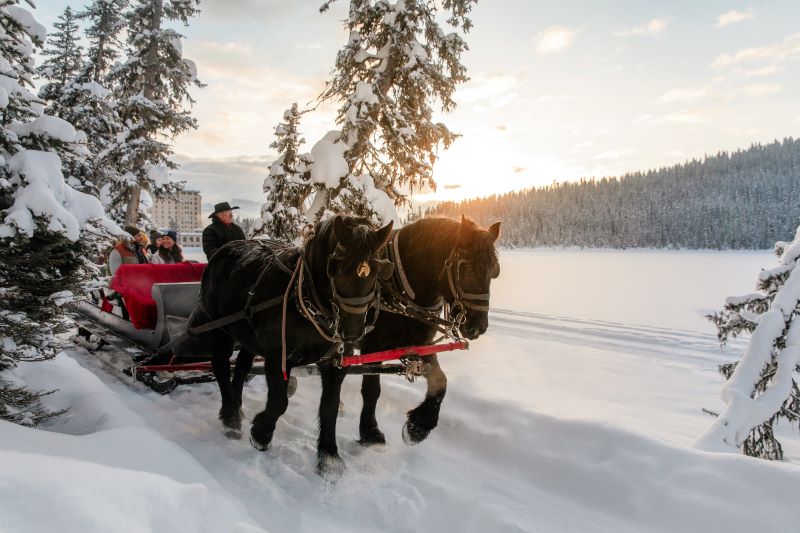 Image courtesy of Travel Alberta
What to Do in Lake Louise
If you weren't already tempted by the sound of an ice-carving competition, horse-drawn sleigh rides and skating at Lake Louise, there's plenty of other activities for you to consider on your trip. Snowshoeing is a popular choice for those seeking time out in nature, and the Ink Pots via Moose Meadows trail is a fantastic choice as it takes you through dense forest to brilliantly colored mineral springs in an open meadow. Of course, you can also try cross-country skiing or fat biking in the winter, with tires that are extra wide and perfect for riding on snow. When it's time to come indoors, warm up over Afternoon Tea at the Fairmont Chateau Lake Louise, or indulge in a Canadian charcuterie board at the restaurant in Deer Lodge.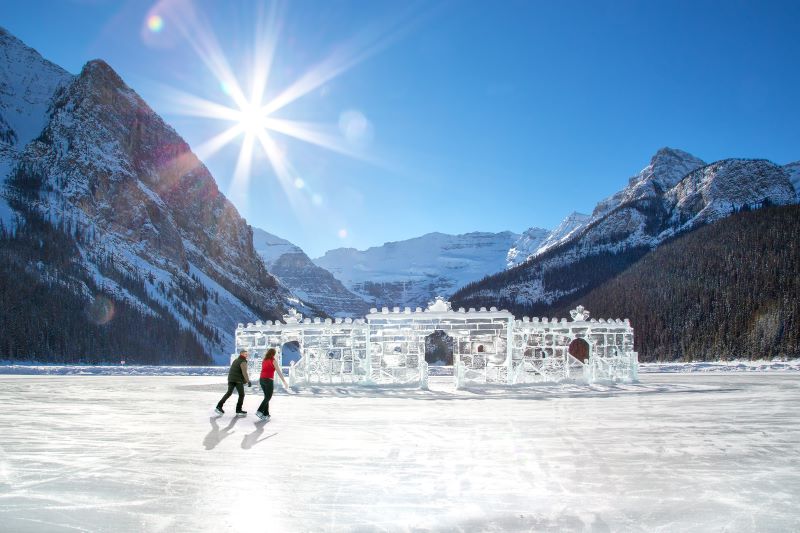 Image courtesy of Fairmont Chateau Lake Louise
When Does Lake Louise Freeze
While Lake Louise begins to freeze as early as November, it isn't safe to skate and do other activities on the lake until typically mid-December. Of course, it stays frozen until close to June so you'll have plenty of time to enjoy it! Rent your ice skates and other equipment at Chateau Ski and Snow Rentals near the lobby of Chateau Lake Louise. Here you'll find an array of high performance equipment for all ages and abilities, first-come first-serve.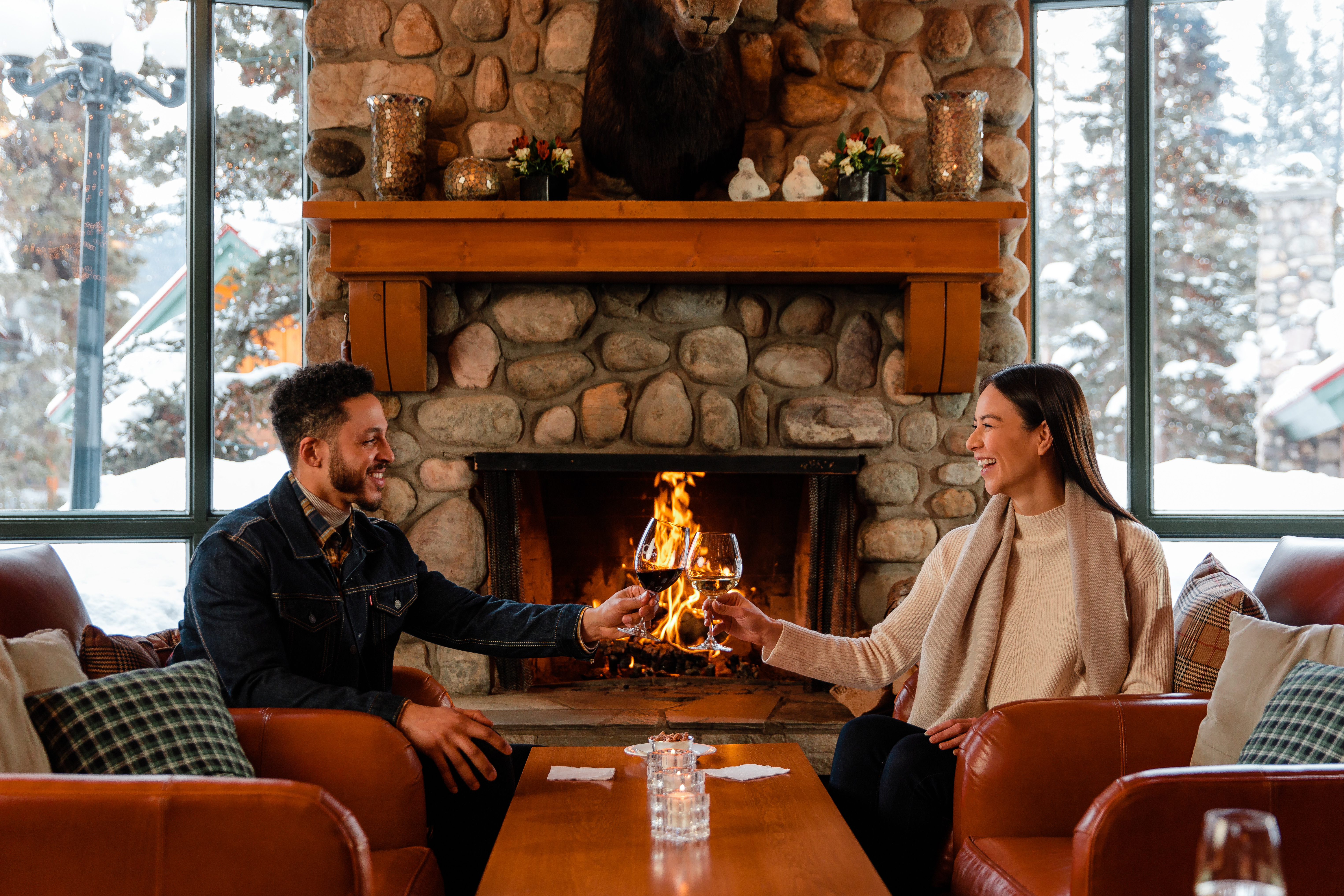 Image courtesy of Banff & Lake Louise Tourism
Our Top Banff and Lake Louise Itineraries
You may have caught a couple of our most popular itineraries earlier in this post, but we've put together a simple list to make browsing easier to manage. All of the below itineraries are available through the winter months, and include time at both Banff and Lake Louise for you to enjoy. Have questions or want to customize your own trip? Contact our Travel Designers at sales@canadabydesign.com or 1 (800) 217 0973.
Christmas in Banff at the Castle (5 days)
Edmonton to the Rockies (10 days)
Luxury Winter Snow Train to the Rockies (7 days)
Trans Canada Winter Train Adventure (12 days)
Winter Delights in the Majestic Canadian Rockies (7 days)
Canadian Rockies Winter Rail Wonderland (9 days)