One of the most common searches on Google asks about things to do in Vancouver, and the answers (as you can imagine) are listed in the millions. Luckily, many of our Canada travel experts are based in this very city, and we have all the local insight and experience to share some of our top favorite tours.
Whether it's a floatplane journey to Bowen Island to enjoy a gourmet private picnic or a boat tour to watch seals and spectacular sunsets, we've tried and tested all of the recommendations in this blog, so you're guaranteed a good time. Not only that, but we've recommended things to do in the rest of British Columbia and beyond, including places to stay and our top trips that have them as inclusions.
But before we begin, let's break it down: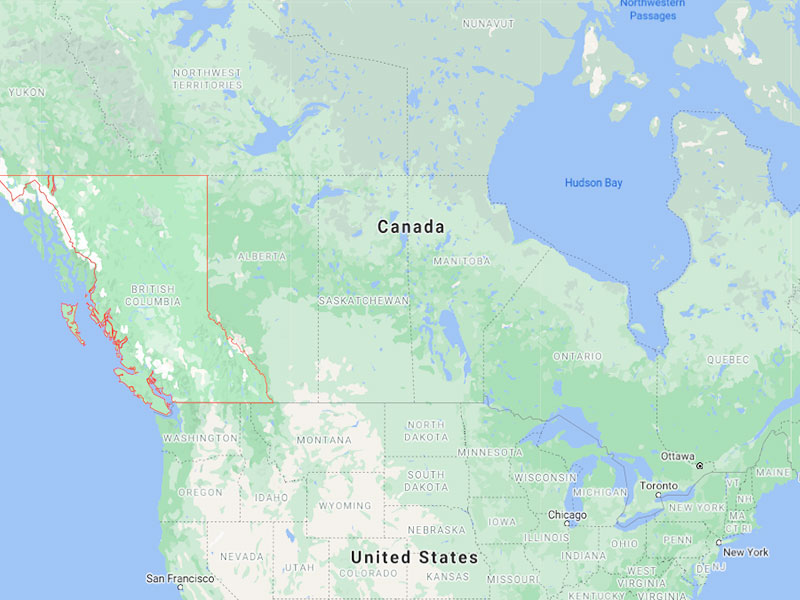 Map of Canada with British Columbia Outlined in Red. Image Courtesy of Google Maps
Where is British Columbia?
British Columbia is Canada's westernmost province, with Alberta to its east, the Pacific Ocean to its west, Yukon and Northwest Territories to its north and Washington, Idaho and Montana to its south. Defined by its coastline and mountain ranges, it's highly-regarded for its outdoor adventures from hiking, biking and mountain climbing to skiing, fishing and surfing.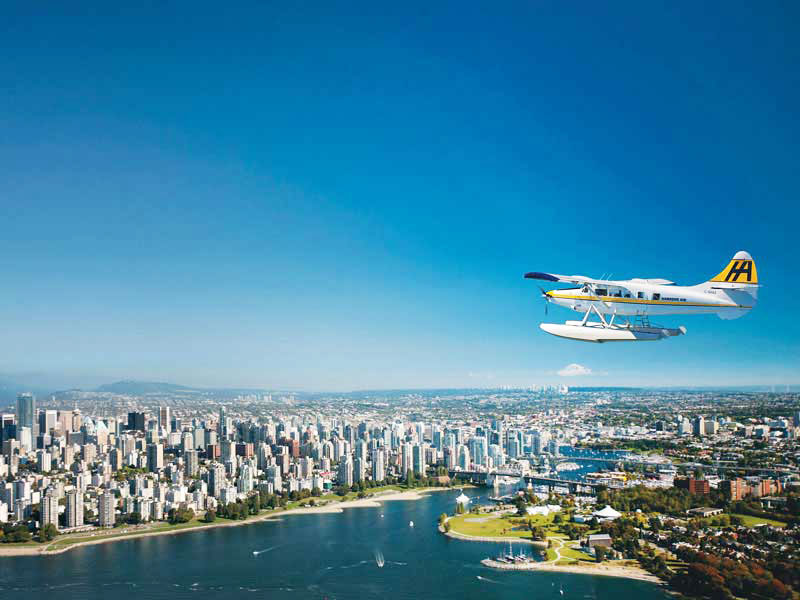 Vancouver, British Columbia from the air. Image Courtesy of Destination Vancouver
Where is Vancouver?
Vancouver is located in southwestern British Columbia, less than 25 miles from the border to the United States. A port city, it has direct access to the Pacific Ocean with many beaches located within city limits and along Stanley Park's famous seawall. Culturally, Vancouver is known as a popular filming location and for its thriving art, theater and music scenes. It's the most populous city in British Columbia, however at just 44 square miles is comparable in size to San Francisco, California.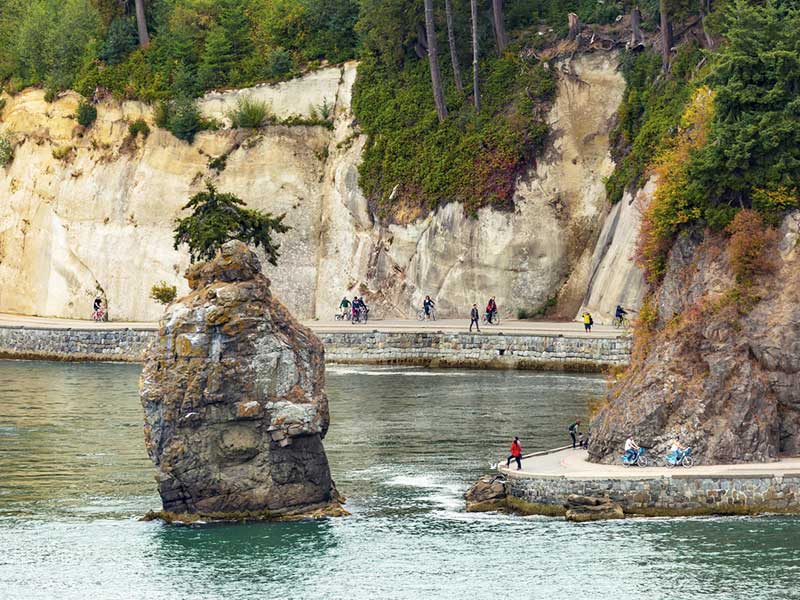 The Seawall in Vancouver's Stanley Park. Image Courtesy of Destination Vancouver
Things to do in Vancouver, BC
Our Western Canada trip itineraries are arguably the most popular, with many travelers opting to spend a little extra time in Vancouver, BC. While Stanley Park, Granville Island and the Capilano Suspension Bridge are some of the biggest attractions, our local experts have plenty of other experiences that can take your trip above and beyond. Read on for a few to get you started, or get in touch with our team for more.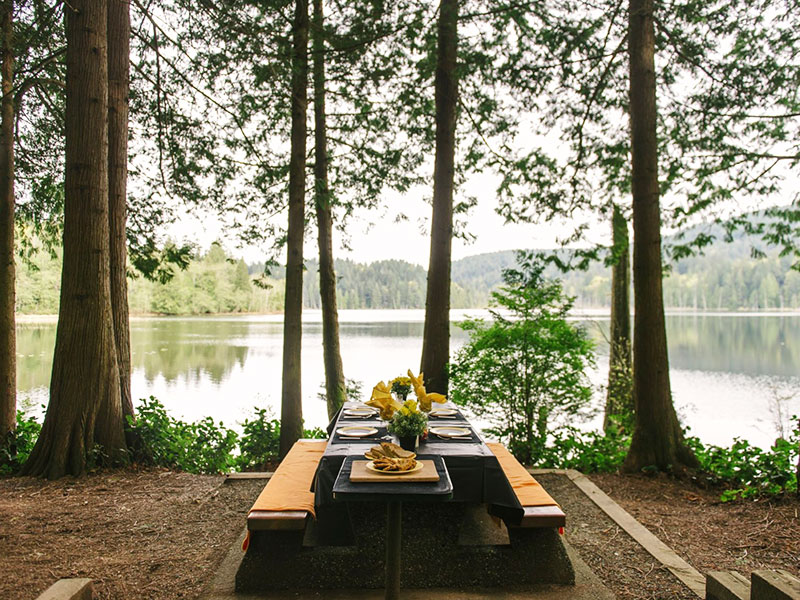 A Gourmet Picnic Set Up on Bowen Island. Image Courtesy of Rockwood Adventures
Rockwood Adventures
Rockwood Adventures has pioneered unique west coast urban and wilderness tours in the greater Vancouver area with emphasis on eco-tourism, wine and food. They specialize in providing natural, enlightening and authentic experiences in Vancouver and the BC wilderness, with one of our favorite tours taking guests to nearby Bowen Island for a day trip.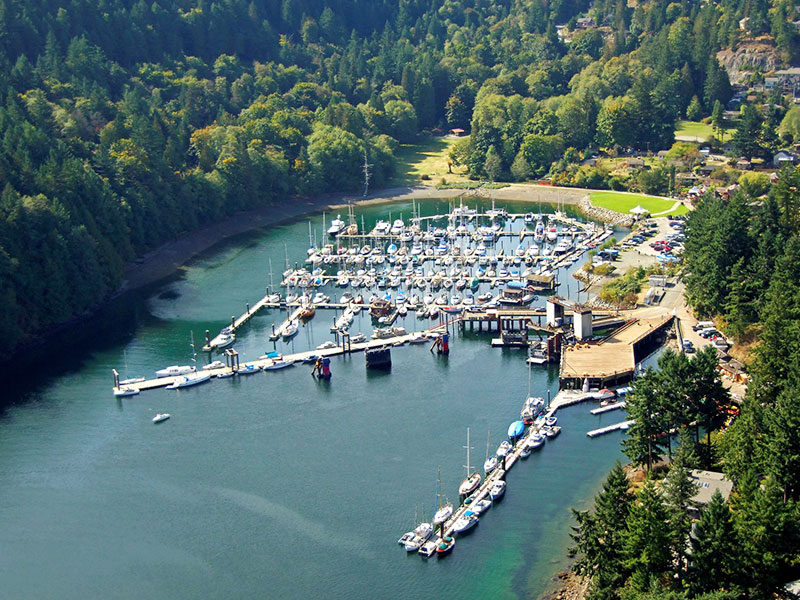 Bowen Island Marina from the Air. Image Courtesy of Rockwood Adventures

Traveling by land, sea and air, guests will enjoy a transfer to Vancouver's Horseshoe Bay ferry terminal in a luxury-class vehicle, a short ferry ride to Bowen Island, a nature walk and a gourmet picnic in the wild. Once you've had your fill, the trip concludes with a visit to the quaint village of Snug Cove and an optional floatplane ride back to downtown Vancouver. All in all, this trip takes approximately 7 hours.
If you'd rather stay in Vancouver for the full day, the Ultimate City and Nature Adventure is another fantastic choice. An adventure that beautifully combines urban Vancouver and its rich history with a storied walk through the extraordinary and protected rainforest, you'll enjoy a series of mini-walking tours and get a sense of the city's mixed Indigenous, European and Asian cultures.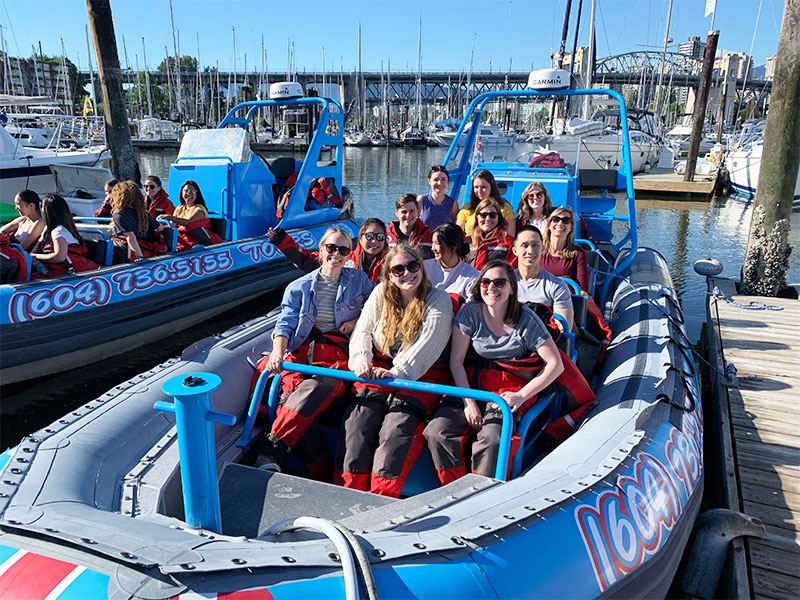 Members of the Canada By Design Team on a Tour with Vancouver Water Adventures
Vancouver Water Adventures
If the coastal aspect of Vancouver gets you excited, there's no better way to spend the day than with Vancouver Water Adventures. With a deep passion for Vancouver's scenic landscape, unique waterways and natural history, their tours often showcase amazing wildlife and can be done by boat, seadoo, kayak or paddleboard.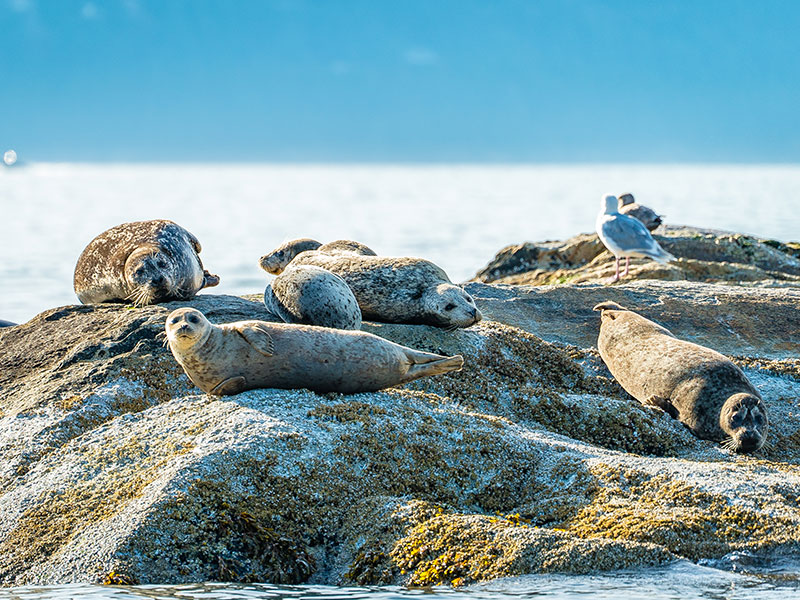 A Seal Colony Spotted Off the Coast of Vancouver. Image Courtesy of Vancouver Water Adventures

A popular adventure by boat is the City & Seal tour, which travels along the epic coastline of English Bay, out to Lighthouse Park, over to the Seal Colony and back to False Creek. It takes only an hour and a half, but reveals iconic sights from the water like Stanley Park, the Lions Gate Bridge, Siwash Rock and more.
Another option to see Bowen Island is on the Bowen Island dinner tour, which can be done either by boat or seadoo. Travel with a guide from Granville Island through Howe Sound and enjoy a meal at one of the fantastic restaurants on Bowen Island. These options include dinner and one drink per person, and are approximately 3 hours round-trip.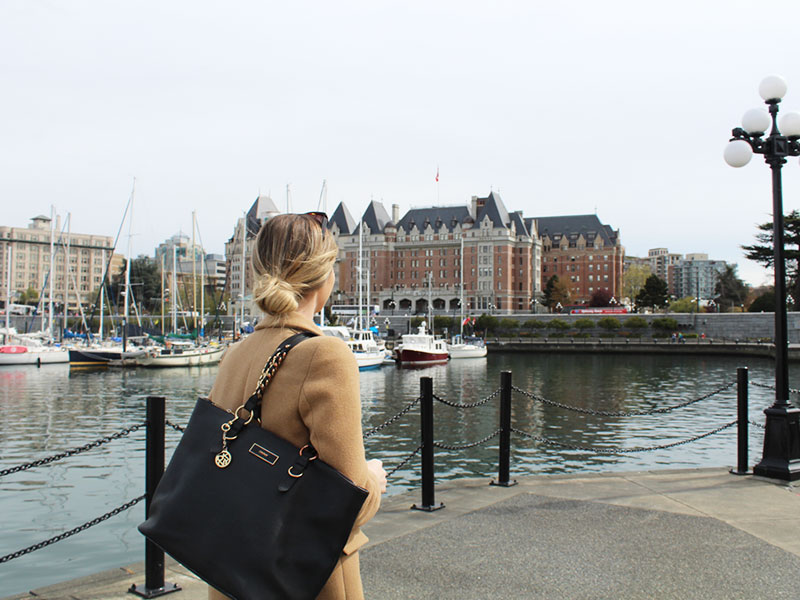 Marketing Specialist Steph in Victoria with the Fairmont Empress Hotel in the Background
In British Columbia
With Vancouver as your base at the start or end of your trip, there's plenty more to do throughout British Columbia. Visit the province's capital city, Victoria, for a good dose of history through its British Colonial past. From the stately Victorian architecture to the world-famous Butchart Gardens, there's plenty of sights to enjoy.
Along the Inner Harbour of Victoria you'll find the famous Fairmont Empress Hotel, a grand, chateau-style building built in 1908. Enjoy world famous Tea at the Empress in the sophisticated lobby lounge -- served for centuries since its opening -- or enjoy a meal on the airy veranda. Check out our 3-day Discover Victoria with Whales and Floatplane tour to make the most out of your trip.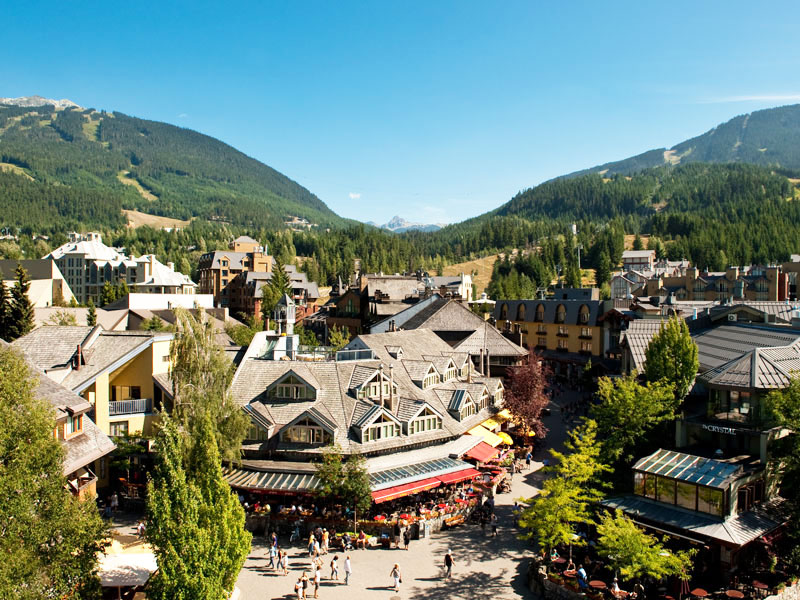 Whistler Village. Image Courtesy of Tourism Whistler
Whistler
Just North of Vancouver you'll also have the option to visit Whistler, where we highly recommend adding a night at the Fairmont Chateau Whistler. While some tours like our Discover Whistler and the Canadian Rockies Road Trip and our Whistler and Canada's Pacific Coast Road Trip include Whistler as part of the itinerary, it's also easy to add a visit to any package from Vancouver. Consider our Whistler and Victoria Floatplane Adventure for the best of both worlds.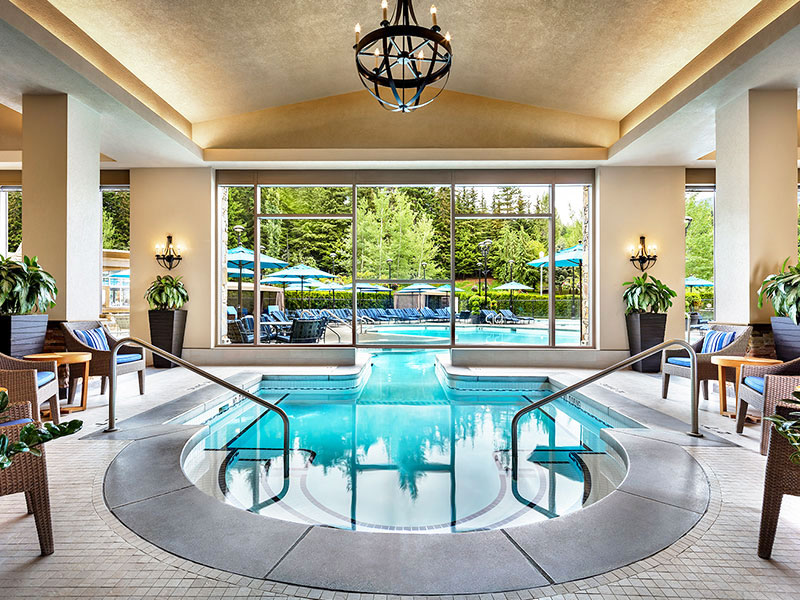 The Pool at the Fairmont Chateau Whistler. Image Courtesy of Brandon Barre
Fairmont Chateau Whistler
A luxury ski-in/ski-out resort just a 5-minute walk from Whistler Blackcomb, the award-winning Fairmont Chateau Whistler can be enjoyed year-round. Included in our Deluxe or Deluxe Plus Grade Whistler itineraries, it combines classic elegance with a modern alpine setting and offers exceptional dining, full resort amenities and a par 72, 18-hole championship golf course.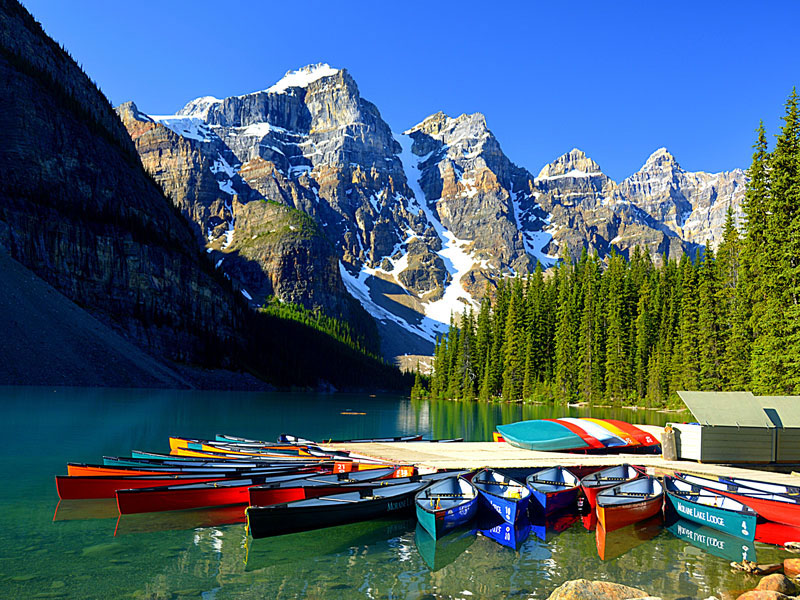 Canoes on a Lake in the Canadian Rocky Mountains.
And Beyond
Straddling the border between British Columbia and Alberta you'll find the Canadian Rocky Mountains. Home to iconic alpine towns like Jasper, Lake Louise and Banff, there's plenty to enjoy both in the towns and out in the expansive national parks. Better yet, most of our Canadian Rockies itineraries include your choice of tours from wildlife viewing or cruising Maligne Lake to a trip up the Banff Gondola or Cowboy Cookout on horseback.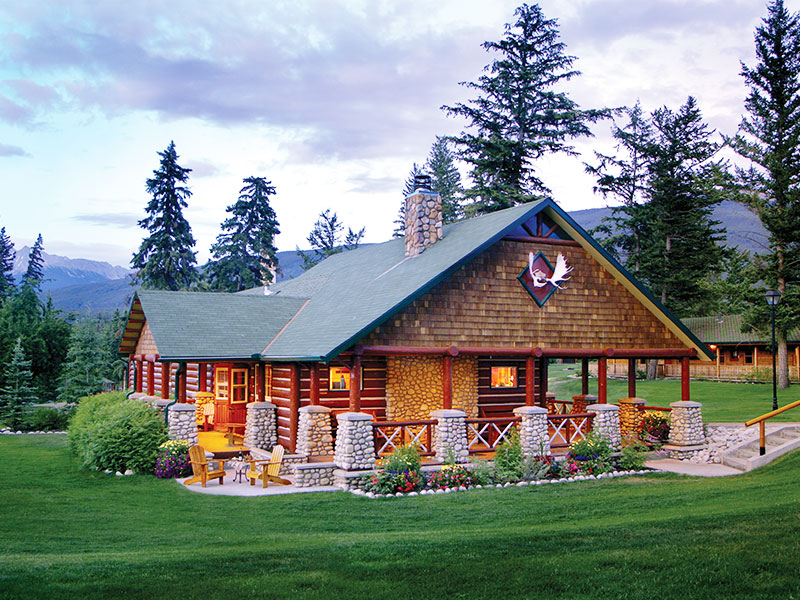 A Cabin at the Fairmont Jasper Park Lodge. Image Courtesy of Fairmont
Fairmont Jasper Park Lodge
Set beside Beauvert Lake in Jasper National Park, this iconic, high-end lodge dating from 1922 offers a village of heritage log-cabin accommodations. Connected by picturesque paths to the main lodge, the hotel is perfect for a romantic getaway or family vacation and offers an array of homelike comforts and amenities. Enjoy the boathouse, pool, spa or Fairmont Jasper Park Lodge Golf Course alongside incredible views of majestic mountains and the emerald green Lac Beauvert.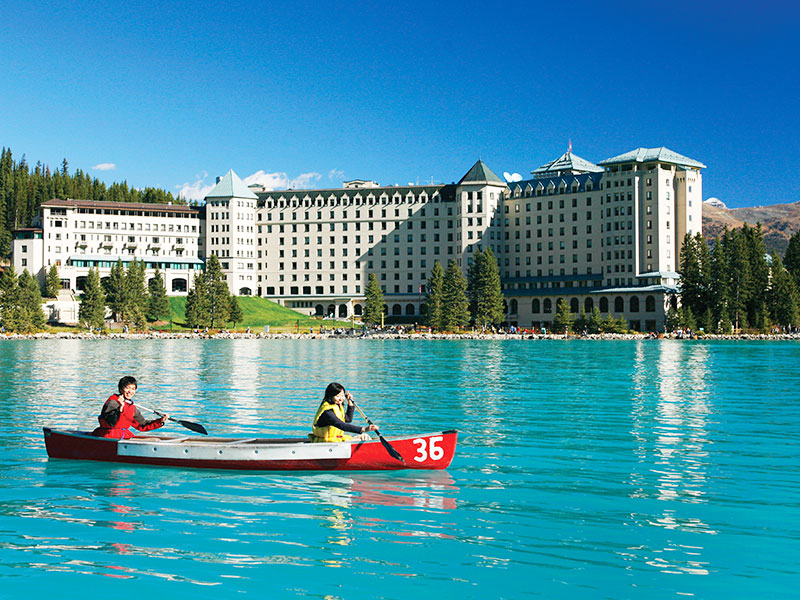 Canoeing on Lake Louise with the Fairmont Chateau Lake Louise in the Background. Image Courtesy of Fairmont
Fairmont Chateau Lake Louise
Surrounded by soaring mountain peaks, the majestic Victoria Glacier and a glistening emerald lake, the iconic Fairmont Chateau Lake Louise hotel is located in Alberta's Banff National Park, a UNESCO World Heritage Site. Elegant and polished yet relaxed and inviting, it lives up to the natural wonder with which it shares a name, and offers 539 well-appointed rooms, a health club, indoor pool and spa. Just outside, try canoeing, go hiking or horseback ride around the lake.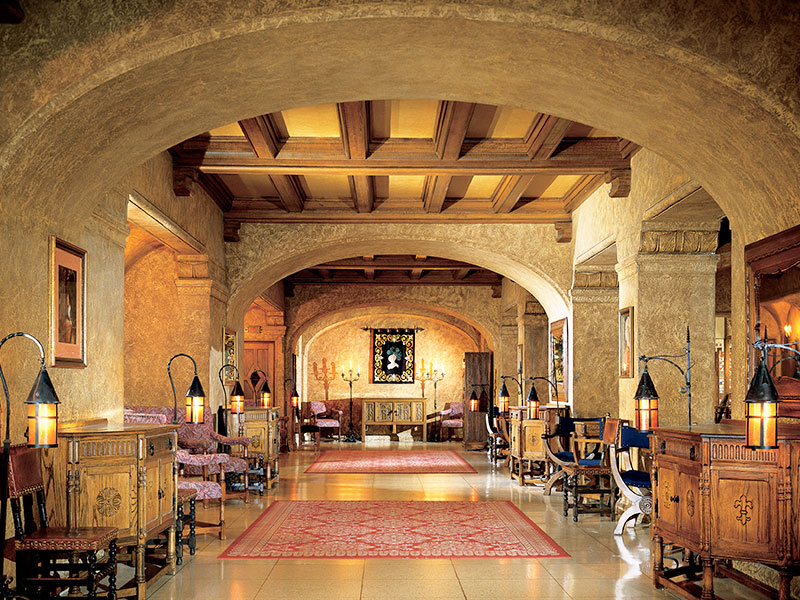 A Hallway at the Fairmont Banff Springs Hotel. Image Courtesy of Fairmont
Fairmont Banff Springs Hotel
Known as Canada's 'Castle in the Rockies', the grand Fairmont Banff Springs Hotel is like something out of a fairytale. Located in the heart of Banff National Park, a UNESCO World Heritage Site, it stands as a landmark in the picturesque alpine town of Banff and has been providing legendary hospitality to guests for over 130 years. With superbly appointed accommodations and attentive, personalized service, enjoy a health club and pool, the Willow Stream Spa or golf at the Fairmont Banff Springs Golf Course.
Some of our Best Western Canada Itineraries
Feeling inspired? Chat with one of our travel designers to create a custom trip that's just for you, or visit our Freedom to Explore page for trip ideas to take this summer. Prefer to simply stay in touch? Subscribe to our newsletter for up-to-date deals, trip ideas and more!