When it comes to winter vacations in Canada, there's arguably no better experience than winter in Alberta. Home to the iconic Canadian Rocky Mountains – which transform into a true winter wonderland this time of year – it has all the things on a Canadian winter wish list: sparkling landscapes, unique wildlife and cozy lodges perfect for warming up with loved ones.
Of course, we get a lot of questions about how to plan a winter trip in Canada, related but not limited to: Where are the best places to go? Things to do? Sights to see? Places to stay? And ways to get around? And since it's winter, it isn't uncommon to get questions about the weather, temperatures and tips on the best things to pack. So, we figured we'd write our own ultimate trip-planning guide. After all, our team has over 21 years of experience planning winter vacations in Canada!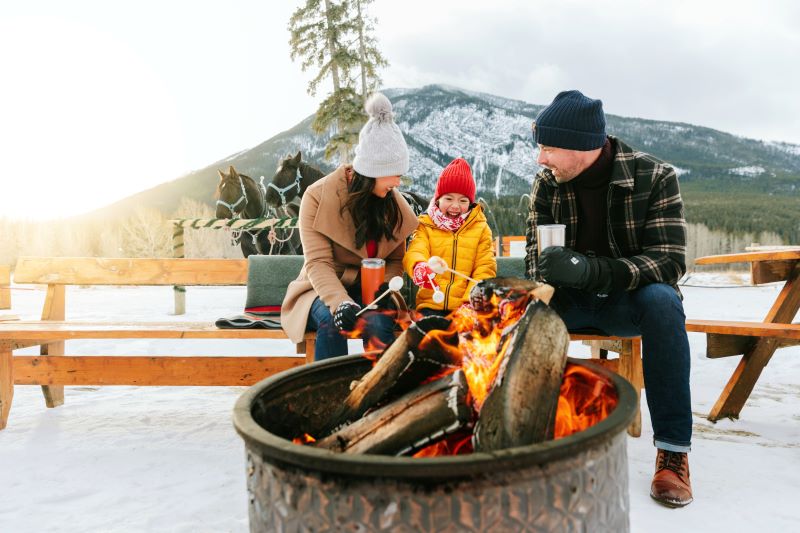 A family enjoying the outdoors. Image courtesy of Travel Alberta
How cold is Canada in the winter?
Winters in Canada can be cold, but don't let that scare you! While it varies greatly on which part of Canada you're in (Vancouver and Victoria are the most mild whereas Edmonton and Quebec are more extreme) you can generally expect a near-freezing (0 degrees Celsius, 32 degrees Fahrenheit) temperature. For the Rocky Mountains in Alberta, January is usually the coldest month, when temperatures average a daily high of -5 Celsius (23 Fahrenheit) and lows of -15 Celsius (5 Fahrenheit). Of course, keep in mind that if you're dressed appropriately, the cold won't really be an issue!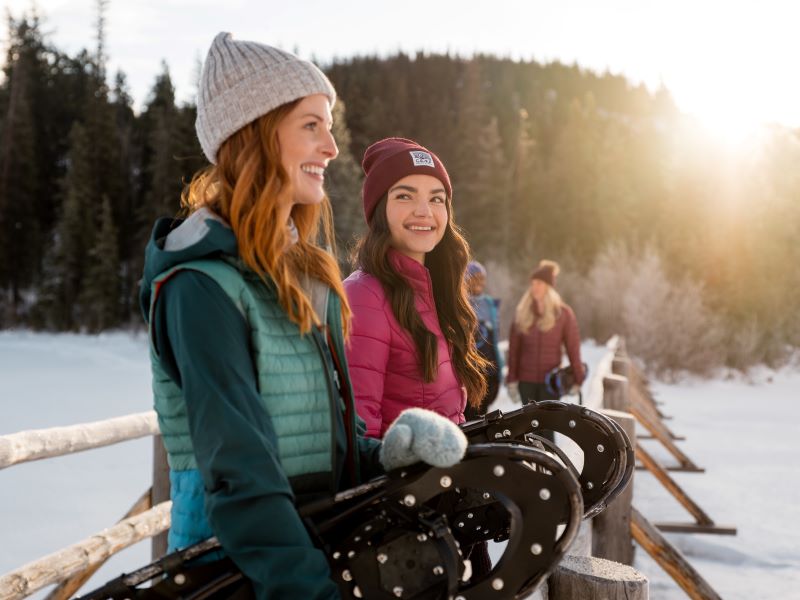 Friends snowshoeing in Alberta. Image courtesy of Travel Alberta
What to wear in winter in Alberta
Layers and the right materials are key to staying cozy through a Canadian winter trip. Be sure to pack base layers (something that fits tight to your body), plus an insulator (puffy jacket) and shell (a wind-proof and water-proof coat) for over top. For the base, it's best to go with a light, moisture-wicking fabric that will keep your skin warm and dry, like Merino wool or something synthetic like polyester. While cotton is usually comfortable it's known to retain moisture, so if you get wet you'll feel quite soggy. Don't forget to pack warm, wool socks, a touque (beanie, for the Americans) and mittens or gloves!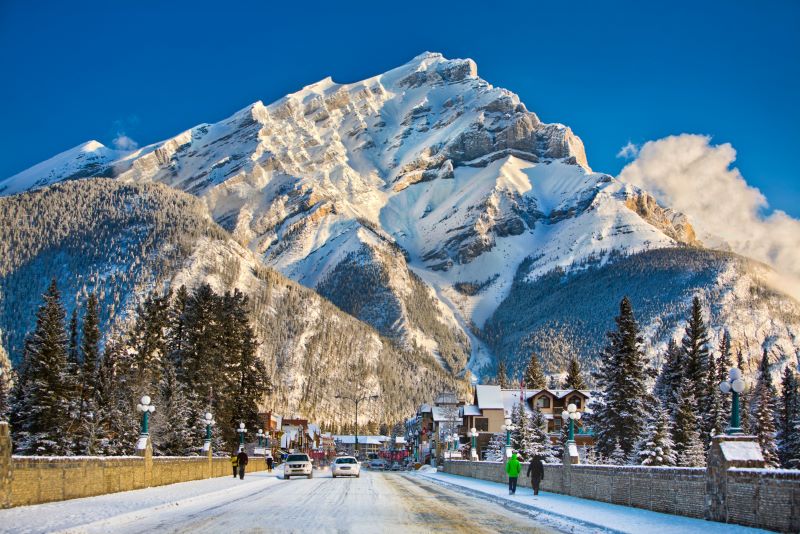 Downtown Banff. Image courtesy of Paul Zizka
Where to travel in winter in Alberta
Alberta is world-famous for its gorgeous alpine towns surrounded by snowy mountains, sparkling lakes and shimmering forests filled with wildlife. While small, they often feature a main street for shopping and dining, and the list of activities is long for the outdoors. Enjoy ice skating, snowshoeing, skiing or try ice climbing. If you'd rather take it easy, helicopter flightseeing and sleigh rides can be arranged, or you can always cozy up in a lodge and watch the beautiful outdoors from beside a roaring fireplace. You don't need to be an outdoor junkie to enjoy a winter vacation in the Rockies!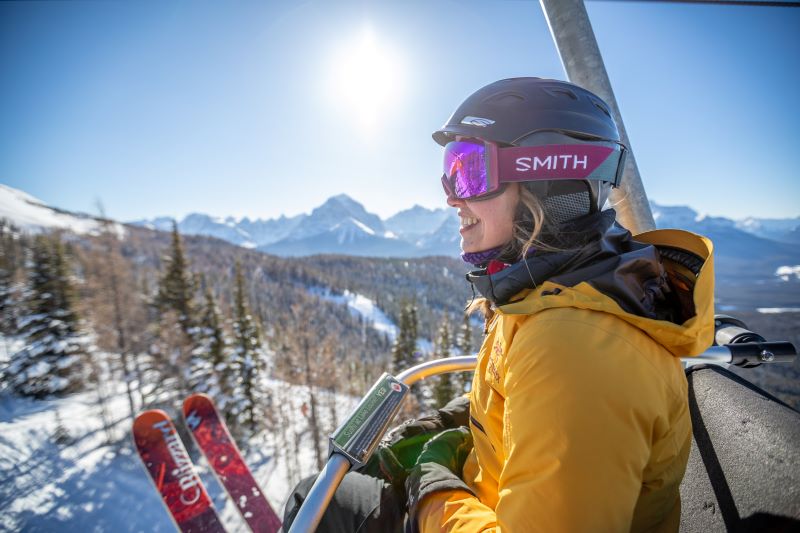 Skiing in the Rockies. Image courtesy of Travel Alberta
Jasper
Known for its spectacular views, varied runs and laid-back atmosphere, Marmot Basin ski resort in Jasper lays claim to the highest base elevation of all Canadian ski areas. Grab boots, skis or a snowboard and enjoy 1,720 acres of outdoor space, 91 runs and 3,000 vertical feet of diverse terrain. Equipment rentals are available for travelers who didn't bring their own gear, and the Marmot Basin Winter Trail Map can be plotted out in advance for all the best black diamonds, terrain parks or leisurely green runs.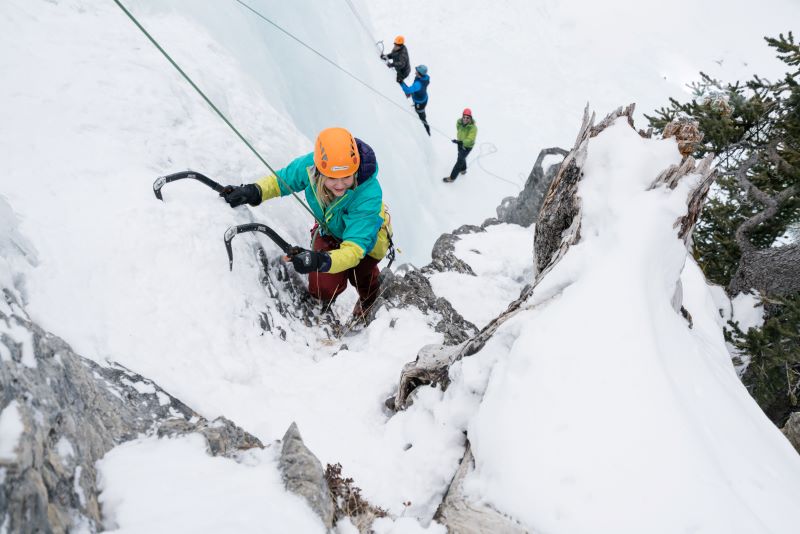 Ice Climbing in Maligne Canyon. Image courtesy of Travel Alberta
Not a skier? No problem, as Jasper has plenty more to enjoy. Nearby Maligne Canyon has ample opportunities to take a walk in nature, along the base of a frozen canyon or to try your hand at ice climbing up a frozen waterfall. Two of our team members, Sam and Steph (that's me!) tried ice climbing on their most recent trip to the Rockies, and while it was certainly challenging (we had no previous experience) we were able to successfully get to the top, and the feeling was very rewarding!
If a simple ice skate is more your speed, there are multiple outdoor rinks for you to enjoy in Jasper. Both Mildred Lake at the Fairmont Jasper Park Lodge and Pyramid Lake have cleared areas where you can glide around care-free, or if you're up for a very Canadian experience, join in a pick-up game of hockey. Frozen lakes can also provide the perfect surface for cross-country skiing, snowshoeing or fat biking, where you can choose between short, flat loops or longer, more challenging trails.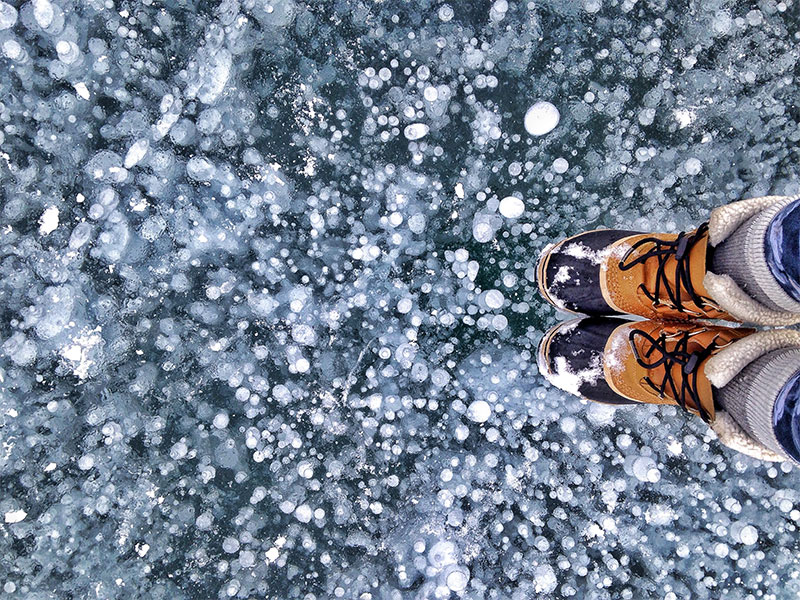 Ice bubbles at Abraham Lake. Image courtesy of Travel Alberta
Another option in Jasper – and a truly unique one at that – is the trip to Abraham Lake with Rockies Heli to witness frozen bubbles. Beginning with a helicopter ride from the base to the lake, you'll get an amazing birds-eye view of the mountains, then land to see the natural phenomenon that is methane gas bubbles trapped at various depths under the frozen lake surface. This adventure creates some pretty incredible photo opportunities; you haven't seen anything like it!
At the end of the day, you'll need somewhere to stay during your time in Jasper. We have plenty of preferred properties in the region, from the Fairmont Jasper Park Lodge to Sawridge Inn and Lobstick Lodge. Get in touch with our Travel Designers to find the best room or suite for you, as we have lots of experience booking family trips, romantic getaways or casual vacations with friends.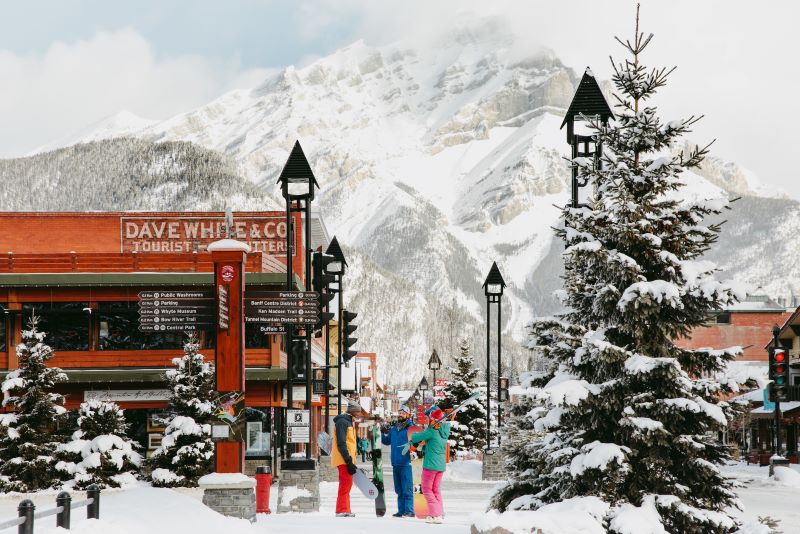 Downtown Banff. Image courtesy of Travel Alberta
Banff
One of the world's most breathtaking mountain destinations, Banff is a little like stepping into a real-life snow globe. Home to three area ski hills – Banff Sunshine Village, Lake Louise Ski Resort and Mt. Norquay – it's famous for its 'champagne powder' snow and offers a total 7,700 acres of skiable terrain with runs ranging from easy slopes to big mountain bowls. Some of our packages include a SkiBig3 pass, designed to immerse the snow enthusiast in the best of Banff National Park's ski culture. Let pro guides help you locate the best runs and powder, all while sharing the history and culture of the three resorts in the park.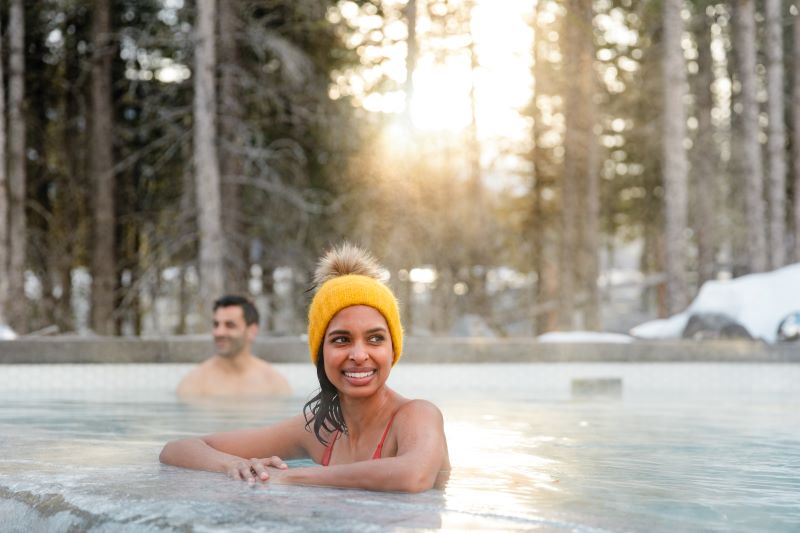 Banff Upper Hot Springs. Image courtesy of Travel Alberta
Similar to Jasper, you don't need to be big on downhill sports to enjoy all that Banff has to offer. Take your family toboganning at Mt. Norquay's snow tube park, or go cross-country skiing on an extensive network of trails revealing many of Banff's best winter landscapes and views. Dog sledding has been adopted here as a popular recreational activity, as has sightseeing from the top of the Banff Gondola where you can see six mountain ranges, the Bow Valley and the town from Sulphur Mountain.
To warm up after a day outdoors, be sure to visit Banff Upper Hot Springs. First discovered in 1883 by three rail workers, the natural hot springs is one of nine on the northeast flank of Sulphur Mountain. These days, a full commercial operation has been established so you can sit in the pools, watch the snow fall and relax while reaping the benefits of the mineral-rich springs' soothing and healing properties.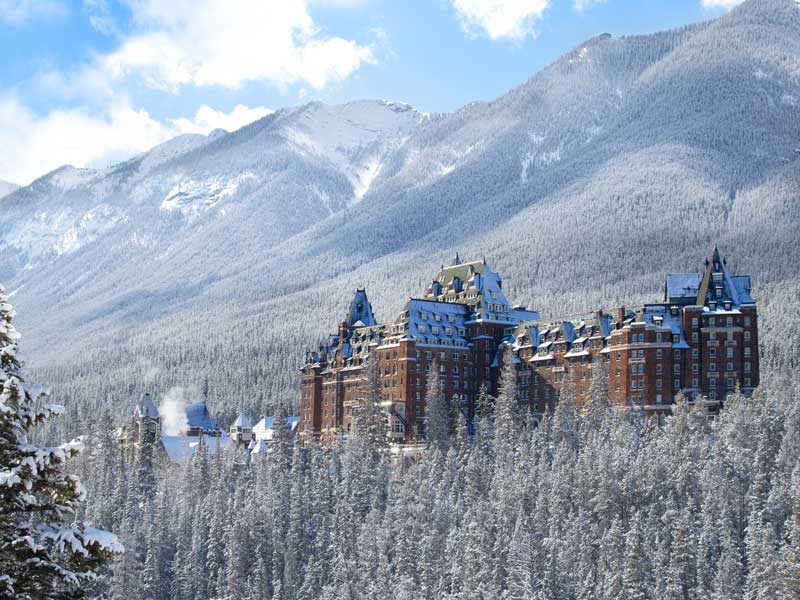 The Fairmont Banff Springs Hotel. Image courtesy of Fairmont Banff Springs Hotel
Again, at the end of the day we have properties in Banff that we highly recommend. Canada's 'Castle in the Rockies', the Fairmont Banff Springs Hotel, is one of our top picks for any vacation, alongside Banff Caribou Lodge and Brewster's Mountain Lodge, dependent on your budget. Other options include the Moose Hotel and Fox Hotel & Suites, which has a cool Cave and Basin-themed indoor hot pool that's open to the elements through an opening in the roof.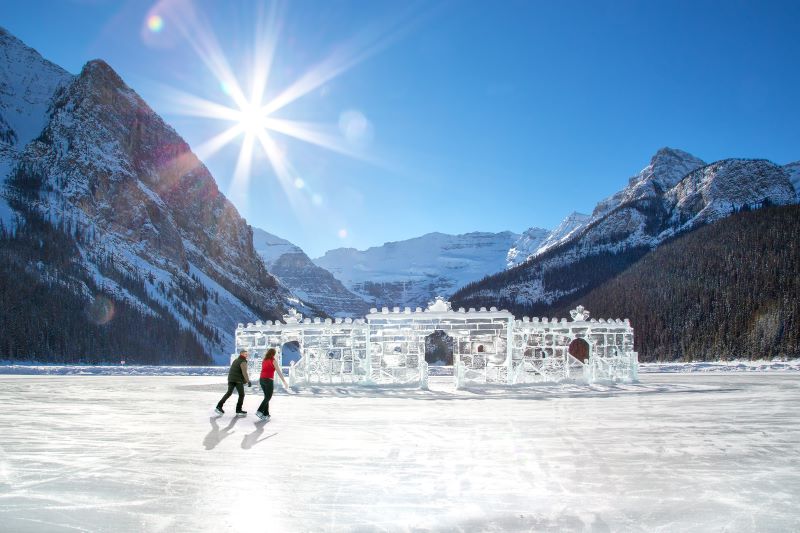 Skating on Lake Louise in winter. Image courtesy of Fairmont Chateau Lake Louise
Lake Louise
World-famous Lake Louise is just as stunning in winter as it is in summer, yet it hardly draws the same size crowds (which if you ask us, is a huge benefit)! While the thought of it typically conjures images of turquoise waters overlooked by snowy peaks, in winter it freezes over completely and plays host to an ice-carving competition, horse-drawn sleigh rides and skating like a true winter wonderland should.
The annual Ice Magic International Ice Carving Competition will take place from January 19-30, 2022, and draws incredibly talented carvers from all over the world to create sculptures by hand. Walk amongst an amazing ice castle, creatures, wildlife and other unique sculptures as you skate around the lake, or head into the Fairmont Chateau Lake Louise to warm up with their famous afternoon tea.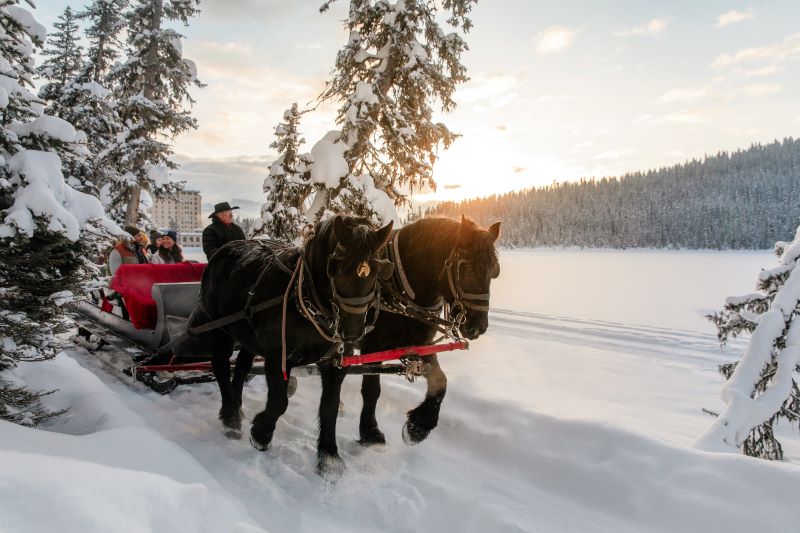 Sleigh ride at Lake Louise. Image courtesy of Travel Alberta
If you're not visiting in January or you're looking for another way to fill your days at Lake Louise, snowshoeing is a great choice for families, friends and couples alike. Both easy to learn and allowing access to some of the most beautiful landscapes and views around, prime snowshoeing season runs from late December to early April and the Ink Pots via Moose Meadows trail is a fantastic choice as it takes you through dense forest to brilliantly colored mineral springs in an open meadow.
Another option that runs through the winter is the classic horse-drawn sleigh ride around Lake Louise. Hugging the edge of the frozen lake, the trail traces a path beneath vast glaciers and craggy peaks as the horses maintain a steady and smooth rhythm through the silent landscape. The sound of jingling sleigh bells and the sights of the magical landscape are bound to make you feel like you're a character in your very own winter fairytale!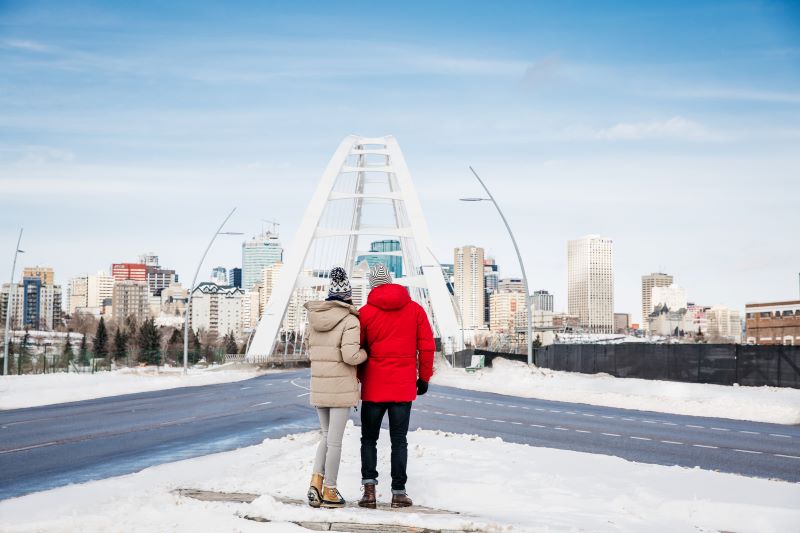 The Walterdale Bridge in Edmonton. Image courtesy of Tourism Edmonton
Edmonton
Throw on some warm layers, and don't forget your mittens! Yes, winter in Edmonton is chilly, but it most certainly isn't boring. Here, winter festivals like Silver Skate, Flying Canoe Volant, Ice on Whyte and Deep Freeze keep things hot through the winter months, and activities like snowshoe and segway tours round out your day of exploring Alberta's capital city. From epic folk trails and long-table dinners to a snow-sculpture garden, dance parties and winter games, each festival has its own unique activities and sights to offer, so get in touch with us to learn more.
Like Lake Louise, Edmonton is incredibly popular for snowshoeing. Picture yourself crossing a frozen, snowy lake as the knock-knock-knock of a woodpecker echoes from the forest beyond. If it's daytime, you might get lucky and spot a bison plowing through the snow, or at night, there's prospect of spotting the northern lights. Should you wish, you can strap on a pair of snowshoes and explore Edmonton's vast and glorious river valley. At 22 times the size of Central Park and boasting over 150 kms of trails, it's the perfect destination to spend a day outdoors.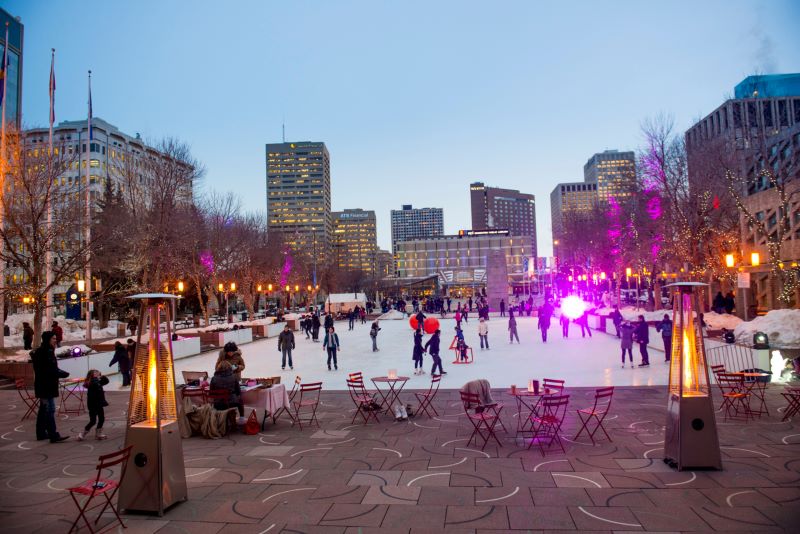 Ice skating in Edmonton. Image courtesy of Tourism Edmonton
Of course, it's worth mentioning that the climate in Edmonton calls for far sunnier days than the west coast of Canada, and that means segway tours stay popular throughout the seasons. Try something new with your family or friends and take a tour through the city. As with snowshoeing, you can also choose to venture to the river valley where you'll swap the urban streets of Edmonton for a glittering forest of snow-covered trees.
Should the weather take an unexpected turn or the West Edmonton Mall be on your bucket list, shopping is another wonderful way to spend your time in Alberta's capital. The largest shopping mall in North America, West Edmonton Mall houses over 800 stores and services including nine attractions, two hotels and over 100 dining venues. Race go-karts, go bowling, play a round of adventure golf or hit the water park. There's even an underground aquarium that houses more than 100 species of fish, sharks, sea turtles, penguins, reptiles, amphibians and invertebrates!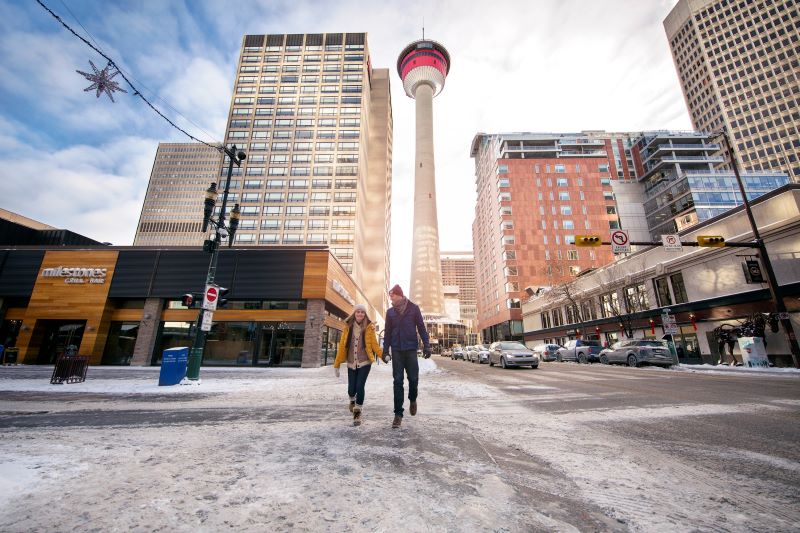 A couple in downtown Calgary. Image courtesy of Tourism Calgary
Calgary
Like Edmonton, Calgary often boasts crisp, sunny winter days, making it another fantastic destination for your next trip to Alberta. Most famous for its Calgary Stampede – an annual rodeo, exhibition and festival occurring each July – you don't need to wait until the summer months to enjoy all it has to offer. In fact, its culture spills over into the colder months with Chinook Blast, a new 6-week winter festival in January and February featuring High Performance Rodeo, a folk music festival and a glowing display of lights, ice carvings and more.
Thanks to its close proximity to the Rockies, Calgary is a fantastic base for exploring Banff and beyond. That said, you don't have to leave the city to get in on all kinds of winter fun! Home to the most extensive urban pathway and bikeway system in North America, it's easy to hit the trails on snowshoes, cross-country skis or fat bike, and the University of Calgary Outdoor Centre offers rentals for beginner and experienced adventurers alike. Even better, cross-country skiing is welcome in any park in the city of Calgary, along with a selection of groomed trails like the East Village Nordic Loop, South Glenmore Park and Bowness Park.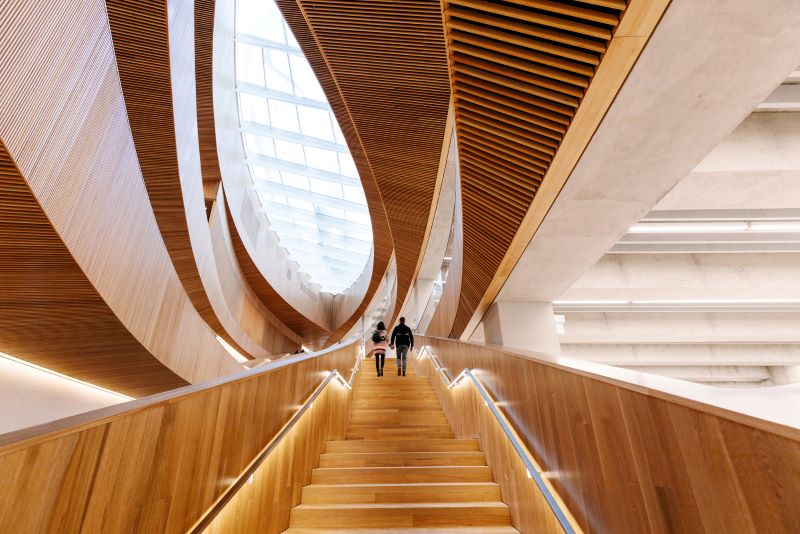 The interior of the Calgary Public Library. Image courtesy of Tourism Calgary
Unsurprisingly, ice skating is another activity that can be enjoyed from right within the city. Calgary floods and maintains seven different outdoor skating rinks, typically open from mid to late December all the way through February. If your visit falls outside of these dates you can also skate at Olympic Plaza, which is a refrigerated ice surface and often open between mid-November and mid-March.
If you'd prefer to take a break from these exhilarating activities, there are a number of attractions within Calgary both inside and outdoors. Visit Studio Bell, the National Music Centre of Canada for hands-on instrument areas, costume displays and concerts, or visit the impressive Calgary Public Library for a fix of incredible architecture and design. The Calgary Zoo is another popular choice for families to view over 1,000 different animals, or you can meet beautiful wolfdogs (domestic dogs that have characteristics like a wolf) at the Yamnuska Wolfdog Sanctuary.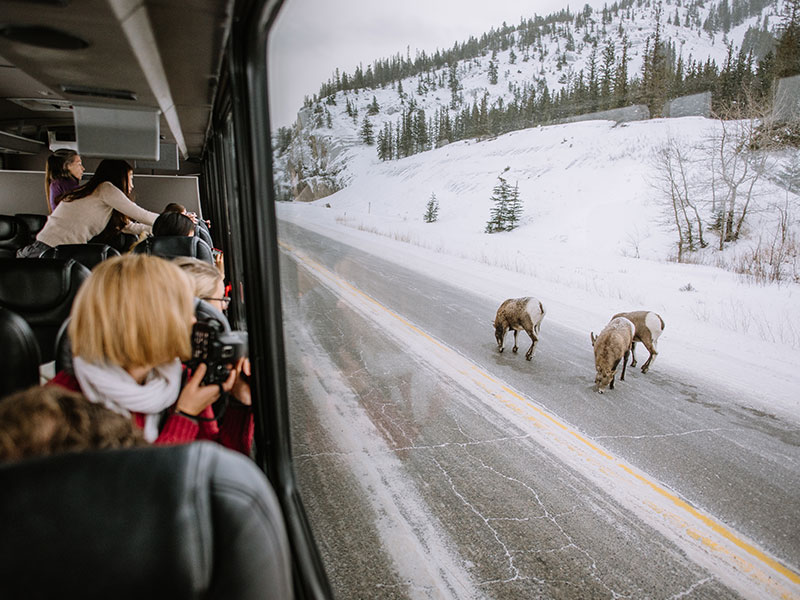 Wildlife viewing with Sundog Tours. Image courtesy of Sundog Tours
What's the best way to get around?
The best way to arrive to the Canadian Rockies is by rail, and VIA Rail has a wonderful overnight route between Vancouver and Jasper. All of our packages come with your own sleeper berth to cozy up in, however if you want to upgrade to Prestige Class just let us know! While Sleeper Plus Class has two comfortable lounge chairs that get turned into bunks by night, Prestige Class has a modular leather sofa that turns into its own double bed. That, and you'll have a personal concierge, flat screen TV with a selection of movies and a private washroom and shower. Both classes include gourmet, chef-prepared meals served in the dining car.
Winter roads in Alberta and the Rockies can be full of snow and ice, so it's best to leave driving between towns to the pro's. Luckily, Sundog Tours has a large range of luxury vehicles on offer, and transfers can be arranged from the airport or train station to your hotel and between Edmonton, Calgary, Banff, Jasper and Lake Louise. Book a private sedan or SUV with a driver guide or board a comfortable bus with large picture windows. Your driver will be sure to share interesting facts about the region, and stop for sightseeing at picturesque locations and whenever wildlife makes an appearance.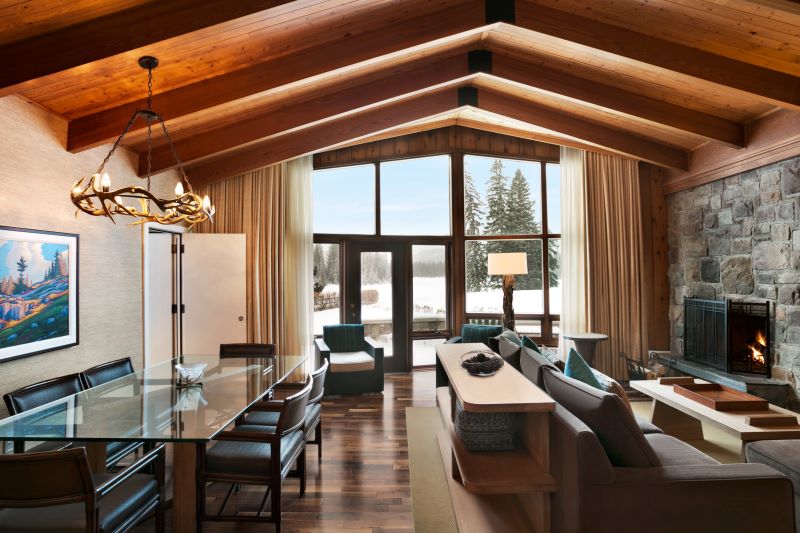 Interior of the Fairmont Jasper Park Lodge. Image courtesy of Fairmont Jasper Park Lodge
Where are the best places to stay?
While we've already mentioned a number of our preferred properties in the Rockies, the list of places we recommend depends largely on your budget and interests. We have an enormous range – from the castle-like Fairmont properties and remote lodges to urban city hotels and spa retreats – but be sure to consider Fairmont Jasper Park Lodge, Fairmont Banff Springs Hotel, Fairmont Chateau Lake Louise, Fox Hotel & Suites, Banff Caribou Lodge, Elk + Avenue Hotel and Mount Royal Hotel.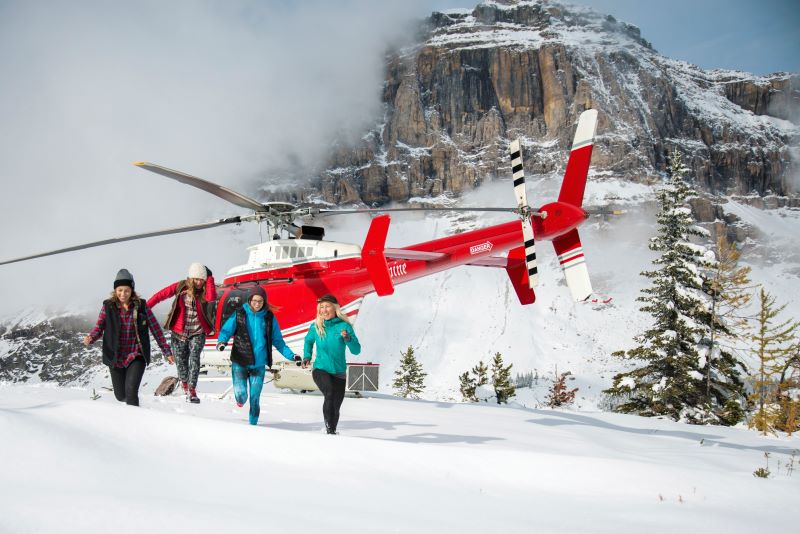 Friends on a helicopter tour in Alberta. Image courtesy of Travel Alberta
How far in advance should I book?
When it comes to booking a vacation in the Canadian Rockies, the earlier you book, the better. Choice of tours, hotels and train classes gets more and more limited the closer it gets to your travel dates, so if you want as many options as possible, we recommend getting a quote six months to a year in advance. While we still have some last-minute availability for this winter, now is also a fantastic time to start thinking about your Summer 2022 vacation or even for fall next year. If you have questions, simply get in touch with our talented and knowledgeable Travel Designers. They'll be happy to help you craft your dream vacation to Alberta and the Rocky Mountains!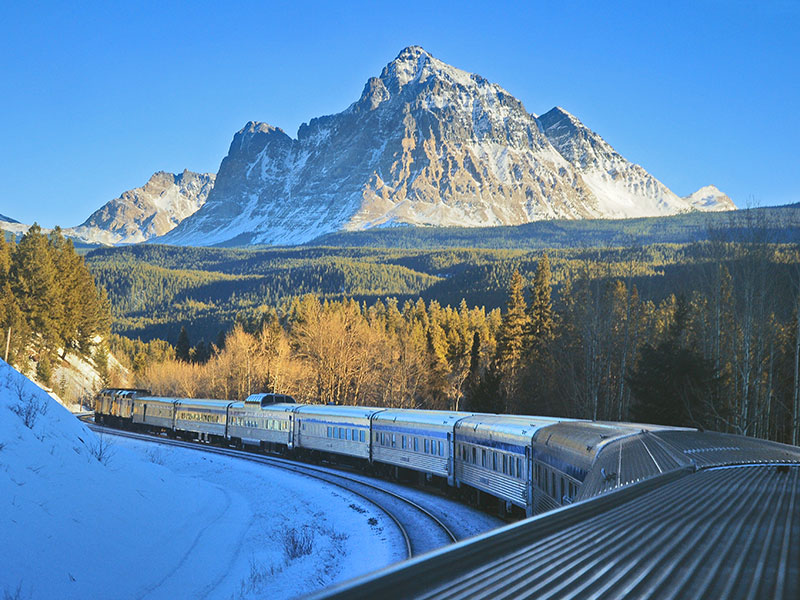 VIA Rail in the Canadian Rocky Mountains. Image courtesy of VIA Rail
Recommended trip itineraries
To get you started, we've rounded up a number of our favorite and most popular Alberta vacations. Click the link for each one to view the itinerary in more detail, or contact our Travel Designers at sales@canadabydesign.com or 1 (800) 217 0973 to book.
Travel Expert Tip: Book an extra night in your start or end city to enjoy all it has to offer! This is the best way to see Calgary and Edmonton.
Edmonton to the Rockies | 10 Days
Canadian Rockies Winter Rail Wonderland | 9 Days
Winter Escapades | Canadian Rockies Winter Train | 8 Days
Luxury Snow Train to the Canadian Rockies | 8 Days
Winter Delights in the Majestic Canadian Rockies | 7 Days
Jasper Ski Package | 8 Days with 5 Day Ski Pass
Christmas in Banff at the Castle | 5 Days