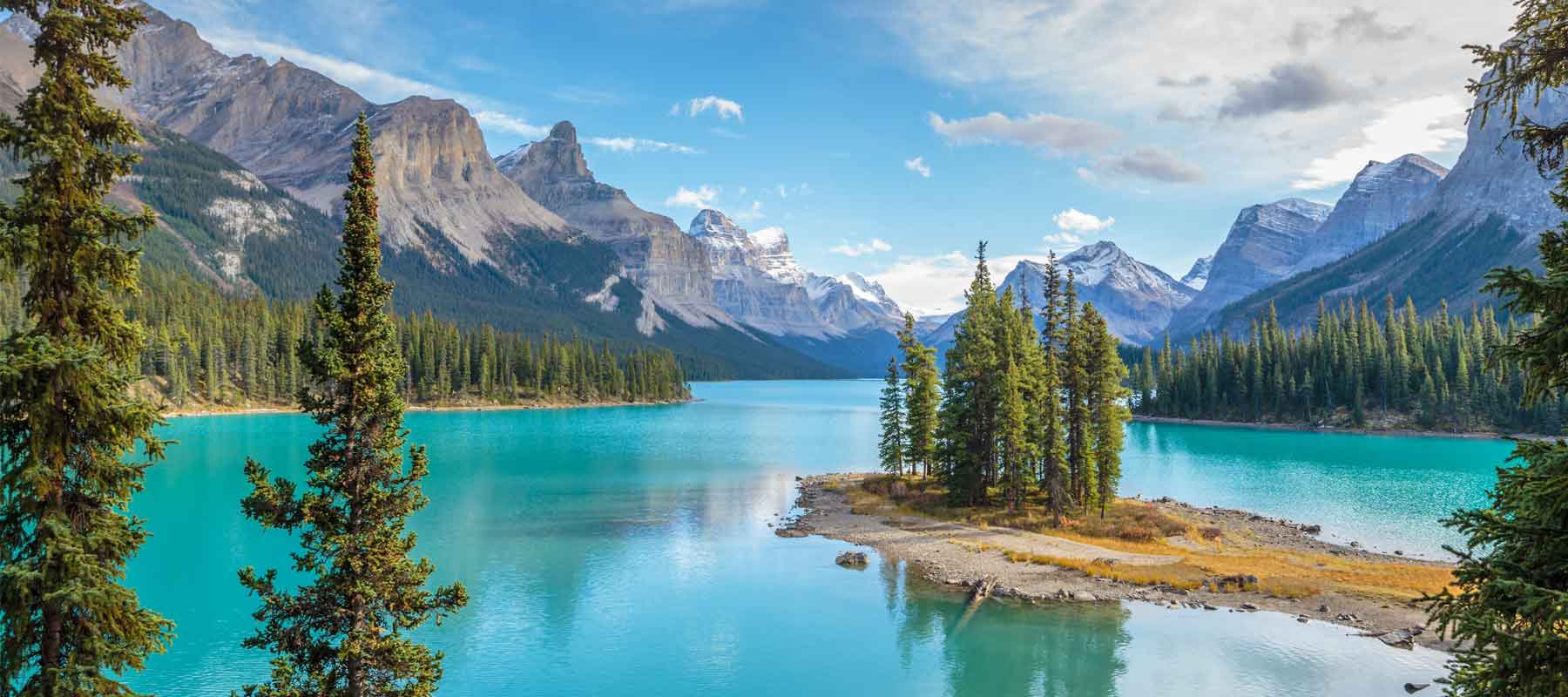 A Jasper vacation is a must-do in Western Canada and we recommend at least a two nights to explore everything it has to offer.
Nestled in the heart of Canada's largest Rocky Mountain park, the town of Jasper offers visitors unparalleled access to some truly breathtaking and pristine wilderness areas.
There are two trains that can get you to Jasper: Rocky Mountaineer and VIA Rail.
Jasper INTRODUCTION
Surrounded by the Canadian Rocky Mountains, Jasper is the heart of Canada's wildest national park.
Here you'll find 11,000 square kms of wilderness, and activities for everyone from adventure seekers to relaxed vacationers. Try white water rafting, horseback riding, cruising down the world's most scenic highway on the back of a Harley Davidson or playing golf on Canada's top resort course. In winter, go soaring in a cable car among towering snow-capped peaks or try ice climbing in Maligne Canyon. Top off the day at Miette Hot Springs, the hottest natural springs in the Canadian Rockies.

Wildlife & SceneryJasper National Park is home to a wide variety of wildlife, including healthy populations of grizzly and black bears, mountain caribou, elk, moose and wolves. It's also has many smaller creatures, like hoary marmots, pikas and Columbian ground squirrels, bald eagles and the endangered harlequin ducks. The best times of year for sightings are from March to June or September to November, depending on the creature. Choose to explore it in your own vehicle or on a guided tour.

Outdoor ActivitiesSummer blue skies and long days bring you a plethora of outdoor activities to enjoy in Jasper amongst the fresh mountain air. Go hiking, mountain biking, cruising on Maligne Lake, white water rafting, boating, paddling, golfing or horseback riding. For amazing aerial views, you can also take a helicopter ride or the Jasper SkyTram, which whisks you up Whistler's Mountain to an elevation of 2277 meters (7472 feet) for stunning vistas over the mountain ranges.
Showing results for Jasper Vacation Packages

"From start to finish it was an ideal trip for us to enjoy Canada scenery, atmosphere and hospitality. "
Manuel United States
"The staff at Canada by Design could not have been more helpful and friendly."
Clive New South Wales, Australia
"Our trip through western Canada planned by Canada by Design was fabulous."
Jeffrey California, United States
"Thanks Canada by Design for putting together and planning such a trouble free, smooth running package."
Lutfu Istanbul
"We had a marvelous trip. Everything fell into place."
Anne New Jersey, United States
"I highly recommend this company, They will tailor a trip to meet individual needs."
Mel New Zealand
"This was an A++ experience! I'll definitely use Canada by Design for our next trip to Canada."
Kathleen Texas, United States
"Thank you so much for a wonderful vacation that created memories for our lifetime! You did a great job!"
Pam Illinois, United States
"It was such a relief to know that we could trust Canada by Design before and during our trip."
Vered Mei-Tal Lutherville, United States
"We came back with many happy memories and beautiful photos of your breathtaking country."
Johanna Oswald Little Rock, AR, United States