With Canada home to 60 percent of the world's polar bear population, there's simply nowhere better to go for polar bear viewing tours. A trip to Churchill, Manitoba will find you within mere feet of these curious and fascinating animals, traveling aboard a specially-built Tundra Buggy or on foot.
A small, northern community with plenty of character and history, Churchill has so much more to offer than just its bears. Let the local Indigenous culture transform you through dog sledding, chatting with a naturalist guide or perusing the Eskimo Museum. Then at the end of the day, wrap up in the cozy comforts of a lodge for a hearty meal, conversation with fellow travelers and perhaps a little Aurora viewing.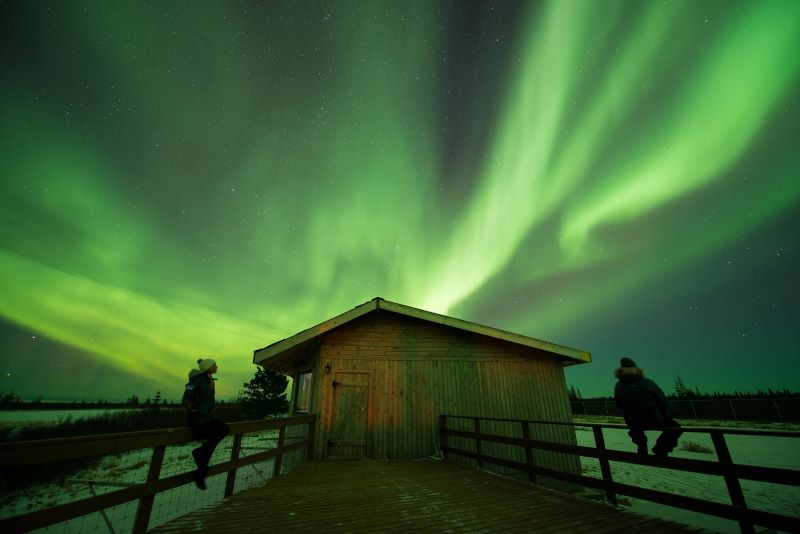 The Aurora over Churchill, Manitoba. Image courtesy of Churchill Wild and Columbia Sportswear
Where do polar bears live?
The most straightforward answer to this question is that polar bears live in the Arctic. They rely on sea ice to access their primary source of food (seals) and are also known to feed on whale carcasses, seaweed, berries and sometimes land animals like arctic fox and geese.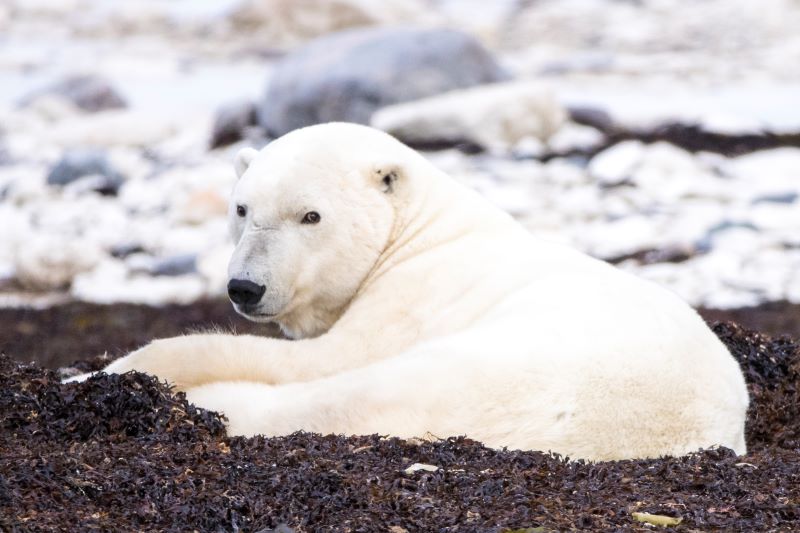 A polar bear lying in a bed of seaweed. Image courtesy of Travel Manitoba
Are there polar bears in Canada?
As mentioned in our intro, there are many polar bears in Canada. In fact, Canada houses 60 percent of the world's polar bear population, so about 16,000 bears. While they inhabit ice-covered regions from the Yukon and the Beaufort Sea in the west to Newfoundland and Labrador in the east, the small town of Churchill has been nicknamed the 'polar bear capital of the world' and is by far the best place to see them.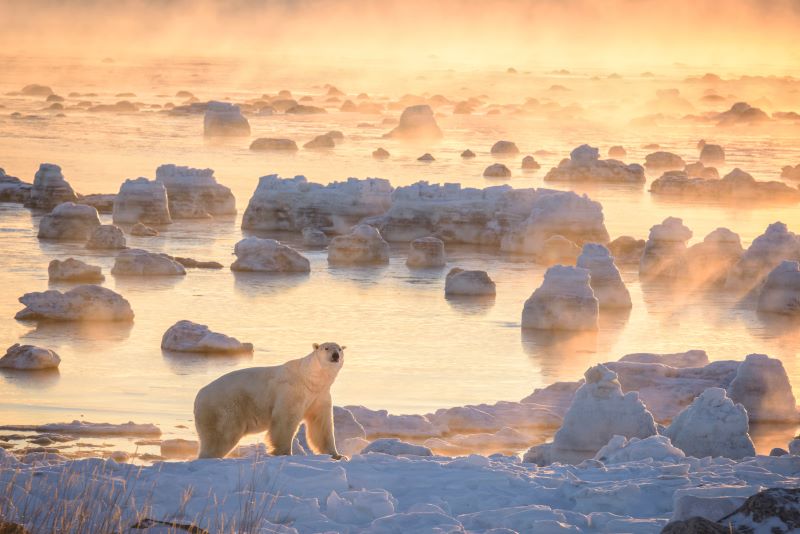 A polar bear on the edge of Hudson Bay. Image courtesy of Churchill Wild and Rick Beldegreen
Where is Churchill Canada?
Churchill is located in the province of Manitoba, squeezed between Saskatchewan and Ontario and north of Minnesota and North Dakota. It's northeastern border meets the chilly waters of Hudson Bay, where the polar bears wait for freeze-up to begin their annual seal hunt. It's on this border with the bay that the remote town of Churchill is located, about 625 miles from Winnipeg or 87 miles from Nunavut.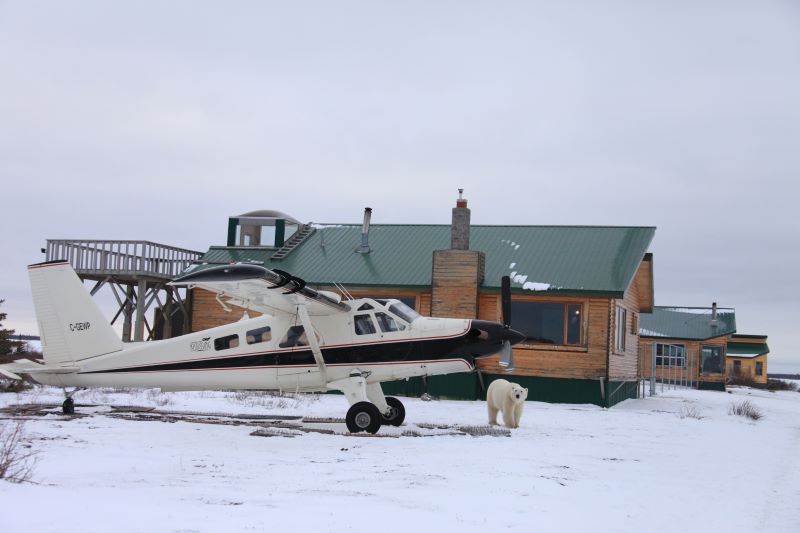 A small plane outside Dymond Lake Ecolodge. Image courtesy of Churchill Wild and Dafna Bennun
How to get to Churchill Manitoba
This is a question we get asked often, and the good news is we can make it extremely easy! We sell packages that include your flights from Winnipeg, transfers, accommodation and bear viewing so everything is taken care of on your trip. While tours are available in the summer and winter months, today we're sharing a bit about winter -- so read on for a couple fantastic packages and where to stay while viewing the bears.
A curious polar bear at the deck of the Arctic Crawler. Image courtey of Lazy Bear Lodge
On this amazing 6-day adventure, visit the arctic tundra of Churchill, Manitoba, where polar bears roam free and the Northern Lights appear 300 nights of the year. Watch for wildlife like arctic fox, hare and camouflaged ptarmigan, and enjoy activities like cultural tours to historic sites and dog mushing in the snow. You'll have plenty of chances to see the Aurora in action, after which you'll rest your head at Lazy Bear Lodge.
Outfitted with reclaimed timber from a fire in the boreal forest, windows from an 1800's Hudson Bay Trading Post and a massive fireplace, it's the perfect home for your time in Churchill. Plus, it's located on the edge of town which makes visiting museums and other attractions easy.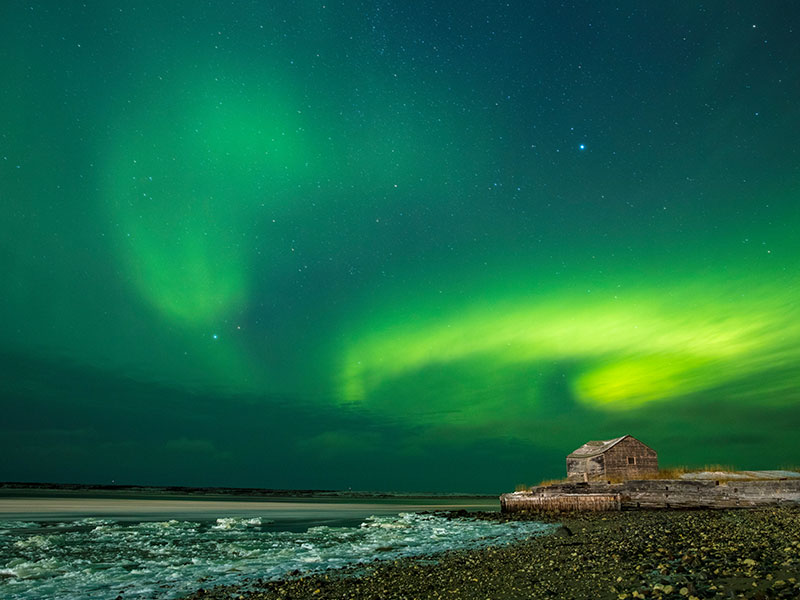 The northern lights in Churchill. Image courtesy of Lazy Bear Lodge

Here's what you can expect on the tour:
DAY 1 Winnipeg | Arrival
DAY 2 Winnipeg to Churchill | Flight
DAY 3 Churchill | Wildlife Viewing Tour
DAY 4 Churchill | Culture & Heritage Tour
DAY 5 Churchill to Winnipeg | Polar Bear Viewing + Flight
DAY 6 Winnipeg | Departure
Inclusions:
2 nights accommodation in Winnipeg
3 nights accommodation in Churchill at Lazy Bear Lodge
Two Arctic Crawler Excursions (lunch, snacks and beverage included)
Cultural and Heritage Tour of Churchill area, including historic Cape Merry and an outside tour of the Polar Bear Holding Facility
Dog Mushing Experience
Meals ( 5 breakfast, 2 lunches, 1 dinner)
Naturalist Tour Guide
Shuttle Service between airport and Lodge upon arrival and departure
Round-trip airfare between Winnipeg and Churchill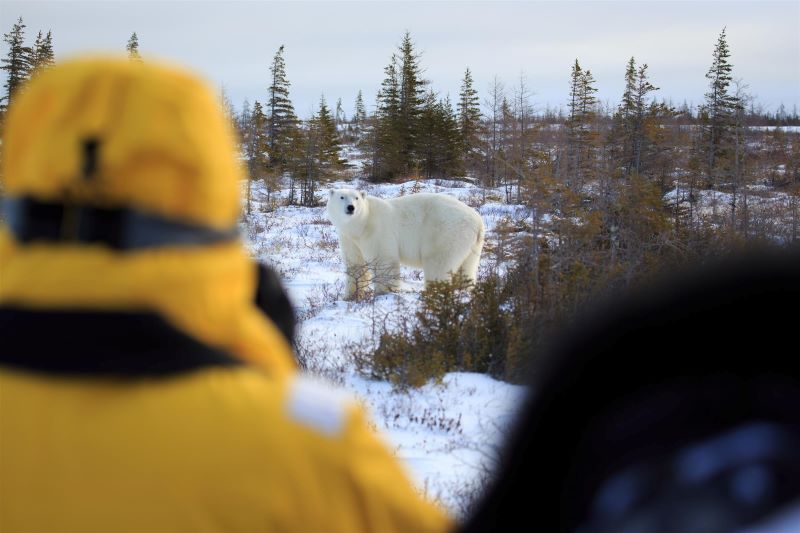 A polar bear walking tour with Churchill Wild. Image courtesy of Churchill Wild and Beatrice Jorns
The Great Ice Bear Adventure combines three nights at Dymond Lake Ecolodge, where many of the Arctic's most famous residents are seen and photographed on foot. To break things up, you'll spend a day on a Tundra Buggy in the town of Churchill, where you can sit back and relax as the bears come to you. The tour takes place during October and November, when polar bears congregate in large numbers.
The population of Churchill skyrockets to approximately 2,500 at this time, but the remote Dymond Lake Ecolodge is located about 30km from the town, which will help you escape the crowds while experiencing the most unique and interactive polar bear experience anywhere.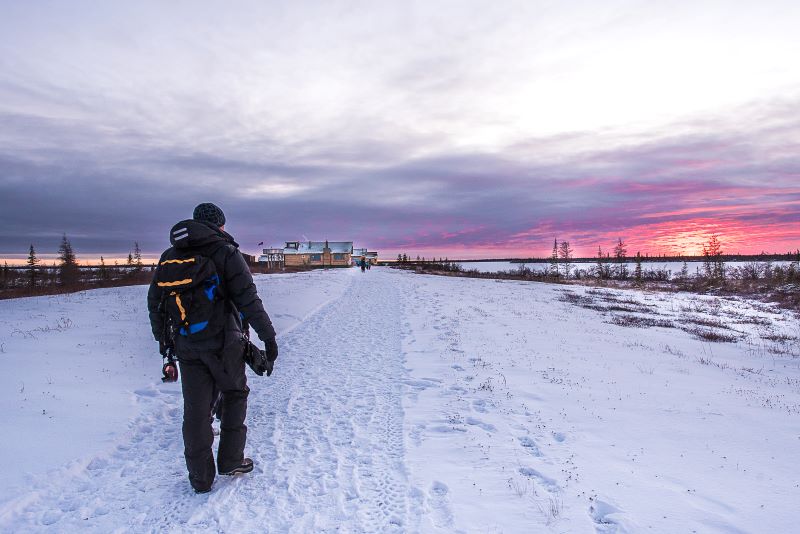 Arriving to the lodge. Image courtesy of Churchill Wild and Christine Hayden

Here's what you can expect on the tour:
DAY 1 Winnipeg | Arrival
DAY 2 Winnipeg to Dymond Lake Eco Lodge, Hudson bay | Flights + Wildlife Safari
DAYS 3 – 4 Dymond Lake Eco Lodge | Polar Bears, Arctic Wildlife & Northern Lights
DAY 5 Say goodbye to the Lodge but not the Bears | Fl
DAY 6 Tundra Buggy Excursion & flight back to Winnipeg | Polar Bear Viewing + Flight
DAY 7 Winnipeg | Departure
Inclusions:
2 nights in Winnipeg at The Grand by Lakeview at Winnipeg Airport Hotel
3 nights at Dymond Lake Eco Lodge
1 night in Churchill at local hotel or B&B
Roundtrip airfare between Winnipeg, Churchill and the Lodge
Activities as noted in the itinerary
5 breakfasts, 5 lunches, 6 dinners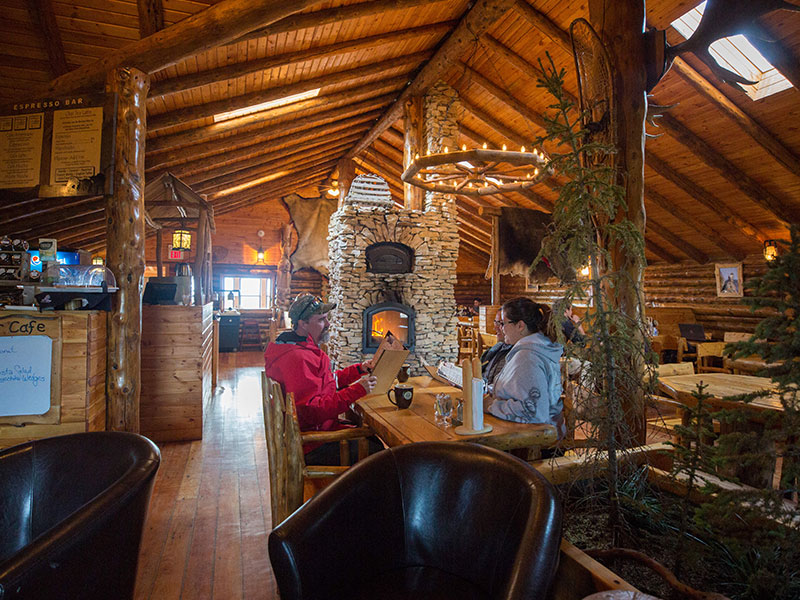 Guests at the cafe in Lazy Bear Lodge. Image courtesy of Lazy Bear Lodge
Where to Stay: Lazy Bear Lodge
Selected by National Geographic Traveler magazine as one of its top hotels, Lazy Bear Lodge is an authentic natural wonder made of reclaimed timber from a fire in the boreal forest. The logs were fit together using hand tools, the windows recycled from an 1800's Hudson Bay Trading Post and the floor from recycled Douglas Fir from the Canadian National Railway warehouse built in the early 1920's.
From inside, enjoy the warmth of the massive stone fireplace and settle into a meal of braised peppered elk, slow roasted Manitoba bison or a boreal salad at the cafe. Your days will be filled with time to view the bears, plus chances to learn about Churchill's culture and heritage.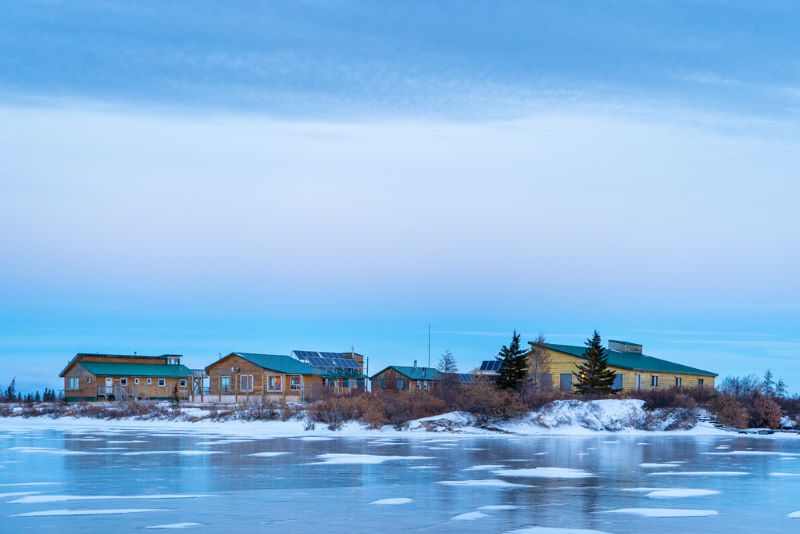 The exterior of Dymond Lake Ecolodge. Image courtesy of Churchill Wild and Scott Zielke
Where to Stay: Dymond Lake EcoLodge
One of several lodges owned by Churchill Wild, Dymond Lake Ecolodge is the prime destination for polar bear viewing in the winter. Located closer to the bears and further from town, the fenced-in compound keeps you safe as you move about and allows you to get within mere feet of the wildlife that stop by to check things out. Some of the polar bears come to visit so often that they've even been named by the staff!
Spend your days walking the tundra to see polar bears, arctic hare, fox, moose and more, then attend information presentations about the wildlife, wilderness and history in the evenings. The tundra-inspired meals at the lodge are so good that it has its own cookbook, and accommodations have cozy fireplaces, decks, a library and gift shop.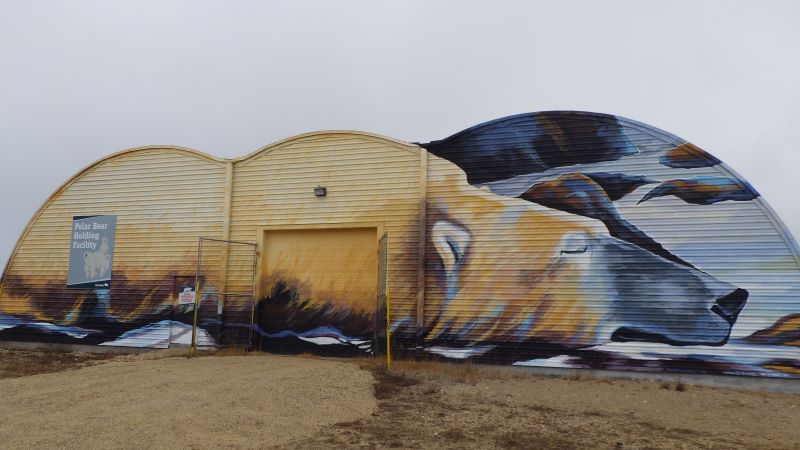 The polar bear jail in Churchill, Manitoba. Image courtesy of Travel Designer Sarah on her recent visit
What else to see and do in Churchill
When you're not walking with the bears or photographing them from a tundra buggy, enjoy all that the town of Churchill, Manitoba has to offer. Wander Cape Merry for a wealth of history and natural beauty, or visit the 'polar bear jail' where troublesome bears are isolated before they can be relocated if they wander too close to town. There's also the Itsanitaq Museum to peruse, and activities like dog mushing to try.
Of course, before and after your time in Churchill you will have time to spend in Winnipeg. The capital city of Manitoba, we highly recommend visiting the Canadian Museum for Human Rights, the Forks Market, the Assiniboine Park Zoo and the Winnipeg Art Gallery.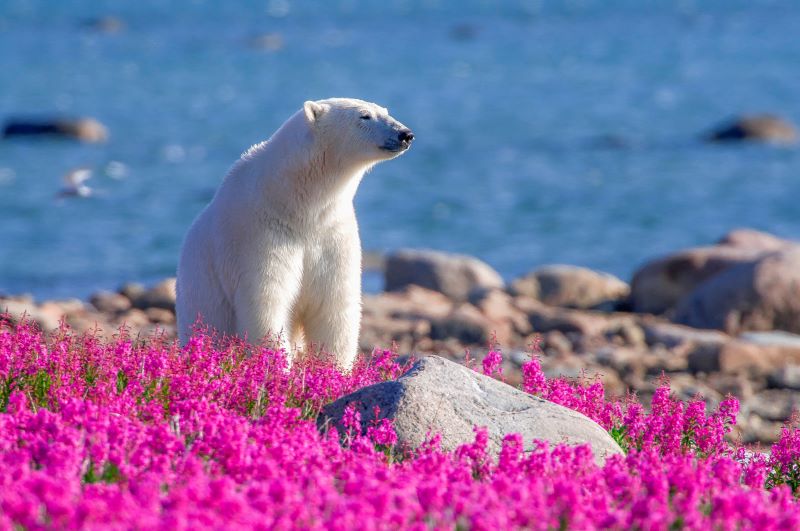 A polar bear amongst the flowers in summer. Image courtesy of Churchill Wild and Dennis Fast

Rather see polar bears and beluga whales in summer? Here are a few alternative tours:
Birds, Bears and Belugas at Seal River Heritage Lodge
Hudson Bay Odyssey at Nanuk Polar Bear Lodge
Ultimate Arctic Summer Adventure at Lazy Bear Lodge
Feeling inspired? Chat with one of our travel designers to create a custom trip that's just for you, or visit our True North Free page for trip ideas to take in the winter. Prefer to simply stay in touch? Subscribe to our newsletter for up-to-date deals, trip ideas and more!