While we recently published a winter guide to polar bear tours in Canada, it's summer that sees the most visitors to Churchill, Manitoba. Under the warming sun, travelers head out on foot, tundra buggy or boat and search the sprawling tundra and waters of Hudson's Bay for polar bears, blossoming wildflowers and even beluga whales.
If you picture polar bears in Canada surrounded by pristine white snow, you wouldn't be wrong—but that's not summer. Churchill, Manitoba's summer season runs roughly from mid-June to mid-September, with an average daily high temperature ranging above 50°F. Sunshine has a distinct effect on the temperature, and in June, the longest day of the year can see 18 hours of daylight.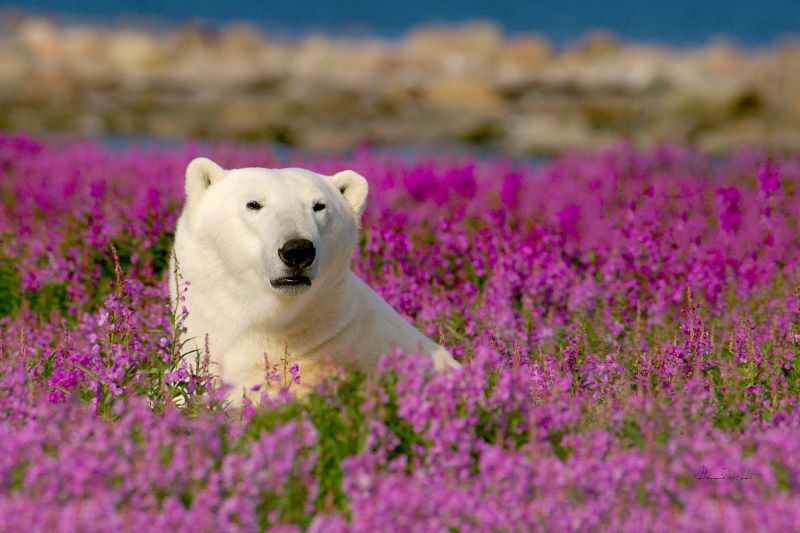 Image courtesy of Churchill Wild and Dennis Fast
How big is the polar bear population in Canada?
The polar bear population in Canada is estimated to be 16,000, which is approximately two-thirds of the world's total estimated population of 26,000. Luckily, Canada is committed to the conservation of this incredible species, and is protecting them through a collaborative approach between provinces, territories and regional wildlife management boards. While the Aboriginal people are still allowed to hunt and harvest polar bears for various benefits, it is strictly done by traditional means and in accordance with sound conservation practices.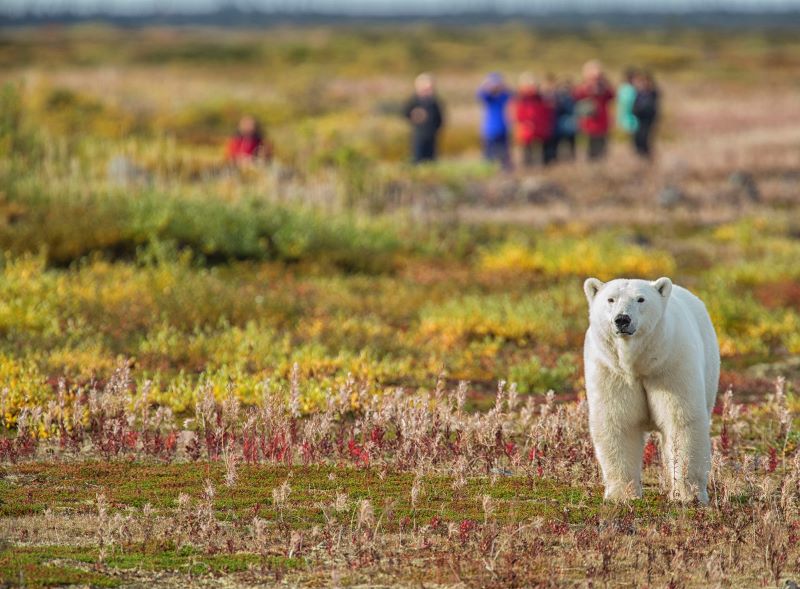 Image courtesy of Churchill Wild and Robert Postma
What can I expect on Churchill polar bear tours?
We're glad you asked! Tours in Churchill, Manitoba are always a once-in-a-lifetime vacation, filled with incredible Canadian wildlife, remote wilderness, authentic activities and local culture. Should you book a polar bear tour in Churchill, Manitoba, the itinerary typically begins in Winnipeg. You can always add an extra day or two here at the beginning or end of your trip to fully enjoy all that the city has to offer, from The Forks Market and Assiniboine Park Zoo to the Canadian Museum for Human Rights (which we highly recommend)!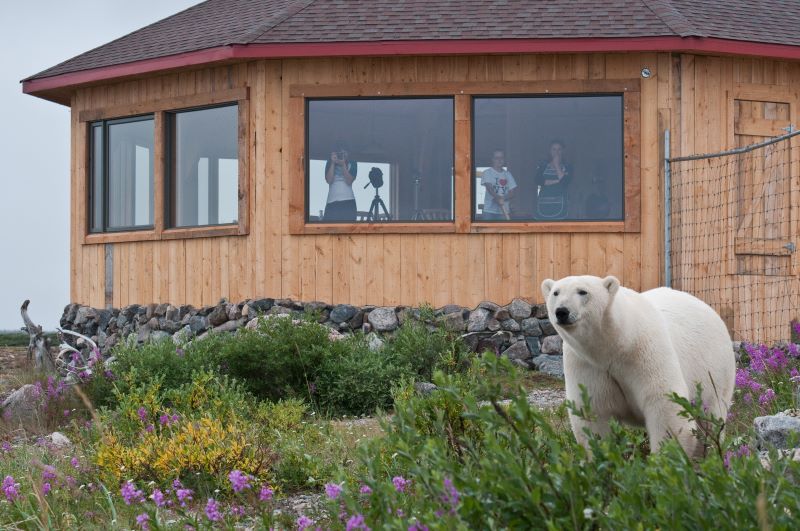 Image courtesy of Churchill Wild and Dennis Fast. Please note that it is the lodge and the guests that are fenced in, not the bears.
Our tours then include your flight from Winnipeg to Churchill, and depending on which tour you book, you'll either stay within the town of Churchill at Lazy Bear Lodge or in a more remote location with Churchill Wild. The latter has three different properties: Seal River Heritage Lodge, Nanuk Polar Bear Lodge and Dymond Lake Ecolodge, each in its own unique location. One of our Travel Designers, Sarah, recently visited Dymond Lake Ecolodge and returned raving about the experience! She also had some amazing photos of polar bears to share.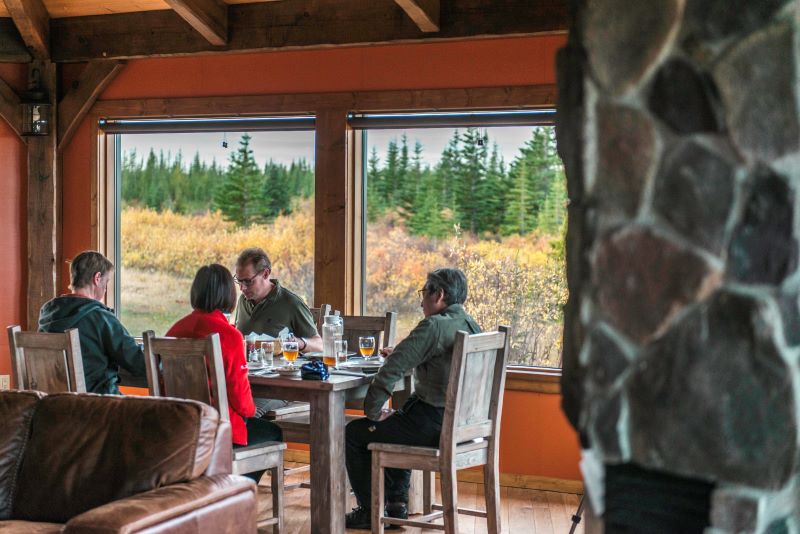 Image courtesy of Churchill Wild and Jad Davenport
Upon arrival, your hosts will provide a tour of the lodge and get you settled into your room. A thorough orientation on travel in polar bear country will be provided prior to any outings, and evenings typically include an informative lecture or slide show presentation narrated by a knowledgeable guide. As you wake in your wonderful lodge each day, you'll head out for polar bear or beluga whale viewing, a heritage tour of the town, guided hike, ATV excursion or marine tour. Polar Bear viewings are done mostly on foot with Churchill Wild, or by Arctic Crawler (a specially constructed all-terrain vehicle) with Lazy Bear Lodge. Evenings are then at your leisure in the lodge, and if you're lucky, you may be awoken by the northern lights at night!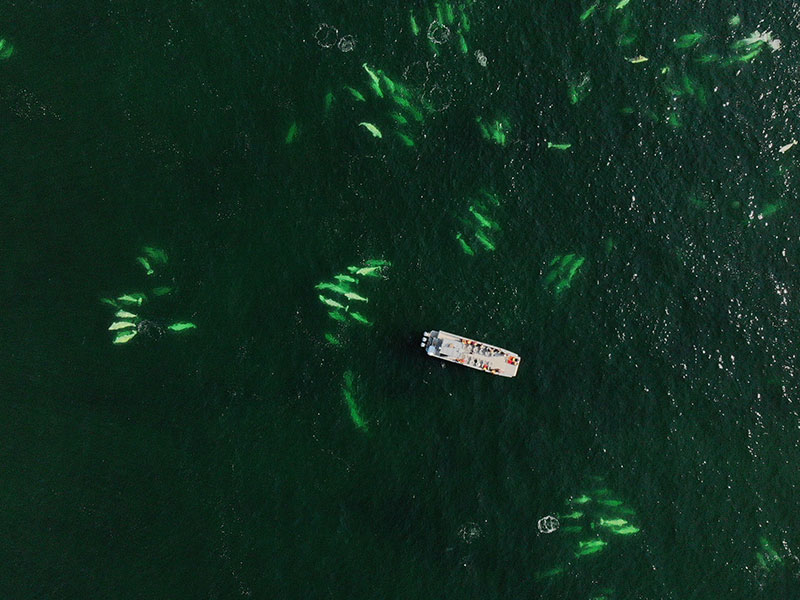 Image courtesy of Lazy Bear Expeditions
Will I also see beluga whales and other wildlife?
Yes! Another huge benefit to visiting Churchill, Manitoba in the summer is the beluga whale watching. From June to September, approximately 3,000 of these uniquely white-colored whales visit the Churchill River basin and approximately 60,000 come into the Hudson Bay area. On any of our summer Churchill polar bear tours, you'll have a chance to take to the water in search of these wonderful whales, and more often than not, you'll find yourself surrounded by the curious creatures!
Of course, there's plenty of other wildlife to see on a trip to Churchill. Arctic hares, showshoe hares, Arctic foxes and moose are some of the more common sightings, plus birds galore such as ptarmigan, Smith's Longspur, Ross' and Bonaparte gulls and jaegers. In fact, it isn't unusual for birders to see 100 species over the course of their adventure!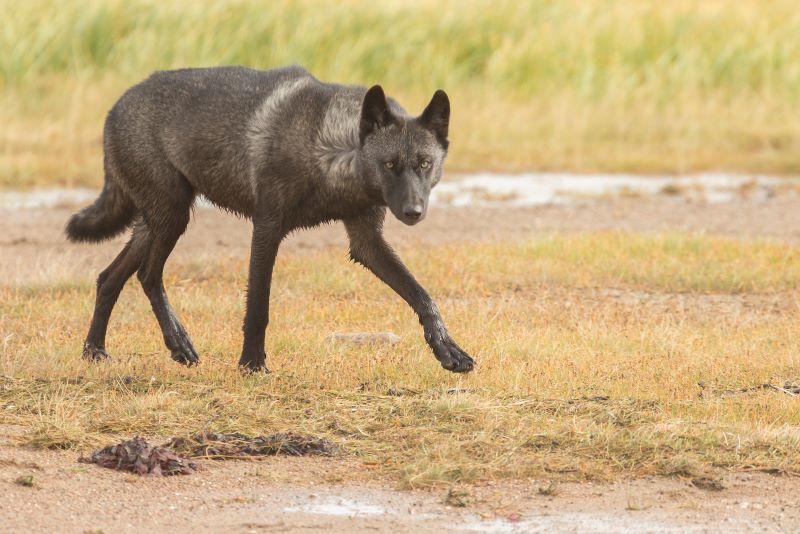 Image courtesy of Churchill Wild and Robert Postma
A heritage tour of the town of Churchill also comes highly recommended, so you can learn about the people and culture of the region while exploring a remote community. The town here is so tight-knit that many residents don't lock their cars or homes, all so people have a safe opportunity to get away from a polar bear if necessary (don't worry, it's rare!). There is also a polar bear jail in the town, where polar bears that are considered troublesome or dangerous are isolated before they can be relocated.
If you take a guided tour of the town, you'll likely also be treated to a few more scenic spots. The SS Ithaka shipwreck and the Miss Piggy plane wreck are popular photo opportunities, and there are countless colorful murals painted around the town for you to discover around every corner.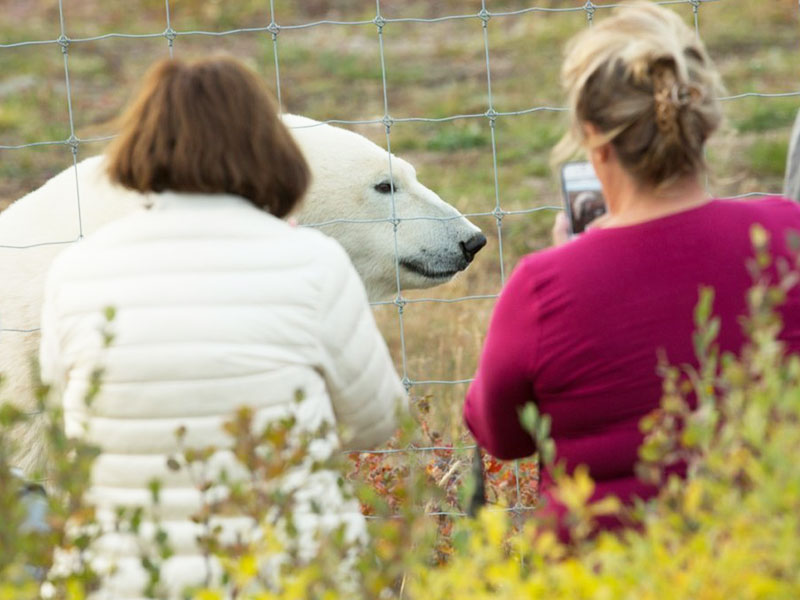 Image courtesy of Churchill Wild and Robert Postma. Please note that it is the lodge and the guests that are fenced in, not the bears.
Where Can I book Churchill polar bear tours?
Right here with us! Our experienced team of Travel Designers are ready to help you plan your trip, and we already have a number of Churchill polar bear tour itineraries to get you started. On our Birds, Bears and Belugas tour you'll spend 2 nights in Winnipeg and 5 nights at Seal River Heritage Lodge, with roundtrip airfaire, activities and meals all included. Even better, gear that's cumbersome to pack (like rain gear and rubber boots) is provided by the lodge. Alternatively, our Ultimate Arctic Summer Adventure has 2 nights in Winnipeg and 4 nights at Lazy Bear Lodge, with shuttle service and tours on Arctic Crawlers and boats all included. Read on for more details of our top summer tours!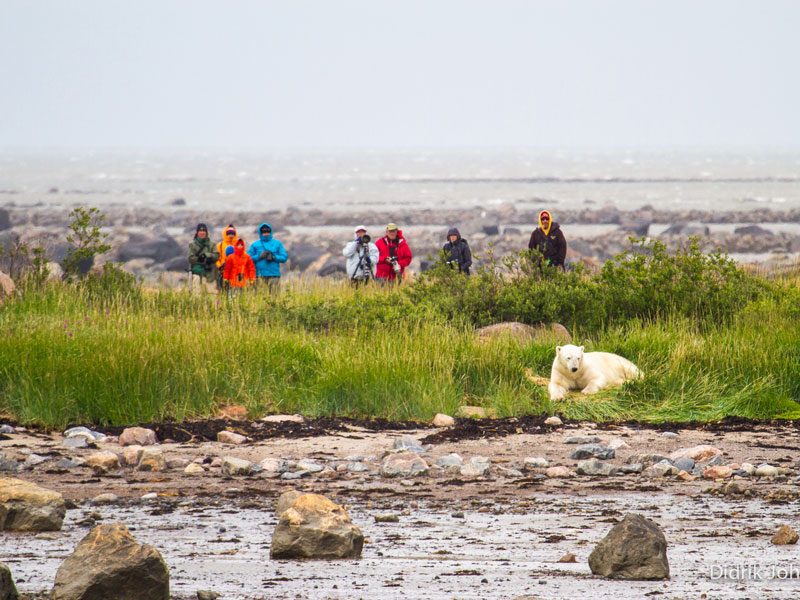 Image courtesy of Churchill Wild
Our Birds, Bears and Belugas tour takes place at Seal River Heritage Lodge, and combines the thrill of beluga whale watching in July and August with the adventure of Churchill Wild's signature "on the ground" polar bear walking safaris. Seal River Heritage Lodge is situated in the vast coastal "polar bear waiting room" on the Hudson Bay coast, and the bears provide fantastic viewing opportunities for us as they wile away the summer waiting for the sea ice to return.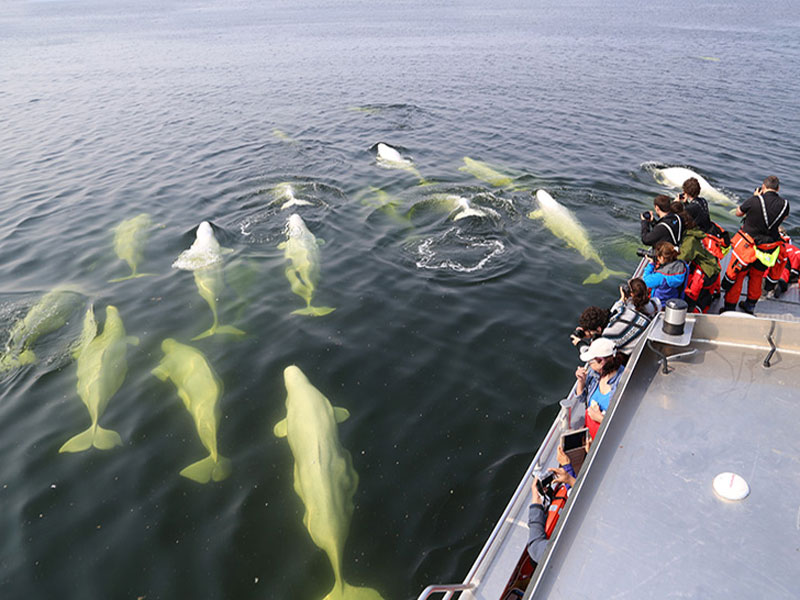 Image courtesy of Lazy Bear Expeditions
With 60,000 beluga whales filling Hudson Bay and polar bears leaving the melting sea ice, summer is an amazing time to visit Churchill, Manitoba. On this once-in-a-lifetime, 5-day adventure, head out with expert guides to see magnificent polar bears, beluga whales, Arctic sik-siks, hares, foxes, seals and over 200 nesting or migrating bird species. Discover Churchill's culture and heritage through a range of fascinating museums, or book additional tours such as kayaking, AquaGliding or dog mushing on wheels. By the end of your stay you'll feel at one with the wildlife, with plenty of pictures to remember it for years to come.
Feeling inspired? Chat with one of our Travel Designers to create a custom trip that's just for you, or visit our Time to Travel page for more trip ideas to take this summer. Prefer to simply stay in touch? Subscribe to our newsletter for up-to-date deals, trip ideas and more!