When you think of Canada, what comes to mind? For some it's memories of their own visit up north, be it rolling through the Canadian Rocky Mountains by train, wildlife viewing from a remote lodge or road tripping along a salty coast.
For many who haven't been, however, it's often the stereotypical 'Canadian' things, such as maple syrup, golden wheat fields, apologies and polar bears. And while we are sorry for the profuse apologies, we aren't for the rest, as some of these stereotypes truly make for the ultimate adventure. After all, what's cooler than sipping a crisp beer with friendly locals in Newfoundland & Labrador, or finding yourself face to face with a massive polar bear in Manitoba? Read on for seven very Canadian trips for the ultimate summer adventure.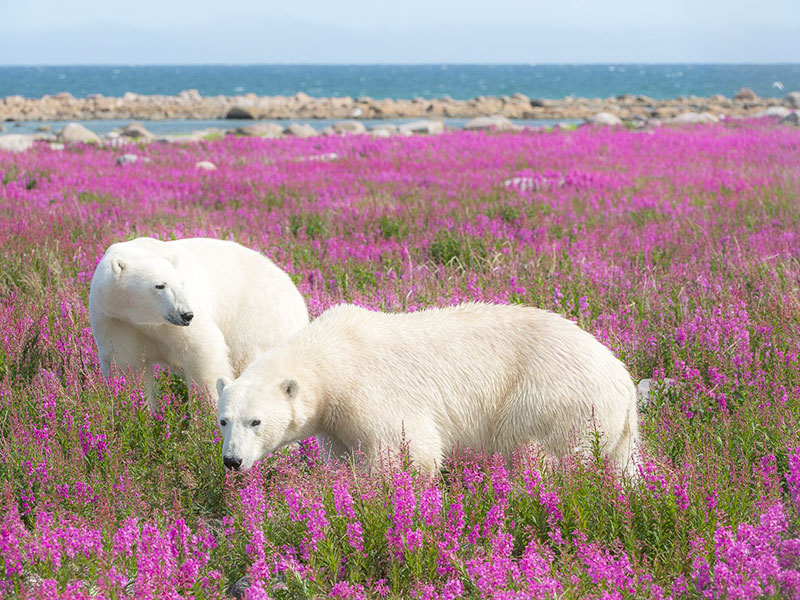 Image Courtesy of Travel Manitoba and Dennis Fast
Churchill, Manitoba
Very Canadian Factor: Polar Bears and Beluga Whales
Sometimes referred to as the "accessible arctic", Churchill, Manitoba, is a small town on the shores of Hudson Bay with a population of less than one thousand. And what it may lack in size it more than makes up for with adventure: wild polar bears wander this little town in droves, beluga whales migrate through every summer in the thousands and the northern lights are visible up to 300 nights of the year.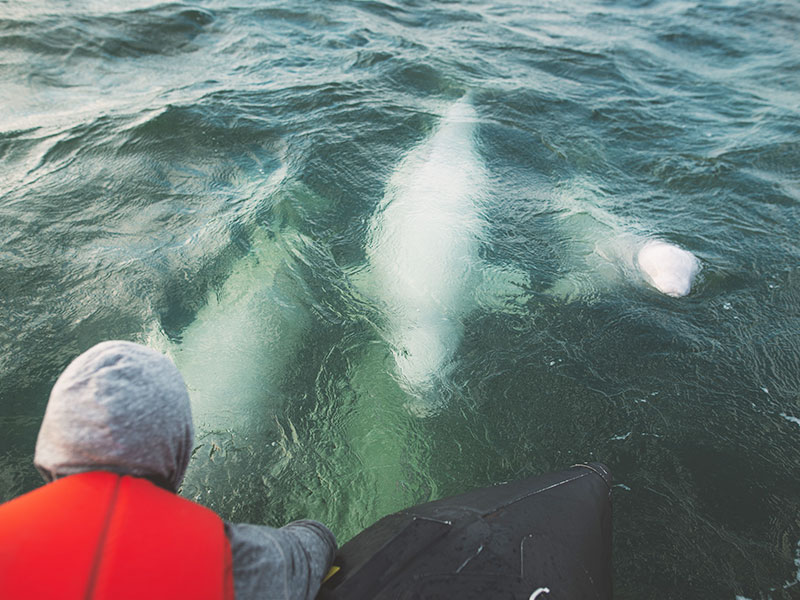 Image Courtesy of Travel Manitoba and CoPilot Collective
It's a common misunderstanding that you can only see polar bears in the winter. It's part of that iconic picture: big white polar bears surrounded by snow and trekking across sea ice to hunt for seals. But in Churchill you can see them in the summer, too. This changes the scenery a bit, placing those big white polar bears in beautiful green meadows with flowering blossoms that surround them in vibrant colors.
The best way to visit Churchill and get up close with these amazing animals is on a trip with Churchill Wild or Lazy Bear Adventures. Both tour companies offer comfortable lodge accommodation – Nanuk Polar Bear Lodge and Lazy Bear Lodge, respectively – in a peaceful setting with delicious meals, knowledgeable guides and adventurous activities. Read on to learn more about our summer Churchill packages: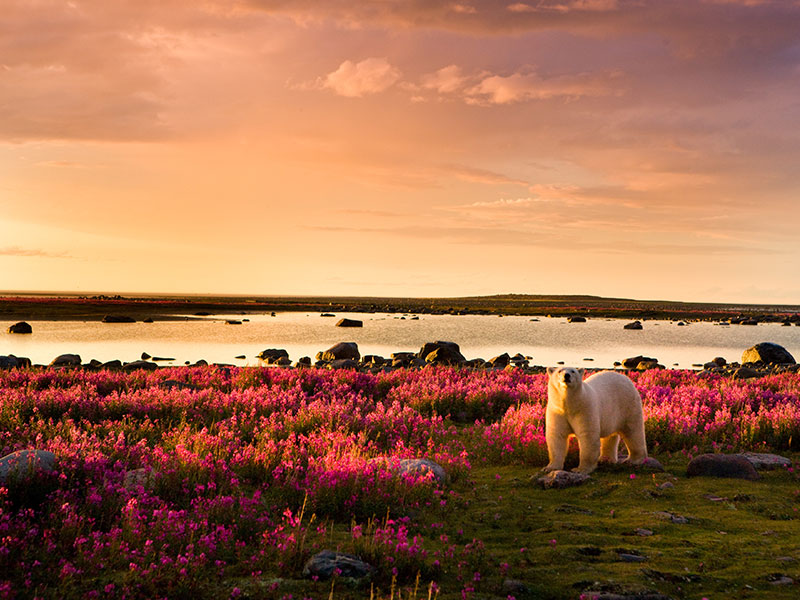 Image Courtesy of Churchill Wild and Michael Poliza
Trip 1: Canada Polar Bear Tour | Hudson Bay Odyssey
Deep in the heart of Canada's polar bear denning territory is the remote Nanuk Polar Bear Lodge. On this 7-day tour, guests will have exclusive access to one of the most pristine wilderness areas in the world, strategically located where the boreal forest ends and the Subarctic begins. Embark on daily excursions with knowledgeable guides to view polar bears, wolves and black bears, co-existing as they have for thousands of years. This tour also includes flights between Winnipeg and Churchill for ease of convenience.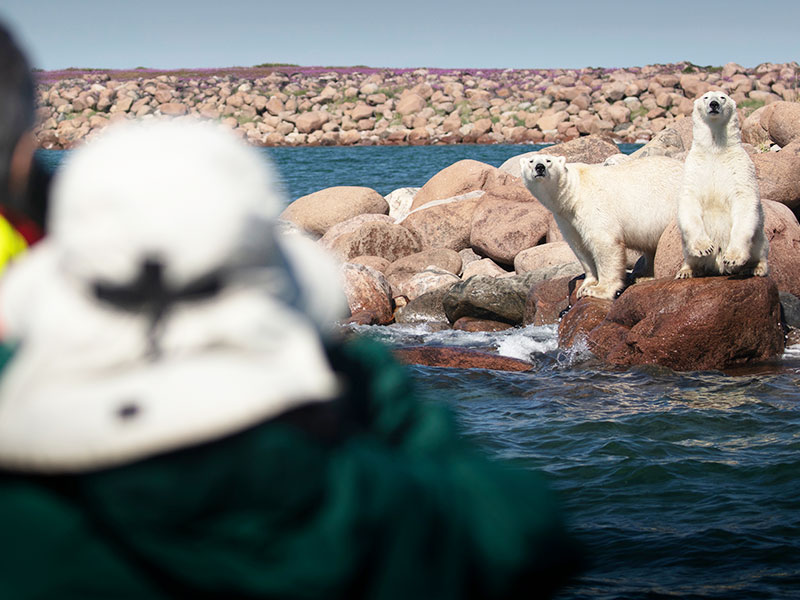 Image Courtesy of Travel Manitoba
Trip 2: Canada Polar Bears & Belugas | Ultimate Arctic Summer Adventure
With 60,000 beluga whales filling Hudson Bay and polar bears leaving the melting sea ice, summer is an amazing time to visit Churchill, Manitoba. On this 5-day adventure, head out with expert guides to see magnificent polar bears, beluga whales, Arctic sik-siks, hares, foxes, seals and over 200 nesting or migrating bird species. Discover Churchill's culture and heritage through a range of fascinating museums, or book additional tours such as kayaking or dog mushing on wheels. Again, flights between Winnipeg and Churchill are included.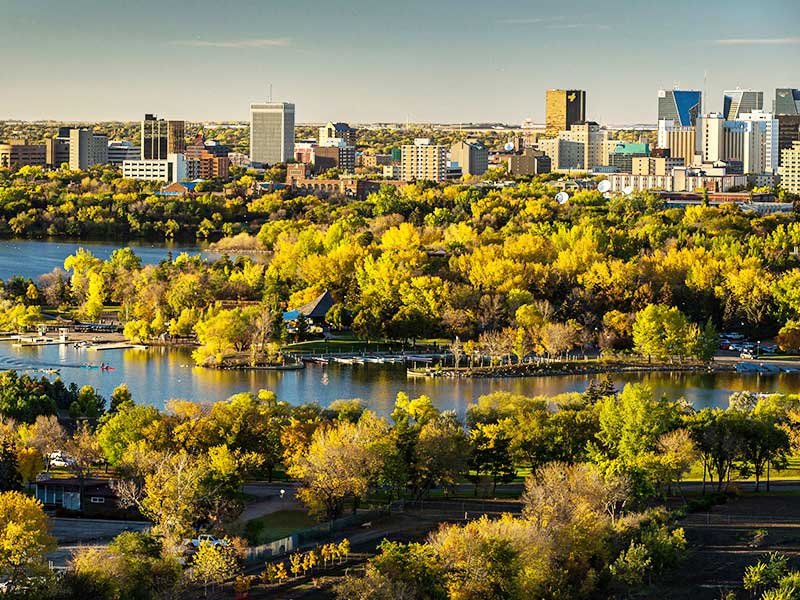 Image Courtesy of Travel Saskatchewan
Saskatoon, Saskatchewan
Very Canadian Factor: Golden Wheat Fields and Beer
A city of vibrancy and wild beauty, Saskatoon is the perfect mix of natural beauty and urban amenities. Located in central Canada and straddling the South Saskatchewan River, it's nicknamed Canada's 'Paris of the Prairies' due to its eight bridges connecting locals and tourists with natural, cultural and culinary delights. From Indigenous history to modern art, prairie fresh ingredients to contemporary cuisine and miles (upon miles!) of riverside trails to storied city streets, it makes for one fantastic summer road trip destination that's different from the rest.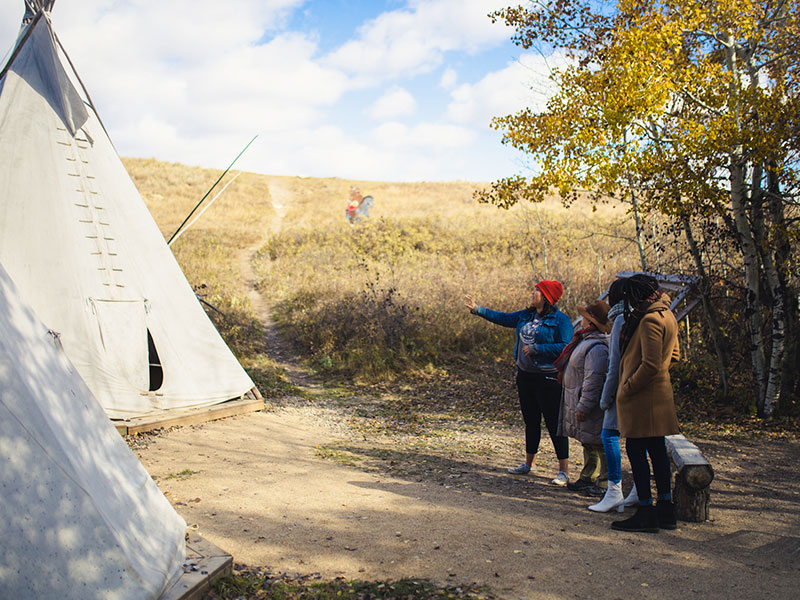 Image Courtesy of Waneskuwin Heritage Park
Though you'll want to rent a car from AVIS to get to Saskatoon, it's easy to get around once you've arrived. Activities like biking, hiking or kayaking abound, and taking a walk along the riverbank trails is a part of daily life. Visit Black Fox Farm & Distillery to sip spirits with third generation farmers, or pop by the Remai Modern for some modern and contemporary art. To learn about Canadian Indigenous culture, a visit to Wanuskewin Heritage Park is not to be missed. Just a 20-minute drive from downtown, this National Heritage site tells the story of 6,000 years of First Nation history through art, exhibits and events.
Of course, there's an easier way to go about planning your trip to Saskatoon than piecing it together yourself. Our team of Canada travel experts have 21 years of experience planning dream custom trips in Canada, and Saskatoon, Saskatchewan, is definitely on our list. Our Golden Prairies and Canadian Rockies Road Trip is one for the books, pairing Saskatchewan with Alberta for the road trip of your summer.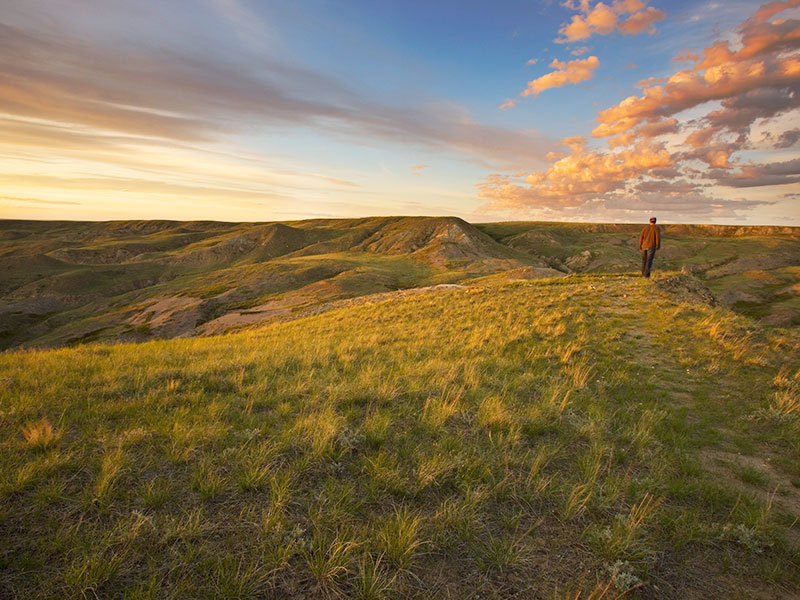 Image Courtesy of Travel Saskatchewan
Trip 3: Golden Prairies & Canadian Rockies Road Trip
On this 17-day road trip, discover the best of Alberta and Saskatchewan – from the soaring, snow-capped Rocky Mountains to the endless golden stretches of the prairies. Explore some of Canada's most incredible contrasts, visiting Calgary, Jasper, Lake Louise, Banff, Drumheller and Saskatoon, a city known for its vibrant natural, cultural and culinary delights. Enjoy digging for Dinosaur bones, sighting wildlife, learning Indigenous history and, in the Rockies, selecting your choice of tours.
Image Courtesy of Newfoundland & Labrador Tourism
Atlantic Canada
Very Canadian Factor: Friendly Locals and Canadian Accents
Oh, Atlantic Canada! Situated on the east coast, Atlantic Canada is made up of the provinces of New Brunswick, Newfoundland & Labrador, Nova Scotia and Prince Edward Island. With over 43,000 kms of coastline, the highest tides in the world, fresh seafood, incredible whale watching and festivals where you can party with the locals, there's something in Atlantic Canada for everyone, all summer long.
The best way to explore Atlantic Canada is by car, and once again AVIS is our preferred rental company of choice. We have ample road trip itineraries that showcase the best of this stunning region, so read on to discover which province piques your interest the most, or get in touch with our expert Travel Designers to connect them all in one trip.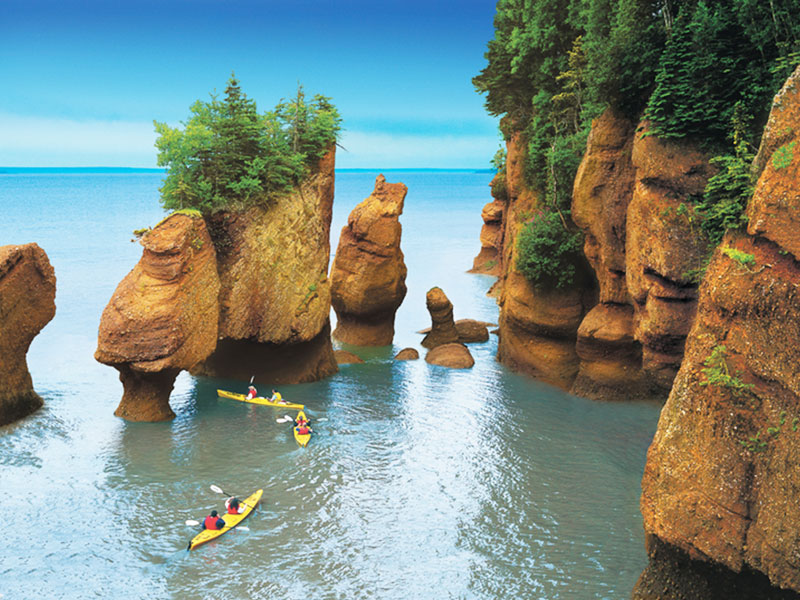 Image Courtesy of New Brunswick Tourism
New Brunswick
The only province in Atlantic Canada with both French and English as its official languages, New Brunswick will make you feel worlds away and right at home all at once. Here, the locals are friendly, the food is tasty and the air is admittedly salty. There's so much to see and do that we could go on forever, but for the sake of the length of this blog post, we'll highlight just a few.
One of the biggest draws to New Brunswick is the world-famous Bay of Fundy. A natural phenomenon shared with Nova Scotia, it's here that you'll find the highest tides in the world where over 160 billion tonnes of seawater rise and lower by 50 feet. At Hopewell Rocks you can walk on the ocean floor at low tide, and kayak up to 50 feet higher at the same spot just six hours later. This is approximately the height of a four-storey building, so it's truly something else!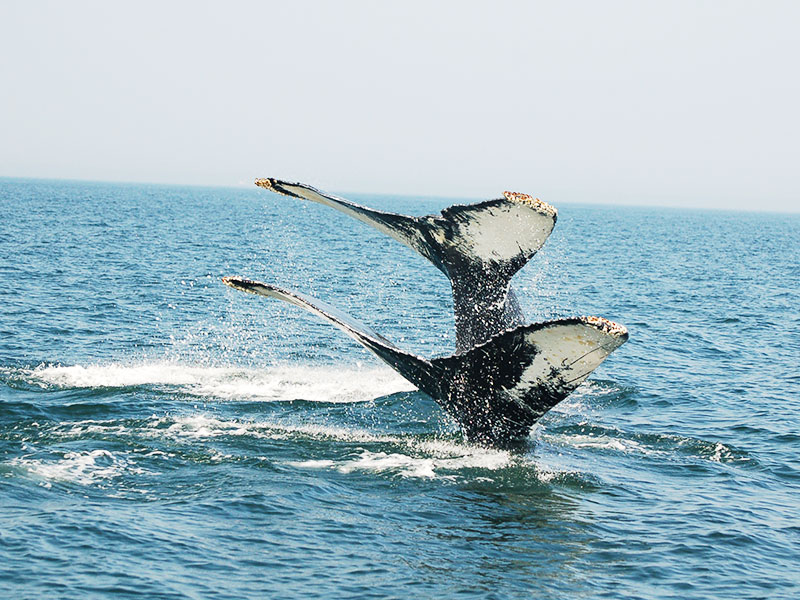 Image Courtesy of New Brunswick Tourism
The Bay is also a lush feeding ground for a variety of whales, including humpbacks, minke, pilot, fin, and the endangered North Atlantic Right whale, with only 400 remaining on the planet. Whale watching season runs from June to October, and it's easy to integrate a boat tour as part of your vacation.
On land, enjoy a variety of festivals from the award-winning Harvest Jazz & Blues Festival in Fredericton to the Acadian Festival in Caraquet. Fredericton is New Brunswick's capital, known for its Historic Garrison District, artists' studios and an outdoor theatre. The most populous city in New Brunswick is Saint John – known for the Reversing Rapids caused by the Bay of Fundy – and Moncton is a history-lover's delight, home to the restored Capitol Theatre and a strong French cultural scene.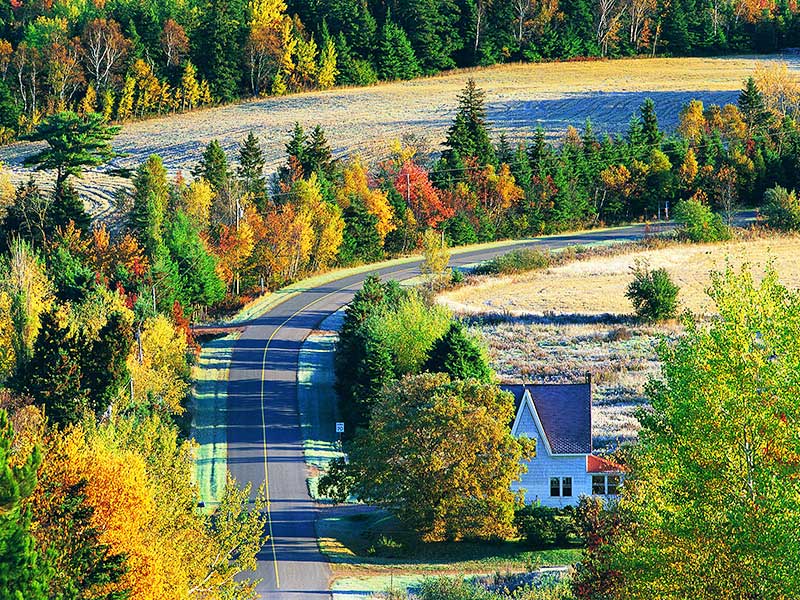 Image Courtesy of Tourism Prince Edward Island
Trip 4: Bay of Fundy, PEI and the Cabot Trail Road Trip
Embrace the beauty of the Canadian Maritimes on this 7-day road trip through spectacular coastal scenery, charming fishing villages and magnificent national parks. Meet the locals, sample fresh seafood and enjoy spectacular coastal drives as you travel from Halifax to Moncton, Saint John, Charlottetown and Baddeck. Highlights include the UNESCO World Heritage site of Lunenburg, Hopewell Rocks and Prince Edward Island National Park. There is also time to drive the Cabot Trail.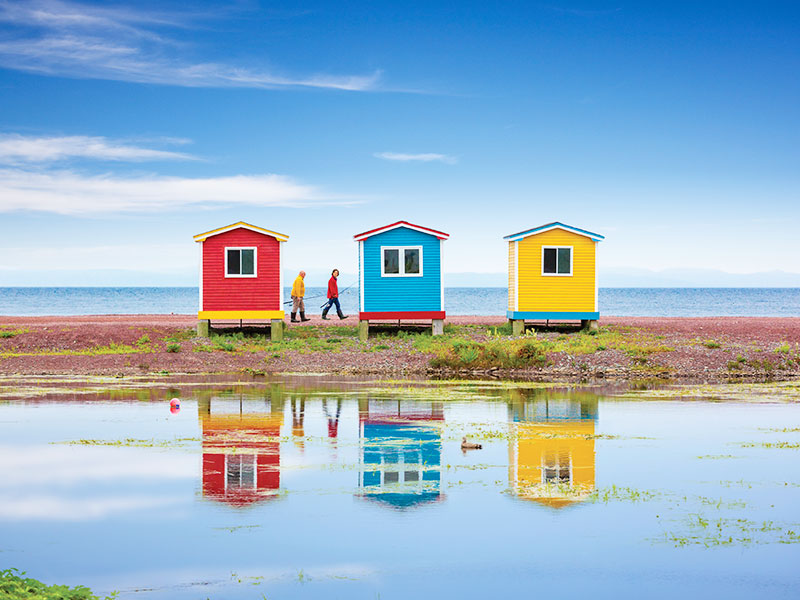 Image Courtesy of Newfoundland & Labrador Tourism
Newfoundland & Labrador
Newfoundland and Labrador make up Canada's most easterly province, best known for its rugged landscapes, icebergs and abundant marine wildlife. The region boasts a colorful past of Vikings, the Beothuk, an Indigenous People who lived on the island of Newfoundland, Basque whalers and a strong dose of Irish settlers. To this day, countless lighthouses still stand testament to the incredible stories of the land.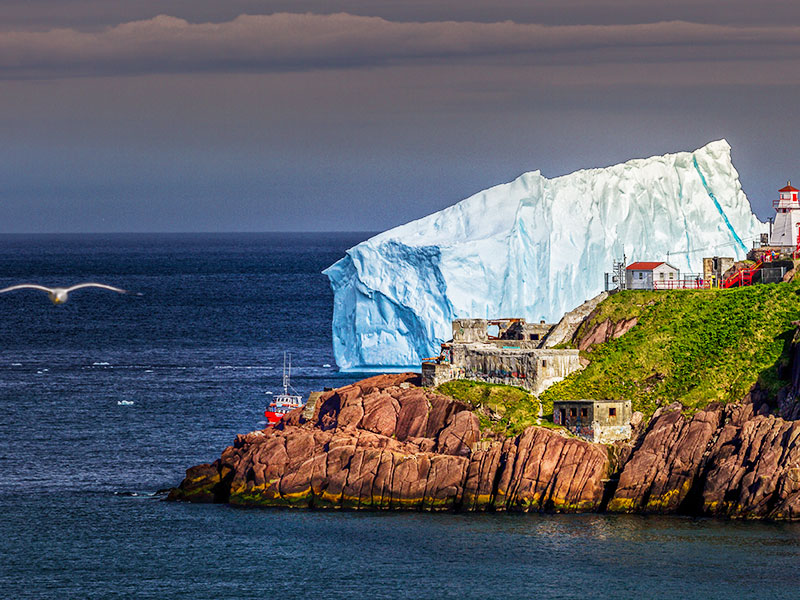 Image Courtesy of Newfoundland & Labrador Tourism
Most famous for its iceberg viewing, catch the best sightings along Iceberg Alley (stretching from the coast of Labrador to the northeast coast of Newfoundland) in May, June and early July. At around 10,000 years old, they typically break off from the coast of Greenland and range in color from snow white to deep aquamarine.
The best ways to watch icebergs are by boat tour, kayak or land, and on the first Friday of each June, the Iceberg Festival starts on the Tip of the Viking Trail. It celebrates the coming of spring in the north and the annual arrival of icebergs. The festival features music, food, entertainment, history, culture and (of course) lots of icebergs!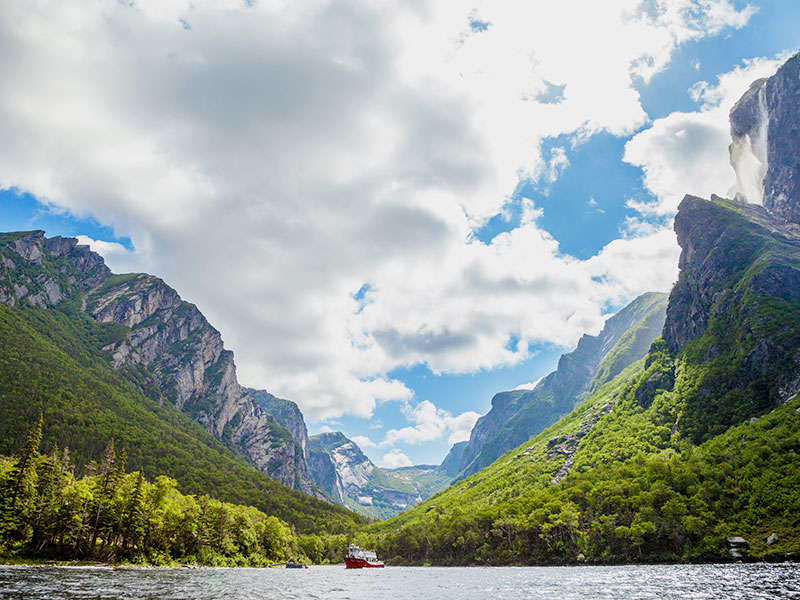 Image Courtesy of Newfoundland & Labrador Tourism
As with New Brunswick, quality wildlife and whale watching tours are also available in Newfoundland and Labrador. From land, visitors can spot puffins, bald eagles, herons, moose, black bears, polar bears, caribou and more, all in their natural habitat. Gros Morne National Park is a great place for sightings thanks to its enormous and dynamic landscape of fjords, mountains, beaches, forests and bogs.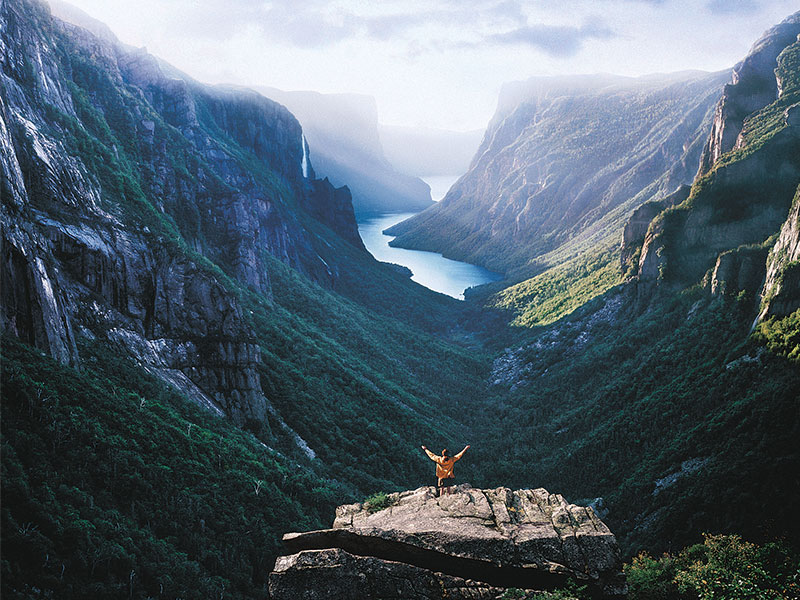 Image Courtesy of Newfoundland & Labrador Tourism
Trip 5: Newfoundland Discovery | Atlantic Canada Road Trip
This popular Newfoundland road trip takes you through Canada's easternmost province. Visit two UNESCO World Heritage sites, uncover fascinating Viking history and learn about the Atlantic way of life from the locals themselves. Along the way you'll encounter abundant wildlife and scenic national parks, plus enjoy a boat trip in Bay Bulls to search for whales and the Atlantic puffin. Visit the colorful clapboard houses of Trinity, marvel at ancient icebergs (May-June) and spend time exploring Gros Morne National Park.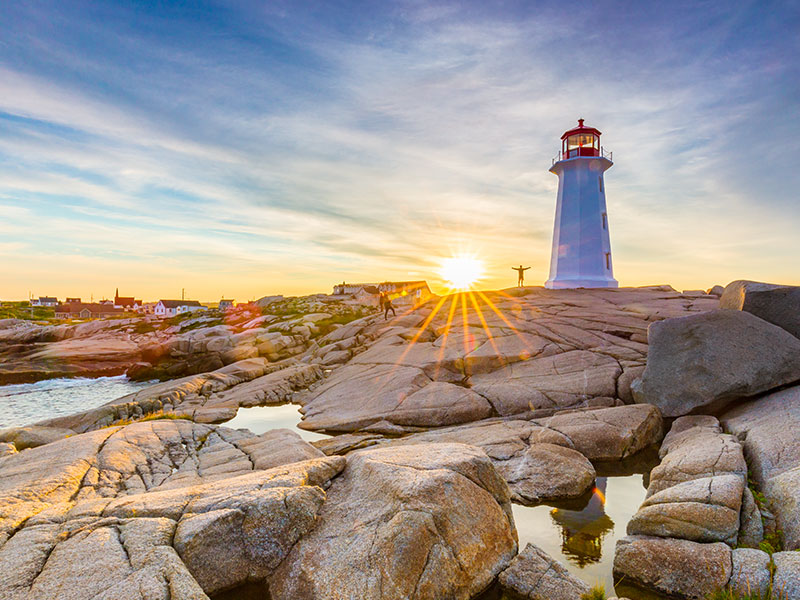 Image Courtesy of Tourism Nova Scotia
Nova Scotia
Though not an island, Nova Scotia extends away from mainland Canada such that it is almost entirely surrounded by water and boasts over 120 accessible beaches. Settled in turn by the French and English, you can't help feeling that the Scottish ancestry is most prevalent – the name itself meaning 'New Scotland'.
Explore Nova Scotia's premier wine, Tidal Bay. As the province's first appellation wine, this crisp white wine pairs perfectly with the seafood the province is known for. Also, be sure to visit one of the many vineyards throughout the Annapolis Valley and across the province that include popular culinary and winery hopping experiences.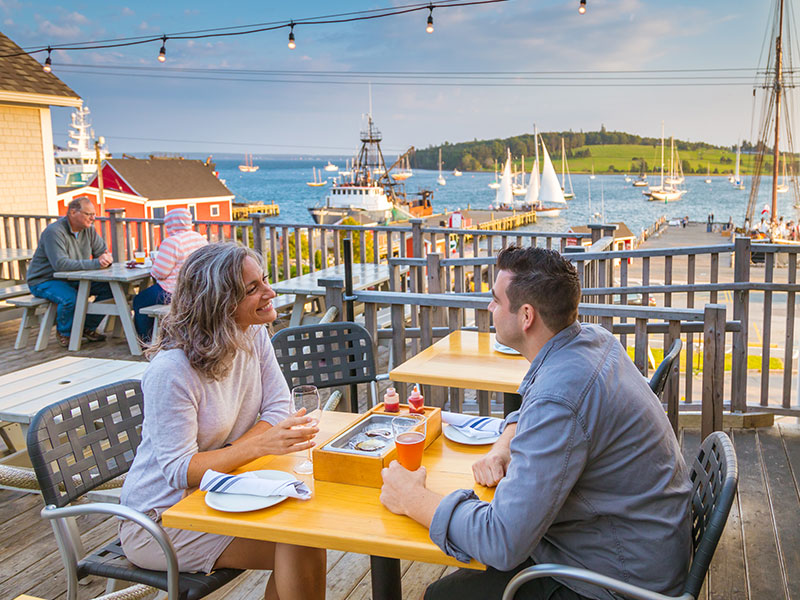 Image Courtesy of Tourism Nova Scotia
Not surprisingly, the character of Nova Scotia is greatly influenced by its storied seafaring past. Fishing is a major industry and lovers of seafood will not be disappointed with cod, lobster and scallops regularly on the menu. Halifax – the capital city and the largest in the Maritimes – also boasts a colorful history dating back 250 years. Stroll the waterfront boardwalk past historic sites, shops, restaurants and attractions or learn the stories of the more than one million immigrants and refugees at the Canadian Museum of Immigration at Pier 21.
If you'd rather get a little more active, we highly recommend hiking the Skyline Trail in Cape Breton Highlands National Park. One third of the famous Cabot Trail winds through this incredibly scenic park, leading you to stunning ocean vistas, forested river canyons and plateaus edged by rust-colored cliffs. While you walk, keep your eyes open for moose, bald eagles and even minke or pilot whales breaking waves in the Atlantic. Trails range from easy strolls to challenging climbs, so there's always an adventure to enjoy.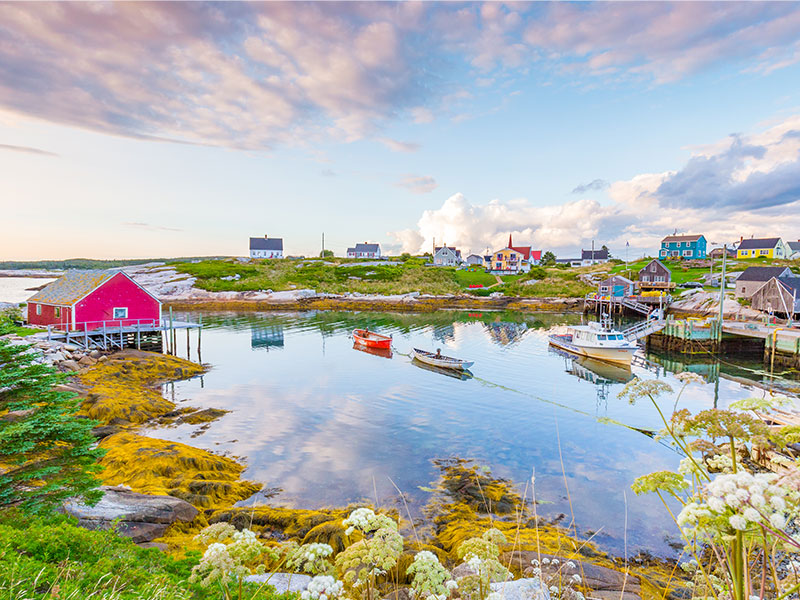 Image Courtesy of Tourism Nova Scotia
Trip 6: Trans Canada Train Trip Adventure | Vancouver to Halifax
Take a trip across Canada from Vancouver to Halifax with visits to the Rockies, Niagara Falls and Toronto! Traveling through Western Canada with Rocky Mountaineer you'll experience beautiful Jasper, Lake Louise and Banff, then switch to VIA Rail for the journey across Canada to Toronto, Montreal and Halifax in Nova Scotia. In Banff, Montreal and Halifax you'll have a chance to make the train trip your own with Freedom of Choice tours like Grizzly bear viewing, city walking tours and sightseeing.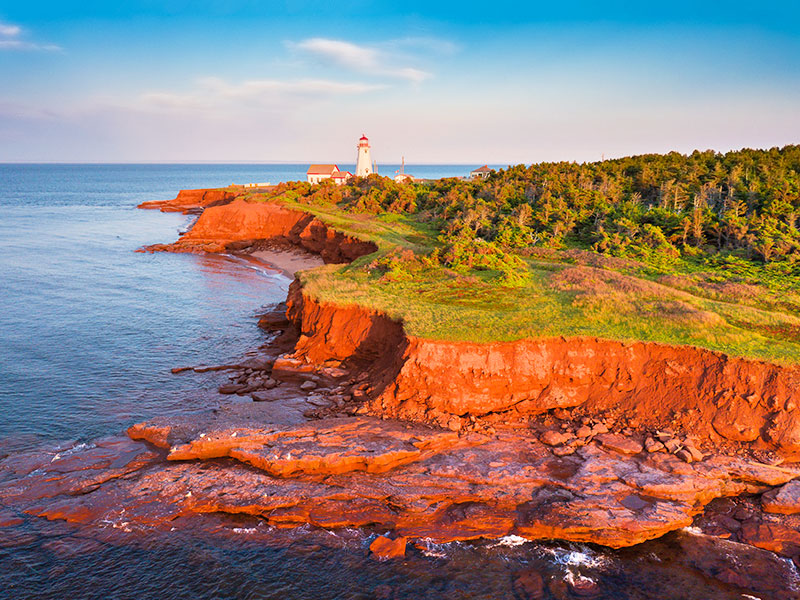 Image Courtesy of Tourism Prince Edward Island
Prince Edward Island
As Canada's smallest province, Prince Edward Island is renowned for its lush landscapes, red sand beaches, rolling farmland and azure seas, all easily accessed via the Confederation Bridge from New Brunswick. Explore the scenery with a leisurely coastal drive or head to the beaches of Prince Edward Island National Park. Overlooking the Gulf of St. Lawrence on the province's northern coast, the park is a collection of several natural areas that highlight the ecosystems found along Prince Edward Island's sandy shores.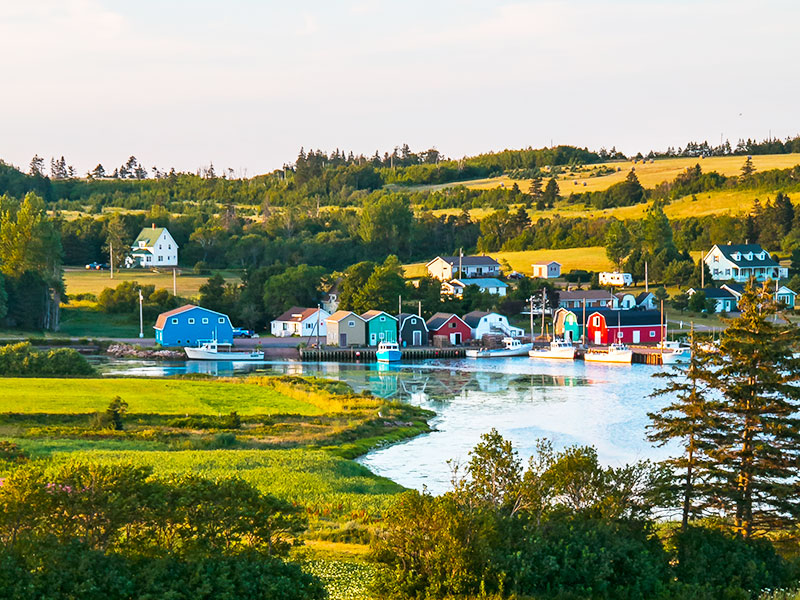 Image Courtesy of Tourism Prince Edward Island
To spend a wonderful day outdoors, hike along the park's many trails or simply enjoy a day of soaking up sun on the beach. The South Shore features the red sandy shore for which the Island is famous, and warm salt water for swimming. In the Eastern end of the Island, there's a beach with "singing sands", which squeak as you walk along due to its high quartz content!
Golf enthusiasts will also recognize Prince Edward Island as Canada's number one golf destination. The Island is home to over 25 golf courses – including some of the top-rated courses in North America – and attracts both casual golfers and some of the biggest legends in the sport. Try The Links at Crowbush Cove, Brudenell River Golf Course or Green Gables Golf Club for a game you won't soon forget.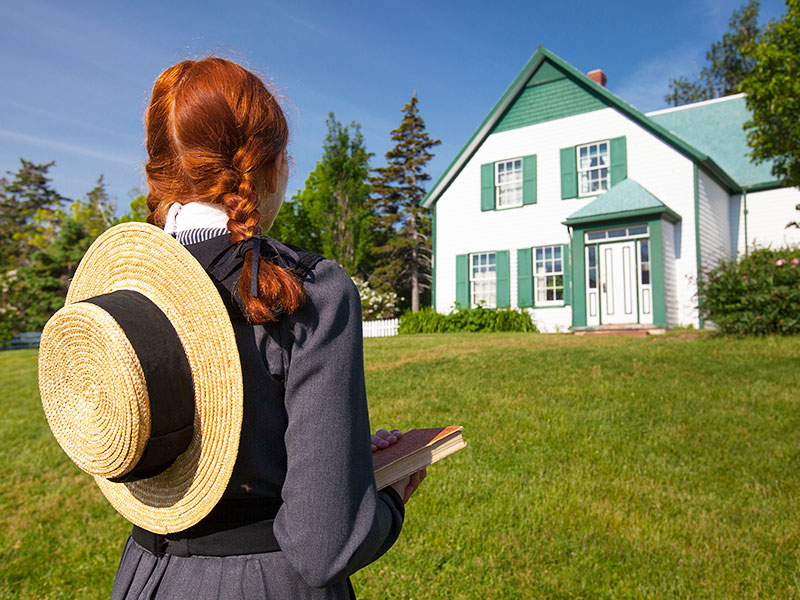 Image Courtesy of Tourism Prince Edward Island
Speaking of Green Gables, Cavendish, Prince Edward Island, is home to the fictitious novel by Lucy Maud Montgomery, Anne of Green Gables. Fans of the book can visit Green Gables Heritage Place to explore the original house, 19th century gardens, farmyard and walking trails or visit Anne of Green Gables Museum to learn about the life and works of the author. Cavendish is also home to one of Canada's largest country concerts, the Cavendish Beach Music Festival. Past acts have included Taylor Swift, Tim McGraw and Keith Urban.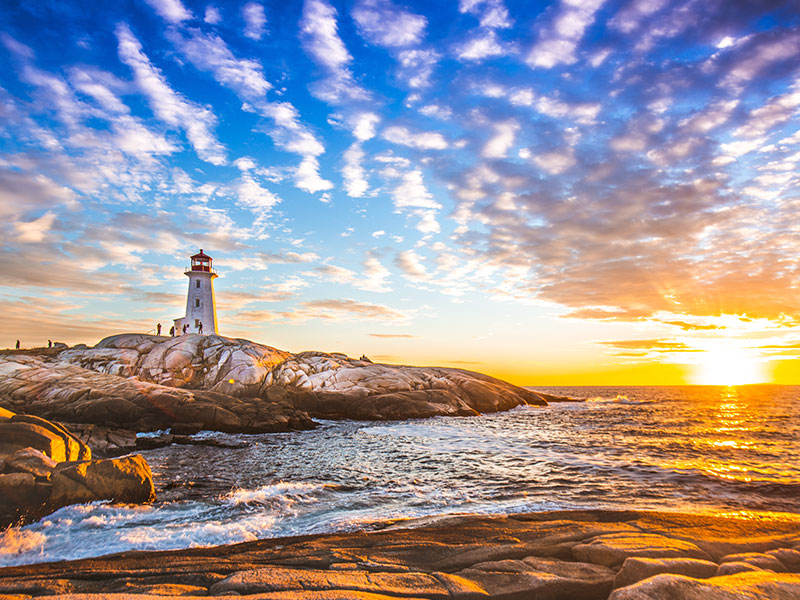 Image Courtesy of Tourism Prince Edward Island
Trip 7: Atlantic Canada Enchanting Islands Road Trip
Pass through fields of green, dine on succulent seafood and travel the world-famous Cabot Trail on this Canada Maritimes road trip of Prince Edward Island and Cape Breton Island. Explore Prince Edward Island's red and white sandy beaches and rolling farmland, then continue on a scenic drive around Cape Breton's renowned Cabot Trail. The Cabot Trail is just under 300kms in length and follows the coastline of northern Nova Scotia, leading to tiny fishing villages, local galleries and quirky museums along the coast.
Feeling inspired? Chat with one of our travel designers to create a custom trip that's just for you, or visit our Freedom to Explore page for trip ideas to take this summer. Prefer to simply stay in touch? Subscribe to our newsletter for up-to-date deals, trip ideas and more!